December, 28, 2013
12/28/13
3:00
PM ET
Jim Schwartz did not want to discuss his job status for almost the entirety of this week, despite the fact that it was the hottest topic surrounding the
Detroit Lions
after they were eliminated from the playoffs last Sunday.


Instead, he wanted to keep the focus on Detroit's season finale against Minnesota, another franchise going through a disappointing season that could end with a coaching search.
So since Schwartz wants to keep the focus on the game, here's four things to watch for Sunday when the Lions close out their season against Minnesota, where a win would give Detroit an 8-8 record this season.
Veterans' last stand:
There is a chance this could be it for veteran players like
Dominic Raiola
,
Nate Burleson
and
Rashean Mathis
-- three guys who have played well for the Lions this season.
Willie Young
is also a free agent after the season and has been an emerging defensive end for the Lions. There are also a bunch of players who could be fighting for jobs this season, either with Detroit or with another team down the road. So this could be the final time a lot of these guys play for the Lions.
None of the three main vets, Raiola, Burleson or Mathis, has expressed an intention to retire after the season, but they all know if there are changes within the Lions organization, they may not have a choice when it comes to Detroit.
Mathis, for one, isn't looking at Sunday as it for him.
"I don't see it that way. I understand what you're saying," Mathis said. In that way, I haven't viewed it in that sense. You're not going to make me view it in that sense. The reason why is I wasn't healthy last year in Jacksonville and I've been healthy this year and I put enough on film to say, 'OK, I can still play good football.' So that's why I'm not looking at it like that.
"But if I was viewing it the way you just said, it would mean a lot more."
Play for themselves and each other:
There has not been any feeling of win one for Jim Schwartz around the Lions this week. If anything, it has kind of been business as usual, and a lot of talk about playing for pride and their careers. So use that to try and win a game one final time to try and reverse the feeling of a rough second half of the season.
Find confidence for Matthew Stafford:
The quarterback needs some -- or at least needs to have a turnover-free game. That would be big for Stafford as he heads into an offseason where there are a lot of questions and he has to make improvements to both his accuracy and the decisions he makes on the field. He's had a brutal second half of the season, one of the worst of any quarterbacks in the league, and could use a final good game to have some confidence for the offseason.
Control the emotions:
This goes to the first point for the veterans, but also how Minnesota deals with the last game in the Metrodome. That is a big deal for the Vikings, so they have built-in desire to win this game. The Lions only have, as mentioned earlier, themselves to play for with playoff hopes extinguished. The Vikings are probably going to come out strong and take an early lead, so be able to withstand that, stay within their own emotions and wait for that to calm down after a quarter.
December, 21, 2013
12/21/13
12:00
PM ET
If the
Detroit Lions
had been able to solve their woes a week ago -- or if
Justin Tucker
's 61-yard field goal had fallen short or right instead of sneaking through the uprights -- the Lions might have been able to mask their issues behind the happy cloud of winning for another week.
They would still be in line for a playoff berth. Still be in control of everything that would happen to the rest of their season.

But Tucker's kick was good. Three losses in four games became four losses in five games, and Detroit turned from a team bound for the playoffs to one needing help.
How can the Lions do their part when it comes to securing a playoff berth? Here are four keys.
Stop the turnovers:
This should just be a cut-and-paste addition from the past five weeks, but Detroit continues to turn the ball over at a very high pace. The Lions are now at three or more turnovers in six of their past seven games. The Lions have not had this sort of consistent stretch of miscues at any time since at least the 2001 season.
Sure, Detroit has had games with more turnovers, but this stretch has been historically rough for the Lions. Detroit's players have insisted the mistakes are physical, and that they are going to correct them. But they have also been saying that for weeks now. It's time for the Lions to either fix them or watch their season officially conclude.
Fix Stafford:
Whatever has been going on with Detroit's fifth-year quarterback
Matthew Stafford
, the Lions need to get him back to the player he was in the first half of the season. That player was making steps toward being one of the top young quarterbacks in the league with more fourth-quarter comebacks, high completion percentages, and a strong efficiency rating. The Stafford of the second half of the season has been the opposite. He -- and the Lions -- have lost leads in the fourth quarter of four straight losses.
He has every tool to be one of the top quarterbacks in the league. He is intelligent, possesses a strong arm, good confidence, and the ability to rally his team late. But something has been off the past two months. Detroit needs him to rediscover it. Fast.
Don't be distracted by your fate:
The Lions have no real control over what will happen to them outside of the Lions actually winning their games. And they can't really scoreboard watch since Green Bay also plays a late afternoon game, and Chicago is the Sunday night game this week. So no matter what, the Lions will be in the playoff race when they take the field. Whether they are when they leave it is entirely up to them.
Treat yards preciously:
If there is one thing the Giants do well -- the only thing they do well, really, from a statistical perspective -- it is keep teams from moving the ball. So this rolls into two of the other keys. New York is in its current position because offensive turnovers allowed defenses short fields all season long. The defense, though, has been pretty stingy with yards, so if the Lions have the same turnover issues they have had the past few weeks, it could be a long day for them.
December, 16, 2013
12/16/13
8:00
AM ET
In many ways, Monday night on national television could have looked a lot different for the
Detroit Lions
. There could have been a chance the Lions could have clinched the division against the
Baltimore Ravens
. But with everything set up well for Detroit in the division, the Lions could not close it out.
They let the
Chicago Bears
hang around. Let the
Green Bay Packers
hang around. So now the Lions are in this other situation: Win to hold on to the lead in the division.
"It's there for the taking, but we have to go out and take it," Detroit coach Jim Schwartz said. "That starts with the Ravens on Monday night. Last time we left Ford Field, we were feeling really good about ourselves with the win over Green Bay on Thanksgiving.
"We have to get that feeling back. We know our crowd will make a difference for us. I think you'll see that from our players."
Detroit has to. Its season might depend on it. So how do the Lions accomplish this? Here are the four keys.
Deal with the pressure:
The Lions spent all week saying essentially different variations of the playoffs are starting now. Well, Detroit got what it wanted. With Chicago winning on the road at Cleveland, the Lions need to beat Baltimore to keep pace with the Bears in the NFC North and hold on to a playoff spot for the time being. And if the Lions lose Monday, then they drop to third in the division.
This is the way it is going to be for Detroit the rest of the season and the Lions, if they are going to be a playoff team like they say they want to be, have to be able to deal with it. The Lions have vacillated between being very good and very bad in games like this over the course of this season.
Pressure Flacco:
Joe Flacco
likes to find receivers downfield when he can and is eighth in the NFL in air yards per attempt. Considering Detroit's depleted cornerback situation -- it'd be surprising if
Chris Houston
or
Darius Slay
played Monday night -- the Lions front four needs to be able to reach Flacco at the rate they reached
Matt Flynn
on Thanksgiving in order to cause disruptions in the passing game. Detroit did this to Flynn by taking away his first read, but the Lions also had a healthy-enough secondary then. They don't now, so
Ndamukong Suh
,
Nick Fairley
,
Ziggy Ansah
and
Willie Young
need to get to Flacco early.
Stop the turnovers:
This is becoming a weekly topic, but considering the Lions' lack of margin for error both in games and in the season at this point, they need to have a game where they are not careless with the ball. Detroit hasn't had a game without a turnover since facing Cincinnati in October and haven't had a game with less than three turnovers since the win over Chicago in Week 10.
Baltimore has only picked off nine passes this season, so the Ravens aren't exactly an opportunistic defense. Detroit can't have that switch on Monday night.
Give help on the outside:
Defensive coordinator Gunther Cunningham and Schwartz both expressed confidence in
Jonte Green
and
Chris Greenwood
, the two likely candidates to line up opposite
Rashean Mathis
at cornerback. The Lions have to trust Mathis will be able to hang with
Torrey Smith
, especially since Green or Greenwood might need help with
Marlon Brown
(36 catches, 412 yards, six touchdowns) on the other side.
Bill Bentley
or
Don Carey
will also have a difficult assignment with speedster
Jacoby Jones
in the slot, but the matchup between Green/Greenwood and Brown could be a big factor Monday.
December, 7, 2013
12/07/13
12:00
PM ET
This could get very interesting.
Philadelphia has the fastest offense in the NFL, a group that prefers to run if it can but will pass when it must. Detroit has one of the most aggressive defensive lines in football, a run defense that has been impossible to penetrate over the past two months of the season, and an offense that can keep pace with the Eagles.
Fairley
Plus, these are two teams fighting for berths in the playoffs. For Philadelphia, a win would at the very least allow the Eagles to keep pace with Dallas in the NFC East race, if not move into first place entirely. For Detroit, a win puts the Lions closer to its first-ever NFC North title.
So how do the Lions move closer? Here are four keys.
Work the right side of the line:
The right side of Philadelphia's offensive line has struggled in pass protection. The Eagles' center,
Jason Kelce
, is a little bit undersized. This bodes well for Detroit's front four, specifically defensive tackles
Nick Fairley
and
Ndamukong Suh
. The entirety of the defensive line is coming off its best game of the season against Green Bay, remains fairly healthy, and has a mission of showing it can be more consistent over the final month of the season, an issue over the first three months of the season.
If Philadelphia focuses too much on Fairley and Suh, it will leave potential rush lanes for Ziggy Ansah,
Willie Young
and
Devin Taylor
, who have all shown glimpses of strong production throughout the season.
Get the ball to Calvin Johnson:
This is obviously part of Detroit's strategy on a weekly basis, but Philadelphia gives up more passing yards per game than any other team in the league. The Eagles' secondary has struggled against receivers this season --
Michael Floyd
had five receptions for 99 yards and
Larry Fitzgerald
had five catches for 72 yards last Sunday -- and Johnson is the best in the game. Consider this: The team with the second-worst pass defense in the league is Dallas, and Johnson caught 14 passes for 329 yards against the Cowboys -- the second-best receiving game in NFL history. Also, 72 percent of the yards the Eagles have allowed this season have been passing yards.
Reach the 10-yard line:
The Lions are the best team in the league in converting goal-to-go scenarios, scoring touchdowns on 83.3 percent of those trips. It also helps that perhaps more than any other team, Detroit is built to score close to the end zone. They have two massive red-zone targets in Johnson and tight end
Joseph Fauria
, along with both a downhill back in
Joique Bell
and a make-you-miss back in
Reggie Bush
. Being able to convert more often than not in those scenarios are what good teams are able to do.
Don't stress inside the red zone:
The Lions have been quite good inside the red zone this season -- ranked third in the NFL in red-zone defense with a 38.7 percent conversion rate. Meanwhile, Philadelphia, for all its speed and quickness and having
LeSean McCoy
in its backfield, is only 29th in red-zone efficiency offense, converting 46.2 percent of the its opportunities. That's a good place for the Lions to be successful.
November, 28, 2013
11/28/13
8:00
AM ET
ALLEN PARK, Mich. -- The
Detroit Lions
have not won on this day since 2003, nine long games and 10 long years -- indicative of so many other things within the organization.
While this season began as one of breaking streaks for the Lions -- ones against the Bears and Redskins are the most prominent -- the Lions have struggled of late.
Levy
They have lost two in a row. They took a divisional race that looked to be completely there for them to grasp easily and continue to make it interesting to the point where Thursday is an elimination game of sorts in the NFC North.
While a loss won't completely knock Detroit out of contention for a divisional title and a playoff berth, it will give Green Bay the edge over the Lions, much like the Lions have the edge over the Bears.
And it will also knock Detroit from first place overall. With a month left in the season at that point and having to head to Philadelphia next week, the Lions would be in a precarious position.
"It's definitely an important game," linebacker
DeAndre Levy
said. "It's a conference game. It gets us an opportunity to get them a little farther behind us, and [the] last four or five weeks of the season are going to be big for us."
How does Detroit do this? Here are your four keys.
Get to Flynn:
Yes, this is the same deal every week, but at this point, with the Detroit secondary being as inconsistent as it is and with
Chris Houston
likely not playing Thursday, the Lions need to pressure
Matt Flynn
. More than that, they need to hit him early and often to try and rattle him, and force him into bad decisions.
Yes, the Lions probably have some bad memories of Flynn -- after all, it was against the Lions that Flynn had the best game of his career -- but other than that game he has been completely inconsistent. Taking him out of his comfort area on a short week could lead to mistakes early.
Force a turnover or two:
This has been one of the major issues for the Lions over the past month of the season. Detroit had started the season doing this successfully, and in five of their six wins have forced at least one turnover. In four of those games, they have forced at least two. And considering the current rate Detroit is turning the ball over -- three or more in three of the past four games -- the Lions would be wise to start finding ways to recreate what they were doing early in the season, when they forced 11 turnovers in the first month of the season.
Contain Nelson:
Going back to the cornerback issue for the Lions, they need to find a way to deal with
Jordy Nelson
. The Lions have struggled with good receivers all season long, from
A.J. Green
to
Dez Bryant
to
Antonio Brown
. While
Randall Cobb
and
Jermichael Finley
are on injured reserve and won't play, the Lions will still have to match up with Nelson and
James Jones
.
Rashean Mathis
is likely to get the matchup on Jones, so it will be up to Slay or nickel cornerback
Bill Bentley
to handle Nelson, depending on if Nelson is out wide or in the slot. While Jones could be a problem, Nelson is the guy who could wreck the entire game for Detroit.
Don't overly force to Calvin Johnson:
This has been an issue for
Matthew Stafford
his entire career. Too often, if nothing else is available -- and sometimes when other options are -- he'll still go to the best receiver in the game. In theory, there is nothing wrong with that, but Stafford threw two interceptions going to Johnson on Sunday against Tampa Bay.
It's a tough line with Johnson, because he is so talented and can make plays so few others can, but teams are going to bracket him and try to force Stafford to force the ball to Johnson. That can cause turnovers. So get the ball to him, but be smart when you toss it over there.
November, 23, 2013
11/23/13
12:00
PM ET
ALLEN PARK, Mich. -- Over the past three weeks, the
Detroit Lions
' schedule became a little bit more difficult.
The
Tampa Bay Buccaneers
, at the time winless and apparently flailing, have played like a different team over the past three weeks. The Bucs played well in a loss to Seattle and then beat Miami and Atlanta in back-to-back weeks in Tampa Bay.
Now, Tampa Bay has to go on the road again, this time to Detroit, a former divisional rival that the Lions have beaten three of the last four times they have played. But this Buccaneers team is one with belief now.
"Guys are just excited," Tampa Bay cornerback
Darrelle Revis
said. "I think that during the time when we were 0-8, it wasn't really, you know, the atmosphere wasn't positive. Guys were moping around and things like that.
"I think we kind of forgot how to win."
[+] Enlarge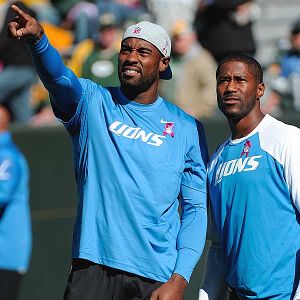 Benny Sieu/USA TODAY SportsCalvin Johnson (left) should be happy to have Nate Burleson back on the field this week as the Detroit Lions receiver will help in double coverages.
Now, though, there isn't as much of a winning issue in Tampa Bay. How does Detroit stop that from becoming a three-game winning streak? Here are four keys.
Burleson being back:
Detroit has done a better-than-serviceable job in the absence of No. 2 receiver
Nate Burleson
with a variety of players making plays with him out with an broken forearm.
Joseph Fauria
had a massive game against Cleveland.
Kris Durham
has become a reliable option on the outside opposite
Calvin Johnson
.
Brandon Pettigrew
has seen more targets and production.
But the Lions' offense with the veteran is a much different operation. Burleson offers a reliable option in the slot who can help force teams from focusing too much on Johnson or running back
Reggie Bush
. And if teams do continue to pay the same attention to those two players, the middle of the field should be wide open for Burleson. Sunday begins the new proving ground for Burleson, who was playing well before the injury.
Rattle Glennon:
At this time last week, it seemed an inevitable that the Detroit defensive line would pressure and sack
Ben Roethlisberger
multiple times. Pretty much everyone else had this season.
But the Lions couldn't really reach Roethlisberger for a multitude of reasons. Roethlisberger was getting rid of the ball faster than any quarterback Detroit had faced this season. They also only blitzed 14.6 percent of the time, the Lions' lowest percentage since a loss to Cincinnati in Week 7. And they only sacked Roethlisberger once and hit him twice. A rookie like
Mike Glennon
against this defensive line, though, could have some issues.
Keep Johnson involved:
Johnson was held without a catch and was only targeted three times in the second half against Pittsburgh, a rarity for the man considered the consensus best receiver in the NFL. Of course, Johnson still had a massive day with six catches for 179 yards, but they need to find Johnson in a more balanced manner to keep the Tampa Bay defense guessing.
Specifically, the Lions should try to target Johnson to the side of the field where
Dashon Goldson
would have been. The Buccaneers' starting safety won't play this week, so having a talented but relatively inexperienced player in
Mark Barron
could lead to some mistakes and some ways for Johnson to exploit Revis.
Focus on Vincent Jackson:
The Buccaneers' top receiver is quietly having one of the better seasons of his career, already catching 56 passes for 827 yards and five touchdowns. In Tampa's destruction of Atlanta last Sunday, he had 10 catches for 165 yards, his fourth 100-yard game of the season.
He'll be a problem for the Lions' inconsistent cornerbacks.
Rashean Mathis
will likely draw the Jackson assignment initially, but don't be surprised if you see the Lions roll coverage toward Jackson as he has been their only true receiving option.
November, 16, 2013
11/16/13
12:00
PM ET
ALLEN PARK, Mich. -- Pittsburgh may not appear to be the typical Steelers team this season, under .500 and barely hanging on in the AFC North divisional race, but don't tell Detroit that.
The Lions are convinced the Steelers are a good team that has played a lot of close games -- and they aren't underestimating the Pittsburgh defense, which is still one of the top units against the pass in the league.
"I don't know that you'll ever have a
Pittsburgh Steelers
defense that's underrated," Detroit coach Jim Schwartz said. "They have played some really good games this year.
"We're going to have our hands full. They have players."
So how does Detroit beat Pittsburgh? Here are four keys.
[+] Enlarge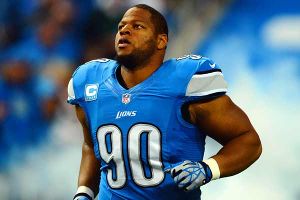 Andrew Weber/USA TODAY SportsLions defensive tackle Ndamukong Suh will have his sights set on rattling Steelers quarterback Ben Rothelisberger's cage on Sunday.
Pressure Ben Roethlisberger:
The Lions reasserted themselves as a front four last week against Chicago with defensive tackles
Nick Fairley
and
Ndamukong Suh
each reaching the Bears' quarterbacks four times. Now they face a quarterback known for staying with a play and in the pocket until the last possible second in Roethlisberger -- as well as the quarterback who has been sacked more than any other in the past five seasons.
So the more pressure Detroit is able to get on Roethlisberger, the better its chances are of forcing him into a mistake or bringing him down a few times, crushing Steelers drives.
Embrace the favorite role:
It is a new place for the Lions, perennially looked at as a potential spoiler for playoff teams by this time of the season instead of a team trying to reach a divisional title. But this is where the Lions are now and this will be the first time they will be on the road in that type of role. While Detroit's players have said they don't look at themselves in that favorite type of role, that is what they are now. A game like this against Pittsburgh is one they potentially should win and, if they are going to elevate from playoff contender to a team that could make a run in the playoffs in January, one they should be able to win. It'd be a big confidence boost in that regard.
Don't be rattled by a Matthew Stafford interception:
Here's a fun stat. In Detroit's six wins this season, Stafford has thrown an interception in each game. In its three losses, he has been interception-free. So while I'm not advocating for Stafford, who is having the best season of his career, to throw an interception, I'm saying it isn't the end of the game if he does. Stafford has been accurate this season and has compiled a really strong year. There's a pretty good chance he becomes Detroit's all-time passing leader Sunday as well. So stick with him and don't get fazed if he turns the ball over.
Keep Bell in check:
Detroit has turned into one of the top rushing defenses in the league (ranked eighth at the moment allowing 100.67 yards a game) and have held their last three opponents under 100 yards rushing as a team.
Le'Veon Bell
is a local guy -- he played at Michigan State -- who has emerged as Pittsburgh's top running option as a rookie.
Most of that responsibility falls on the defensive linemen and linebackers to make plays, particularly linebackers
DeAndre Levy
and
Stephen Tulloch
.
"We're still a work in progress there," Schwartz said. "But if we can get the run stopped it goes a long way to getting us to where we want to go."
November, 9, 2013
11/09/13
12:00
PM ET
ALLEN PARK, Mich. -- This is essentially the situation the
Detroit Lions
wanted to be in before the season.
They are in contention for their first ever NFC North title and are certainly in a good position for a potential wild-card spot if that works out. But Sunday, against Chicago, is a huge barometer for the rest of the season.
And in some ways, the Lions understand that. A win Sunday puts them in no worse than a tie for first place with Green Bay, and if the Packers lose, first place would be solely Detroit's for a week.
[+] Enlarge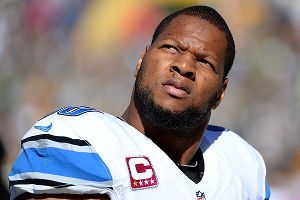 Harry How/Getty ImagesNdamukong Suh and the Lions' defensive line need to find the form they showed in their first meeting against Chicago this season.
"Any time you play Chicago, it's a big game," Detroit quarterback
Matthew Stafford
said. "Obviously you're playing a division team, so it counts twice. It's a game on the road for us. Tough environment, they are coming off a win against a division opponent."
The Bears knocked off Green Bay last week, setting up this situation. So how can Detroit win?
Here are this week's four keys.
The effectiveness of Jay Cutler:
The Chicago quarterback, who has had major success against Detroit in his career, was cleared to play Thursday and could start Sunday against Detroit. Usually, this would be a bad thing for the Lions. However, perhaps this is a benefit for Detroit this time. If Cutler plays, he isn't going to be at full strength, and the Detroit defensive line, led by
Ndamukong Suh
, had its best game of the season against the Bears in September.
Suh said this week that he wanted to face Cutler because he wants to go against the best -- a message his teammates echoed throughout the week. Now, they'll get it. Suh in particular has had success against the Bears in his career, having five sacks in seven games.
Keep the short/long game going:
Detroit has been at its most effective when it has had a mostly healthy
Reggie Bush
and
Calvin Johnson
on the field at the same time. The Johnson/Bush combination becomes a difficult matchup for teams who want to double Johnson or roll a safety his way on most plays. That leaves a softer front for Bush to deal with, either rushing the ball or with screens. With
Lance Briggs
also out, that could be even more of a problem for Chicago in dealing with Bush.
Find Joseph Fauria:
The rookie tight end has been fairly quiet since his three touchdown performance against Cleveland last month, including not receiving a single target against Dallas two weeks ago. With the Bears likely focusing heavily on Johnson, and receiver
Kris Durham
likely more heavily noted on the scouting report, this could be a game where Fauria can finally have the breakout full-field performance he's been looking for this season.
Don't buy the hype:
This is, no doubt, a big game for Detroit. If the Lions win on Sunday, it gives them a good position over the Bears in the overall playoff picture (both divisional race and wild card) since they would hold all tiebreakers against their rival. And Detroit has done well with breaking streaks this season, save the epically long losing streak in Green Bay.
Detroit hasn't won in Chicago since 2007, also the last time the Lions swept the season series against the Bears. This season's Lions have the offensive capability to hang with any team in the league, except, maybe, Denver. But Detroit needs its defense to play more at the level it played against the Bears in the first meeting, instead of at other points this season when it has struggled because of a tendency to allow big pass plays.
October, 12, 2013
10/12/13
12:00
PM ET
The last time the Detroit Lions traveled to Cleveland, the game didn't count. It was preseason and most of the guys on the current roster barely played in Ohio that night.
One who did, Detroit running back
Joique Bell
, made a different sort of impact.
Bell leveled a streaker in the game, something that received a lot of attention at the time. When approached about it this week, Bell initially said he didn't remember taking out the streaker.
Then, when he was asked if he was lying about not remembering it, he laughed.
"Yeah," Bell said. "Nah, we're not focused on that. They have a picture, never mind, nobody's brought that up."
Streaking aside, here are four keys for Detroit to beat Cleveland on Sunday.
[+] Enlarge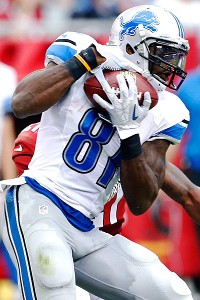 AP Photo/Darryl WebbThe Lions need Calvin Johnson on the field if only to create opportunities for their other playmakers on offense.
Calvin Johnson's health:
This won't truly be determined until a couple of hours before Sunday's game, but the Lions need some form of Johnson on the field against the Browns. The chances of him being fully healthy are minimal -- he probably won't get completely there until the bye week at the end of the month -- but at whatever level Johnson can go at, the Lions need him.
He opens up everything else for Detroit, even if he is only able to run a limited selection of routes. His presence, healthy or not, will force Cleveland to at least shade a safety over toward his side. In doing so, it will open up the running game for
Reggie Bush
and Bell and open up the opposite side of the field for tight ends and receivers to work. It might not be everything for Detroit, but it certainly is a help. Johnson on the field could also help...
Keeping Matthew Stafford upright:
The Lions' offensive line had done a good job protecting Stafford until last week, when Green Bay sacked him five times. Stafford held the ball longer and had more time until release than he did in any game this year. Part of that goes to Johnson's health, but they have to be able to give him enough time to make his progressive reads, especially if Johnson isn't in the game. The fifth-year pro has done a good job finding the open man and putting the ball in good spots when the line gave him some time to read what was going on, but they need a rebound performance against a tough Browns front.
Hit Brandon Weeden early:
Detroit rarely blitzes -- they send five or more pass-rushers on just 16.4 percent of dropbacks -- and are still able to cause issues for quarterbacks. Weeden is not a fast quarterback; has an average time before the pass of 4.34 seconds on a play. In the NFL, that's an eternity. For Detroit's defensive line, that's a reason to be very, very excited about what could happen Sunday. It is unlikely the Lions' front four will allow Weeden anywhere close to that time. If they can force him into poor decisions, that could mean big plays for the back seven in terms of interceptions and pass break-ups.
Limit Travis Benjamin's chances:
The Browns have the second-best punt return average in the league and a lot of that has to do with Benjamin, who is averaging 15.1 yards a return. That's second among regular returners only to
Tandon Doss
' 16.7 yards a return. So as effective as Lions punter
Sam Martin
and his coverage team was against Chicago and
Devin Hester
two weeks ago, they need to continue being effective there this Sunday. Benjamin already has a punt return touchdown this season and could be a game-changer. Martin has to be smart on his targets and his ball placement Sunday.
Or, as Detroit coach Jim Schwartz said, Benjamin is "super fast."
October, 5, 2013
10/05/13
12:00
PM ET
ALLEN PARK, Mich. -- Chances are, you might have heard about this already.
The last time Detroit won in Green Bay,
Matthew Stafford
was not even in kindergarten yet. So yeah, it's been a long time. Since 1991.
Yet it was the quarterback of the Packers who made this curious statement.
"Well, you know, streaks are meant to be broken. Records are meant to be broken,"
Aaron Rodgers
said this week. "I was just emphasizing it would be nice to not have that happen when I'm at quarterback.
"But they are a really good football team and it's tough to win on the road, as we found out this season. But it can be done."
How can Detroit do it? Here are four keys for the Lions.
Houston
Stick with the wide receivers:
Yes, Green Bay is touting a much-improved run game, and the return of
Eddie Lacy
should pay dividends for the Packers, but Green Bay will win this game if
James Jones
,
Jordy Nelson
and
Randall Cobb
are allowed to find open spaces.
Chris Houston
returned to practice Friday and appeared to look good enough that he could go against Green Bay. This is a plus for the Lions, but if he isn't 100 percent, I'd imagine Rodgers is going to test him early no matter who he is matched up against.
Do not think about the streak
: Detroit has been good about not making a big deal of having not won in Wisconsin since 1991. But there is something about the ghosts of a place where a team hasn't won in a long time -- especially when the opponent happens to be good -- that can sometimes creep into a team's head. Green Bay has been a mess of sorts for Detroit, full of close calls and heartbreaking defeats. That said, if Detroit wins this week, it'll place itself in legitimate conversation to be a playoff contender the rest of the season.
Use the pass:
This seems obvious for Detroit, but Green Bay has struggled defensively when teams choose to throw. Opponents are averaging 311 yards a game against the Packers, completing 68.2 percent of their passes. This fits well in Detroit's overall scheme of using short passing to
Reggie Bush
and
Joique Bell
to try and eventually wriggle
Calvin Johnson
free for big gains. This is where losing
Nate Burleson
could hurt. Detroit received nice contributions from tight end
Brandon Pettigrew
and receiver
Kris Durham
against Chicago last week, but both need to do this on a consistent basis for Detroit. Perhaps this is another big week for
Joseph Fauria
, who either scores a touchdown or doesn't catch a pass, depending on the week in his young career.
Keep getting pressure with four:
Four games in and so far, so good for Detroit's defensive line getting enough pressure into the backfield and on quarterbacks with its rotating batch of defensive linemen. When the Lions could have issues this season is when those four aren't effective enough to cause havoc. Then Detroit might have to blitz a linebacker and alter things in the back seven.
Ndamukong Suh
and
Nick Fairley
against
Josh Sitton
,
Evan Dietrich-Smith
and
T.J. Lang
could be a fun matchup to watch on the line Sunday. The winner of this group could make the difference Sunday.
September, 28, 2013
9/28/13
12:00
PM ET
ALLEN PARK, Mich. -- The season of streaks continues Sunday. The
Chicago Bears
have won nine of their past 10 games against the
Detroit Lions
, and 13 of their past 16.
Bush
In other words, there is another long streak going on. Not as long as the 0-for-forever one the Lions stopped last week against Washington, or the decades-long road losing streak at Green Bay that Detroit will face next week, but a streak nonetheless.
The good news for Detroit is it is mostly healthy other than injuries to wide receiver
Nate Burleson
and defensive end
Jason Jones
.
Reggie Bush
is expected to return, and the Lions have options to replace Burleson, be it with receivers (
Ryan Broyles
), tight ends (
Joseph Fauria
and
Tony Scheffler
) or Bush.
That's just one of the four big keys for Detroit on Sunday against Chicago -- with an early hold of first place in the NFC North at stake.
Pressure Jay Cutler early:
Cutler has been magnificent against Detroit in the nine games he has played the Lions. He's completed 63.7 percent of his passes for 1,822 yards, 12 touchdowns and one interception. He's also only lost to the Lions twice since joining the league. Detroit has done a good job hitting Cutler in previous games -- he's been sacked 26 times by the Lions in his career -- but this season's version of the Detroit defense appears to be better at using the pressure to force chaos for opponents. Cutler hasn't thrown an interception against Detroit since 2010, when
Aaron Berry
intercepted him. It will be imperative for the Lions to make him toss at least one Sunday.
Use Joique Bell and Bush simultaneously:
Detroit is searching for a way to replace Burleson, and one potentially easy way is to take the unique skills of Bush and split him both out wide, in the slot and in the backfield. Turn him into a Swiss Army Reggie -- more so than before -- and create mismatches that way. He immediately becomes a strong No. 2 receiver, and would take pressure off the returning Broyles. Plus, it gives the Lions a way to get Bell, who each week looks better and better as a runner, more opportunities in a game.
Get Calvin Johnson going fast:
Johnson said Thursday "it's easy to have a dislike (of the Bears). It's not hard at all." For Johnson, that makes some sort of sense. Chicago has done a good job on him historically, allowing the league's best receiver to have games of 100-plus yards only twice. Much of that has to do with cornerback
Charles Tillman
, who seems to have a knack for being able to play well against Johnson. In 11 games against Chicago, Johnson has caught 53 passes for 801 yards -- an average of 72.8 yards a game. Detroit has done a good job of targeting him most years against the Bears, throwing him the ball more than 20 times a game in four of his six seasons.
Punt well:
Yes, this seems somewhat small in the scheme of things, but
Devin Hester
is one of the few returners in the game who can completely shift things in one play. He's been a dynamic returner for years, and has the ability to turn a poorly placed punt into either great field position for the Bears or perhaps even a score. A lot of pressure is on rookie punter
Sam Martin
to make sure the hang time and direction on his punts are precise Sunday.
September, 7, 2013
9/07/13
12:00
PM ET
Detroit opens its season Sunday against Minnesota, a division rival and a team the Lions have beaten only three times at Ford Field.


Will it be four? Here are four keys to making that happen:
1. How the new-look offensive line performs.
The Lions cleared out three of last year's starters, opening up the left tackle spot for second-year pro
Riley Reiff
and the right side of the line for tackle
Jason Fox
and rookie right guard
Larry Warford
. The right side of the line will have to learn on the fly, but Warford says he feels comfortable between Fox and center
Dominic Raiola
, who has been the stalwart of the line. How Reiff handles All-Pro
Jared Allen
will be a matchup to watch early on. If he is unable to at least neutralize Allen on occasion -- with or without help from left guard
Rob Sims
-- it could lead to ...
2. Matthew Stafford's accuracy.
It's been an issue in the preseason as he's completed less than 50 percent of his passes. Granted, he played almost the entire preseason without his large safety blanket,
Calvin Johnson
, or his newest checkdown weapon,
Reggie Bush
, but it is still a little concerning. If Reiff can do at least a decent job on Allen, Stafford will have time to make reads instead of having to rush throws.
3. Containing Adrian Peterson ... at least a little bit.
Listen, Peterson is going to gain yards. He's going to have some plays that defy the scope of what a player can do running with a football. At least once a game, he does something extraordinary. The goal for the Lions, particularly the front seven, is to limit that. If they can keep him somewhat contained on first down, it puts more pressure on Minnesota quarterback
Christian Ponder
and a receiving corps without a true star. Force Ponder into making fast decisions with the strength of the Lions, the defensive line, and there could be a couple of turnovers to be had. That said ...
4. Keep an eye on tight end Kyle Rudolph.
The 6-foot-6, 259-pound tight end had somewhat of a breakout season in 2012, gaining 493 yards and catching nine touchdowns in the regular season. It culminated in his first Pro Bowl appearance, where he was named MVP. He has had some success against the Lions, catching seven passes for 64 yards and a touchdown on Nov. 11. From the time he left Notre Dame, he always appeared to be on the verge of being a matchup nightmare. With
Percy Harvin
, the Vikings' former electric wide receiver, now in Seattle, someone has to make up his receptions. Look for Rudolph, who has really good hands and speed for a tight end.