April, 8, 2014
Apr 8
10:00
AM ET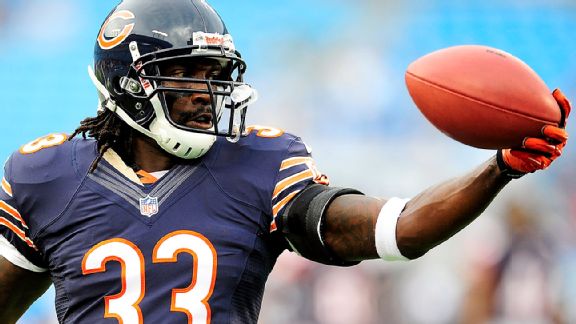 Grant Halverson/Getty ImagesCharles Tillman and the Bears' defense should benefit from some key additions in 2014.
The
Chicago Bears
' front office grunted through one of the league's busiest offseason of signings to put the team in position to draft the best player available in May while also minimizing the burden of the potential first-round pick to carry the savior label.
So while the workload won't lighten as the Bears prepare for the NFL draft and the April 22 start of the offseason program, they've unwittingly utilized a core motto of former NFL coach Dennis Green: Plan your work and work your plan. That has led to the Bears signing 30 players since the final week of December, a group that includes 17 returners, 10 unrestricted free agents and three street free agents to drastically improve -- at least on paper -- one of the NFL's worst defenses of 2013.
"I think we'll slow down a tad," Bears general manager Phil Emery said on March 31. "But we have a lot of work to do. We have some positions we want to make more competitive. The draft's around the corner."
Not to diminish the work to be done over the next few weeks, but Chicago's activity up to this point should make things easier moving forward. Headed into the offseason, the Bears needed to address a defensive line that played a major role in 2013 in the defense allowing 5.34 yards per rushing attempt (the league average was 4.10), and did so by signing
Jared Allen
,
Lamarr Houston
,
Willie Young
, and
Israel Idonije
, in addition to bringing back
Jeremiah Ratliff
and
Nate Collins
.
The club also re-signed starting corners
Tim Jennings
and
Charles Tillman
, while adding to the safety position by acquiring
M.D. Jennings
,
Danny McCray
and
Ryan Mundy
.
So is the defense better now than it was in 2013?
"The obvious answer to that would be we're healthier [than in 2013] because nobody's hurt," Emery said. "Also, I think we've added some guys at key points in their career. Jared adds experience, production, leadership. Somebody like Lamarr and Willie add some youth, speed and [physicality]. Really excited about Jeremiah Ratliff this year. He's excited about playing. He wants to finish here. He added so much the last few weeks [of 2013] in terms of leadership; unbelievably mentally tough player. So yeah, I think the collective group, we've gotten stronger and we're headed in the right direction as far as we want to establish as a defensive football team."
Given the financial commitments to Houston, Allen and Young -- all defensive ends -- it'll be interesting to see how defensive coordinator Mel Tucker finds ways to get them on the field at the same time. Allen is the bona fide starter at right end, and Houston will play on the left side. But it's likely the Bears will take advantage of Houston's versatility and kick him inside to defensive tackle on passing downs while playing Young opposite Allen at end.
Even without the benefit of the upcoming draft, Chicago's defensive line appears to be a more dynamic group than it was in 2013.
"It's up to our coaches to find ways to get them all on the field at the same time or at different times or different personnel groupings or groupings against personnel," Emery said.
Depending on the direction the Bears take in May in the draft, that task could become more difficult for Tucker. Despite the Bears adding Jennings, McCray and Mundy in free agency, the club could stand to acquire another safety in the draft capable of competing for a starting job; especially with the possibility
Chris Conte
might miss time at camp after undergoing shoulder surgery.
But the club might see more value in using its first-round pick on one of the talented interior defensive line prospects such as Pittsburgh's
Aaron Donald
or Florida State's
Timmy Jernigan
, as picking a safety at No. 14 might be a little too high for the team's tastes. Surely, the Bears will address safety in the first three rounds, in addition to adding depth at some point at corner and at linebacker.
Emery declined to say whether the signing of Allen or all the work done to revamp the defensive line will change the club's draft plans -- only that "it's always been about getting the best players possible to continue to build our team towards winning championships. To do that, you have to have high-quality players and players that can make plays. We talked at the end of the season about having more playmakers on our team."
The Bears certainly added some. In the process, they made the possibility of a defensive renaissance similar to what was experienced on the other side of the ball in 2013 a potentially easier undertaking.
They've planned their work and are working their plan.
March, 26, 2014
Mar 26
9:00
AM ET
Here's the third part of our look at some of Chicago's best and worst free-agent acquisitions over the past five years. Feel free to add some of your own in the comments section:
Good
:
Martellus Bennett
Position:
Tight end
Contract:
Four years, $20.4 million, $9.215 million guaranteed
Years of service with Bears:
2013-present
Bennett
Recap:
The Bears set out last year in free agency to find a dynamic middle-of-the-field threat and landed the affable Bennett, who quickly fit in with quarterback
Jay Cutler
, receiver
Brandon Marshall
and the other offensive players. Bennett also established a relationship with head coach Marc Trestman, who played catch with the tight end almost every day after practice. Bennett set career highs last season in receptions (65) and receiving yardage (759). Bennett also tied a career high in receiving touchdowns (five). Bennett ranked eighth among tight ends in receptions, tied for ninth in yards and tied for 12
th
in TDs. He is now one of eight tight ends in the league to gain more than 1,000 receiving yards (1,385) and catch 10 TD passes over the last two years. Bennett's 65 catches ranked second in franchise history for a tight end, behind Hall of Famer Mike Ditka (75 catches in 1964).
"I feel like I'm the most attractive person on anybody's offense, no matter what team I'm on," Bennett said. "When you look this good, how could you not want to be around? I'm the GQ of football. I just want to have a better season. I just want to be the best possible Martellus. I'm excited about the future and the things that I'm doing here."
Bad
:
Chilo Rachal
Position:
Left guard
Contract:
One year, $700,000
Years of service with Bears:
2012
Recap:
Rachal supplanted
Chris Spencer
as the starter after the second game of the 2012 season and started in eight consecutive contests before a horrid outing at San Francisco cost him his job. With Jay Cutler out due to a concussion, backup
Jason Campbell
started at quarterback and took a beating during a 32-7 loss. Campbell absorbed six sacks. Soon after, former offensive coordinator Mike Tice announced he was benching Rachal and fellow offensive lineman
Gabe Carimi
during a team meeting. Rachal didn't take the demotion well and ended up leaving Halas Hall after meeting with former coach Lovie Smith. Rachal was expected to attend a team meeting the next day but missed it. The club felt that Rachal handled the demotion unprofessionally but expressed concerned about his mental state. Eventually, the Bears put Rachal on the reserve/left team list, making him ineligible to play for the rest of the season, which was interesting considering
Lance Louis
was lost for the year in the team's next game against the
Minnesota Vikings
. Rachal never played another down for the
Chicago Bears
. The
Arizona Cardinals
signed Rachal last April to a one-year deal worth $715,000, but the team released him at the end of training camp. Rachal hasn't played a regular-season snap since the fiasco at San Francisco on Nov. 19, 2012.
March, 24, 2014
Mar 24
9:00
AM ET
The first wave of free agency has come to a close, but the Chicago Bears still aren't done adding players. We anticipate the club continuing to build the roster all the way through free agency, and even after the draft.
But in the meantime, we decided to spend this week taking a look at some of the best and worst free-agent acquisitions made over the past five years by the Chicago Bears. Feel free to add some of your own in the comments section:
Good: Julius Peppers

Position: Defensive end

Contract: Six years, $84 million

Years of service with Bears: 2010-13
Peppers
Recap:
Peppers' tenure with the Bears didn't end as well as anyone would have liked, with the club releasing him March 11. But Peppers was arguably the club's best free-agent acquisition over the last five years. Upon signing a blockbuster deal with the club in 2010, Peppers reeled off 18.5 sacks and 105 tackles over the next two seasons. Peppers' tackle numbers dropped in 2011 and 2012, but in both those seasons, he racked up at least 11 sacks before a disappointing 2013 campaign that -- in conjunction with a base salary of $13.9 million in 2014 -- basically facilitated his exit from Chicago. In four years with the Bears, Peppers started in every game (64), generating 37.5 sacks in addition to making the Pro Bowl during all but one season (2013) during his tenure with the club. In all, Peppers has posted 118.5 career sacks, which ranks second in the NFL since his entry (2002). Four days after Peppers' exit from Chicago, the
Green Bay Packers
signed him to a three-year contract. Although his production waned toward the end of his tenure in Chicago, Peppers is expected to be a productive contributor for the Packers in 2014.
Bad: Sam Hurd

Position: Wide receiver

Contract: Three years, $5.1 million

Years of service with Bears: 2011
Hurd
Recap:
It's not that Chicago expected significant contributions when it signed Hurd to a three-year deal in July of 2011. After all, he was just expected to contribute on special teams and as a backup receiver. But it's probably fair to say that Hurd's arrest on federal drug charges in December of 2011 played at least a small role in the club's decision to fire former general manager Jerry Angelo. Hurd caught eight passes for 109 yards, and returned one kickoff for 24 yards in his one season with the Bears. The embarrassment to the organization and the circus atmosphere created with Hurd's arrest far outweighed his insignificant on-field contributions. Team president Ted Philips at the time said the Hurd situation didn't play into Angelo's firing, but the receiver was certainly viewed as one of if not the worst of Bears acquisitions made during the former GM's watch. Last November, Hurd was sentenced to 15 years in federal prison for his involvement in marijuana and cocaine trafficking.
March, 18, 2014
Mar 18
9:35
PM ET
Four days ago, in light of news that
Henry Melton
was the subject of a civil suit, we wrote that regardless of what might take place in a courtroom, the potential
return of the defensive tackle was uncertain
because of Chicago's unwillingness to overspend.
With Melton posting on Twitter on Tuesday that he's signing with the
Dallas Cowboys
, let's put it out there right now: The
Chicago Bears
made the right move despite the fact they'll lose a talented player.
[+] Enlarge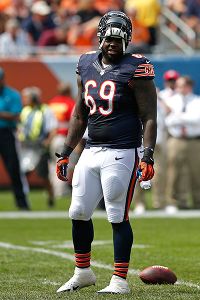 AP Photo/Charles Rex ArbogastHenry Melton collected 13 sacks combined in 2011 and 2012 but played in just three games last season.
Provided Melton makes a successful return from left ACL surgery, he appears destined to return to the Pro Bowl -- possibly on multiple occasions. But in addition to Melton's small body of work regarding consistency on the field, the Bears held some trepidation regarding his inconsistency off it. Bears general manager Phil Emery mentioned on Jan. 2 concern about Melton's "passion" for the game of football.
It's also why the organization, after gifting Melton $8.45 million last season in the form of the franchise tag, made the conscious decision to not risk wasting money again. Melton was certainly deserving of a major payday considering he was coming off a 2012 season in which he posted six sacks on the way to making his first Pro Bowl. But the Bears got just three games worth of production the last time they invested heavily in Melton, and those three outings likely won't go down as the defensive tackle's strongest performances.
Make no mistake about it: The Bears wanted to bring back Melton, because in Chicago's defensive system, he's the player who makes it all go. But the Bears stuck to their plan of bringing back Melton only at their own price, which is part of the reason he's headed to Dallas.
"Henry, in particular, he has got to fully dedicate himself to rehab. He has to fully dedicate his mind and his focus to football, which is extremely important," Emery said back on Jan. 2. "And as I have sat down and talked to him, there was a reason we franchise-tagged him [last season]. There was a reason for that investment. The under-tackle position in the scheme that we're in is the engine that drives the defense. When he was in the game, even though from a statistical standpoint he wasn't off to a fast start, it was very evident on tape that he was a very important part of the defense. So he knows, and that has been related to him that we signed you for a reason. Now let's focus in on getting healthy, and obviously he has some off-the-field issues that he needs to make sure he's focused in on football and having a passion for football."
The Bears made it clear from the beginning that they would not spend frivolously to bring back Melton, with Emery saying he "pretty much left it with [agent] Jordan [Woy] that [Melton] was gonna go through [the free-agent] process, and when he got through it, and he had a pretty good idea of what his market is, we could talk at that time."
But that time never came because Melton hit the market without the Bears ever making a contract offer, according to an NFL source who said "if you want to sign someone badly enough, you make offers and don't wait."
Apparently, the Cowboys jumped in quickly with a suitable deal for Melton, who is originally from Grapevine, Texas, a suburb of Dallas, after the defensive tackle also visited with the
Minnesota Vikings
,
Seattle Seahawks
and the
St. Louis Rams
. In Dallas, Melton will be reunited with Cowboys defensive coordinator Rod Marinelli, who served in the same capacity with the Bears from 2010-12, and has called the defensive tackle one of the most natural pass-rushers he's ever coached.
Will Marinelli again coax the best out of Melton in Dallas? That's certainly likely.
But the question marks concerning Melton in Chicago were too significant for the cap-strapped Bears to comfortably make a significant investment in him.
March, 14, 2014
Mar 14
5:41
PM ET
The
Chicago Bears
talked after a disastrous 2013 season about wanting to revamp the defense and infuse it with youth, but the club's brass would've been failed miserably at the rebuilding effort had it elected to let cornerback
Charles Tillman
bolt via free agency.
Tillman
In laying out the team's vision for the offense moving forward, multiple sources talked about the Bears not necessarily wanting to pursue big names in free agency because the club wanted to gain toughness, and put a defensive unit full of athletic, physical players out on the field; dogs so to speak.
So although Tillman is a big name in Chicago, he certainly fits the above description. That's why the
Bears benefitted greatly Friday by agreeing to terms with Tillman
, who embodies all the traits Chicago's front office constantly raves about.
"Charles is one of the NFL's great players and a true leader on and off the field, and we're happy he will be staying in Chicago," Bears general manager Phil Emery said. "He remains the best in our game at forcing turnovers, and always has brought a tough, physical presence to our secondary. Charles also has a special connection to the people and community across Chicago and we're excited for that to continue."
A two-time Pro Bowler and the 2013 Walter Payton Man of the Year, Tillman ranks No. 3 in team history with 36 interceptions and leads the franchise in defensive return touchdowns (nine), INT return TDs (eight) and interception return yards (675).
Since Tillman came into the league in 2003, he's tied for fifth in INTs, fifth in INT return yardage, and he's tied for second in INT return TDs, all accomplished while starting in 150 of 154 games.
Tillman's 42 forced fumbles rank as second in the league since 2003, and is the most among active cornerbacks. Tillman ranks as the only player since 2003 to pick off 30 or more passes and force 30-plus fumbles. In six of the last nine seasons, Tillman has ranked in the top 10 in forced fumbles.
Tillman currently ranks No. 5 in franchise history in tackles, and he's broken up 132 passes which is good for fifth in the NFL since 2003.
At the NFL combine back in February, Emery said that defensive coordinator Mel Tucker told him a team's cornerbacks are usually indicative of a defense's toughness. Emery agreed, and with Tillman now in the fold paired with
Tim Jennings
, the stage is set for the Bears to build the defense exactly the way the front office envisioned.
"We need tough, physical players," Emery said at the combine. "That's what we want: tough, physical athletes. Mel [Tucker] has said it several times to me and I believe it. I know our players believe it: that, generally, the toughness of the team shows up at corner."
Well, they don't get much tougher than Tillman.
March, 12, 2014
Mar 12
5:56
PM ET
LAKE FOREST, Ill. -- As free agency moves along, more and more teams will continue to release starting-caliber players, which is why the
Chicago Bears
are keeping a close eye on what is transpiring for the precise moment at which they could pounce.
General manager Phil Emery believes the Bears could still find another starter in the coming days. Entering free agency, the belief among many was that several bargains could be found if teams were willing to wait. That scenario now seems to be playing out around the league.
Tillman
Melton
"We may [sign a starter]," Emery said. "It depends on how the market settles out. We could have a signing today. We could have a signing three weeks from now that we would consider a starter. It continues to be fluid.
Why? Because the landscape continues to change daily as teams decide to release players in order to create cap room to bring aboard other players. As the first wave of free agency wanes, the high dollars commanded by some of the players hitting the market will gradually decrease.
"This thing goes in waves," Emery explained. "There is a first wave; that goes with signing your own players, which we did. Now comes the next wave where players maybe felt they were going to get a higher amount, then just found out that maybe their market wasn't there and they're a little more willing to listen."
That could take place with players such as cornerback
Charles Tillman
and defensive tackle
Henry Melton
. Tillman is visiting with Tampa Bay, but the Bears remain committed to re-signing him, as Emery on Wednesday said that "with Charles, it's an ongoing conversation." Melton, meanwhile, is to visit to the
Minnesota Vikings
, according to a source, which added the defensive tackle is set to take numerous other undisclosed visits.
If their free-agent trips fail to yield anything fruitful, the Bears could re-sign them to cap-friendly deals.
Should the Bears wait out free agency even a little longer, they could still possibly find potential starters like they did last offseason with linebackers
D.J. Williams
and
James Anderson
. Williams signed last season near the end of March, and the team signed Anderson just two days later.
"There's a third wave [of free agency] where players know they're either going for the veteran minimum or a little bit above that and they're just looking for an opportunity," Emery said. "It's kind of what happens after the college draft [of undrafted players], where players are just looking for the right opportunity."
Could recently the released
Julius Peppers
return to Chicago in such a fashion? It's a hypothetical question, but Emery won't rule it out if it could take place at the right price.
"That could occur for a number of players in terms of coming to the Bears depending on what their market is once that's been determined," Emery said. "So we're open. We're always open to getting better at every level of our team and our roster. So any player, including Julius, if they want to have an opportunity to come back, and we can provide that opportunity -- meaning we have the cap space -- we're always open to it."
March, 7, 2014
Mar 7
11:00
AM ET
»
AFC Free-Agency Primer
:
East
|
West
|
North
|
South
»
NFC
:
East
|
West
|
North
|
South
Key free agents:
Charles Tillman
,
Henry Melton
,
D.J. Williams
,
Major Wright
,
Devin Hester
,
Corey Wootton
,
Josh McCown
.

Where they stand:
The club informed Hester it won't be re-signing him for 2014, but the Bears are making a concerted effort to try to bring back Tillman. Still, there's a chance the economics won't work out, as Tillman could have other suitors willing to pay more than Chicago. The Bears did some work in re-signing free agents, such as defensive tackle
Jeremiah Ratliff
, cornerback
Kelvin Hayden
along with center
Roberto Garza
, to cap-friendly deals. Negotiations to re-sign McCown have moved along slowly, which means there's a chance the Bears could lose him if another team gives the backup an opportunity to win a starting job. There's interest from both sides in re-signing Williams, and talks are expected to continue over the weekend.
What to expect:
At this point, it's unknown where Chicago's pro personnel department has rated its own unsigned free agents against what else is available on the market. So count on the Bears waiting to see what the market value for their own players is before moving to re-sign them, which is actually a smart move that will keep them from overpaying. The Bears aren't expected to overspend on big names in free agency, but general manager Phil Emery has been known in recent years to make a couple of surprise moves. The Bears would like to infuse youth on defense, but that could prove to be a pricey proposition in free agency for a team with limited cap space. They do have the flexibility to free up cash by cutting players such as
Julius Peppers
, or restructuring
Jay Cutler
's deal, which includes a base salary of $22.5 million in 2014.
March, 6, 2014
Mar 6
10:00
AM ET
Teams around the NFL can start contacting and negotiating with agents of players set to become unrestricted free agents on Saturday, but deals can't be executed until March 11 at 3 p.m. CT when the new league year starts.
As that date quickly approaches, we take a look at Chicago's pending free agents, and their chances of returning to the team in the third part of our series we'll post all week.
Williams
2014 free agent:
D.J. Williams
Position:
Linebacker
2013 statistics:
6 games (four starts); 39 tackles (21 solo), 2 sacks, 1 forced fumble, 2 tackles for lost yardage, 1 quarterback pressure.
2013 salary:
$900,000 base salary, $750,000 roster bonus, $100,000 workout bonus -- $1,281,250 cash value
Outlook:
The Bears mentioned Williams' strong play prior to a season-ending pectoral injury on multiple occasions shortly after the season, and all indications are the club wants the veteran to return for 2014. Williams has spent time rehabbing at Halas Hall and says he would like to remain a part of Chicago's defense in 2014. Given the mutual interest between the sides, it should be only a matter of time before the Bears sign Williams to a deal similar to what he received to join the club last spring. With Williams in the middle flanked outside by
Lance Briggs
and
Jonathan Bostic
(provided he wins the starting job at Sam), the Bears could field a solid linebacking corps next season provided the group stays healthy.
Steltz
2014 free agent:
Craig Steltz
Position:
Safety
2013 statistics:
16 games (one start); 14 tackles, one pass breakup and 14 special teams tackles.
2013 salary:
$715,000 base salary and $50,000 workout bonus -- $765,000 cash value
Outlook:
Steltz is a solid reserve safety and special teams contributor. He's spent his entire NFL career in Chicago and would no doubt prefer to stay with the Bears. League minimum contracts for NFL veterans are a sensitive subject. Minimum deals basically represent an invitation to try out for the team. Veterans that fall into the league minimum category will fight hard for signing bonus money. Steltz could possibly find himself in that situation. Steltz has always been a good soldier, hard worker and positive voice in the locker room. Whether the Bears reward Steltz with a signing bonus (he received a $125,000 signing bonus two years) remains to be seen. But he fits the mold of the type of player the Bears are looking to bring back.
Collins
2014 free agent:
Nate Collins
Position:
Defensive tackle
2013 statistics:
Five games (two starts); 13 tackles, three quarterback pressures and one sack.
2013 salary:
$630,000 base salary and $5,250 workout bonus - $635,250 cash value
Outlook:
Collins had a strong preseason and appeared poised to have a breakout year until he landed on injured reserve with a torn ACL. Collins is a pass-rusher. Players that can pressure the quarterback are not easy to find. The Bears decided not to tender Collins at the restricted free agent amount last season, and instead released him and signed him back to a minimum deal. Because of the knee injury, Collins is probably looking at the same kind of deal this time around. Collins, who has potential, seems like a decent candidate to return in the later waves of free agency unless the Bears feel confident enough in his health to extend him an offer in the coming week.
Anderson
2014 free agent:
James Anderson
Position:
Linebacker
2013 statistics:
16 games (16 starts); 129.5 tackles (76 solo), 7.5 tackles for lost yardage, 10 quarterback pressures, 4 sacks, 3 pass breakups, 1 fumble recovery.
2013 salary:
$950,000 base salary, $200,000 signing bonus, $100,000 workout bonus -- $1,250,000 cash value
Outlook:
Anderson led the team in tackles, and tied with
Shea McClellin
for second in sacks. But the Bears haven't shown much interest in bringing back Anderson so far this offseason. As of Wednesday afternoon, the team still hadn't approached the veteran about a possible return. Anderson doesn't seem to fit the mold of the tough, hardnosed athletes the Bears are looking to add to the defense. So once the negotiation window opens, Anderson will likely be speaking with other teams before the Bears make a move. Anderson will likely leave, but it's still too early to rule out a return to Chicago.
February, 12, 2014
Feb 12
8:00
AM ET
Money:
Signed a one-year deal last March worth $815,000, which included a $100,000 workout bonus with $200,000 of his $715,000 base salary guaranteed.
Matt Slauson
parlayed that into a four-year deal in January that included $4.9 million guaranteed, which can max out at $13.2 million.
[+] Enlarge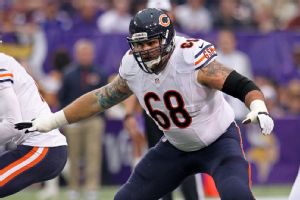 Brace Hemmelgarn/USA TODAY SportsMatt Slauson was nearly flawless protecting Bears quarterbacks in 2013 and has set the bar high on the offensive line.
Stats:
None, but as one of four new starters on the offensive line, Slauson played a major role in the club setting several franchise marks on offense.
2013 role:
Slauson joined Chicago coming off a 2012 season in which he didn't give up a sack with the
New York Jets
and became an immediate starter for the Bears at left guard. Slauson left the Jets seeking a more secure future and earned one moving into 2014 by becoming one of Chicago's most consistent performers on the offensive line.
"I told him when he came in that it was our intent to reward him if he did well, and we want him to be a Bear for the longer future," general manager Phil Emery said. "Matt certainly deserves that future with the Bears."
The good:
Slauson surrendered just two of Chicago's 30 sacks on the season which rank as the club's fewest since 2008 and the second fewest for the Bears in seven seasons. Slauson was also responsible for two quarterback hits and 15 pressures. Somewhat of a technician, Slauson was flagged just three times all season with one of those penalties being declined. Slauson also served as a mentor for the younger players on the offensive line such as rookies
Kyle Long
and
Jordan Mills
.
Emery called Slauson "A key part of our offensive line improvement. Matt is exactly what we were looking for in an offensive guard in this season; big, long-armed, physical, tough, smart, big anchor point for our quarterback to be able to step up when he has pressure. Can't say enough about him in terms of leadership and fit with this group, and toughness and physical[ity] he brings to the group. When you're a defender and you line up against Slauson, at the end of the day, you know you played a football game."
Bears quarterback
Jay Cutler
called Slauson "constant."
"Every single day he's grinding," Cutler said. "He was able to show Kyle [Long] what it takes to be a successful guard in the NFL. Kyle was able to see it firsthand on film and be able to talk to him on a daily basis. Matt, I think he enjoyed doing it, being a semi-coach for Kyle and the young guys. I was really excited to hear that he's gonna be here four more years protecting me."
The bad:
There's not much, but the Bears did run the football behind Slauson 70 times in 2013 and averaged just 3.61 yards per attempt. So that number could improve. Slauson also joined the Bears coming off a 2012 season in which he didn't allow a sack but gave up two in 2013. So yes, that number is still low. But Slauson has set the bar high in terms of expectations for his performance.
2014 outlook:
The addition of Slauson helped to provide the type of stability along the offensive line in 2013 that the club hadn't seen in several years. So the decision to sign him to a four-year deal in January was a smart move on the part of the Bears, and moving forward, durability shouldn't be an issue for Slauson. With Slauson in the mix, the Bears were one of just three teams to start the same five offensive linemen in all 16 games. What's more is Slauson wanted to remain with the Bears for the next several years rather than test the market in free agency in 2014.
"I don't want any part of that," Slauson said. "I love Chicago. I want to be here. My family really likes it hear. I have always said that was a part of the reason I came here. If I get the opportunity to stay, I'm going to jump all over it."

NFC NORTH SCOREBOARD
Friday, 8/22
Saturday, 8/23