NFC North:

Free Head Exam 7
October, 25, 2010
10/25/10
2:45
PM ET
After the Minnesota Vikings' 28-24 loss Sunday at the Green Bay Packers, here are three issues that merit further examination:
Coach Brad Childress offered some raw criticism for quarterback Brett Favre after he threw three interceptions and admitted he was one failed drive away from pulling him from the game. Childress is to speak to reporters Monday afternoon, but I can't imagine there is a scenario where he would leave open the possibility of benching Favre for next Sunday's game against the New England Patriots. I realize Favre is dealing with a re-injured ankle, but he has time to heal. It's true that Favre's 10 interceptions ties him for the NFL high, even after only five games. But the Vikings literally begged Favre to play one more season and are paying him $16 million to do it. If they're going to go down, it has to be with Favre behind center.

Kevin SeifertFollowing their loss against Green Bay, the Vikings take their turn in the examination room.

I've never been one to harp on officiating calls during the course of a game, so we'll just say that two of the more questionable instances both went against the Vikings in scoring situations. They definitely have an argument on Andrew Quarless' touchdown reception in the second quarter; replays showed him losing control of the ball as he landed on his back. I also have to agree with Childress on what appeared to be a clean 17-yard touchdown reception by tight end Visanthe Shiancoe. Ultimately, however, complaining about officiating calls is a loser's lament. The Vikings had plenty of other opportunities to win that game, and the Packers could probably find instances where they felt an official's call went against them.

As we noted earlier Monday, the Vikings took some interesting steps to protect a secondary that has lost starter Cedric Griffin for the season and had shaky rookie Chris Cook at nickelback. Cook eventually had to be benched and replaced by Frank Walker, and the Packers looked like they were trying to target Walker and second-year cornerback Asher Allen. Ultimately, they were forced to pull up their pass rush and hope that Jared Allen, Kevin Williams and Ray Edwards could help shut down the short- and intermediate game by blocking the passing lanes. Eventually, they slowed down the Packers. Rodgers threw for 227 yards in the first half but managed only 52 the rest of the way.
And here is one issue I don't get:
I'll never understand why the Vikings don't make a distinction between their third-down offense and their 2-minute offense. I'm fine if tailback Adrian Peterson isn't on the field for every third down, but I can't see how it makes sense to take him off the field for any part of a game-ending drive to score what would be a winning touchdown. But Peterson was off the field for third- and fourth-down plays on the Vikings' final drive, giving way to rookie Toby Gerhart. Nothing against Gerhart, but when a division game is on the line, you can't outsmart yourself. You need your best players on the field at all times.
October, 25, 2010
10/25/10
2:00
PM ET
After the Green Bay Packers' 28-24 victory Sunday against the Minnesota Vikings, here are three issues that merit further examination:
If you thought the Packers looked fired up Sunday night, you weren't alone. "Tonight we played with an emotion that we had been lacking for the last couple games," left guard Daryn Colledge said. You could suggest that Brett Favre and the Vikings brought it out in them, but I wonder if they weren't also emboldened by how wide-open the NFC North has become. Despite their well-chronicled injury situation and inconsistent play, the Packers still have the world at their fingertips. They have the same record as the 4-3 Chicago Bears and have put 1.5 games between them and the Vikings. Every week stands on its own merits, and their Week 8 game at the New York Jets is going to be a tough one, but the Packers can build off where they landed Sunday night.

Kevin SeifertFollowing their win against Minnesota, the Packers take their turn in the examination room.

You probably noticed the half-dozen or so passes where quarterback Aaron Rodgers and Packers receivers seemed on the wrong page. Rodgers said the Vikings were playing coverages that "kind of screwed up our route adjustments that we might change around depending on what the coverage is." He added: "A couple times I was thinking one thing and they were thinking another thing. We tried to get it squared away on the sidelines, but we still had a couple mistakes there." I'm sure it will be a topic of meeting-room conversation when the Packers prepare for their teams' rematch in a few weeks.

I walked out of Lambeau Field thinking that was the best I had seen the Packers' running game perform all season. Tailback Brandon Jackson finished with 58 hard-earned yards on 13 carries, numbers especially notable when they come against the Vikings' run defense. Coach Mike McCarthy called it Jackson's "best game," and it served as template for the type of tough-nosed running he is capable of when the stars are aligned.
And here is one issue I don't get:
We have given McCarthy a hard time about game-management decisions and this propensity to throw red flags like they're hot potatoes. So why isn't anyone crediting him with getting his extra-point team on the field in double-time after tight end Andrew Quarless' shaky touchdown reception in the second quarter. Replays indicated that Quarless lost control of the ball as he landed, and you would think it would have been overturned had the Vikings challenged it. But McCarthy had his team lined up to kick as soon as NBC began showing the replays. The Vikings didn't have a chance to review them before Mason Crosby booted the extra point. Heads-up game management from McCarthy.
October, 25, 2010
10/25/10
1:15
PM ET
After the Chicago Bears' 17-14 loss Sunday to the Washington Redskins, here are three issues that merit further examination: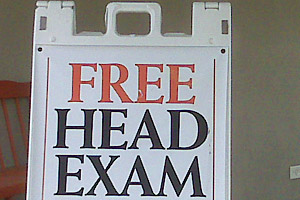 Kevin SeifertFollowing their loss to Washington on Sunday, the Bears take their turn in the examination room.
I didn't get too worked up when quarterback Jay Cutler said he would not shy away from challenging Redskins cornerback DeAngelo Hall if and when they play again. I wouldn't want a quarterback who was afraid to throw at any particular cornerback. Here's my problem: For the most part, Cutler wasn't challenging Hall. He was just giving him opportunities to intercept the ball. There's a big difference. The most egregious instance came on the last interception, where Cutler trusted receiver Johnny Knox too much in single coverage. Hall, protecting a lead, bailed immediately and was not going to give up a deep pass. So here's where I stand on Cutler: With the Bears almost at the midpoint of the season, Cutler hasn't demonstrated that he has enough self-control to prosper in this offense. He's too aggressive right now for where the rest of the offense is situated. He's either throwing wildly downfield or holding the ball too long to make a play. The Bears' next nine games will be about whether the gunslinger can reign himself in.

I don't know where the offensive line is going to go from here. But the symbolic moment of the first seven games came when Redskins defensive tackle Albert Haynesworth drove left guard Chris Williams 10 yards into the backfield. Williams fell into Cutler, who went to the ground for a sack. It was the kind of play you see when the varsity takes on the J.V. at the end of August practice, not when two NFL players -- both first-round draft choices -- meet in a regular-season game. I realize that Haynesworth is an elite player when he wants to be, and that Williams is playing out of position. General manager Jerry Angelo said before Sunday's game that continuity is more important on the offensive line than talent, but if your left guard is so ill-equipped to pass block from his position, continuity doesn't mean a lick. No matter what the circumstances, that was an atrocious NFL display.

Two punt returns for touchdowns this season was all it took for opponents to start kicking it away from Devin Hester. Redskins punter Hunter Smith landed five of his seven punts out of bounds and averaged 28.7 gross yards per punt overall. Hester got his hands on only one kick, a 50-yarder that he returned 12 yards. It didn't happen Sunday, but over time the Bears should realize exceptional field position if opponents continue to follow that strategy.
And here is one issue I don't get:
Actually, I sort of get it. Coach Lovie Smith challenged the spot on Earl Bennett's 48-yard reception in the third quarter because he knew his offense doesn't excel at the goal line. Bennett was obviously down before he reached the end zone, but Smith was hoping somehow the play would be ruled a touchdown. Smith's concerns were justified on the next play, when Cutler fumbled on a quarterback sneak. (By the way, that call should have been obvious to everyone watching based on Cutler's pre-snap positioning.) Replays indicated the ball crossed the plane before the end zone, but Smith didn't challenge. Was he afraid to burn both challenges in a two-play sequence? He might have out-thought himself on that one.