NFC North:

Garrett Hartley
September, 16, 2014
Sep 16
5:25
PM ET
The
Detroit Lions
are at least exploring options at kicker, as colleague Adam Schefter reported the team brought in three veterans at the position to work out Tuesday: Rob Bironas, Garrett Hartley and Alex Henery.
They might not be the only possibilities, though. When the Lions kicked around switching kickers last season, they brought them in over a two-day span before sticking with David Akers for the rest of the 2013 season.
So here are some possibilities for Detroit as it explores its kicking question:
Nate Freese:
He has the job right now after beating out Giorgio Tavecchio during the preseason. Detroit's seventh-round draft pick in May, Freese is 2 of 5 so far with no made field goals over 30 yards. This is on top of a somewhat shaky preseason where Tavecchio appeared to outperform him. Lions coach Jim Caldwell still thinks Freese has a future in the league, and he might. If Detroit sticks with him, he'll likely have a small margin for error to fix his issues.
Rob Bironas:
Tennessee released him in March as a clear cap casualty as he was due a $250,000 roster bonus and had a $2.875 million base salary for 2014. He is, however, a strong veteran kicker. The 36-year-old Bironas made 25 of 29 field goals last season, including 2 of 3 over 50 yards.
Garrett Hartley:
Hartley is somewhat of a riskier play than Bironas. He made 22 of 30 field goals last season for New Orleans and has had a downward trajectory since making all eight of his field goals in 2008. But, members of the Lions coaching staff will have familiarity with him and familiarity often breeds signings.
Henery
Alex Henery:
Like Hartley, Henery has had a downward trajectory the past three seasons and lost his job in Philadelphia to rookie
Cody Parkey
during training camp. He has a fairly accurate leg, though, making 86 percent of field goals in his career. Plus, he's only 27 so if the Lions sign him and he does well, he could be a long-term solution.
Giorgio Tavecchio:
Detroit knows what it would get with him, so probably one of the reasons it didn't call him up for a tryout. But he's a young kicker who some -- including myself -- believe should have won the job out of camp. So he'd at least be in consideration if the team makes a move.
Jay Feely:
Probably the best kicker Detroit hasn't reportedly brought in yet. When he was cut by Arizona, he indicated he still wanted to kick and still believed he could. He has ties to the state, having played college football at Michigan. The 38-year-old could also provide a mentoring presence to punter
Sam Martin
. He wouldn't be a long-term solution, but he made 30 of 36 field goals last season, was 11 of 12 from 40-to-49 yards and 3 of 5 from 50-plus yards.
July, 7, 2014
Jul 7
10:00
AM ET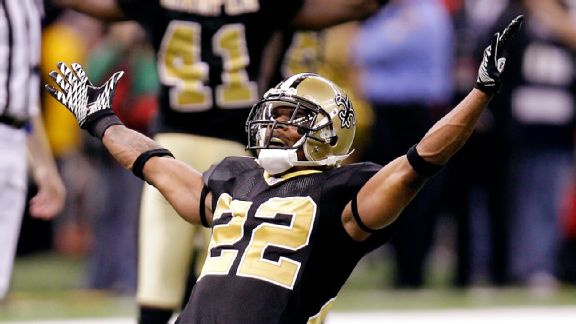 AP Photo/Bill Haber
»
VOTE HERE
»
NFC Plays:
East
|
West
|
North
|
South
»
AFC:
East
|
West
|
North
|
South
This is the first of three plays nominated as the most memorable play in Vikings history. The others include Tommy Kramer's Hail Mary pass to Ahmad Rashad to beat the
Cleveland Browns
in the 1980 "Miracle at the Met" and Gary Anderson's missed field goal in the 1998 NFC Championship Game. Please vote for your choice as the Vikings' most memorable play.
Score:
Saints 31, Vikings 28
Date:
Jan. 24, 2010
Site:
Louisiana Superdome
The last pass
Brett Favre
ever threw in a playoff game -- an interception to
Tracy Porter
to cost the Vikings a chance at their first Super Bowl trip since 1977 -- might never have happened if not for the penalty the play before.

The Vikings were driving for what would have been a game-winning field goal and had called a timeout before huddling up on third-and-10 from the Saints' 33. Problem was, the Vikings had talked during the timeout about running the same play out of two different personnel groups, and fullback
Naufahu Tahi
got sent into the game as a 12th man in the Vikings' huddle. That resulted in a 5-yard penalty to push Minnesota back to the Saints' 38, forcing the Vikings to call a pass play to get back into
Ryan Longwell
's field goal range.
With 19 seconds left, Favre rolled to his right, but instead of hitting tight end
Visanthe Shiancoe
or wide receiver
Bernard Berrian
-- both were open on the play -- or trying to run for several yards, Favre threw across his body into coverage for
Sidney Rice
, and Porter stepped in front of the pass, intercepting Favre and ending what turned out to be the Vikings' final drive of the day. The Saints won the coin toss in overtime, drove for a 40-yard
Garrett Hartley
field goal and won Super Bowl XXIV two weeks later.
The loss was the Vikings' fifth in as many NFC title games since their last Super Bowl trip, and it ended a dream season that had begun with the team signing Favre in August. The 40-year-old quarterback beat his old team (the
Green Bay Packers
) twice, had what might have been the best statistical season of his career and threw for 310 yards in an NFC title game now famous for the Saints' attempts to knock Favre out of it. But the interception -- and the bizarre penalty that preceded it -- ended the magical run in a way that Vikings fans know all too well.
September, 30, 2012
9/30/12
7:44
PM ET
GREEN BAY, Wis. -- A quick look at Sunday's events at Lambeau Field:


What it means
: The
Green Bay Packers
salvaged their season with a
wild 28-27 victory
over the still-winless
New Orleans Saints
. The Packers are 2-2 after four games. History has not been kind to 1-3 teams, who have missed the playoffs 85.3 percent of the time under the NFL's current playoff format.
Officiating reprise
: The Packers had another shaky day with officials. But six days after the infamous Fail Mary play cost them in a 14-12 loss at the
Seattle Seahawks
, they did benefit from a call that prevented the Saints from taking a late lead. Place-kicker
Garrett Hartley
's 43-yard field goal would have given the Saints a 30-28 lead with 2 minutes, 55 seconds left. But referee Jeff Triplette called the Saints for holding on the field goal protection, an unusual call and one for which Triplette did not name the offender. The Packers moved Hartley 5 yards closer by jumping offsides prior to the next kick, but ultimately Hartley was wide left on the ensuing 48-yard attempt.
More officiating fun
: Earlier in the game, Saints receiver
Marques Colston
appeared to get away with pushing Packers safety
Morgan Burnett
to the ground before catching a 20-yard touchdown in the first quarter. Replays also showed the Saints'
Darren Sproles
fumbled on the kickoff return that preceded the go-ahead score. Triplette ruled Sproles down by contact, and Packers coach Mike McCarthy didn't have a challenge remaining. All is well that ends well, however.
Defensive issues
: The Packers looked more like their 2011 defense than the one they have displayed in their past two games of 2012. Saints quarterback
Drew Brees
threw for 446 yards. In the end, however, the Packers had their best offensive game of the season, as well. They finished with 430 yards and quarterback
Aaron Rodgers
had four touchdown passes.
Brief Harrell era
: The Packers were in position to extend a 21-17 lead late in the third quarter when Rodgers departed after Saints safety
Malcolm Jenkins
poked him in the right eye on a blitz. Backup
Graham Harrell
, on first-and-goal at the 2-yard line, promptly tripped over center
Jeff Saturday
's leg and couldn't connect on a clean handoff with tailback
Cedric Benson
. Jenkins recovered the ball at the 8-yard line, and four plays later, Brees found reserve receiver
Joe Morgan
open against a busted coverage for an 80-yard touchdown play. What could have at least been a 24-17 lead turned into 24-21 deficit in a matter of 1:17 seconds.
What's next
: The Packers are on the road next Sunday to play at the
Indianapolis Colts
.
March, 21, 2010
3/21/10
7:32
PM ET
ORLANDO, Fla. -- The NFL's looming debate on overtime rules has been associated most frequently with Minnesota, which lost the NFC Championship Game on New Orleans' first-possession field goal earlier this year.
The proposed rule change would have given the Vikings an overtime possession after
Garrett Hartley
's 40-yard field goal; if enacted, teams would have to score a touchdown in order to win on the opening possession of overtime. But as of Sunday evening, it wasn't clear if even the Vikings were in favor of the rule.
Coach Brad Childress said team officials are still discussing their vote. The final decision will be made by owner Zygi Wilf. Childress seemed ambivalent about it.
"Part of me doesn't want to screw around with what's been [the practice]," Childress said. "And part of me says, let's give it a swing."
Childress returned two days ago from a trip to Rome, where he spent three days visiting a Catholic seminary. He called the opportunity an "epiphany" and said: "I don't know if I would say it was life changing, but that's because I wouldn't know what to compare it to."
February, 7, 2010
2/07/10
3:09
PM ET
MIAMI -- Just took a walk around the perimeter of Sun Life Stadium. The weather is beautiful but right now it's pretty windy. Forecasts called for gusts of up to 20 miles per hour, and I can tell you first-hand it's awfully gusty right now.
Who do you think has the kicking advantage in a windy situation? New Orleans'
Garrett Hartley
or Indianapolis'
Matt Stover
? Discuss.