January, 7, 2014
Jan 7
6:55
PM ET
Former
Houston Texans
coach Gary Kubiak formally interviewed with the
Detroit Lions
on Tuesday, according to multiple media reports.
Kubiak, who was fired as the Texans head coach in December after almost eight seasons with the franchise, is the second candidate to officially interview with the club. He joins Baltimore offensive coordinator Jim Caldwell,
who interviewed Friday
.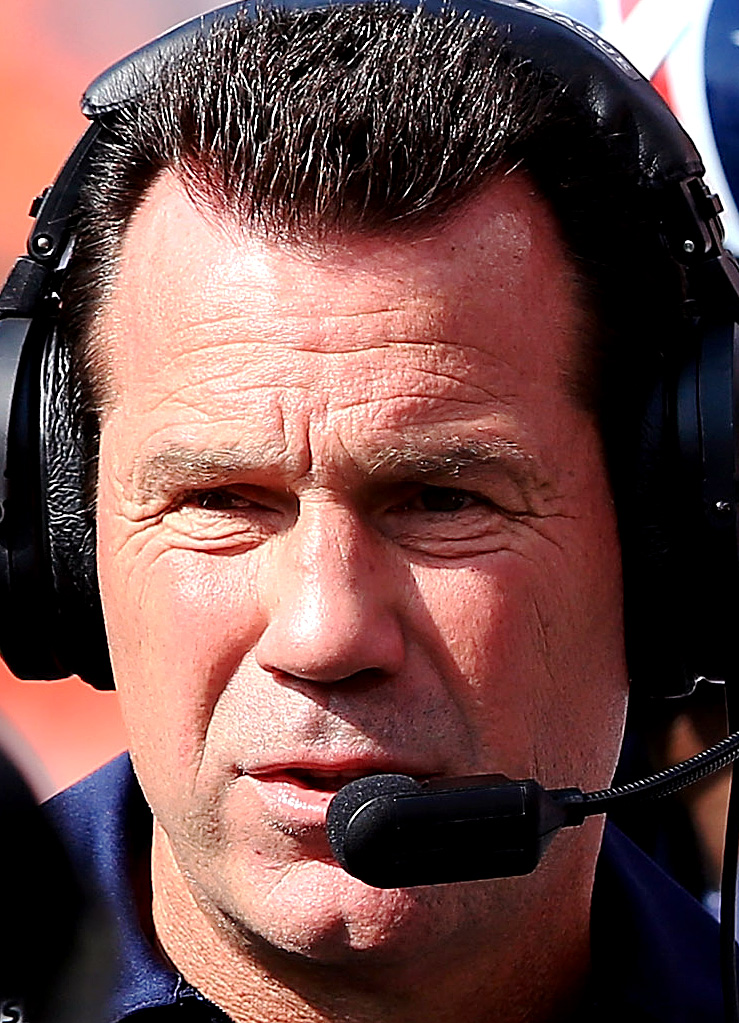 Kubiak
ESPN Insider Ed Werder reported earlier Tuesday that the Lions will interview former Tennessee coach Mike Munchak
this Friday
. The Lions have also have reportedly asked for permission to
talk with Cincinnati offensive coordinator Jay Gruden
and San Diego offensive coordinator Ken Whisenhunt.
ESPN Insider Adam Schefter reported Sunday that the job is
Whisenhunt's to lose
.
All of these candidates fit a similar profile for the Lions. They have been head coaches at some level -- all except Gruden in the NFL -- and all come from an offensive background. Other than Munchak, all have worked extensively with quarterbacks at some point in their careers.
As for Kubiak, he coached Houston from 2006 until Week 14 of this season, when he was fired by the Texans. He compiled a 61-64 record over that span, including two AFC South titles and two playoff appearances.
He also developed quarterback
Matt Schaub
, who made the Pro Bowl in 2009 and 2012 and had three seasons of more than 4,000 yards passing. Schaub completed more than 61 percent of his passes in each of his seasons with Kubiak.
Kubiak's team plummeted this season to a 2-11 record before he was fired. He collapsed at halftime of a Nov. 3 game against Indianapolis while having a "transient ischemic attack," or mini-stroke, on the field.
Prior to his head coaching stint with Houston, Kubiak was the offensive coordinator for the
Denver Broncos
from 1995 to 2005, working with
John Elway
,
Brian Griese
and
Jake Plummer
, under former Broncos head coach Mike Shanahan.
He also worked for San Francisco as its quarterbacks coach in 1994 with
Steve Young
.
Kubiak is an intriguing candidate in some ways. His offenses with Houston were in the top half of the NFL -- often in the Top 10 -- in all but his first and last seasons with the Texans. When he was with the Broncos, his offense was also routinely in the top half of the league.
He also turned Griese into a Pro Bowler in 2000 and Plummer into a Pro Bowler in 2005.
A message left with Kubiak seeking comment about his interview was not immediately returned. Kubiak's interview was first reported by Fox 2 in Detroit.
July, 5, 2012
7/05/12
12:00
PM ET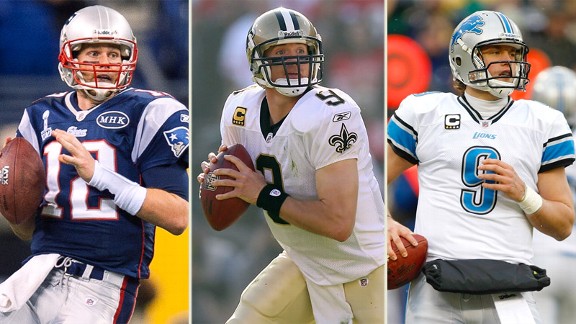 Getty ImagesTom Brady (left), Drew Brees and Matthew Stafford all topped 5,000 passing yards last season.
Mike Tomlin's smile slipped into a smirk. During breakfast at the NFL owners meeting, we were discussing the league's inexorable shift toward the passing game. A longtime defensive assistant before joining the
Pittsburgh Steelers
in 2007, Tomlin refused to concede.
"There will always be [a counter]," he said. "It was amazing a few years ago that we sat in here and we talked about the Wildcat.
Ohhh, the Wiiiiiildcat
. I bet no one has a Wildcat question today, because there is a counterpunch defensively. That's the awesome thing about football. There are guys in labs right now, like [Steelers defensive coordinator] Dick LeBeau, working on that and responding to things."
Yes, the Wildcat formation proved more a gimmick than a game-changer. And Tomlin spoke with the confidence of a coach whose pass defense ranked No. 1 in the NFL last season.
But on the whole, can NFL defenses counter an advantage that has been decades in the making? Is there anything that can stop a trend that produced a trio of 5,000-yard passers in 2011 -- including the
Detroit Lions
'
Matthew Stafford
-- and has, as the chart shows, resulted in steadily rising passer efficiency over the past 25 years?
ESPN.com's NFL bloggers explored the topic with more than a dozen coaches and general managers this offseason. Few shared Tomlin's confidence, describing instead a weighted fight against offenses that boast advantages in both rules and personnel. They connected the rise of the passing game with the NFL's apex in popularity, suggesting the league has ample motivation to ensure offensive supremacy.
"You're not going to stop them," an NFC executive said. "The league is built around prolific offenses. We're never going back to the days of a team scoring in single digits. Let's face the facts. The rules just are very much in favor of the offenses."
Defenses, of course, will continue trying. A team that can consistently limit opposing passers is a sure bet for a deep playoff run. That alone is worth the effort. So let's take a closer look at the issue and then inspect the NFL's current defensive thinking on it.
A long time coming
As the chart accompanying this post demonstrates, this shift is not a recent development but rather a steady climb. Since the 1987 season, gross passing yards and attempts have increased by 25 percent. A portion of that rise can be attributed to franchise expansion, but the climb of passer efficiency -- via the NFL's passer rating system -- illustrates how teams are experiencing substantively better success when they throw.
The 2010 and 2011 seasons, in fact, marked the first times in NFL history when the combined passer rating of all league quarterbacks exceeded 84.
Coaches and executives we spoke with boiled down the causes to three major factors: bigger receivers, rules limiting contact 5 yards beyond the line of scrimmage and newly enforced emphases on contact to the head and quarterback hits.
[+] Enlarge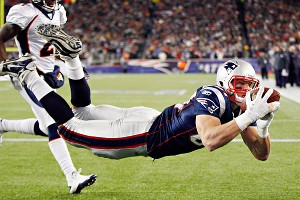 AP Photo/Charles KrupaDefenses now have to contend with bigger receivers and faster tight ends -- like Rob Gronkowski.
"The development of quarterbacks and receivers in recent years," said
Atlanta Falcons
coach Mike Smith, "have made it hard to match up and eliminate or neutralize the strength of those guys. You've got athletes to beat man coverage and formations to beat zone coverage. I don't really see that changing."
New Indianapolis Colts coach Chuck Pagano, a former defensive coordinator for the Baltimore Ravens, sinks a little further in his seat every year at the NFL scouting combine.
"You go there and you're trying to find cover corners to match up with these guys," Pagano said, "and every year these receivers are getting bigger. They walk across the stage and every time they call out the measurables, it's 6-foot-4, 6-5, 220 pounds, 230 pounds. Most of the corners are 5-8, 5-9, 5-10. It's becoming increasingly hard to find that 6-1 cornerback, and now that you have the rise of tight ends as well, you've got so many athletic guys that create matchup problems. It's tough to keep up."
The physical mismatch is exacerbated, coaches and executives say, by rules that limit defensive aggression and physicality.
"It's become hard because the rules have changed so much over time," Tennessee Titans coach Mike Munchak said. "There's limits to what the defensive players can do and guys are even thinking now about how and whether they can hit a receiver."
Green Bay Packers general manager Ted Thompson, whose team allowed an NFL-record 4,796 passing yards in 2011, is among those who understand the issue is not a recent development.
"Just looking at some of the statistics," Thompson said, "[passing] offense has been growing since the inception. I think it's just continuing. I do think the NFL is a very exciting game. My guess is the league itself likes that. It does make it harder to play the game of defense, though."
Thompson cautioned against assuming the game is simply in a cycle that will work itself out.
"There is a natural, 'Ok, you do this, now we'll do this,'" he said. "The people that play defense and coach defense are trying, but the league is a pretty high-powered thing right now."
What to do?
Based on our interviews, at least, it appears NFL teams are shifting their defensive priorities to compensate. Pass rush now dwarfs coverage in terms of importance, but teams are emphasizing coverage skills at supplementary positions more than ever, especially at linebacker and safety, in the draft.
"We can have all the DBs we want," said Houston Texans coach Gary Kubiak, "but if we can't make the quarterback get rid of the ball, it doesn't matter. So [it] starts with pass rush all the time."
Pagano, the coach who watches taller receivers arrive at the scouting combine every year, said: "I think you find that people are trying to put more pressure on the quarterback and not giving quarterbacks a chance to get comfortable in the pocket. People are trying to dictate the tempo. That's the biggest thing.
"Eventually everyone is going to try to find the guy on their team that can match up on the outside. They'll try to find at least one cover guy or a true cover guy. They'll say, 'Here's our No. 1 corner, go take out the best receiver that they've got.' Match him up that way. But I go back to trying to dictate the tempo of the game and getting pressure."
That, of course, is easier said than done. Elite pass-rushers are among the NFL's rarest commodities, leaving many teams to devise elaborate blitz packages to compensate.
"Defenses have to find a way to get pressure on the quarterback with only four pass-rushers," an NFC executive said. "If you're sending linebackers or defensive backs as blitzers, you're going to get torn apart."
[+] Enlarge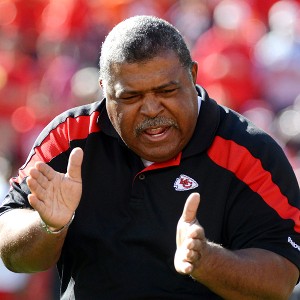 John Rieger/US PresswireChiefs coach Romeo Crennel says teams need to have linebackers and safeties who can cover.
That's true especially when facing elite or near-elite quarterbacks who understand the vulnerabilities of various blitz packages. So what's the answer? For obvious reasons, coaches were loath to discuss schematic solutions, but Kansas City coach Romeo Crennel added some context for how a successful 2012 pass-first defense could be deployed.
A competitive defense in this era, Crennel said, must employ above-average coverage skills at most, if not all, of the seven of the linebacker/defensive back positions. They must work in tandem with a pass rush that doesn't need more than five players to put pressure on opposing quarterbacks.
"You have to be able to cover," Crennel said. "You've got to have guys that can cover. So you're looking at corners that can cover, linebackers that can cover and even safeties that can cover. And not only zone safeties but safeties that can go man-to-man. Because you have to be able to mix man in there.
"So I think that's the biggest thing, particularly the linebackers, because in the formations the linebackers are going to have to walk out and cover a tight end or a back that's out of the backfield, and if they can't move and they can't cover, offensively they find that matchup they like right now and they go right at it. …
"So I think you see defenses transitioning from being those run-stopping defenses where you put eight guys in the box to spreading things out, matchups, doubling more receivers, and then those linebackers have to be able to cover. Because if they can't cover, they're going to get isolated."
Therein lies another problem. How many NFL linebackers can be counted on to cover receivers or even the newest generation of tight ends? There aren't enough to go around, that's for sure.
In the end, a handful of teams could assemble enough players with coverage skills and match it with an active pass rush to give quarterbacks more fits than most opponents. But can anything curtail the larger trend? NFL coaches and executives cast serious doubt on that question. One compared the current combination of factors to the impact of baseball lowering its pitching mound in 1969 to boost batting averages.
In many ways, what's done is done.
"The league doesn't want to curtail it,"
Buffalo Bills
coach Chan Gailey said. "I don't get the feeling that's the case at all. I think the more scoring, the more exciting plays, the better. I don't see it going the other way for a while."
June, 17, 2009
6/17/09
7:03
AM ET
Posted by ESPN.com's Kevin Seifert
Those of you who plan to follow Rex Grossman's progress in Houston should check out this story from Megan Manfull of the Houston Chronicle. The ex-Chicago quarterback threw three interceptions in his first practice with the team Monday.
Manfull's story paints a relatively bleak picture for Grossman's immediate future. He's competing for the No. 3 quarterback spot on a team that hasn't had one for two years. That could change with the departure of reliable backup Sage Rosenfels, but for now Matt Schaub is the starter and former Detroit quarterback Dan Orlovsky is No. 2.
Here's what Texans coach Gary Kubiak said of Grossman's chances for making the team:
"After what I've been through the last two years, [three quarterbacks] might be the way I would lean today. But we have a long way to go, a lot of players to evaluate. And if I'm going to keep them, I'm going to keep them because they all can play. I'm not just going to keep them just so I have three bodies."
Most teams tap a young, developmental-type player at No. 3 rather than a veteran. But Grossman admitted he didn't have much choice but to accept Houston's offer.
Grossman: "There wasn't a whole lot of teams to choose from, to be honest. But I'm excited to be here, and I'm going to work as hard as I can to get back on top."
Continuing around the NFC North:
November, 8, 2008
11/08/08
9:27
AM ET
Posted by ESPN.com's Kevin Seifert
One more thought on the Jared Allen-Matt Schaub storyline that ultimately led to some hard feelings and a $50,000 fine for Allen.
Intent is not a part of most NFL rules. So it makes no difference that Allen steadfastly maintained he wasn't trying to hurt Schaub by hitting him below the knees last Sunday. (And given the state of the Texans' quarterback situation, the Vikings might have been better off with Schaub in the game rather than backup Sage Rosenfels, anyway.)
But Allen's intent doesn't matter. The reason the league put that rule into place is that a quarterback's eyes are never supposed to be on the pass rush. He's not always going to see a defensive lineman lurking near his feet, and certainly not if the lineman comes from behind. A shot below the knee is the easiest way to get the quarterback to the ground, but it puts him in a high-risk injury situation -- especially if his feet are planted to throw -- that the league isn't willing to perpetuate.
Allen seemed pretty upset earlier this week when he thought Houston coach Gary Kubiak accused him of intentionally trying to hurt Schaub. Kubiak clarified those comments Friday and said: "By no means do we think this young man was trying to hurt anybody."
We'll leave conspiracy theories for another day. But even if you give Allen the benefit of the doubt, and that he was merely playing out his instinct to bring down the quarterback, it should now be clear the NFL isn't interested in explanations.
Continuing around the NFC North on a wintry Saturday morning in the Upper Midwest:
November, 5, 2008
11/05/08
3:08
PM ET
Posted by ESPN.com's Kevin Seifert
EDEN PRAIRIE, Minn. -- Our new favorite interview had some choice words Wednesday for Houston coach Gary Kubiak.
First, a bit of background: During a radio interview Monday, Kubiak criticized Minnesota defensive end Jared Allen for illegally hitting Texans quarterback Matt Schaub below the knee Sunday at the Metrodome. Allen was not penalized for the play, but Schaub sprained the medial collateral ligament in his left knee and could miss a month.
Wednesday, Allen said: "I don't care. I don't even know who the hell [Kubiak] is. So I don't care. I'm worried about what coach [Brad] Childress thinks of me and what my peers in this league think of me."
Television replays show Allen hitting Schaub below the knee and from behind, but Allen said it was neither intentional nor late. He said he spoke to Schaub after the game and was aware of no hard feelings.
"People can say what they want," Allen said. "I'm not a dirty player. My reputation speaks for itself. I talked to Schaub after the game. I said, 'Hey man, how is your knee?' We're competitors. He's got the ball in his hand. I'm trying to take down the quarterback. I wouldn't do anything intentionally to hurt people. If the coach wants to spout off that I'm a dirty player because they lost the game, well, whatever."