May, 31, 2013
5/31/13
8:45
AM ET
We're Black and Blue All Over:
One of the more consistent questions I've received this spring concerns the condition of Green Bay Packers nose tackle B.J. Raji when he reported to offseason workouts.
Bob McGinn of the Milwaukee Journal Sentinel
had reported in April that Raji was "overweight and out of shape" when he arrived.

Was he? To what extent? And why, considering he is entering a contract year?
Here's what Raji had to say about the subject, via
Tyler Dunne of the Journal Sentinel:
"I think I'm in pretty good shape. I'm not going to say I was in tip-top shape coming back, but that's what the offseason's for. So everybody came back, and I know those reports got out there. I can't worry about that. I only worry about three or four people and that's Ted [Thompson], [Mike] McCarthy, Dom [Capers] and [defensive line coach Mike Trgovac]. If anybody else has something to say, that's their business."
Indeed, everyone has a right to an opinion. Here's mine: There is more than enough time for Raji to get into football shape before the start of training camp. But if the idea is to have the best season of your career, as you would think most players want in a contract year, it would have been a good start to show up in April in the best shape you've ever been in for the start of an offseason program. Take that for what you will.
Continuing around the NFC North:
July, 12, 2011
7/12/11
7:05
AM ET
We're Black and Blue All Over:
On Monday, we noted the Detroit Lions
have enough salary-cap space
to sign free-agent cornerback Nnamdi Asomugha if they choose.
Dave Birkett of the Detroit Free Press
suggests the Lions won't choose to.

Birkett reports the Lions want to add a cornerback via free agency but doesn't think they can break the bank considering upcoming bonuses due to defensive tackle Ndamukong Suh, tailback Jahvid Best and left tackle Jeff Backus. The Lions also would like to sign defensive end Cliff Avril to a long-term deal, according to Birkett.
Of course, much could change once we get the final details of the new collective bargaining agreement and find out exactly what Asomugha is looking for. Sometimes, suggestions that a player is too expensive can be viewed more as a negotiating tool than a statement of fact. But as we discussed Monday, if a bidding war develops, the Lions would have to sacrifice several other facets of their roster to have a legitimate chance to sign Asomugha.
Continuing around the NFC North:
May, 20, 2010
5/20/10
12:15
PM ET
Brian Urlacher
has the same right to question Gale Sayers' football acumen as Sayers has to make candid comments on the
Chicago Bears
' direction. In a nutshell, that's where I land in what has become a silly public spat between two of the franchise's all-time best players.
[+] Enlarge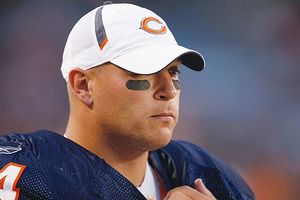 Scott Boehm/Getty ImagesBrian Urlacher wasn't happy with comments made recently by Gale Sayers.
To review:
Sayers recently identified
a number of question marks about the Bears' 2010 team, all of which were defensible and in many ways refreshingly honest. This week, Urlacher
slammed Sayers' criticism
during an interview with the Chicago Tribune. Among other things, Urlacher said:
"Let me ask you a question: 'How many championships did Gale Sayers win? How many playoff games did he win when he played?' None. None. None.

"Does it bother me? There are enough people throwing daggers at us right now. Why does one of our ex-players have to jump in? There are enough experts talking ... about us. So why does a Bear, an all-time great, have to jump in? I just don't like that."
Being a Bears alumnus shouldn't restrict Sayers from speaking his mind. If anything, it implies an obligation to engage in frank and reasonable discussion about the team's direction. Nothing Sayers said was inflammatory or, in my opinion, even wrong. Rather than repeat internal talking points or staying on message, Sayers spoke clinically and honestly. There is a difference between loyalty to a team and blind loyalty to an idea.
Urlacher might suggest that Sayers keep his opinions private, but I'm sure that by now Urlacher realizes the business of football is fair game for public consumption. (Had Sayers made comments that were personal or off-field in nature, that would be another story. He didn't.)
To his credit, Sayers
told the Tribune
that offering a glowing assessment of the 2010 Bears wouldn't be credible:
"If somebody asks me, 'How do you think the Bears are going to do this year?' If I say, 'Oh, they are going to win 14 ballgames,' they know the Bears can't win 14 ballgames. Why should I lie to the people?"
Even if you think the Bears will have an excellent season, it's more than fair to point out the obstacles that stand in their way. In turn, Urlacher has the right to question Sayers' credentials. It's not like Sayers has ever been involved in building an NFL team. Even though I agree with his opinions in this instance, Sayers' words aren't necessarily football gospel. But the bottom line is that honesty -- not
sycophancy
-- is always the best policy.