April, 26, 2013
4/26/13
1:22
AM ET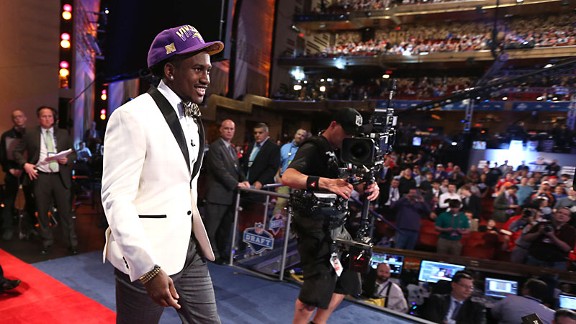 AP Photo/Ben LiebenbergThe Vikings were, GM Rick Spielman said, "very, very aggressive" in grabbing Cordarrelle Patterson.
EDEN PRAIRIE, Minn. -- I stood late Thursday night in the
Minnesota Vikings
' practice facility, mildly surprised that "Crazy Rick" Spielman had used neither of his first-round picks on Notre Dame linebacker
Manti Te'o
. Presently, an alarmed staffer cut into Spielman's news conference.
"Rick has to go," the staffer said. "He'll be back with you soon."
Anxious, Spielman jumped off a podium and sprinted upstairs to the Vikings' draft room.
Ah
, I thought.
Here we go. At the end of a long night, Crazy Rick would find a way to make the long-assumed decision to bring Te'o to Minnesota.
Reporters gathered around phones and a television.
ESPN's Adam Schefter announced partial terms of a deal the Vikings were considering: Surrendering four draft choices to move back into the first round to make a third selection.
Was it Te'o?
Was it a playmaking receiver the Vikings so desperately needed after trading
Percy Harvin
?
Drama played out in real time Thursday night for the Vikings, who made the biggest splash of the NFL's first round -- and they didn't even take Te'o. They benefitted from an unexpected drop by Florida defensive tackle
Sharrif Floyd
, scooping him up at No. 23, and two picks later grabbed a big cornerback in Florida State's
Xavier Rhodes
.
Spielman and coach Leslie Frazier then departed the draft room to begin conducting media interviews. On the way out of the door, Frazier asked Spielman if there was a chance to trade back into the first round for one of several players the team had targeted.
According to Frazier, the consensus was no. "Was looking like probably Friday," Frazier said afterward.
So as the draft moved on, Spielman walked downstairs to speak to beat reporters. Frazier popped on a local radio show. In that moment, a call arrived for those who remained in the draft room. The group included assistant general manager George Paton and director of college scouting Scott Studwell.
The
New England Patriots
were willing to give up the No. 29 overall pick, but it would be costly. If the Vikings wanted back in, they would have to give up choices in the second, third, fourth and seventh rounds of this draft.
Spielman and Frazier quickly reconvened. Even if they met the Patriots' demands, they would have five picks remaining (one in the fourth, fifth and sixth rounds, along with two in the seventh). The Vikings had Tennessee receiver
Cordarrelle Patterson
ranked as the draft's second-most explosive receiver after West Virginia's
Tavon Austin
, and Spielman said: "We felt like he could be that much of a difference-maker."
So the trigger was pulled, the Vikings drafted Patterson and finished the day with three first-round selections, the first team to have more than two first-rounders since the St. Louis Rams in 2001.
(Te'o, by the way, was not drafted in the first round. With no picks available until the fourth round, the Vikings would have to make another deal to draft him. Chances are they'll need to fall back on a third-tier prospect Saturday.)
I bring you that play-by-play in part because I saw it happen in front of my bloodshot eyes and in part because it demonstrates how the draft doesn't just surprise the fans and media members watching from the outside. Sometimes, it takes the teams aback as well.
In the old days, Spielman and Frazier might have been standing on a patio having a stress-relieving cigarette after selecting Rhodes. In 2013, they were fulfilling media obligations and planning for Day 2.
Yes, it was a startling night from start to finish in Minnesota. The Vikings had rolled through 1,000 separate draft scenarios during pre-draft work, according to Spielman, and Floyd "was not in one" of them. The early guess is that Floyd, discussed by media analysts at one point as a top-five prospect, fell because of the startling run of offensive linemen and pass-rushers ahead of him.
Sometimes, players drop because of previously unreported character issues, but Spielman insisted Floyd checked out "very clean" and admitted the Vikings considered trading up to make sure they got him. Floyd figures as the heir apparent to veteran
Kevin Williams
, who will be 33 in August and is entering the final year of his contract.
It wasn't stunning to see the Vikings draft a cornerback, but Rhodes' 6-foot-1 frame suggested he would be off the board as well in a league that cherishes big cornerbacks. The Vikings liked Rhodes so much at No. 25 that they shut the door on all possible trade-downs, of which there were several.
At that point, everyone -- including Spielman and Frazier -- all figured the Vikings' night was over. They thought they had a chance to trade up in the second round Friday and draft Patterson, but when the Patriots called, they decided not to take a risk.
"We were very, very aggressive there," Spielman said, acknowledging the high price tag. Patterson spent only one season at Tennessee after playing at Hutchinson (Kan.) Community College, but the Vikings envision him in a role that a raw receiver could fill. He'll start off as a punt and kickoff returner, where Spielman boasted Patterson "is magic" and can "do just as much or more as Percy [Harvin]." They'll also feature him in some of the simple bubble screens and backfield plays they used Harvin in to capitalize on his open-field running ability.
For a refresher on our pre-draft discussion on Patterson, here is a link to
his Sports Science video
.
The Vikings were hoping to get better in the first round of this draft, and I think they accomplished that. But even they were surprised by how it happens. Sometimes that's how it goes.
February, 11, 2012
2/11/12
2:56
PM ET
A key member of the
Minnesota Vikings
front office has accepted an offer to remain with the team rather than pursue the
St. Louis Rams
general manager job.

George Paton, a longtime friend and colleague of Vikings general manager Rick Spielman, was one of two finalists for the Rams job. He was scheduled to meet with owner Stan Kroenke over the weekend and was considered the favorite for the job, according to
the St. Louis Post-Dispatch
.
But there is widespread uncertainty in the NFL about the authority of the position the Rams are hiring for, given their decision to hire an established coach in Jeff Fisher. Late Friday night, Paton decided to stay with the Vikings under the new title of assistant general manager,
according to the team
.
That title will clarify the role Paton has played for much of his five years with the Vikings, heading the pro scouting department and having a supervisory role over college scouting as well. His connection with Spielman began when the two were with the
Chicago Bears
in the late 1990's. Paton eventually joined Spielman with the
Miami Dolphins
in 2001 and then with the Vikings in 2006.
February, 7, 2012
2/07/12
7:15
AM ET
We're Black and Blue All Over:
Make sure you take a moment to check out
Jemele Hill's column
on the efforts of Chicago Bears linebacker J.T. Thomas to raise awareness for epilepsy.

Thomas, a rookie who spent 2011 on injured reserve, gained notoriety in May when he took
an eighth-grade girl with spina bifida to her junior prom
, recently met a 14-year-old boy who suffers from epilepsy.
I won't spoil the whole story, but let's just say it ended in Indianapolis a few days ago.
Continuing around the NFC North:
January, 31, 2012
1/31/12
7:50
AM ET
We're Black and Blue All Over:
In many ways, it's tough to criticize the Chicago Bears' hiring of Phil Emery as their new general manager. He is by all accounts a highly respected figure in NFL scouting circles, someone who has demonstrated the willingness to work all day and every day to unearth talent and separate the so-called contenders from pretenders.
As we discussed Monday
, his character and approach are that of an ex-Naval Academy conditioning coach, and he sounded in his introductory news conference like a fine person to work for.

About the only criticism I could find in the Chicago media was the suggestion that the Bears swung low in their search to replace general manager Jerry Angelo, valuing competence but also requiring a level of conformity to their existing structure that might have disqualified higher-profile candidates. Here's how
Rick Morrissey of the Chicago Sun-Times
put that sentiment:
"You get what you ask for. What the Bears asked for was a GM who has no desire to fire a middling head coach, a GM who thinks the team isn't far away from being great and a GM who is extremely happy to be here. Check, check and check. Emery sounds like a man who can work with anyone who is put in front of him. That includes [coach Lovie] Smith, the scouting staff and, presumably, Staley the mascot, as long as he's a team player."
Regardless, I think we can use baseball terms to put this hire in proper perspective: The Bears put a runner in scoring position even if they weren't swinging for the fences.
Continuing around the NFC North:
March, 8, 2011
3/08/11
12:29
PM ET
As you might have read somewhere on ESPN.com, Tuesday marks two important pro days in the quarterback draft circuit. Auburn's
Cam Newton
and Arkansas'
Ryan Mallett
will
both be working out on their respective campuses
this afternoon.
The
Minnesota Vikings
are in the midst of a search for their quarterback of the present and future, but we can already tell you that some of the most important people involved won't be in attendance at either pro day. According to
Chip Scoggins of the Star Tribune
, Vikings vice president Rick Spielman and director of pro personnel George Paton are both attending the University of Minnesota's pro day instead. They have been joined by quarterbacks coach Craig Johnson.
I wouldn't read too much into his revelation. It's true that Spielman has ultimate draft authority under the Vikings' leadership structure, but I'm sure the Vikings will have at least a scout at both Auburn and Arkansas. Private workouts are also a possibility. In addition, we don't know where coach Leslie Frazier and offensive coordinator Bill Musgrave are Tuesday, if anywhere.
It would be hard to imagine the Vikings have already ruled out Newton or Mallett as possible draft picks this early in the draft season. Stay tuned.
April, 21, 2009
4/21/09
12:30
PM ET
Posted by ESPN.com's Kevin Seifert
Martin Mayhew seemed prepared for the question. Detroit's new general manager was more than ready to address concerns about his apprenticeship in the failed tenure of predecessor Matt Millen.
"I would say this: Judge me by what I do," Mayhew said, "and don't judge me by who my friends are or how I got here. Judge me by my actions. To me, at the end of the day, that's what it's about. It's what happens here."
| | |
| --- | --- |
| | |
| | AP Photo/Carlos Osorio |
| | There is a lot riding on who Martin Mayhew and the Lions select with their No. 1 pick. |
Mayhew spoke those words in January. Three months later, Judgment Day has arrived. Mayhew's clean slate, assuming you gave him one, is about to receive its most significant etch. He has directed the Lions to an internal decision on whom to select with the No. 1 overall pick in Saturday's draft, and while the choice has yet to be revealed publicly, it will forever define his career in Detroit.
A good decision will jumpstart the Lions' resurgence. A poor choice, or even one that goes awry for reasons unforeseen today, will cement his connection to Millen and dig an even greater hole for the franchise.
Consider the shining moment in the career of Indianapolis general manager Bill Polian: Choosing quarterback Peyton Manning over Ryan Leaf with the No. 1 overall pick in the 1998 draft. Polian already had built a strong reputation by then, but the success of his decision catapulted him to at least 11 more years of employment with the Colts.
On the other hand, can you even name the general manager who selected quarterback Alex Smith with the top pick in 2005? (San Francisco coach Mike Nolan made the final decision.) What about the man who drafted defensive end Courtney Brown in 2000? (Cleveland general manager Dwight Clark.)
Such polarity prompted Polian to offer some sobering advice earlier this winter. Asked what he would say to Mayhew as the Lions contemplate their options at No. 1, Polian said: "Pray a lot. And recognize that you can't be right [all the time]. You're going to be wrong 50 percent of the time."