March, 25, 2014
Mar 25
7:15
PM ET
GREEN BAY, Wis. -- No more dunking over the goal posts.
What's next, no more Lambeau Leaps?
It was worth wondering if that could be abolished after NFL vice president of officiating Dean Blandino said Tuesday the league will penalize players if they
celebrate with a dunk
over the crossbar.
Like the Lambeau Leap, which dates to 1993, the goalpost dunk was previously grandfathered in by the league, making it exempt from a celebration penalty.
Unlike the dunk, it looks like the Lambeau Leap is safe.
In response to an email seeking clarification about whether the Lambeau Leap could eventually join the goalpost dunk on the list of banned celebrations, NFL senior vice president of communications Greg Aiello wrote: "The goalpost issue is the potential delay of game for having to re-set the crossbar after being knocked askew by a dunker. It has happened a few times. Not the case for the leap."
The Lambeau Leap has become expected of all
Green Bay Packers
players who reach the end zone during a home game. It began when then-safety LeRoy Butler jumped into the stands during a game on Dec. 23, 1993, after he scored on a 25-yard fumble return that was originally recovered by defensive end Reggie White, who lateraled the ball to Butler.
"We grandfathered in some [celebrations], the Lambeau Leap and things like that, but dunking will come out," Blandino said, according to NFL.com. "Using the ball as a prop or any object as a prop, whether that's the goalpost, the crossbar, that will come out and that will be a foul next season."
November, 19, 2012
11/19/12
2:25
PM ET
Our friends at ESPNChicago.com
report that
Chicago Bears
quarterback
Jay Cutler
did not travel with the team to San Francisco for Monday night's game against the 49ers. Cutler will, however, resume his weekly radio show with ESPN 1000 on Tuesday, scheduled for 1 p.m. ET.
Cutler
The show will be Cutler's first public comments since suffering a concussion Nov. 11 against the
Houston Texans
. Your first question, I'm sure, is whether that means Cutler has been cleared for the Bears' game Sunday against the
Minnesota Vikings
.
The answer is not necessarily. There is no NFL policy that expressly prohibits players from doing interviews or other media appearances before he is cleared for meetings and practice.
The league's policy, according to spokesman Greg Aiello, is that players are not
required
to do interviews before he is cleared for meetings and practice. Once the player is cleared, he is expected to be available to the media at regular times.
So, no, we can't assume that Cutler has been cleared based simply on the information that he will co-host his radio show Tuesday. We've seen several recent examples, after all, of players speaking with the media before they are fully cleared, from
Detroit Lions
tailback
Jahvid Best
to 49ers quarterback
Alex Smith
.
Perhaps Cutler will shed more light on his condition Tuesday, but all we know at the moment is that he is feeling well enough to resume his radio show.
June, 20, 2012
6/20/12
7:45
AM ET
We're Black and Blue All Over:
As we discussed Tuesday
, the Green Bay Packers would hold the rights to suspended defensive lineman Johnny Jolly if NFL commissioner Roger Goodell accepts his request for reinstatement. The team offered no formal comment on its intentions, but here's what team president/CEO Mark Murphy told
Lance Allan of TMJ-4
:

"The bigger concern for Johnny is just getting his life straightened out. ... Being able to lead a productive life from here on out. He's been out of football for a couple years now."
I don't know how this will play out, but generally speaking, good players get second chances in the NFL, even if it is with a different team. The task now is to figure out if Jolly is still a good player after missing the 2010 and 2011 seasons.
Continuing around the NFC North:
May, 12, 2011
5/12/11
4:12
PM ET
My advice if you're ever having trouble sleeping: Pick up a copy of a Memorandum of Understanding (MOU) -- any will do -- and start reading. If you make it past the second page, you need to see a sleep therapist.
While heading out East Thursday, I plowed through the recently-released MOU of the
Minnesota Vikings
' stadium site agreement with Ramsey County. It took a few tries, but I made it to the end and picked out a few interesting tidbits worth mentioning here.
Most important,
either side can opt out of the agreement if the state legislature hasn't passed the corresponding bill by July 1, or if Gov. Mark Dayton vetoes it. That caveat essentially confirms
what we discussed Tuesday
: All bets are off if the legislature adjourns without taking action May 23. Unless Dayton calls a special session to address it before July 1, the Vikings could re-open the bidding to a number of Minneapolis sites in the fall or winter.
There is no indication the Vikings are wavering in any way, and owner Zygi Wilf has consistently professed a vision -- complete with tailgating and a shopping district -- that can't be achieved in any of the urban Minneapolis sites. But if the Vikings were completely and totally committed to the Ramsey County site, there wouldn't be the need for an opt-out clause so soon in the process.
Answering a question we asked Tuesday,
the Vikings' $407 million share does in fact presume an NFL contribution. The precise amount isn't detailed, but as you know, the NFL's mechanism for funding stadiums has been tapped and is subject to negotiation in the next collective bargaining agreement.
I reached out to league spokesman Greg Aiello to find out if the Vikings have been assured some level of league involvement in this project. They have not. Here's what Aiello said: "The NFL clubs would address a request from the Vikings for league financial support at the appropriate time." Aiello added that any league support would come in the form of a club seat waiver, where visiting teams forfeit their share of club seat premiums to contribute to the stadium fun. That perk requires approval from three-fourths of NFL owners.
The Vikings' contribution also includes revenue generated by selling personal seat licenses (PSLs),
up to $125 million. If you consider a PSL a user fee, you can argue that the public will provide part of the Vikings' private contribution -- in addition to all of the county's $350 million share and the state's $300 million portion. If PSLs generate more than $125 million, the money will be diverted to cover the Vikings' portions of construction cost overruns.
The inclusion of a retractable roof in the original announcement was a surprise, and the
MOU portrays its final inclusion as something less than a certainty.
It will be installed "cost permitting." The roof represents $206 million of the project's total cost, and annual maintenance is estimated at up to $6 million.
The MOU gives the Vikings the discretion to scrap the retractable roof plans and install a fixed roof if it's "not economically or otherwise feasible." That sounds to me as if it is up to negotiation.
January, 22, 2011
1/22/11
4:29
PM ET
After a
week's worth of discussion
about the playing surface at Soldier Field, the NFL felt compelled to weigh in as we head into the final 24 hours before the NFC Championship Game.
Here is what league spokesman
Greg Aiello said via Twitter
:
Game Ops folks say Soldier Field is in good shape. Field is tarped w/ hot blowers under the tarp and heating coils under the field.

The heating coils under Soldier Field are 70 yards wide, extending beyond the field border that is 53.33 yards (160 feet) wide.

Another point re: Soldier Field. Surface is all grass, not painted dirt. Grass is browning some as grass does in Chicago in January.

Field re-sodded Dec 1 w/new turf installed between sidelines. So turf from sidelines out is firm, but not frozen + continues to be heated.

Since re-sod of Soldier Field, 3 games played, no other events. Heat-8" below surface. Temp kept at 51 degrees. Heating extends to benches.
Players from both the
Chicago Bears
and
Green Bay Packers
have criticized the field this week, and Packers receiver
Greg Jennings
called it "probably the worst" in the NFL. The league monitors the conditions of every field, playoffs or otherwise, and so you can view Aiello's series of tweets as acknowledgment it has approved Soldier Field for Sunday's game.
No one expected otherwise, of course. To me, the issue at Soldier Field has never been its condition in December or January. A grass field is going to be torn up by then. But it's often in poor shape much earlier in the season, the result of it being a multiple-use venue. That's less easy to rationalize.
There is also a question of player safety, and whether a torn up and/or frozen field increases the chance of injury. Saturday's statement was the NFL's way of saying that everything has been done that could have been done to ensure a safe field. As we like to say, it is what it is.
February, 10, 2010
2/10/10
10:00
AM ET
I appreciated the thoughtful debate you produced Monday on Dick LeBeau's pending enshrinement to the Pro Football Hall of Fame. I asked if you
considered LeBeau a Hall of Famer
independent of his stellar coaching career, and from the top I should tell you how the voters themselves considered his candidacy.
[+] Enlarge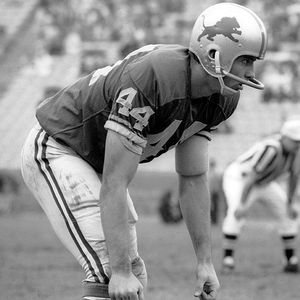 David Boss/US PresswireDick LeBeau went to three Pro Bowls as a member of the Detroit Lions.
As NFL vice president Greg Aiello
points out
, coaches aren't eligible for enshrinement until five years after they retire. LeBeau remains Pittsburgh's defensive coordinator, so by definition that means the Hall's 44 voters were required to evaluate him solely on the merits of his playing career.
I've independently confirmed that with voters. They elected LeBeau based on his performance as a Detroit cornerback from 1959-72. That said, I thought some of you made a reasonable leap by suggesting LeBeau's tenure as an elite defensive coordinator at least kept his name fresh for this generation of the seniors committee and voters.
Wrote
whelk
: He should have been elected a HOF'er as a player in the first place. However, it was his coaching that kept reminding people he was out there. Without the coaching, this deserving player likely would have been forgotten.
And who was that deserving player? You engaged in some of the most interesting debate we've had in Have at It.
Elkman812002
pointed to
this analysis
from Pro Football Reference. The piece notes LeBeau totaled 62 interceptions during an era when teams passed much less frequently than they do now. But it also points out interceptions were much more frequent relative to passing attempts during those times. "Even though only 14 games were played per season in LeBeau's era it was in fact easier to get interceptions," concluded Elkman812002.
Jerious6
countered with what we noted in the original post: LeBeau had more interceptions than any other NFL player during the meat of his career from 1960-71.
Wrote Jerious6: "No matter how easy or hard interceptions were to come by during that time, having more total picks than anyone over that period accounts for something, mostly his consistency."
I think it accounts for more than that.
My take?
I realize there was some gray area in LeBeau's candidacy. There is a reason it took 38 years after his retirement for him to be elected. He was surrounded by some better-known Hall of Fame players, including cornerback Lem Barney, cornerback Dick "Night Train" Lane and safety Yale Lary. The presence of high-caliber teammates tends to lead to the argument that LeBeau got more opportunities for interceptions because opponents chose to "pick" on him rather than challenge ostensibly more talented players.
To me, however, the point is LeBeau made teams pay if they in fact took that approach. He didn't just intercept some passes. When he retired, he had more interceptions than all but one player in the history of the game. Even today, his total ranks among the top 10 of all time. It's overthinking to suggest there is a mitigating circumstances that should overshadow 62 interceptions in 14 seasons.
Interceptions should be a weighted statistic, in my book. In general terms, turnovers are as closely associated to wins and losses than any other figure. Even if LeBeau was a less-skilled cover man than some other Hall of Fame players on his own team and elsewhere, he made up for it at the end of the day.
I understand why it took LeBeau so long to reach the Pro Football Hall of Fame. I also understand why he has finally been included.
November, 5, 2009
11/05/09
10:50
AM ET
Posted by ESPN.com's Kevin Seifert
Those of you who participated in Tuesday's blockbuster
SportsNation chat
know we left two points unresolved. Let's circle back and see if we can achieve some clarity.
The first issue
was a bit complicated. Here's how it started off:
Travis (Minneapolis)
What are the chances that these Congressional hearings on the StarCaps cases could result in the suspensions going into effect this year?

Kevin Seifert (2:07 PM)
I guess it depends on how fast bureaucracy can work. The NFL wants Congress to pass a law that basically allows federal rules to trump state rules on drug testing. Could Congress hold hearings, write the law and get it passed before the end of the season? I don't know.
That answer set off a pretty lively discussion by chat standards, about whether Minnesota defensive tackles
Kevin Williams
and
Pat Williams
would fall under, or be exempt from, any law Congress might pass that closes the legal loophole they're currently utilizing.
A few of you cited the legal notion of
ex post facto
, which basically means that U.S. citizens can't be subject to retroactive laws. If something is legal when you do it, you can't later be charged with a crime if the act is made illegal afterward.
But I contend this is a different situation. Neither player is contesting the facts of what happened. They admit they ingested bumetanide through StarCaps weight loss supplements. The crux of their legal case is whether or not Minnesota state laws for drug testing should apply. Could that question be subject to a "retroactive" law?
I reached out to both the NFL and some regular readers who are also attorneys. The short answer is that it's almost a moot point for the 2009 season.
Subcommittee chairman Bobby Rush, D-Ill.,
said
a law to close the state loophole should be a "last resort." But even if Congress put a law on the fast track and passed it before the end of the NFL season, it seems likely that the players' attorneys would challenge it in court. That act alone would almost certainly push this hypothetical timetable past the end of this season.
So could an act of Congress ever cement the Williams' suspensions? Greg Aiello, the NFL's senior vice president of public relations, said via e-mail: "There is no way to answer the question right now. It might depend on what the law says."
Andrew Stead, a longtime reader and attorney, noted that "this situation differs from passing a law that retroactively limits actions, as opposed to a law that determines jurisdiction."
But in terms of this season, I don't think we'll see any Congressional act impact Minnesota's 2009 season. As attorney Adam Kaminsky wrote in an e-mail, "passing a broad law that infringes on a state's jurisdiction over employment law would lead to prolonged appeals."
The second point
was easier to resolve. I asked for some help in identifying the "Geographic Marker" on Wisconsin Rte. 29, about 15 minutes west of Wausau. I've made the drive to and from Green Bay probably 10 times but never noticed it before.
Multiple readers were quick to point out what the marker stands for, and it's actually pretty interesting. From the
Marathon County, Wis, Web site
:
"[T]he Rietbrock Geographical Marker locates the exact center of the northern half of the Western Hemisphere. It is here that the 90th Meridian of Longitude bisects the 45th Parallel of Latitude, meaning it is exactly halfway between the North Pole and the Equator, and is a quarter of the way around the earth from Greenwich, England."
Score another point for the NFC North!