November, 14, 2013
11/14/13
12:00
PM ET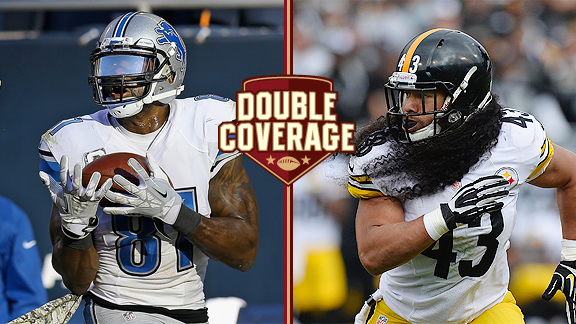 Getty ImagesCalvin Johnson's Lions look to continue their success against Troy Polamalu's struggling Steelers.
The respective histories of the
Detroit Lions
and
Pittsburgh Steelers
suggest that the latter would be 6-3 and the former 3-6 heading into their game Sunday at Heinz Field.
But it is the Steelers who have scuffled this season, and they are still trying to dig out from an 0-4 start. The Lions, meanwhile, sit atop the NFC North and have the pieces to make a lengthy postseason run assuming they can keep up their winning ways.
The Steelers have little margin for error as they try to stay on the fringes of the AFC playoff picture, and the Lions will try to maintain their grip in first place in the NFC North when the teams meet at 1 p.m.
ESPN.com NFL Nation reporters Michael Rothstein (Lions) and Scott Brown (Steelers) take a closer look at the first matchup between the two teams since 2009.
Brown:
Michael, I'm not surprised that the Lions are playing so well this season, and my question for you is, what has the signing of running back
Reggie Bush
done for the offense?
Rothstein:
It's been huge, Scott. Bush's signing in the offseason spreads defenses out and forces teams to make a choice. Either double
Calvin Johnson
or continuously roll safety coverage Johnson's way or bring a defender down into the box to stop Bush -- but that leaves things open for
Matthew Stafford
to find Johnson. He has the ability to take a dump-off play and turn it into a massive touchdown -- something he has done twice on screens this season. While he doesn't change the offense the way it would if Stafford or Johnson were missing, he's a massive cog there.
Speaking of that -- and I feel as if I've asked this question weekly -- how do you think Pittsburgh handles that matchup against the Detroit offense?
Brown:
Michael, it's hard to like the matchup if you are the Steelers. Speed in their secondary has been an issue this season, particularly at safety, and I'm not sure anyone can run with Bush if the Lions isolate him on linebacker or safety as a receiver.
The Steelers are going to have to pay Johnson the extra attention he demands, and last I checked they will only be allowed to have 11 defensive players on the field. Assuming the Steelers use a combination of double and bracket coverage on Johnson, there are going to be some one-on-one matchups that the Lions may be able to exploit.
The Steelers haven't generated a consistent pass rush this season, but it will be absolutely essential that they do so against Stafford. If he is allowed to get comfortable in the pocket Sunday it will be a long day for the Steelers.
The best thing the Steelers can do for their defense is to control the clock, but it won't be easy to run on Detroit's front seven. Does it start on the Lions' defense with tackles
Ndamukong Suh
and
Nick Fairley
, and how have other teams tried to neutralize those two?
Rothstein:
Yes, most of what Detroit does defensively starts with Suh, and to a lesser extent, Fairley. Suh is having one of the most consistent seasons of his career, this despite the constant presence on double teams each week. The attention Suh is given opens rush lanes for Fairley, but he hasn't been completely consistent taking advantage of them.
For every game he has like Sunday's against Chicago, he has a game where he disappears. But the pressure Suh, Fairley and the defensive line put on quarterbacks has led to incomplete passes and interceptions often.
If there is a concern with the Detroit defense, it is with its cornerbacks, who have been inconsistent. Can
Ben Roethlisberger
take advantage of this with his current crop of receivers?
Brown:
Antonio Brown
has really emerged as a No. 1 receiver and made the Steelers look smart for not overpaying for
Mike Wallace
. That said,
Emmanuel Sanders
has not been consistent enough to give the Steelers a receiving option to pair with Brown.
Sanders has a ton of talent, and he is a big-play threat. I keep waiting for him to break out. This could be the week for him to do it as the Steelers are going to have to score their share of points to keep up with the Lions. Lost in the Steelers' 55-31 loss at New England a couple of weeks ago is how much success the Steelers had attacking the Patriots' cornerbacks.
If the Lions' cornerbacks are vulnerable, the Steelers will go after them, and Detroit has to be mindful of the middle of the field where tight end
Heath Miller
and
Jerricho Cotchery
work and are trusted by Roethlisberger.
Michael, I don't see the Steelers winning this game unless they score a lot of points. What needs to happen for the Lions to lose?
Rothstein:
That's an interesting question, Scott, and with the Lions you just never know. I'd probably start with if any of the Lions' starters in the secondary went down with injury. That would necessitate playing either an inexperienced safety or rookie
Darius Slay
if one of the corners goes down. Roethlisberger is good enough that he'd pick on that side of the field consistently.
Another would be to force turnovers. Stafford has been quite good this season, essentially throwing less than two interceptions per 100 attempts (he has a 1.9 percent rate), which is in the top 10 of the league and tied with
Drew Brees
. If Detroit's offense can hold on to the ball and everyone is healthy, it'll score points.
I'll close out with this: You mentioned Pittsburgh trying to establish the run first. What's been going on there? It seems as if there has been a rotating cast of players because of injuries and other issues. Do the Steelers even have a reliable running attack?
Brown:
Depends on the week, it seems, when it comes to the Steelers' running game. It has gotten a lot better since
Le'Veon Bell
became the feature back, and the Steelers have rushed for over 100 yards in their last two games.
To put into perspective how important it is for the Steelers to establish the ground game, they have run the ball just over 51 percent of the time in their three wins and around 30 percent of their time in six losses.
The Steelers have to run the ball against the Lions, and a big component of that is not falling behind early, something that has been a problem this season.
September, 21, 2013
9/21/13
5:00
PM ET
CHICAGO BEARS (2-0) at PITTSBURGH STEELERS (0-2)
7:30 p.m. CT Sunday at Heinz Field on NBC
March, 31, 2010
3/31/10
1:00
PM ET
»
NFC History
:
East
|
West
|
North
|
South
»
AFC
:
East
|
West
|
North
|
South
»
Draft Watch
:
Biggest needs
(2/17) |
Busts/gems
(2/24) |
Schemes, themes
(3/3) |
Recent history
(3/10) |
Needs revisited
(3/17) |
Under-the-radar needs
(3/26) |
History in that spot
(3/31) |
Draft approach
(4/7) |
Decision-makers
(4/14) |
Dream scenario/Plan B
(4/21)
Each week leading up to the NFL draft (April 22-24), the ESPN.com blog network will take a division-by-division look at key aspects of the draft. Today's topic: History in that spot.

Chicago Bears
The Bears' top pick is No. 75 overall. Here are the last five players taken in that spot, with their NFL team in parentheses:
2009:
Ball State tackle
Robert Brewster
(Dallas)
2008:
Oklahoma defensive back
Reggie Smith
(San Francisco)
2007:
Illinois State receiver
Laurent Robinson
(Atlanta)
2006:
Louisville guard
Jason Spitz
(Green Bay)
2005:
Virginia Tech defensive back
Eric Green
(Arizona)
Robinson had 37 receptions as a rookie but has since moved to St. Louis. Spitz was the Packers' opening-day center last season before a back injury sidelined him. He is a candidate to start in 2010. Smith has played in 13 games over the past two seasons for the 49ers, with seven tackles and no interceptions.

Detroit Lions
The Lions' top pick is No. 2 overall. Here are the last five players taken in that spot, with their NFL team in parentheses:
2009:
Baylor offensive tackle
Jason Smith
(St. Louis)
2008:
Virginia defensive end
Chris Long
(St. Louis)
2007:
Georgia Tech receiver
Calvin Johnson
(Detroit)
2006:
USC running back
Reggie Bush
(New Orleans)
2005:
Auburn running back
Ronnie Brown
(Miami)
Brown, Bush and Johnson have all been dynamic playmakers for parts of their careers. Coincidentally, all three have been slowed by knee injuries of varying severity. The Rams are still waiting for elite payoff from Long and endured an inconsistent rookie season from Smith.

Green Bay Packers
The Packers' top pick is No. 23 overall. Here are the last five players taken in that spot, with their NFL team in parentheses:
2009:
Mississippi offensive tackle
Michael Oher
(Baltimore)
2008:
Illinois running back
Rashard Mendenhall
(Pittsburgh)
2007:
LSU receiver
Dwayne Bowe
(Kansas City)
2006:
Oklahoma guard
Davin Joseph
(Tampa Bay)
2005:
Nebraska cornerback
Fabian Washington
(Oakland)
Oher, Mendenhall, Bowe and Joseph have been full-time starters. Washington moved from Oakland to Baltimore.

Minnesota Vikings
The Vikings' top pick is No. 30 overall. Here are the last five players taken in that spot, with their NFL team in parentheses:
2009:
Rutgers receiver
Kenny Britt
(Tennessee)
2008:
Purdue tight end
Dustin Keller
(
New York Jets
)
2007:
LSU receiver
Craig Davis
(San Diego)
2006:
LSU running back
Joseph Addai
(Indianapolis)
2005:
Virginia tight end
Heath Miller
(Pittsburgh)
All five are skill players, for what it's worth. Davis has been a bust, but Miller, Addai and Keller are highly productive players. Britt is on pace to be as well.
December, 20, 2009
12/20/09
6:02
PM ET
PITTSBURGH -- Some halftime thoughts from Heinz Field:


October, 25, 2009
10/25/09
1:45
PM ET
Posted by ESPN.com's Kevin Seifert
PITTSBURGH -- We'll know in a few hours if we just saw a significant play in a close game or a blip on the way to an otherwise inevitable outcome.
Pittsburgh lost an 8-yard touchdown pass to receiver
Santonio Holmes
because officials called tight end
Heath Miller
for offensive pass interference on the other side of the field. Miller drilled Vikings tight end
Chad Greenway
on what looked like a pick play, but it had no impact on Holmes beating cornerback
Cedric Griffin
to the far left side of the end zone.
Jimmy Kennedy
's sack of
Ben Roethlisberger
on the ensuing third-down play forced the Steelers to settle for
Jeff Reed
's 39-yard field goal.
That could potentially be a significant turnaround for a Vikings team that is having trouble moving the ball so far against the Steelers' attacking defense. In its first three series, Minnesota has had had four plays in which it has gained zero or negative yards. Two of them have been sacks, and tight end
Visanthe Shiancoe
's false start pushed the Vikings back 5 yards on another play.
You want to suggest that the focus on the running game to settle things down, but thus far tailbacks
Adrian Peterson
and
Chester Taylor
have combined for 3 yards.