December, 5, 2013
Dec 5
3:25
PM ET
ALLEN PARK, Mich. --
Calvin Johnson
laughed heavily Thursday afternoon. He was answering questions about a report from Fox that he has had his knee drained at points this season.
And it was something he would not confirm or deny. He just laughed instead.
He isn't, though, concerned the ailing knee will curtail his career. He said he believes he can handle fixing the knee in the offseason and hasn't given much thought at all as to when his career will conclude.
[+] Enlarge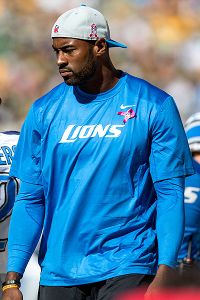 Tom Lynn /Getty ImagesCalvin Johnson needs just 40 more yards to break Herman Moore's team record for receiving yards.
"I'm not worried about that," Johnson said. "Like I say, when the time comes, I'll know, but it's not here right now."
What is coming up for Johnson is yet another record. He is 40 yards from breaking Herman Moore's
Detroit Lions
franchise mark for receiving yards. Moore had 9,174 yards receiving from 1991 to 2001. Johnson said he has gotten to know Moore, who has been around the facility all season working with the team's website.
Johnson, in eight seasons, has 9,135 yards.
"Man, it's crazy all the records and everything that's been going down," Johnson said. "Haven't had too much time to think about it, sit back and reflect on it or anything like that."
Some of what Johnson has been doing has exceeded even what he thought he could accomplish when he was drafted second by the Lions out of Georgia Tech in 2007 after Oakland selected quarterback
JaMarcus Russell
with the first pick of the draft.
Then, he was concerned with working as he had at Georgia Tech and to reward those who had the faith to draft him.
"Never thought I would be in this position that I am right now," Johnson said. "It's truly a blessing."
Since then, Johnson has been through losing seasons and a multitude of quarterbacks. He went through a year where he didn't win at all and Thursday he said he never wanted to leave Detroit. He just wanted to win.
And now, the Lions are winning, in large part due to Johnson, the top receiver in the NFL.
"There's nobody more deserving than Calvin," receiver
Nate Burleson
said. "Herman can see it the same way. If you want somebody to break the record, having Calvin Johnson do it, in the most humble fashion a superstar can do it, he's the right guy to break it."
February, 3, 2012
2/03/12
12:00
PM ET

Carter
In 1994, Cris Carter set an NFL record with 122 receptions over the course of a 16-game season. Shortly thereafter, the Pro Football Hall of Fame received and
put up for display his full uniform
, commemorating an achievement that figured to stand for some time.
The very next year, Herman Moore caught 123 passes for the
Detroit Lions
. Since then, the NFL has seen a 143-catch season (Marvin Harrison for the
Indianapolis Colts
in 2002) and another 123-catch campaign (
Wes Welker
for the
New England Patriots
in 2009). Welker also caught 122 passes this season. In fact, since Carter's 122-catch season, NFL wide receivers have produced 13 seasons that would have broken the record of 112 catches that Carter eclipsed in that 1994 season.
Carter was without question one of the best wide receivers of his era, but if I had to make an educated guess about why he has not yet been enshrined in the Hall of Fame, I would blame his timing. He produced his best seasons at the start of an NFL passing frenzy that has inflated statistics and left Hall voters reluctant to reward them.
There are 21 wide receivers in the Hall, fewer than any position except tight end, place-kicker or punter. And as the first chart shows, only four receivers whose careers began in the past 35 years have been elected. One of them, Art Monk, was enshrined 13 years after his retirement. A second, James Lofton, waited 10 years.
Hall voters might not agree, but the numbers suggest they haven't prioritized receivers as much as some other positions. And those who value the position have no doubt been torn in recent years by the presence of three quality candidates: Carter, Andre Reed and Tim Brown.
The second chart shows the receiving statistics of that trio over a relatively similar career span. Carter was a finalist in 2008, 2009 and 2010. Brown, who was also an elite kick returner, was a finalist in 2010. But Reed has been a finalist every year since 2007, and Carter's absence in 2011 suggests that Reed might have been pushed to the front of the line whenever a receiver (or two) is elected.
When he retired in 2002, Carter ranked second in NFL history in receptions and touchdown catches. He was No. 3 in total yards and total touchdowns. The NFL's offensive explosion has pushed him down in every category, and you hope he doesn't get permanently caught in the subsequent backlash. Catching 244 passes in two seasons, as Carter did in 1994 and 1995, was much more notable at the time than it is now.
While he will always be overshadowed by Jerry Rice, whose career more or less overlapped his, Carter also deserves some big-picture credit for sharpening the science of sideline footwork and warding off opponents with his arm. He was also as durable a receiver as this game as known, missing only four games in 14 seasons between 1988-2002.
I couldn't begin to tell you what might happen Saturday when voters convene to elect the class of 2012. Once again, Carter has joined Brown and Reed on the list of 15 semifinalists. Only five recently retired players, along with up to two nominees from the seniors committee, can make it.
I'll leave you with what the late Detroit Lions beat writer Tom Kowalski a said in a post-vote discussion last year. (
He also tweeted it
, so it's not as if I'm giving away a privileged conversation.) Kowalski, a member of the voting committee, looked at the projected ballots for 2012, 2013 and 2014 and predicted that the "snubs" of 2011 would be rectified over the next three years. If that's the case, it's just a matter of "when" for Cris Carter.
Note:
Carter is one of several former players with NFC North ties among the 15 semifinalists. That list also includes former Vikings defensive end Chris Doleman, current
Green Bay Packers
outside linebackers coach Kevin Greene and former Lions guard Dick Stanfel.
September, 23, 2011
9/23/11
1:30
PM ET
»
NFC Final Word
:
East
|
West
|
North
|
South
»
AFC
:
East
|
West
|
North
|
South
Five nuggets of knowledge on Week 3:
Early positioning:
Last season, the
Chicago Bears
took the early advantage in the NFC North race with a Week 3 victory over the
Green Bay Packers
at Soldier Field. This season, the Packers are hoping to put some early distance between them and their top rivals. A 3-0 start would be the Packers' first since 2007, but more importantly, it would give them a two-game lead over a Bears team that would be 1-2. (Technically it would be more than two games because of an early tiebreaker. But that breaks our unofficial rule on mentioning tiebreakers in September.)
Sod wars:
I firmly believe that constant public discussion about the playing surface at Soldier Field gives the Bears a level of competitive advantage. There is no doubt that some opposing players get caught up in concerns about loose sod and painted dirt. This week, the Chicago Park District re-sodded the field. Normally that would bode well for opponents. Loose sod is probably better than painted dirt. Regardless, the Bears have won nine of their past 10 NFC North games at home. The Packers were the only team to beat them in that stretch, a Week 14 victory in 2009. The Packers should feel fortunate they are playing at Soldier Field in Week 3 rather than Week 13.
Temptation:
You have to think that Bears offensive coordinator Mike Martz salivated this week as he watched film of a Packers defense that has given up 800 net passing yards in two games. He also knows that the Packers have lost safety
Nick Collins
for the season. But Martz backed himself into a corner this past Sunday by overdosing on passing plays in the Bears' 30-13 loss to the
New Orleans Saints
. Whether or not he sees a favorable matchup, he just can't come out firing against the Packers. And even if he did it, chances are it wouldn't work. First, Bears quarterback
Jay Cutler
won't have his most reliable receiver,
Earl Bennett
, who has a chest injury. And Cutler has struggled against the Packers' nickel defense since joining the division in 2009. When the Packers have five defensive backs on the field, according to ESPN Stats & Information, Cutler has averaged only 5.7 yards per attempt, throwing two touchdowns and nine interceptions.
[+] Enlarge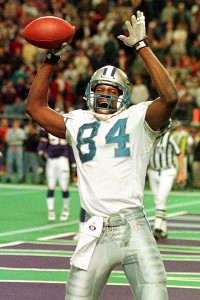 Craig Lassig/AFP/Getty ImagesHerman Moore celebrates his game-winning touchdown catch in the last game the Lions won in Minnesota.
Historical data:
Is the NFC North in for a seismic shift this weekend? For the first time in 30 years -- and the first time in the Metrodome -- the
Detroit Lions
are
favored to win a game in Minnesota
. The last time the Lions won a game in Minnesota was Dec. 14, 1997, when quarterback
Scott Mitchell
threw a 1-yard touchdown pass to receiver
Herman Moore
with one second remaining in a 14-13 victory. The Lions also have an 11-game road losing streak in divisional play, the longest active streak in the NFL. All of that could end Sunday. The Vikings' discombobulated start to this season leaves them ill-equipped to handle a healthy and well-oiled Lions team that has sprinted from the gates this season. Vikings quarterback
Donovan McNabb
has lost seven of his past eight starts, a streak that began when his
Washington Redskins
lost to the Lions last season. The Lions are pushing for their first 3-0 start since 1980. We could go on and on …
Standard rush:
You might envision Lions defensive coordinator Gunther Cunningham as a mad blitzer. When he joined the Lions in 2009, he predicted they would
blitz on 40 percent of opponents' drop backs
. But this season, at least, Cunningham is smartly capitalizing on his talented defensive line and leaving his back seven in position to make plays as often as possible. According to ESPN Stats & Information, Cunningham didn't send more than four pass-rushers on any of the
Kansas City Chiefs
' drop backs last Sunday at Ford Field. On the season, he has sent at least one extra rusher 17.6 percent of the time. That's the third-lowest percentage in the NFL. Given the Vikings' limited passing effectiveness this season, there is every reason to believe Cunningham will follow a similar path this Sunday. If you can play good pass defense with four rushers, why send more?