NFC North:

Isa Abdul-Quddus
October, 22, 2014
10/22/14
11:00
AM ET
LONDON -- Each week, we'll take a look at who or what might be rising or falling with the
Detroit Lions
.
RISING:
Johnson
WR Calvin Johnson:
It is still unclear if the star receiver is going to play Sunday against Atlanta at Wembley Stadium, but he is clearly making progress on his injured ankle. He said he is feeling good and that he did a little bit of field work last week, which is a step up for him. He also told the NFL Network he has been running more than before, another good sign of his eventual return. It'll likely be a decision between the coaches, doctors and Johnson as to whether he plays Sunday or waits until after the team's bye, but it does sound like he is closer to full strength than a week ago.
LB Josh Bynes:
He signed with the Lions when
Stephen Tulloch
tore his ACL celebrating a sack of
Aaron Rodgers
and has slowly moved his way into some snaps with the Detroit defense. He has played in 30 total snaps the past two weeks spelling
Tahir Whitehead
. But the Lions clearly have some trust in him as he was in the game on the second-to-last series against New Orleans, when
Glover Quin
picked off
Drew Brees
to set up the game-winning score.
The Lions free-agent defensive signings:
Detroit made three moves critical to its defense during the offseason -- bringing in defensive ends
Darryl Tapp
and
George Johnson
along with safety
James Ihedigbo
. Ihedigbo was the team's biggest defensive move and after missing three games due to a neck injury has become one of the Lions' best defenders and a smart pairing with Glover Quin at safety. The more surprising play has come from Tapp and Johnson, both guys who were questions to make the roster at one point -- Tapp was cut and re-signed in August -- and have found roles in the Detroit defense. Tapp has been good against the run and Johnson leads the Lions defensive linemen in sacks (four) and is third among Detroit defensive linemen in tackles with 16.
FALLING:
Broyles
WR Ryan Broyles:
Another week with the Lions decimated by injuries, another week where Broyles has little to no role in the offense. At this point, it looks like unless there is an in-game injury, Broyles just isn't going to see the field much at all. He has one reception for 21 yards this season and has not run more than three routes in a game.
The Detroit running game:
Reggie Bush
,
Joique Bell
and
Theo Riddick
have all had injuries this season, but it still doesn't explain why the Lions have been unable to run with any success. Detroit is 31st in the NFL in rushing yards per game (82.43) and yards per rush (3.12). Neither Bell (3.5 yards per carry) nor Bush (3.3 yards per carry) are even close to Jim Caldwell's stated preference of four yards per rush and other than brief spurts in second halves, the Lions just haven't been able to move the ball on the ground.
S Isa Abdul-Quddus:
The starter at safety when Ihedigbo was out, Abdul-Quddus has primarily become a special-teams player at this point. His snaps have decreased every week since Ihedigbo's return, from 19 against the Jets to 15 against Buffalo, one against Minnesota and none against his former team, the Saints. He still has a role on special teams, where he is part of their core, but it looks like he won't be remaining as a player in a defensive package for Teryl Austin unless there is an injury.
October, 20, 2014
10/20/14
10:00
AM ET
The
Detroit Lions
were down their top wide receiver, two of their top three tight ends and still had a hobbled running back in
Reggie Bush
.
And yet receiver
Ryan Broyles
still rarely stepped on the field against the
New Orleans Saints
.
Broyles
The former second-round pick actually saw six snaps Sunday -- the most he's had all season -- but four of those plays were runs. He was not targeted, was barely used and clearly has no role in this offense now, even with injuries all over the place to skill-position players.
Only one offensive player -- sixth lineman
Travis Swanson
-- played fewer offensive snaps than Broyles, and Swanson had five of them.
The Lions stuck with a three-receiver base set most of the game, too, with
Golden Tate
in on 63 of 70 plays,
Jeremy Ross
on 62 of 70 plays and
Corey Fuller
on 62 of 70 plays. Then came Broyles, who barely filled in.
He plays a different position, but tight end
Jordan Thompson
, who was called up Saturday by the Lions, had double the snaps of Broyles (12) and was even targeted once (an interception that bounced off his hands to Saints safety
Kenny Vaccaro
).
Considering the Lions are in a constant rotation of players and formations to try to gain an advantage on an opponent, the lack of usage for Broyles is pretty jarring.
He fought to make the team during training camp and has expressed both understanding and frustration about his usage before -- on Twitter last week and
to ESPN last month
.
But as the injuries to other players pile up and Broyles continues to remain on the bench, it is becoming more and more clear there just might not be much of a role for him on the Lions.
Other snap count notes for the Lions from Sunday:
September, 29, 2014
9/29/14
3:00
PM ET
EAST RUTHERFORD, N.J. – It took seven nickel cornerbacks and one defensive wrinkle, but the
Detroit Lions
appear to have finally found an answer in how to handle the slot on defense.
Use two different packages, each geared with different down-and-distance in mind along with varying tendencies for an opponent. The Lions brought both nickel packages out Sunday afternoon, essentially one on likely running downs and the other in probable passing situations.
When it appeared the Jets were going to run, Detroit used a defensive package with three safeties:
James Ihedigbo
,
Isa Abdul-Quddus
and
Glover Quin
. The Lions would play Ihedigbo, typically a strong run defender, at his traditional strong safety spot. Abdul-Quddus would handle the free safety role, and Quin dropped down to play the slot corner.
[+] Enlarge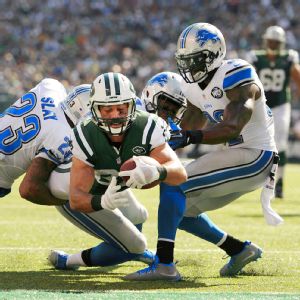 Ron Antonelli/Getty ImagesThe Lions used a couple of different nickel packages with positive results against the Jets.
When the Lions went nickel in traditional passing situations, Detroit kept Ihedigbo and Quin back at safety and brought in
Danny Gorrer
to handle the slot corner, much like he did last week when
Don Carey
re-injured his hamstring against Green Bay.
"It worked," cornerback
Rashean Mathis
said. "Kudos to the staff, they did a good job of having two guys ready to go, and we need that. We have a lot of versatility in our secondary and it's showing."
The Lions used the more traditional nickel package with Gorrer on the field and both Quin and Ihedigbo at safety on 27 plays. Abdul-Quddus played 19 snaps, so that meant 19 plays with Quin down in the bigger nickel.
Ashlee Palmer
played 18 snaps, meaning the Lions were in the 4-3 personnel 28 percent of the time Sunday against a heavy run team.
The Lions did this because of New York's preference to run out of any formation available. New York did rush for 132 yards and 4.9 yards per carry, but 63 of those yards came on the first drive of the game. After that drive, the Lions forced five straight three-and-outs.
"You think about it, they went 12 personnel, which is primary pass form and then they can do some running out of it," Ihedigbo said. "So to have three safeties in there, it worked out great for us."
The Lions have some experience with 12 personnel on their own roster, too, as the team has used a single-back, two -receiver, two tight-end set more often this season than last season. So they can practice against this set if necessary.
Detroit guessed right off down-distance pretty well, too. Pro Football Focus had Gorrer on the field for 20 pass plays and Abdul-Quddus for 10 rushing plays.
Defensive coordinator Teryl Austin's newest wrinkle worked with Detroit's defense, though, in part because Quin has experience playing cornerback. While he has not dropped down and played corner much since moving to Detroit prior to last season, he isn't a complete neophyte at the position so he can provide some coverage if necessary.
He also has experience playing closer to the line of scrimmage so he can really be used anywhere the Lions would like at this point.
It is part of the flexibility of Detroit's defense and being able to play veterans at both safety spots.
"It's just the versatility of our defense," Ihedigbo said. "With our defense, when you know the whole entire defense, you can implement guys in different spots.
"That's what makes it so effective."
September, 21, 2014
9/21/14
11:55
AM ET
DETROIT --
James Ihedigbo
must continue to wait for his first game as a Detroit Lion.
Ihedigbo, who was signed in the offseason as a replacement for the oft-injured
Louis Delmas
, will miss his third straight game at safety with a neck injury. Ihedigbo, who came over from Baltimore as the team's biggest defensive free-agent signing, has been doubtful the past two weeks.
In his place, Isa Abdul-Quddus will start.
As expected,
Garrett Reynolds
is picking up his second straight start at right tackle in place of the injured
LaAdrian Waddle
.
In a bit of good news for Detroit,
Ezekiel Ansah
,
George Johnson
and
Nick Fairley
are all active -- and rookie
Larry Webster
is active at defensive end for the first time, likely because of the injuries during the week to the aforementioned three defensive linemen.
Lions inactives:
QB
Kellen Moore
, CB
Cassius Vaughn
S James Ihedigbo, FB
Montell Owens
, LB
Travis Lewis
, OT LaAdrian Waddle, WR
Ryan Broyles
September, 6, 2014
9/06/14
4:25
PM ET
James Ihedigbo
signed with the
Detroit Lions
during free agency as a replacement at safety for
Louis Delmas
, who often had injury questions.
Now, Ihedigbo is possibly going to have to wait at least a week to make his Detroit debut. Ihedigbo, who has been dealing with knee and neck injuries, was listed as doubtful by the Lions on their final injury report of the week for Monday night's game against the New York Giants.
He is one of two Lions safeties unlikely to play against the Giants.
Don Carey
, who is the team's third safety and an important special-teams player, has been ruled out as he deals with a hamstring injury. He hasn't practiced all week.
If Ihedigbo doesn't play, expect
Isa Abdul-Quddus
to start. With Carey out, it almost guarantees the team makes sure rookie undrafted free agent
Jerome Couplin
is active Monday in at least a special-teams role.
Abdul-Quddus, who grew up in New Jersey and played college football at Fordham in the Bronx, New York, has played in 42 games, making 52 tackles and intercepting two passes. He had a productive preseason, starting the final two games of the exhibition campaign in place of Ihedigbo.
Defensive tackle
Caraun Reid
, who is dealing with a shoulder injury, is probable for Monday.
September, 1, 2014
9/01/14
7:27
PM ET
ALLEN PARK, Mich. --
James Ihedigbo
hasn't played in two weeks. He didn't even travel to Buffalo for the
Detroit Lions
' preseason finale against the Bills.
If you listen to the Lions' starting safety, though, he is not concerned.
Ihedigbo
"I'm just resting," Ihedigbo said Monday. "Getting ready for Monday night. That's what really the mindset going in is."
It's a curious statement, because Lions coach Jim Caldwell indicated after Thursday's preseason finale that Ihedigbo had stayed behind to receive treatment. Typically, that indicates an injury of some sort that needs to be healed.
Prior to practice Monday, Caldwell declined to give an update on Ihedigbo and said to wait for the injury report, the first one being released Thursday.
Ihedigbo said he was told by the Lions' coaching staff to remain behind in Michigan instead of heading to New York.
"I just do what I'm told and that's what was told to me," Ihedigbo said. "And that was the best thing for our team and that's what I do, whatever the best thing for my team."
Ihedigbo is expected to be a starter at strong safety opposite
Glover Quin
. If Ihedigbo can't play for some reason, either rookie James Couplin or veterans
Don Carey
or
Isa Abdul-Quddus
will pick up the start.
Abdul-Quddus started for Ihedigbo against Buffalo.
As of now, Ihedigbo insists he'll be ready to play against the Giants.
"Yeah, of course," Ihedigbo said. "It's Monday night."
August, 28, 2014
8/28/14
10:16
PM ET
If
Kellen Moore
were trying to make a case to
Detroit Lions
general manager Martin Mayhew and head coach Jim Caldwell for inclusion on the team's 53-man roster, he certainly did it Thursday night.
Moore, who played the majority of the Lions'
23-0 victory
over Buffalo in the preseason finale, managed the game well and moved the ball down the field with relative ease. Yes, Moore continued to play with and against extreme backups, many of whom will not be on the Bills roster in 48 hours, but he did what he could with what he was given.
That included going 17-of-28 for 172 yards and two touchdowns. One of his touchdown passes, a 25-yarder to
Corey Fuller
, was threaded perfectly between defenders.
His status will be one of many calls for Lions coaches and Mayhew.
Here are some other thoughts from the Lions' preseason finale:
August, 22, 2014
8/22/14
6:25
PM ET
DETROIT -- The
Detroit Lions
will be without one defensive starter and a key defensive reserve Friday night against Jacksonville.
Safety
James Ihedigbo
and linebacker
Kyle Van Noy
will be sitting out against the Jaguars along with rookie wide receiver
TJ Jones
.
More interesting, though, might be some of the starter replacements.
Isa Abdul-Quddus
will start at safety in place of Ihedigbo instead of
Don Carey
, perhaps signifying Abdul-Quddus' move up the depth chart.
Tahir Whitehead
is starting at Sam linebacker in place of
Ashlee Palmer
in another surprising move.
Corey Hilliard
will be at right tackle over
LaAdrian Waddle
, perhaps a sign that the vet could end up winning that job. Also,
Devin Taylor
will start at defensive end in place of
Ezekiel Ansah
. Ansah is active and is expected to play, but will likely be limited in his snaps.
August, 13, 2014
8/13/14
7:15
PM ET
ALLEN PARK, Mich. – A daily review of the hot topics coming out of
Detroit Lions
training camp:
Nick Fairley Watch – Day 3: The defensive tackle remained with the second unit throughout practice Wednesday, potentially signifying he won't be used as a starter Friday night in Oakland. C.J. Mosley again ran with the first group and continued to play well alongside usual starter Ndamukong Suh. There were also points – much as in previous days – when Jason Jones moved from end inside to tackle with the first group. Still don't expect things to stay this way permanently – Fairley is too talented to not be a starter at some point – but there is absolutely a message being sent here with each day Fairley doesn't line up with the starters. He also, as he has done Monday and Tuesday, declined to talk with the media after practice to discuss the situation. Meanwhile, Mosley continues to go about his business every day during practice.
The other defensive lineman of note, Ezekiel Ansah, practiced again Wednesday but remains limited as he works his way into the rotation. At this point, Ansah is participating in everything other than team and heavy-contact portions of practice, but that should be expected. "His progression is going to be gradual. It's not like you come off [the physically unable to perform list] and go right to work and get banged around in here," Lions coach Jim Caldwell said. "This game is a bit too strenuous for that. We're going to bring him along and make certain he gets enough work, and as soon as doctors say he is able to go full-speed, all-out, we're going to turn him loose."
Another interesting caveat of the past two days has been at safety. James Ihedigbo and Glover Quin are running with the starters, but behind them, the pairing of Jerome Couplin and Isa Abdul-Quddus has been playing consistently with the No. 2 group, and Don Carey and DeJon Gomes have been with the No. 3 unit. More than likely, this is to give Couplin and Abdul-Quddus, both of whom were brought in during the offseason, a longer look as cut days start to loom. Abdul-Quddus played more snaps than any other defensive player Saturday night and had an interception. Couplin has been among the more impressive undrafted rookie free agents and has already gained the reputation as a player who can hit. He has rebounded well since being flattened by George Winn in practice a little under a week ago.
Speaking of Winn, if you're looking for a complete surprise to make the roster, he is gaining some steam to do it. He briefly saw time as a blocker on what appeared to be the first-team kick return unit Wednesday and continues to run at a strong, hard pace. Other than his fumble against the Browns on Saturday, he has had a real strong camp and while he still has a lot of players to pass, he is at least giving himself a shot.
The most interesting hit of the day came during a team period, when safety James Ihedigbo stepped up on a route over the middle and broke up a pass intended for Kris Durham, timing the hit perfectly and sending Durham to the ground. Ihedigbo has been one of the harder hitters during camp and that is part of why the Lions brought him in to replace Louis Delmas in the offseason.
Lions vice chairman Bill Ford Jr. was at practice Wednesday. The team ownership, between Bill Ford Jr. and his mother, Martha Ford, have been at practice often during camp but have not spoken publicly with the media yet.
Caldwell took the ALS challenge laid down for him by Golden Tate after practice Wednesday. The video lives here.
The Lions are off Thursday to travel to Oakland, where they play the Raiders on Friday night. The Lions next practice Saturday in Allen Park, Michigan. It will be a closed practice.
June, 11, 2014
6/11/14
7:30
PM ET
ALLEN PARK, Mich. – There is now one day left.
The
Detroit Lions
finished up the second day of their mandatory minicamp Wednesday and it was probably the most balanced day the team has had during their sessions. After the first two weeks of open practices where the defense was dominant and the last couple of practices where the offense has been better, neither group seemed to take over the practice.
Johnson
That might be a good sign for the Lions that the offense is catching up to the defense even if both sides of the ball were without key contributors. Here are some thoughts, notes and observations from the day.
May, 8, 2014
5/08/14
10:00
AM ET
The NFL draft is less than 12 hours away, which means soon enough the
Detroit Lions
will have to reveal whether all of their
Sammy Watkins
attention and visits from
Jadeveon Clowney
and
Khalil Mack
had substance or were designed to throw everyone off.
But the draft will be more than just one round for the Lions, who will need to use the three days in May to build depth on a roster that is big on stars but small on those players beyond the big names that can turn the Lions into a playoff team.
Every day up until the first day of the draft, we'll look at a different position grouping and see what Detroit has and what the team could end up looking for during the 2014 draft.
Today concludes with safeties.
Other previews
Players Lost:
Louis Delmas
(signed with Miami)
Players Signed
:
Isa Abdul-Quddus
(from New Orleans);
James Ihedigbo
(from Baltimore);
Nate Ness
.
Players on the roster:
Glover Quin
;
Don Carey
;
DeJon Gomes
; Ihedigbo; Abdul-Quddus; Ness.
Draft priority:
High
Potential Rounds:
Any
Players who have visited or the Lions have met with:
Ha Ha Clinton-Dix
, Alabama;
Deone Bucannon
, Washington State;
Jaylen Watkins
, Florida (per Detroit Free Press).
Analysis:
Much like cornerback, safety is a definitive need for Detroit in this draft. The Lions tried to assist themselves at the position in free agency by signing Ihedigbo and Abdul-Quddus. The problem there is Abdul-Quddus is more of a four-unit special teams player and Ihedigbo appears to be more of a stop-gap option for the Lions than the safety of the future.
This is a position group Detroit needs to upgrade and it is a somewhat tough class to do it in unless the Lions make a move early. That's part of the reason why I had the Lions taking Clinton-Dix in the
first round of the NFL Nation mock draft
earlier this week and why he could very well be the team's choice Thursday night.

Clinton-Dix
In letting go of Delmas, the team signified it wanted to find a more reliable playmaker than Delmas. Too often, Delmas would miss on plays and his injured knees were a concern. The Lions let him go and he signed with Miami, but it also all but guaranteed the team would look to safety early in the draft.
If Detroit is going to really go after winning now, it needs to improve its defensive backfield with a top pick or two. In doing so, it should also improve the front seven, which would then have that extra half-second they so often seemed to need last season to sack quarterbacks.
Depending how the board falls Thursday -- and really, other than a trade, that will dictate all of the Lions' decisions -- Clinton-Dix could be taken by Detroit or left on the board for someone else. That's part of the fun of the draft, truly no one can accurately predict what is going to happen.
Of all reasonable options, I'd take:
Clinton-Dix in the first round if the board falls even as close to expected. I know Bill Polian disagreed with me on "SportsCenter" on Wednesday, but the Alabama safety does not feel like a stretch at No. 10 and would fill an immediate need. Drafting Clinton-Dix could also move Ihedigbo into a more flexible role. Of course, the Lions haven't drafted a safety in the first round since Bennie Blades in 1988.
If the Lions passed on Clinton-Dix in the first round, a player to watch in later rounds could be Northern Illinois'
Jimmie Ward
in the second round; Minnesota's
Brock Vereen
in the third or fourth round and Wisconsin's
Dez Southward
in the fourth or fifth round.
Possible targets:
Clinton-Dix;
Calvin Pryor
, Louisville; Bucannon; Ward;
Craig Loston
, LSU; Vereen; Southward;
Dion Bailey
, USC.
March, 3, 2014
3/03/14
12:00
PM ET
Every day we'll take a look at one of the Detroit Lions heading for free agency, what he has meant to the team before and a prognosis on whether or not he'll be back with the club in 2014.
To view the entire series to date, click this link.
Free agent to be:
John Wendling
Position
: Safety
Age:
30
Years in the league:
7
What he made last season:
$938,334 (cap number); $715,000 (base salary), $15,000 (roster bonus)
What he did last season:
Wendling wasn't needed at all defensively in 2013, playing one snap the entire season with the defense. But his real role is on special teams, where he made 14 tackles and was one of the team's most used and effective special teamers. That was part of why he was brought over from Buffalo after the 2009 season and why he made an impact with the Lions over the past four seasons.
His potential market value
: Could be decent, although not as a priority free agent by any means. He will be a player who will eventually be brought into a camp by a team that struggled on special teams coverage last season. The
Washington Redskins
, for example, was one of the worst teams in the league on both punt and kick coverage.
Will he fit the Lions still:
No. It initially looked like Wendling could be a candidate to return to Detroit through free agency because of his role on special teams and familiarity with John Bonamego's coverage systems. However, once the Lions claimed
Isa Abdul-Quddus
off waivers earlier this year and then kept him off the restricted free agent market by giving him a one-year deal that counts $695,000 against the cap, that likely took Wendling's potential special teams spot. Bonamego was the person general manager
Martin Mayhew
said went into his office to campaign for Abdul-Quddus. At the NFL combine, Mayhew said Wendling would not be back with Detroit in 2014.
What happens:
As mentioned above, Wendling will likely find a spot in a training camp because of his special teams prowess, not any potential he has as a safety. At 30 years old, Wendling is likely on his last few years in the NFL as player who specializes in special teams play, but he should still be productive enough for a team to take a look at him and give him a shot to make a roster.