December, 29, 2013
12/29/13
3:30
PM ET
August, 13, 2013
8/13/13
11:15
AM ET
GREEN BAY, Wis. -- In his first eight drafts as the
Green Bay Packers
general manager, Ted Thompson picked 76 players.
Of those 76, a total of 61 played for the Packers at some point during their rookie seasons, which helps explain why they're usually one of the youngest teams in the NFL, if not the youngest.

In Thompson's ninth draft this past spring, he picked 11 more players. Here's a player-by-player look at how each player has fared so far in training camp:
Datone Jones, DE, first round (26th overall): Until an ankle injury in Friday's preseason opener against Arizona, Jones was on track to be one of the two inside rushers in the nickel package. Through two weeks of camp, Jones' record of 11-12 in the one-on-one pass-rushing drill was tops among defensive players with five reps or more. Jones has excellent quickness and uses his hands well, two essentials for pass rushers. "Everybody can see the big-play potential that he has," defensive line coach Mike Trgovac said. "But he's still making some rookie mistakes out there." His injury does not appear to be serious, but it limited him to just one snap in his preseason debut and may keep him out of Saturday's game at St. Louis. If Jones gets back in a timely fashion, he can still push for snaps in the base defense, too.
Eddie Lacy, RB, second round (61): After an impressive showing in the Aug. 3 scrimmage, Lacy looked like a good bet to start at running back. He showed the kind of power to fight for extra yards that the Packers lacked last season. Running backs coach Alex Van Pelt said Lacy was "as good as I've seen, as good as (any of) our guys" at reading the play and finding a hole. "He can feel where the hole is going to be before it's there by the flow of the defense," Van Pelt said. "Very rarely do you see him making the wrong cut." But a hamstring injury kept him out of the preseason opener and questions remain about his ability to stay healthy.
David Bakhtiari, T, fourth round (109): Perhaps the most impressive of the draft picks, Bakhtiari opened camp as a candidate to start at right tackle but was installed as the starting left tackle following the season-ending knee injury to Bryan Bulaga on Aug. 3. Though undersized for a left tackle at just 300 pounds -- he's the lightest tackle on the roster -- he's athletic and smart. Through the first two weeks of practice, the coaches noted that he made only one mental error. "He's a student of the game and the thing about him, he's very mature," offensive line coach James Campen said. Bakhtiari had no obvious bad plays in a 38-snap stint against the Cardinals.
J.C. Tretter, G/T, fourth round (122): Sustained a broken ankle in the first OTA practice in May and remains on the physically unable to perform list. He likely will stay on PUP and try to make a late-season return. His injury may have opened up a spot for another rookie, undrafted guard Lane Taylor, to make the team.
Johnathan Franklin, RB, fourth round (125): Has shown some of the open-field quickness he displayed at UCLA. For example, he turned a short screen pass into a 9-yard gain against the Cardinals, but he has struggled to find a rhythm in the running game. He averaged just 2.3 yards on six carries against Arizona and has to improve his footwork, according to the coaches. "As he becomes more comfortable, finds his niche in our offense, we find how we want to use him, what personnel groupings and what style of plays we use with him, I think he'll become more comfortable," running backs coach Alex Van Pelt said. Franklin also has taken reps as a kick returner but doesn't appear ready for the job.
Micah Hyde, CB, fifth round (159): With Tramon Williams and Casey Hayward sidelined because of injuries, Hyde has moved into a starting role at least for now. Although he allowed a touchdown against the Cardinals on a difficult-to-defend fade pattern, Hyde's physical style of play has been apparent from the beginning. His lack of top-end speed may make him more suited to play in the slot, where Hayward typically plays, but he also has repped at Williams' spot on the outside. "He still has a ways to go, but he still shows that it's not too big for him," cornerbacks coach Joe Whitt said.
Josh Boyd, DE, fifth round (167): At 6-foot-3 and 310 pounds, he has good size and moves well enough to be effective inside but has a ways to go in terms of footwork, hand placement and pad level. Questions remain about his ability to play hard on a consistent basis. He hasn't shown much pass-rush ability, going 4-24 in the one-on-one drill. "He could be a good run player," Trgovac said. "He'll put his face and his hands in there and separate. He's got strong hands where he can just shed a blocker."
Nate Palmer, OLB, sixth round (193): After playing defensive end at Illinois State, Palmer was drafted to play outside linebacker, and it's been a difficult conversion. In fact, he might even be behind undrafted rookie Andy Mulumba of Eastern Michigan on the depth chart. "Palmer has shown some pass-rush ability and like all those young guys, he's learning the position," defensive coordinator Dom Capers said. "It's new to him with all the dropping (into coverage) and all of that." Palmer's best chance to contribute might be on special teams, but he hasn't cracked many of the top units yet.
Charles Johnson, WR, seventh round (216) and Kevin Dorsey, WR, seventh round (224): These two are grouped together because they have yet to put the pads on. Both were hurt on the opening weekend of camp, Dorsey with a leg injury and Johnson with a knee injury, and there's no timetable for their return. They were drafted to compete for the Nos. 4 and 5 spots behind Randall Cobb, James Jones and Jordy Nelson, but their injuries have all but taken them out of the competition. "These two young men do a good job in the classroom environment, but the most important part after you're well prepared is to now go out on the practice field and show us," receivers coach Edgar Bennett said.
Sam Barrington, LB, seventh round (232): His ability to locate the ball and run make him an ideal candidate for a core special teams player, which at this point might be his best chance to get on the field. "He's one of those guys who can make flash plays because he can plant his foot in the ground and go from point A to point B, and I think you'll see those same things show up with him on special teams," Capers said.
August, 2, 2013
8/02/13
11:55
PM ET
GREEN BAY, Wis. -- A week into training camp, the
Green Bay Packers
don't know much more about rookie receivers
Kevin Dorsey
and
Charles Johnson
than they did when they drafted them back in April.

The two seventh-round picks missed most of the offseason program because of injuries, and they dropped out again during the second practice of training camp last Saturday. Neither has returned.
Though there's plenty of time for them to make a run at the fourth and fifth receiver spots, those positions are no longer as wide open as they first appeared thanks to the play of
Jarrett Boykin
and
Jeremy Ross
.
Boykin was the last receiver to make the team last season but was used sparingly. He has caught just about everything thrown his way in the first week of camp. That continued Friday night, when he had perhaps his best practice to date. In a team period early in practice, he stretched out to make a tough catch on a deep ball from
Aaron Rodgers
. Two plays later, Rodgers hit Boykin on a hitch that he quickly took up the field.
Ross, who was promoted from the practice squad last season but was used primarily on special teams, stood out during the two-minute period that ended practice. On a four-play scoring drive, Ross had catches of 15 yards on consecutive plays.
Boykin and Ross also have been given extensive roles on special teams.
"They've definitely created a value for themselves individually and continue to improve and make plays," Packers coach Mike McCarthy said after practice.
Daniels dominates:
Defensive tackle
Mike Daniels
continued to shine in pass-rushing drills. The second-year pro won three of his four reps Friday to improve his camp-long record to 9-8 in a drill that heavily favors the offensive player.
At just 6-foot and 291 pounds, Daniels probably isn't big enough to be an every-down player, but he might be carving out a significant role in the sub packages. In a limited role last season, he had two sacks.
Odds and ends:
Defensive tackle
Johnny Jolly
, who is attempting to make an NFL roster for the first time since the 2009 season after serving a three-year suspension for violating the league's substance abuse policy, stripped the ball from
Alex Green
during a team run period. It was believed to be the first fumble by a running back in an 11-on-11 period this camp. However, Jolly still hasn't made much of an impression in the one-on-one drills. He lost all five of his reps in the pass-rushing drill on Friday and only one was against a projected starting offensive lineman. ... Outside linebacker
Nick Perry
, whose rookie year ended last season after only six games because of surgery on his left wrist, has been practicing with a large protective brace that covers most of his left forearm. ... Practice ended with the most efficient no-huddle period of camp by the offense, which needed just 36 seconds to go 70 yards on four plays. It ended with tight end
Jermichael Finley
's best catch of camp, a 15-yard touchdown on a seam route against tight coverage by safety
Jerron McMillian
. ... Friday's session was the only night practice of training camp, and it drew perhaps the largest crowd of the summer.
Medical report:
Receiver
Jordy Nelson
missed his first practice of the summer because he had a recurrence of an old knee injury, McCarthy said. Another starter, linebacker
Brad Jones
, dropped out midway through practice because of a finger injury. Rookie linebacker
Nate Palmer
returned after missing two practices because of a shoulder injury.
Others who missed practice were WRs
Sederrik Cunningham
(wrist), Dorsey (leg), Johnson (knee); RB
DuJuan Harris
(knee); S
Sean Richardson
(neck); CB
Casey Hayward
(hamstring); CB
Tramon Williams
(knee); S
David Fulton
(knee); OLB
Dezman Moses
(toe); LB
Jamari Lattimore
(illness); OL
JC Tretter
(ankle); DE
Mike Neal
(abdominal); T
Derek Sherrod
(leg); TE
Andrew Quarless
; and DE
Jerel Worthy
(knee).
What's next:
The annual Family Night scrimmage at Lambeau Field is Saturday at 7:30 p.m. ET.
July, 24, 2013
7/24/13
12:00
PM ET
NFL players are never healthier than on the first day of training camp, or so goes conventional wisdom. As the first NFC North veterans report to training camp Wednesday --
Chicago Bears
players are headed to Bourbonnais, Ill., as we speak -- it's worth revisiting players who spent a significant portion of the offseason injured and project their status for training camp.
We'll take it team by team, of course:

Chicago Bears
Veteran report date:
Wednesday
Analysis:
Receiver
Brandon Marshall
missed almost the entire offseason program because of hip surgery, getting on the field for one day of mandatory minicamp. Place-kicker
Robbie Gould
also missed time as his surgically-repaired calf healed. Receivers
Marquess Wilson
and
Alshon Jeffery
also missed time with hamstring injuries, but there are no indications that any of them will be significantly limited when practice begins Friday.

Detroit Lions
Veteran report date:
Thursday
Analysis:
One of the biggest stories in Detroit this week will be whether safety
Louis Delmas
is ready to practice, and if so, whether the Lions let him do everything or if he is limited. Delmas missed the entire offseason because of ongoing knee issues, even after signing a contract extension that will pay him $1.715 million if he can't play this season. Receiver
Ryan Broyles
, meanwhile, is just under eight months removed from tearing his ACL. The Lions could put him on the physically unable to perform (PUP) list, or they could pass him on his physical and let him ease into practice. The assumption is that two other veterans who did little this offseason, place-kicker
David Akers
(sports hernia/hip) and running back
Mikel Leshoure
(hamstring) will be ready to practice.

Green Bay Packers
Veteran report date:
Thursday
Analysis:
Many of you have asked about offensive lineman
Derek Sherrod
, who hasn't had any football activity since suffering a gruesome leg injury in December 2011. The Packers had hoped he would be in the mix at right tackle this offseason, but that never materialized. If Sherrod still isn't ready to practice when camp opens, you wonder if he ever will be. Meanwhile, it's tough to expect defensive tackle
Jerel Worthy
to be ready anytime soon after he tore his ACL in Week 17 last season. The same goes for rookie offensive lineman
J.C. Tretter
(broken ankle). On the other hand, we're assuming that cornerback
Davon House
(shoulder) and running back
DuJuan Harris
(cyst) will be ready. The status of rookie receivers
Charles Johnson
and
Kevin Dorsey
, both of whom missed the entire offseason, is not clear.

Minnesota Vikings
Veteran report date:
Thursday
Analysis:
Center
John Sullivan
sat out the offseason after having microfracture surgery on his knee. Coach Leslie Frazier said at the end of minicamp that Sullivan was on track to be ready when camp opens. There have been no reports of a setback. Linebacker
Desmond Bishop
(hamstring) didn't participate in the Packers' offseason, but he has said he will be ready for camp. Defensive end
Jared Allen
did not participate this offseason because of surgery to repair a torn labrum but has said he will be cleared for practice. Receiver
Greg Childs
was doing light running during the offseason and is now a year removed from tearing both patellar tendons, but he could be a candidate for the PUP list. Linebacker
Chad Greenway
's minor offseason knee surgery isn't expected to slow him in training camp. Cornerback
Jacob Lacey
broke his thumb in June, and his status merits observation. Rookie linebacker
Michael Mauti
(knee) got in some light work late in the offseason, but it's worth watching whether the Vikings deem him ready for contact drills.
June, 14, 2013
6/14/13
12:00
PM ET
»
NFC Eight in the Box
:
East
|
West
|
North
|
South
»
AFC
:
East
|
West
|
North
|
South
The major question facing each team in the NFC North as summer break looms.

Chicago Bears:
Offensive line.
Jay Cutler
has been sacked a whopping 148 times over the past four seasons. That won't do. I commend the Bears for their efforts to improve their abysmal offensive line from 2012, but did they do enough? Honestly, I think they did, but I am having a tough time finding holes in Chicago's roster right now, so offensive line is still my choice for its biggest remaining question. One more wide receiver or defensive back would be great, but with all the changes in the front five, there could be growing pains in terms of continuity and determining exactly who should be the starter at each position. From left to right, the Bears most likely will be starting
Jermon Bushrod
,
Matt Slauson
,
Roberto Garza
,
Kyle Long
and
J'Marcus Webb
. Only Garza and Webb were on the team in 2012, and Webb is moving from left to right tackle. Change was needed, but continuity is a key aspect of offensive line play, and I don't see a singular great player in this group. That could be an early problem for the Bears. The scheme will help, though, as will former offensive line coach Aaron Cromer as the offensive coordinator. This line will be better, but it does remain a question.

Detroit Lions:
Offensive line. Quietly, the Lions' offensive line did a fine job last season. But three of their starting five are gone, including both offensive tackles. My hunch is Detroit would have loved to select
Lane Johnson
to plug in at left tackle with the fifth pick overall in this latest draft, but three offensive tackles, including Johnson, went in the top four picks. As a result,
Riley Reiff
, who is best fit as a right tackle, will start on the left side and highly unproven
Corey Hilliard
or
Jason Fox
will man the right side, which is an obvious concern. I loved the drafting of
Larry Warford
, a mauling pure guard who should upgrade the right guard spot. He should solidify the interior of Detroit's offensive line, especially in the run game, along with incumbent
Dominic Raiola
at center and the vastly underrated
Rob Sims
at left guard. But the tackles certainly worry me, especially considering the edge pass-rushers in the division, headlined by
Julius Peppers
,
Clay Matthews
and
Jared Allen
.
Matthew Stafford
is very tough and has been durable over the past two seasons, but the Lions certainly don't want their franchise quarterback taking a lot of punishment, particularly considering how passing-oriented this offense has become.

Green Bay Packers:
Offensive line. Seeing a trend developing in this division? The reality is, like the Bears, I don't have a lot of major concerns with Green Bay's roster at this point of the process. I understand moving
Bryan Bulaga
to left tackle, as he is the best candidate on the roster for that job. And moving
Josh Sitton
, Green Bay's best offensive lineman, to left guard to keep that continuity intact between the two players while improving
Aaron Rodgers
' blindside protection also makes sense. But I also feel like it was messing with a very good thing on the right side, which gives me mixed feelings on those changes.
Marshall Newhouse
is clearly better suited for the right side, but it wouldn't shock me if he was unseated as the starter by
David Bakhtiari
, who I thought was a mid-round steal for Green Bay.
T.J. Lang
is solid, the loss of
Jeff Saturday
should be addition by subtraction and maybe
Derek Sherrod
is finally healthy and can contribute at tackle. I also liked the selection of
J.C. Tretter
, a small-school prospect who is tough and smart. Improved play at the running back position also should help this line immensely. Still, there are quite a few questions that need answering from this unit overall, and the Packers can't afford for Rodgers to be sacked anywhere close to the 51 times he was in 2012.

Minnesota Vikings:
Quarterback. I still have hope for
Christian Ponder
, but he was extremely up and down during his second season. Many ask me during my chats and radio hits, "What would be a successful season for Ponder?" My response is that he needs to play within himself -- allowing his impressive supporting cast to do what it does best -- and show composure and leadership late in games. He doesn't have to become Dan Marino as a passer for this offense to be successful. In case you forgot, the Vikings do still have
Adrian Peterson
as the foundation of this offense. But in addition to Peterson, Minnesota has one of the better offensive lines in the NFL, and I expect that group to be further improved in 2013 with
Matt Kalil
developing into one of the league's better left tackles in his second season. The line, fullback blocking and Peterson will allow Ponder to see many favorable matchups in the passing game. Gone is
Percy Harvin
, but the trio of
Greg Jennings
,
Cordarrelle Patterson
and
Kyle Rudolph
should be able to exploit single coverage with a varied skill set. Patterson is far from a refined wide receiver, but if the Vikings limit him to deep routes or quick hitters where he can use his amazing run-after-the-catch abilities, he can be very effective in his rookie season. Jennings is a true professional who understands the position well, and Rudolph's ability in the red zone and in the middle of the field should provide Ponder with plenty of throws that won't challenge his average passing skills. It also must be noted that Minnesota upgraded its backup quarterback spot by signing
Matt Cassel
. Cassel had a nightmare of a 2012 season, but before that, he showed the caretaker quarterback skills that Ponder needs to develop.
April, 29, 2013
4/29/13
11:05
AM ET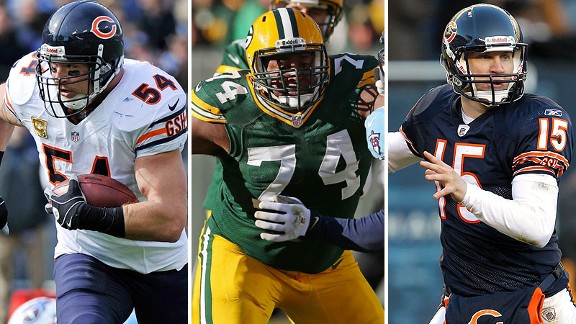 Getty ImagesFollowing the 2013 NFL draft, the futures for Brian Urlacher, Marshall Newhouse and Josh McCown appear unclear.
NFC North teams added dozens of intriguing young players over the weekend. They filled glaring holes and added to already-established strengths. Some areas remain weak, of course, while other selections created new storylines we hadn't anticipated.
So here's my post-draft plan. We'll use this post to lay out the unfilled holes and new storylines and then circle back over the next days and weeks as needed. I'll also sprinkle in some interesting and/or offbeat stories that emerged from the draft but would have been buried if I had posted them over the weekend.
Issue:
The
Green Bay Packers
continued signaling potential change at left tackle.
Analysis:
Coach Mike McCarthy said in March that the team needed better play from its left tackle position, manned last season by
Marshall Newhouse
. Then the Packers went out and drafted Colorado's
David Bakhtiari
and Cornell's
J.C. Tretter
in the fourth round. Bakhtiari has played left and right tackle; Tretter played tackle as well but might project as a guard. Saturday, McCarthy left all options open at the position -- including moving right tackle
Bryan Bulaga
back to the position he played at Iowa. McCarthy also said
he is "really counting"
on
Derek Sherrod
, the Packers' top pick in 2011 who hasn't played since breaking his leg late that season, to compete for the job.
Don Barclay
, who started four games last season at right tackle (plus another two in the playoffs), is also in the mix. Suddenly, the Packers have six legitimate possibilities to compete for the left and right tackle spots if they want. Moving Bulaga isn't as easy as it sounds, and there is something to be said for leaving him at a position he has excelled at. But it's telling that the Packers are even considering it.
Issue:
The Packers drafted 11 players, but none of them were safeties.
Analysis:
General manager Ted Thompson said afterwards that he has faith in incumbents
M.D. Jennings
and
Jerron McMillian
, who will compete to play alongside
Morgan Burnett
. We'll see if the Packers feel compelled to kick the tires on a veteran.
Among those available
are
Quintin Mikell
,
Kerry Rhodes
and
Gerald Sensabaugh
. Historically, the Packers' approach has been to evaluate younger incumbents first before seeking veteran replacements elsewhere.
Issue:
None of the
Minnesota Vikings
' nine draft choices play middle linebacker.
Analysis:
We should note that the Vikings used a seventh-round pick on Penn State's
Michael Mauti
, who has been projected as a middle/inside linebacker by some. But Mauti is recovering from his third career ACL tear and can't be counted on to fill any sort of significant role. Internal candidates include
Erin Henderson
, the strong-side linebacker whom the Vikings have said could play inside if needed, and 2012 seventh-round pick
Audie Cole
. The elephant in the room is veteran
Brian Urlacher
, who was reported at one point this spring to have
had conversations with Vikings officials
. Urlacher isn't
anything close to the profile of the player
general manager Rick Spielman typically brings in, but this is an extenuating circumstance. Remember, the Vikings
used their nickel defense on 58.9 percent of their snaps last season.
Whomever plays middle linebacker for the Vikings could be off the field for three of every five snaps.
Issue:
The Vikings used a fifth-round pick to make
Jeff Locke
the first punter drafted.
Analysis:
In the past five years, four punters have been selected with a fifth-round pick or higher. All four became their team's primary punters in their rookie seasons. There is every reason to believe the Vikings plan for Locke to replace veteran
Chris Kluwe
, perhaps as soon as they get a look at him during their rookie minicamp this summer. I know that Spielman said Locke was
brought in "to compete" for the job
, but that competition will be short and one-sided. NFL teams don't use draft picks on specialists unless they are certain they want to make a change.
Issue:
The
Detroit Lions
didn't draft an offensive tackle after the departure of both 2012 starters.
Analysis:
Riley Reiff
, the Lions' top draft choice in 2012,
will start at left tackle
. The Lions' right tackle could be
Jason Fox
or
Corey Hilliard
. That still leaves the Lions thin along the line, especially at right guard if rookie
Larry Warford
isn't ready to step in right away. Regardless, Lions general manager
Martin Mayhew
made clear the Lions need to add more depth. "We're really young there so we'll look at some veteran guys there I think over the next few weeks."
Issue:
The Lions didn't draft a receiver until the sixth round (Virginia Tech's
Corey Fuller
), but they almost….
Analysis:
According to
Ian Rapoport of the NFL Network
, the Lions told Michigan's
Denard Robinson
that they planned to draft him with the No. 136 overall pick. Mayhew had spoken before the draft about Robinson's potential as a "slash" player from the backfield and/or slot receiver position. Robinson, however, was selected at No. 135 by the
Jacksonville Jaguars
. Eventually the Lions used the No. 166 overall pick to select Notre Dame's
Theo Riddick
, who is not as explosive as Robinson but is a good receiver out of the backfield in his own right. Ultimately, the Lions finished this draft thin at the traditional receiver position given the injury rehabilitations of
Nate Burleson
and
Ryan Broyles
.
Issue:
The
Chicago Bears
did not draft a quarterback, seemingly leaving
Josh McCown
as the primary backup to
Jay Cutler
.
Analysis:
The Bears
figured to be a candidate to draft a quarterback
in part because of coach Marc Trestman's expertise in developing them and in part to end the cycle of searching for a veteran backup each year. In the end, the Bears couldn't justify drafting one given their limited number of picks. (They started with five and through trades finished with six.) Said general manager Phil Emery: "Things would have to line up perfect to take a quarterback with five picks." McCown was relatively impressive during a two-start stint to end the 2011 season, but overall he has played in a total of six games over the past five seasons. I wouldn't call this the Bears' most pressing need, and the Bears signaled as much with their draft results.
Issue:
The Bears feel better about their tight end situation than most draft pundits.
Analysis:
Many draft analysts
thought the Bears would draft
Notre Dame tight end
Tyler Eifert
if they had a chance, but they passed him up Thursday night in favor of offensive lineman
Kyle Long
. Eifert went one pick later to the
Cincinnati Bengals
. It's true that Eifert would have been a luxury pick given the free-agent acquisition of tight end
Martellus Bennett
, but in the larger sense he would have been another weapon for quarterback Jay Cutler's make-or-break season.