May, 9, 2014
May 9
1:15
PM ET
GREEN BAY, Wis. -- Armed with three selections on Day 2 of the NFL draft, the
Green Bay Packers
are spending the day plotting their strategy for picks Nos. 53 (second round), 85 and 98 (both in the third round).
After taking Alabama safety
Ha Ha Clinton-Dix
in the first round -- a move that ESPN draft analyst Mel Kiper Jr. called
one of the winners of Day 1

-- the Packers reset their draft board to reflect the best players still available.
If their grades on the players still available at 53, 85 and 98 fit their needs, here is who they might consider:
Linebackers
:
Notes:
Borland, Brown and Skov would all project as inside linebackers in the Packers' 3-4 scheme. Kiper Jr. ranked Van Noy, an outside linebacker, as
the fifth-best player still available

, and Borland as the 12
th.
In his
second-round mock draft

, Kiper Jr. predicted Borland to the Packers at No. 53. He wrote: "This would be a steal. He's not a physical freak, but Borland is a football freak. Slots in next to A.J. Hawk."
Tight ends
:

Amaro
Notes:
If the Packers are going to get an impact tight end, they probably need to do it on Friday, because the drop off after these four is significant. Seferian-Jenkins and Amaro are receiving tight ends in the mold of
Jermichael Finley
, while Fiedorowicz and Niklas are more traditional players. Scouts Inc. has the Packers taking Amaro in its
updated second-round mock draft

.
Receivers
:

Lee
Notes:
Lee could be one of the first players off the board when the draft resumes, so it's unlikely the Packers would be in position to take him unless they traded up. Keep in mind that they cannot trade No. 98 because it is a compensatory pick at the end of the third round. Lee and Landry are smaller receivers in the 5-foot-11 range, and Ellington is even smaller at 5-9 3/8. The Packers might want to go bigger at this spot, because they already have a dynamic slot receiver in
Randall Cobb
.
Centers:
Notes:
The Packers are high on second-year pro
JC Tretter
as their possible next starting center, but the former collegiate tackle has yet to play an NFL snap at any position. There is a good chance all of these centers will be available at No. 53, with Martin and Richburg as likely late second-round picks who also could slip into the third round.
May, 9, 2014
May 9
12:18
PM ET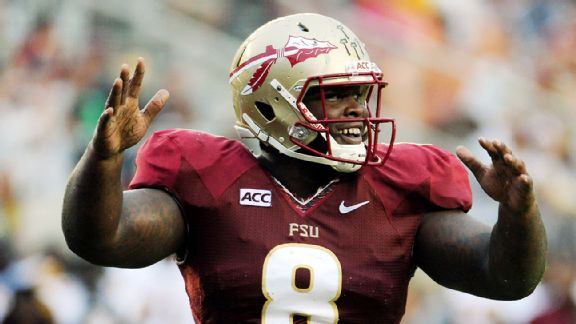 Melina Vastola/USA TODAY SportsFlorida State DT Timmy Jernigan was viewed as a first-round talent in early mock drafts.
LAKE FOREST, Ill. -- The
Chicago Bears
knocked out a need at cornerback on Thursday in Round 1 of the NFL draft with the selection of Virginia Tech's
Kyle Fuller
, and on Friday the team will stick to the plan of replenishing the defense in Rounds 2 and 3.
Despite perhaps more pressing needs at safety and linebacker, the Bears took a versatile cornerback in the first round. What's encouraging for the next two rounds is that this year's draft class is so deep, the Bears could still find players in need areas capable of contributing significantly as rookies.
[+] Enlarge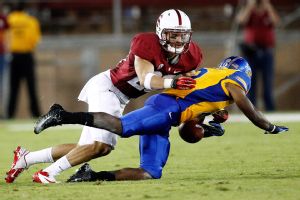 AP Photo/Tony AvelarStanford safety Ed Reynolds makes sense for the Bears in the third round.
The Bears pick 51st and 82nd overall in the next two rounds, and with options aplenty on Day 2, I'd use the second-round pick on the best defensive tackle available since that position represents the best value. I'm more partial to Florida State's
Timmy Jernigan
(I don't care about the alleged failed drug test) or Notre Dame's
Louis Nix
than a boom-or-bust prospect such as Minnesota's
Ra'Shede Hageman
.
Then, in the third round, I'd look to add competition safety with a long, rangy prospect such as Stanford's
Ed Reynolds
.
Looking at the players still on the board, the Bears have several options available at defensive tackle in Jernigan, Notre Dame's Nix and
Stephon Tuitt
, Hageman, and perhaps even later in the draft with players such as LSU's
Ego Ferguson
, South Carolina's
Kelcy Quarles
and Princeton's
Caraun Reid
.
At safety, the Bears should strongly consider Reynolds. He picked off seven passes over the past two years and has an NFL pedigree, from his father, Ed Sr., who played linebacker in the NFL for 10 years.
Dion Bailey
of Southern Cal could be another option for the Bears at safety, perhaps in the third round, and Wyoming's
Marqueston Huff
is a potential pick even later (six double-digit tackle games; 20 stops against Utah State).

Linebacker options are abundant, too. Brigham Young's
Kyle Van Noy
racked up 62 tackles for lost yardage over four years in college; he projects as a Sam linebacker in Chicago's scheme. Florida State's
Christian Jones
and
Telvin Smith
are also athletic possibilities for perhaps later in the draft.
Keep an eye out for Connecticut's
Yawin Smallwood
, who posted 332 career tackles and 9.5 sacks in college and met with the Bears at the NFL combine. New Bears defensive line coach Paul Pasqualoni is familiar with Smallwood, having served as head coach at Connecticut from 2011 to '13. Pasqualoni told the Hartford Courant, "[What] I really like about [Smallwood], which I think is a strength, is that he doesn't process what he sees. He just goes. Some guys look at it and they hesitate, then they go. He's not a process guy. He's a read-and-react guy, which is a big part of that position."
Perhaps Chicago general manager Phil Emery will pull one of his usual surprise picks and grab an offensive player. That wouldn't be too much of a stretch, because the benefit of a class this deep is that the Bears can legitimately find ways to address needs throughout all seven rounds.
Emery has been high on Texas Tech tight end
Jace Amaro
, who runs a 4.6-second 40-yard dash and made 106 catches last season.
May, 9, 2014
May 9
11:25
AM ET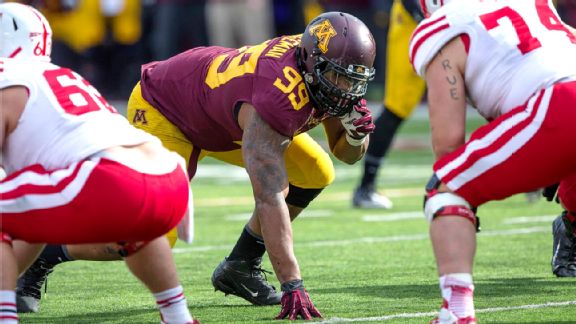 Jesse Johnson/USA TODAY SportsRa'Shede Hageman would help shore up the Bears' run defense and he's a competent pass rusher.
Don't sleep on Day 2 of the NFL draft. Players chosen in the second and third rounds are expected to be serious contributors from the start. Since Phil Emery took over as general manager in 2012, the
Chicago Bears
have used second-round picks on
Alshon Jeffery
and
Jonathan Bostic
, who between them have already started a combined 29 games (Jeffery 20, Bostic nine).
These are vital selections for the long-term stability and health of a franchise.
My prediction is the Bears will select Minnesota defensive tackle
Ra'Shede Hageman
with the No. 51 pick in the draft.
[+] Enlarge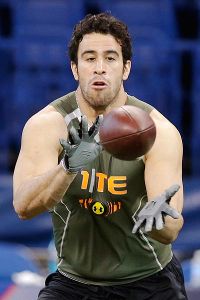 AP Photo/Michael ConroyTight end Jace Amaro, who is projected as a second-round NFL draft pick, started all 13 games for Texas Tech in 2013.
Why Hageman?
He is one of the best interior defensive linemen available. Hageman's 6-foot-5, 310-pound frame would help the Bears shore up their run defense, and he would be a nice complement to veterans
Jeremiah Ratliff
,
Stephen Paea
and
Nate Collins
in the club's rotation. Hageman can also rush the passer, and he started 26 games for the Golden Gophers from 2011 to '13. He hasn't been injury-prone. Hageman has experienced multiple off-the-field issues (academic suspension and misdemeanor for disorderly conduct) and reportedly had a difficult childhood. But none of that looks to be terribly alarming. Emery is open to taking players who have supposed character red flags because he believes the organization possesses the necessary amount of stability and leadership.
What if Hageman is gone already?
The Bears could turn to another defensive tackle, Florida State's
Timmy Jernigan
. Early mock drafts linked Jernigan to the Bears at No. 14, but he fell to the second round after he reportedly tested positive for a banned substance at the NFL combine. Jernigan is on the smaller side (6-1, 299 pounds), but he earned All-ACC first-team honors last season after posting career highs with 63 tackles, 11 tackles for loss and 4.5 sacks. Jernigan had nine tackles in the BCS National Championship.
What if they're both gone?
Maybe the Bears will look to further bolster the offense by adding a dynamic tight end such as Texas Tech's
Jace Amaro
(6-5, 265 pounds). In 2013, Amaro caught 106 passes for 1,352 yards and seven touchdowns. How would he look alongside
Martellus Bennett
? Imagine both Bennett and Amaro in the slot in a four-receiver set. Good luck covering that combination when Jeffery and
Brandon Marshall
are flanked out wide. Amaro would likely represent the best available player in this scenario. He could be too talented to pass on.
April, 17, 2014
Apr 17
12:15
PM ET
The
Green Bay Packers
began the process of rebuilding their defense by adding free-agent pass rusher
Julius Peppers
and re-signing several of their own key players --
B.J. Raji
,
Sam Shields
and
Mike Neal
among them -- but there's still much to do in next month's draft.
Mel Kiper's fourth 2014
NFL mock draft is out on ESPN Insider

today, and his projected first-round pick for the Packers at No. 21 overall should help in that process.
February, 21, 2014
Feb 21
8:00
AM ET
INDIANAPOLIS -- One by one, the top tight ends in this year's NFL draft rolled through Lucas Oil Stadium as part of Thursday's interview session at the scouting combine.
There was
Eric Ebron
of North Carolina,
Jace Amaro
of Texas Tech,
Austin Seferian-Jenkins
of Washington,
Troy Niklas
of Notre Dame,
C.J. Fiedorowicz
of Iowa and on and on.
Most, if not all, were asked which NFL tight end they admired, emulated or resembled.
For some, like Ebron, it was
San Francisco 49ers
tight end
Vernon Davis
.
[+] Enlarge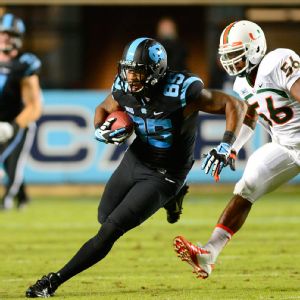 Bob Donnan/USA TODAY SportsCarolina likely would have to trade up in the first round of the NFL draft to have a shot at selecting Eric Ebron.
For others, like Amaro and Fiedorowicz, it was the New England Patriots'
Rob Gronkowski
.
For Seferian-Jenkins, it was the New Orleans Saints'
Jimmy Graham
and the Denver Broncos'
Julius Thomas
, who like him had a background in basketball.
Not one of them, however, mentioned
Jermichael Finley
.
Yet if the
Green Bay Packers
don't bring back their starting tight end, which is a likely course of action given his neck injury and his expiring contract, one of those players could become the next Finley.
Most of the top tight end prospects said Thursday that they had either visited with the Packers or planned to talk with team representatives this week at the combine.
So too will Blake Baratz, the agent who represents Finley, but the Packers may have already decided that Finley's neck fusion surgery was too much of a risk to bring him back. If that's their plan, then there are plenty of viable options in this draft, which features playmaking tight ends of all sizes.
It starts with the 6-foot-4, 250-pound Ebron, who likely will be the first tight end taken in the draft and could be gone before the Packers pick at No. 21.
"I'm very fast; I'm very different," said Ebron, who along with the other tight ends will do their on-field testing this weekend. "I play the tight end role like no one else."
In some ways, he plays it like Finley, whose physical presence is similar to Ebron's.
Amaro (6-5, 255) is as much receiver as he is tight end. Most of last season, when he caught 106 passes for 1,352 yards (the NCAA record for a tight end), he played standing up away from the line of scrimmage.
"That's why I'm so unique," Amaro said. "It's kind of a revolution into the game and how the tight ends are coming in across the board. I like to see myself as both a tight end and a receiver."
But can he block?
That's not an issue with Fiedorowicz (6-5½, 265), who was more of a blocking tight end in Iowa's run-heavy offense.
"A lot of tight ends in the NFL are either blocking tight ends or receiving tight ends," Fiedorowicz said. "I like watching Rob Gronkowski. He can dominate both the line of scrimmage and down the field."
Seferian-Jenkins (6-5, 262) said he was asked to do both last season at Washington, where he played basketball as a freshman.
"At the tight end position, you've got a lot of great players [in this draft]," he said. "But what I think I do is if you watched me play, I split out and played receiver. I've done fullback. I've played in line. I think I've showed I'm very capable of being a playmaker down the seam and run regular routes as a receiver, and I've shown the capability of being a blocker."
Niklas (6-6½ , 270) might be the biggest bruiser of this bunch. He began his college career as an outside linebacker.
"I can block, and I enjoy blocking," Niklas said. "I think it's something I can use to my advantage."
Further down the tight end pecking order is Jacob Pedersen of Wisconsin. He grew up just north of Green Bay in Michigan's Upper Peninsula. He's a late-round prospect who would love the chance to be the Packers' next tight end.
"Growing up 45 minutes away from Green Bay, obviously it'd be a childhood dream to play for your home team," said Pedersen, one of six Badgers invited to the combine. "But I'm just hoping to get drafted by a team. Whoever takes me, they're going to get my best effort."
February, 20, 2014
Feb 20
5:15
PM ET
INDIANAPOLIS --
Brandon Pettigrew
presents a conundrum for the
Detroit Lions
.
On one side, Pettigrew is one of the tight ends in the NFL who can run routes and also line up on the offensive line and block oncoming defenders. But with what Detroit might run in the future, with the base being the
New Orleans Saints
offense that used
Jimmy Graham
in the slot often, the question remains of how Pettigrew might fit with the potentially-new-look Lions.
Pettigrew
"Pettigrew, he's a talented guy. Big, talented," Lions coach Jim Caldwell said during the NFL combine Thursday. "Can block you at the line of scrimmage but also can catch the ball as well. He's a talented guy.
"Across the board, I think you find guys that have certain skill sets. He's got a real fine skill set and [I] obviously think you've been able to see that through the years."
That doesn't necessarily mean Detroit will bring him back, though. Caldwell wouldn't give an indication one way or another whether he would have the Lions try to retain the Oklahoma State product, who has caught 284 passes for 2,828 yards and 16 touchdowns in his first five years in Detroit.
If the Lions are unable to retain him, the team would have two tight ends returning to the team -- Joseph Fauria and Michael Williams. Williams spent last season on injured reserve with a broken hand and Fauria played mostly in passing and red zone situations.
When asked if he intended to try to re-sign Pettigrew, however, Caldwell became very vague.
"We've got to look at every option and that's one of the things," Caldwell said. "We've got to have contingencies for every single thing and that's one of the things. We have to have contingencies for every single thing so we look at it on both sides of it and see how things work out."
The Lions may also look to fill tight end needs through the draft. The tight end pool is a deep crop, led by North Carolina's
Eric Ebron
, Washington's
Austin Seferian-Jenkins
, Texas Tech's
Jace Amaro
and Notre Dame's
Troy Niklas
. Niklas told ESPN.com on Thursday he was scheduled to speak with the team at some point during the combine.
February, 20, 2014
Feb 20
8:00
AM ET
INDIANAPOLIS – The
Green Bay Packers
' contingent of coaches, doctors, executives and personnel evaluators is on the ground at the NFL combine – and so is ESPN's NFL Nation – and therefore we have come to the conclusion of our countdown.
The first three parts focused on the Packers many defensive needs, from
safety
to
defensive line
to
linebacker
.
The final part before we turn our attention to the events at Lucas Oil Stadium for the remainder of the week will focus on what could be the biggest need on the offensive side of the ball for the Packers: tight end, a position group that will meet with reporters here on Thursday.
Why the Packers need help
: It all hinges on the Packers' plans for
Jermichael Finley
, who has said he expects to be cleared soon from his neck fusion surgery. But that doesn't mean the Packers -- or other NFL teams -- will clear him. With Finley headed toward free agency next month, the Packers could simply decide not to re-sign him, regardless of the medical report. But they would be walking away from their most athletic, big-bodied tight end, and therefore would need to find a replacement.
Andrew Quarless
, who also is scheduled to be a free agent, probably didn't show enough in the second half of the season after Finley's injury to convince anyone that he can be that guy. He's a serviceable player who could return for a modest contract, but he's not a potential difference-maker like Finley. Of the Packers' three other young tight ends,
Brandon Bostick
has the most potential because of his athleticism and receiving skills, but he remains raw.
Ryan Taylor
is a solid blocker and top special teams player, and
Jake Stoneburner
has a ways to go. They also signed street free agent
Raymond Webber
this offseason. The Packers struggled in the red zone last season, ranking 25
th
in the touchdown percentage (50.8 percent), and missing a big target like Finley was one of the reasons.
Tight ends the Packers should be watching
:
Eric Ebron, North Carolina
: In his
first mock draft

back in December, ESPN draft analyst Todd McShay had the Packers taking the 6-foot-4, 231-pound Ebron, who caught 62 passes for 973 yards last season. At that time, the Packers were projected to have the 18th pick in the draft. Now that they're locked into No. 21, it appears Ebron could be gone before the Packers pick.
Jace Amaro, Texas Tech:
The 6-5, 260-pound Amaro caught 103 passes last season. He lined up in the slot position most of the time, much like Finley did for the Packers.
Troy Niklas, Notre Dame
: More of a pure blocker than Ebron or Amaro, but the 6-7, 270-pounder has the potential to grow into a split-out role. He averaged 15.6 yards per catch on 32 receptions last season.