January, 30, 2014
Jan 30
2:00
PM ET
MINNEAPOLIS -- Of the seven candidates the
Minnesota Vikings
interviewed for their head coaching job, four of them --
Seattle Seahawks
offensive coordinator Darrell Bevell, Seahawks defensive coordinator Dan Quinn,
San Francisco 49ers
offensive coordinator Greg Roman, and 49ers defensive line coach Jim Tomsula -- were coaching with their respective teams into the NFC Championship Game. The Seahawks beat the 49ers to advance to Super Bowl XLVIII, where they will face a
Denver Broncos
team that has two coaches (offensive coordinator Adam Gase and defensive coordinator Jack Del Rio) the Vikings had requested to interview, but never talked to before hiring
Cincinnati Bengals
defensive coordinator Mike Zimmer.

We've talked previously
about how the Vikings' coaching search was focused almost exclusively on current coordinators, and most of the candidates in whom the Vikings expressed interest were coaching with teams that made the playoffs. That put an inherent bind on the Vikings' coaching search, and it's interesting to wonder if things would have played out differently if, say, the Bengals would have won their wild-card weekend game against the
San Diego Chargers
and the 49ers would have lost a close wild-card game against the
Green Bay Packers
, rather than advancing all the way to the NFC title game.
It's impossible to know, but as
Mark Craig of the Minneapolis Star Tribune points out
, Bevell and Del Rio might have factored much more prominently in the Vikings' coaching search if their teams hadn't kept winning. The interview process for coordinators carries NFL rules by which the Vikings had to abide, and a playoff result in one city can affect the timing of a coaching search in another. General manager Rick Spielman said the Vikings would take as long as they needed to find the right coaching candidate, and Zimmer came out as the clear favorite after an initial round of interviews, but it's also hard to judge the coaching search in a vacuum, when no team decided it could wait for Bevell, Quinn, Gase or Del Rio to finish their seasons.
For those coaches, the chances to take a head coaching job will have to wait at least a year. The tradeoff of coaching in the Super Bowl is undoubtedly worth it, but as the Broncos and Seahawks make final preparations for Sunday's game, it's interesting to think about whether any of their coordinators would have altered the Vikings' coaching search if their teams had lost earlier.
January, 14, 2014
Jan 14
1:35
PM ET
EDEN PRAIRIE, Minn. -- At this moment, now that the
Detroit Lions
have hired Jim Caldwell as their next head coach, the
Minnesota Vikings
are one of two teams still searching for a head coach. The other is the
Cleveland Browns
, who just fired Rob Chudzinski after one season and have to explain to candidates why they should trust the team.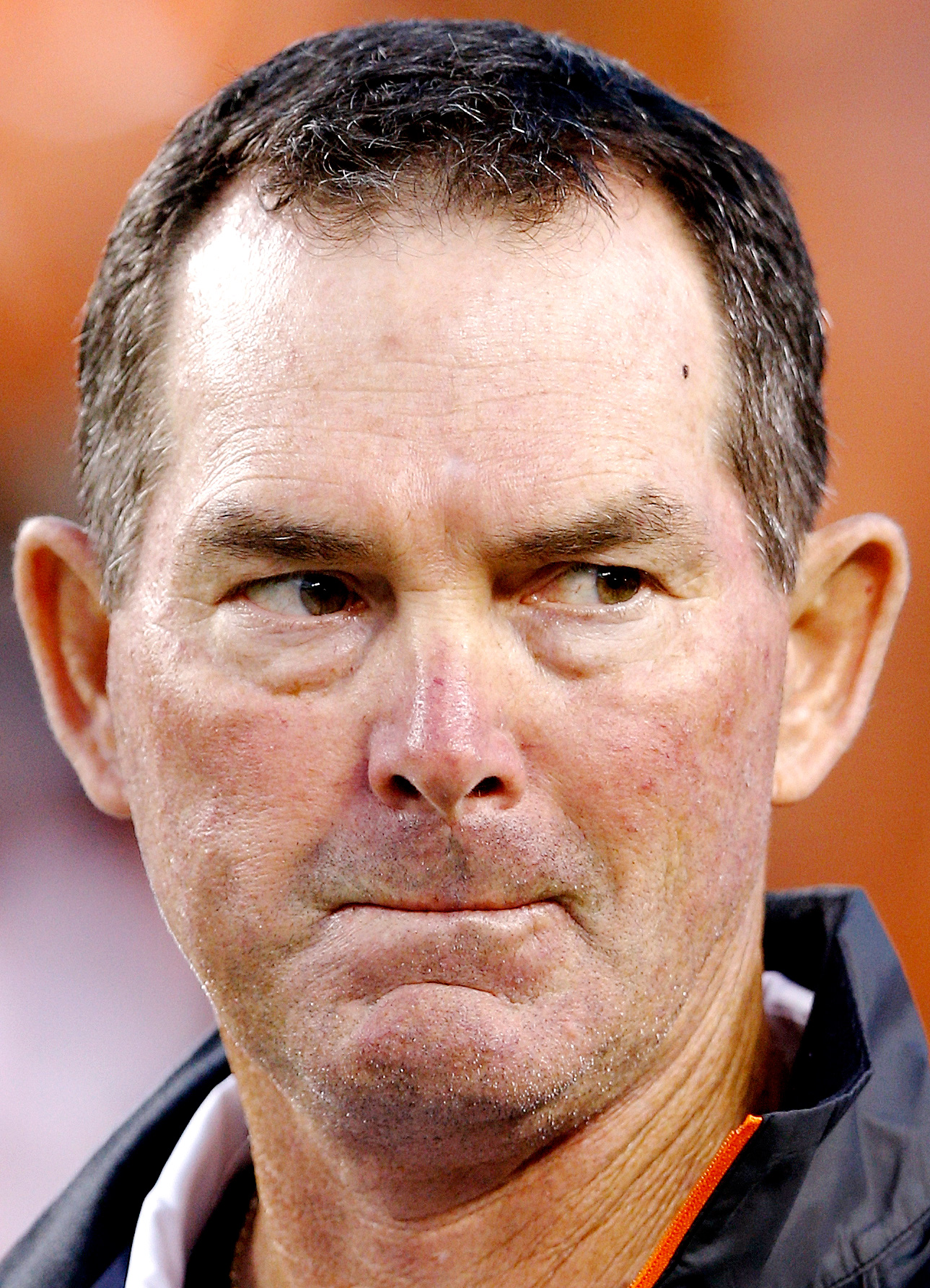 Zimmer
There's a strong case to be made that the Vikings' job is the better of the two, and at this point only one of the team's known candidates (former
Cincinnati Bengals
offensive coordinator Jay Gruden) has accepted a job elsewhere.
The Vikings are conducting a second interview with Bengals defensive coordinator Mike Zimmer inside their facility as we speak, and if they chose to do so, they could make the 57-year-old Zimmer their next coach today. But is there a reason to hire Zimmer before the Vikings can talk to candidates like Seattle's Darrell Bevell and Dan Quinn and San Francisco's Greg Roman a second time?
There might not be, and if the
Denver Broncos
lose Sunday, their top assistants (offensive coordinator Adam Gase and defensive coordinator Jack Del Rio) would also be in play. The Browns reportedly want to wait on Gase before making their decision, so there might not be anything pushing the Vikings until Denver's season is over.
When the Vikings fired Leslie Frazier, general manager Rick Spielman outlined a process in which the team would likely whittle its search down to two or three finalists after an initial round of interviews. Zimmer appears to be the first of those finalists, is believed to be the front-runner for the job and could grab it if he impresses ownership Tuesday.
But the Vikings' last two coaching searches happened in relative haste, and Spielman has turned to a deliberate decision-making process for the moves he badly needs to get right. Now, the Vikings can somehow thank a confluence of events for putting them in a situation where they're facing little outside pressure, other than Spielman's stated preference to have a coach in place by the Senior Bowl.
Zimmer might be the man for the job, but it would also appear as if the Vikings have the luxury of being able to wait a little longer to make sure that's the case.
January, 12, 2014
Jan 12
2:20
PM ET
MINNEAPOLIS -- The working theory around the
Minnesota Vikings
' coaching search has been that general manager Rick Spielman would bring two or three finalists back to Minnesota to meet with ownership after an initial round of interviews, which ostensibly concluded when Spielman talked to
San Francisco 49ers
offensive coordinator Greg Roman on Saturday.
As ESPN NFL Insider Adam Schefter reported on Sunday morning,
Cincinnati Bengals
defensive coordinator Mike Zimmer will come to Minnesota early this week for a second interview. The Vikings talked to Zimmer last Wednesday in Cincinnati, and the chatter after that interview had been that Zimmer was one of the Vikings' top candidates. Now, he appears to be their first finalist.
We can glean a couple things from that. First, the Vikings seem to be done with their initial round of interviews, though I suppose it's always possible for them to change their timeline if Denver were to lose in time for Spielman to talk with offensive coordinator Adam Gase or defensive coordinator Jack Del Rio. But Spielman had pegged his timetable to the Senior Bowl, so if the Vikings want to have a coach in place by then, it would seem likely they'd get their list of finalists together this week.
And second, if the Vikings are indeed done with their preliminary interviews, it seems like their search has been a little narrower than we expected. They've talked to six offensive or defensive coordinators, and also were believed to visit with 49ers defensive line coach Jim Tomsula on Saturday.
As we discussed yesterday
, the coordinator pool has been fraught with risks over the years, to the point where Texans owner Bob McNair wanted to stay away from one. There's a big leap from game planning for one side of the ball to running the whole operation, reading the mood of a team, dealing with the media more frequently and so on. Some former coordinators have been able to handle it, like Green Bay's Mike McCarthy or New Orleans' Sean Payton. Others haven't, and the Vikings' last two fired coaches (Brad Childress and Leslie Frazier) are former coordinators.
Time will tell if Zimmer, or one of the other coordinators the Vikings have interviewed, will be able to make the jump successfully, but the Vikings' search does seem to be moving forward.
January, 8, 2014
Jan 8
7:20
PM ET
EDEN PRAIRIE, Minn. -- On Thursday, when the Vikings are schedule to interview
Cincinnati Bengals
offensive coordinator Jay Gruden, it will have been 10 days since the team fired Leslie Frazier. At that juncture of their coaching search, here's what we know so far:
The Vikings interviewed Seattle offensive coordinator Darrell Bevell and Seahawks defensive coordinator Dan Quinn over the weekend. They talked to Arizona Cardinals defensive coordinator Todd Bowles on Monday and Cleveland Browns defensive coordinator Ray Horton on Tuesday. They interviewed Bengals defensive coordinator Mike Zimmer on Wednesday.
They are scheduled to interview Gruden on Thursday.
They have requested interviews with San Francisco 49ers offensive coordinator Greg Roman, San Diego Chargers offensive coordinator Ken Whisenhunt, Denver Broncos offensive coordinator Adam Gase and Broncos defensive coordinator Jack Del Rio.
That means as of Thursday, the Vikings will have talked to six coordinators in the last six days, with four more still on the schedule. There could be other candidates they've talked to, but given what general manager Rick Spielman said last week -- that each interview is likely to last six to eight hours -- it's tough to imagine the Vikings have done more formal interviews than the ones mentioned so far.
A couple of themes emerge from this list, as it's currently constituted:
The 10 names on this list are all current coordinators. Eight of the 10 have never been full-time NFL head coaches. Of those eight, one (Bowles) has been an interim head coach. After firing Frazier, Spielman talked about having researched 13 categories where head coaches come from, concluding that none was more successful than another. The majority of the list so far, though, is made up of coordinators with no prior head coaching experience -- which was the same category Frazier came from before he got the Vikings' interim job and then became head coach. Four of the eight coaches hired last year were previously coordinators, and one of those four (Bruce Arians) had been an interim coach. In 2012, coordinators made up three of the NFL's seven coaching hires, and all of them were first-time coaches. It's been a popular cradle for head coaches, but based on what we know so far, Spielman's search has been more focused than it has been diverse.
We talked about this last week, but I think there's a real possibility the Vikings could bring in a coach who wants to run a 3-4 defense, and the coaches they've either talked to or expressed interest in so far would corroborate that theory. Quinn runs a 3-4/4-3 hybrid in Seattle and ran a 3-4 defense at the University of Florida. Bowles and Horton run 3-4 defense. Whisenhunt used a 3-4 when he was Arizona's head coach, and Roman's current team (the 49ers) uses one. If you're keeping score, based on the candidates we know about, the Vikings have split their time talking to or expressing interest in coaches from 3-4 and 4-3 teams. At the very least, it's an idea they're considering.
The Vikings are one of five teams still looking for a head coach, but they're still not in any danger of missing Spielman's self-imposed deadline of the Senior Bowl. The GM said he will take two or three names to ownership for a final yes-or-no decision, and practices don't start at the Senior Bowl until Jan. 20. That might make it tough for Gase or Del Rio to enter the process if the Broncos wind up in the Super Bowl, but Spielman has also said the Vikings could wait until after the Senior Bowl if it took that long to find the right guy.
My guess is, we'll see things heat up in the next five to seven days. But barring an unexpected batch of names, it seems there are definite trends emerging in the Vikings' search.
January, 7, 2014
Jan 7
4:30
PM ET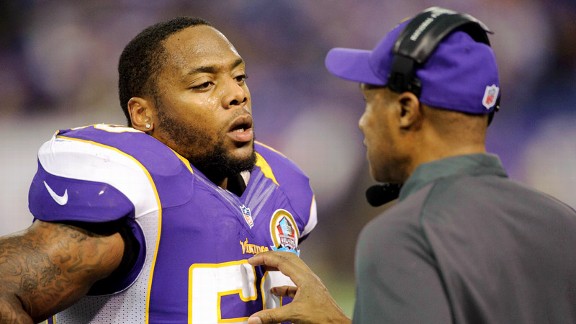 Hannah Foslien/Getty ImagesThe coach hired by Minnesota to replace Leslie Frazier, right, must be able to relate to a younger generation of players, according to former Viking Chris Doleman.
MINNEAPOLIS -- The
Minnesota Vikings
are continuing on with their coaching search this week, talking to
Cleveland Browns
defensive coordinator Ray Horton today after interviewing
Arizona Cardinals
defensive coordinator Todd Bowles on Monday. They will talk with
Cincinnati Bengals
offensive coordinator Jay Gruden on Thursday, according to a league source, and likely still have interviews coming with Bengals defensive coordinator Mike Zimmer,
San Diego Chargers
offensive coordinator Ken Wisenhunt, and
San Francisco 49ers
offensive coordinator Greg Roman. They have already talked with the
Seattle Seahawks
' offensive and defensive coordinators (Darrell Bevell and Dan Quinn). If their coaching search goes until the
Denver Broncos
' season is over, they could wind up talking to Denver offensive coordinator Adam Gase or defensive coordinator Jack Del Rio, too.
It's a long list with a range of different options. But one consideration I've been wondering about lately relates to something former Vikings defensive end Chris Doleman said in an interview last month: How much weight should the Vikings give to a coach's ability to manage millennials?
Ah, yes, 'millennials' -- the buzzword for my generation that's colloquially come to describe a group of people in their teens, 20s and early 30s who are narcissistic, overstimulated by technology and in constant need of and affirmation. Or, at least, that's been the scouting report on us in countless magazine articles about millennials in the workplace -- which, curiously enough, always seem to quote analysts the age of our parents, the same people who helped condition us to so much privilege and praise.
At any rate, Doleman related the concept to football in an
Inside the NFL
interview last month in which he described many millennials as "soft, soft players" who might not want to work as hard as previous generations of players did.
"This is a class of players that feel like they deserve so much more. I don't know if the work ethic is still there," Doleman said. "I think these guys want to win. I think they want to be good players, but are you willing to do the hard stuff? This, 'I'll ease into the game' type of attitude is just not good enough. You have to be able to step up there and make it happen."
Doleman pointed out Vikings linebackers coach Mike Singletary's time as the 49ers' head coach as an example of a disconnect with today's players, because Singletary couldn't understand why every player didn't have his drive. Both Doleman and Singletary were Hall of Famers as players, so they're naturally on the far end of the bell curve, but Doleman does raise an interesting point.
While I'd say the stock criticism of millennials is overly simple and often refers to affluent suburban kids who grew up as hyper-achievers in school (present company admittedly included), there's little doubt young professionals come to the workforce from a different background than previous generations. Football players do, too. Millennials grew up in organizational environments that place a strong emphasis on teamwork and collaboration, and as a result, they draw greater meaning from experiences where they feel like their ideas matter. Generally, they're less used to being screamed at, more used to being asked what they think and more likely to buy into an idea when they've been told the rationale behind it. Former Vikings coach Leslie Frazier seemed to get that -- he met each week with a players' leadership council consisting of players as young as 23 or 24 -- and in an era where salary-cap restrictions have pushed more and more teams toward younger players, the Vikings' next coach will have to find the right style to connect with millennials.
That doesn't necessarily mean every coach has to be like Pete Carroll; Jim Harbaugh has certainly been able to get the most out of young players, first at Stanford and then in San Francisco. But even as gruff as Harbaugh can seem in public, his leadership style is different than that of the coaches he played for (Bo Schembechler or Mike Ditka). A Sports Illustrated profile of Harbaugh in October quoted players who said Harbaugh "thinks of himself as part of the team." Receiver
Anquan Boldin
said of Harbaugh, "He's definitely not a screamer. He's usually calm when he talks to guys. He's more of a teacher."
Is that a softer way of relating to players? Is it more refined? I'll let someone else be the judge of that, but today's player probably requires a different kind of leader than players did in the 1980s or 1990s. It's a tough thing to quantify, but as Vikings general manager Rick Spielman continues his tour of coaching candidates, he'll have to find the coach that can connect with a generation of players who respond to something different than their predecessors did.
January, 6, 2014
Jan 6
11:30
AM ET
MINNEAPOLIS -- The
Minnesota Vikings
wasted little time in expanding their coaching search to include coordinators whose teams played in the first round of the playoffs over the weekend. And as expected, they went right to
Cincinnati Bengals
offensive coordinator Jay Gruden.

They are one of four teams to request an interview with Gruden, according to a league source. Gruden, who has won praise around the league for his work with Bengals quarterback
Andy Dalton
, is free to interview for jobs now that the Bengals are out of the playoffs, and could emerge as one of the hottest coaching candidates this offseason.
It's telling that four of the five teams with coaching openings -- Washington, Tennessee, Detroit and the Vikings -- have requested permission to talk to Gruden and even though the Bengals' offense sputtered in the team's loss to the
San Diego Chargers
on Sunday, Gruden has built plenty of momentum before this season. He interviewed for four jobs -- Seattle, San Diego, Philadelphia and Arizona -- after last season, and seemed likely to get strong consideration this year. The Bengals jumped from 18th to sixth in the league in offense in Gruden's three seasons, and they've made the playoffs in each of his three seasons working with Dalton, who was drafted after the Vikings took
Christian Ponder
.
Gruden, the younger brother of ESPN "Monday Night Football" analyst Jon Gruden, would follow the Vikings' interviews with Seattle offensive and defensive coordinators Darrell Bevell and Dan Quinn over the weekend. They also have scheduled talks with Arizona defensive coordinator Todd Bowles and Cleveland defensive coordinator Ray Horton on Monday and Tuesday, and had requested to talk to Denver offensive and defensive coordinators Adam Gase and Jack Del Rio.
San Francisco offensive coordinator Greg Roman and Bengals defensive coordinator Mike Zimmer are also able to interview for jobs this week, and both could wind up on the Vikings' radar.
January, 3, 2014
Jan 3
8:00
PM ET
MINNEAPOLIS -- Passing along a few coaching search tidbits as the Vikings get started with interviews this weekend:
After talking with Seattle Seahawks coordinators Dan Quinn and Darrell Bevell this weekend, as ESPN NFL Insider Adam Schefter reported, Vikings general manager Rick Spielman will move onto Phoenix. He'll talk to Arizona Cardinals defensive coordinator Todd Bowles on Monday and Cleveland Browns defensive coordinator Ray Horton on Tuesday, according to Fritz Pollard Alliance chairman John Wooten. Both men have built impressive defenses in their current jobs and would invigorate the Vikings on that side of the ball. And if it's a coincidence Spielman is heading out west this weekend, it's also a lucky one; he'll be in Phoenix just as wind chills are supposed to drop to -40 in the Twin Cities.
If you're seeing a common theme among the coaches the Vikings are talking to so far, it's that the three defensive coaches all have experience with a 3-4 scheme. As we discussed earlier Friday, the Vikings would have some flexibility to make the move to a 3-4, given their current personnel, and while Spielman's process is partially about gaining insight and evaluations on his own team from people around the league, it seems hard to believe the Vikings wouldn't at least consider the possibility of switching. It's safe to assume, at the very least, they won't be going back to the Tampa 2 scheme they played under Leslie Frazier; the Vikings allowed the most touchdown passes in the league in two of the last three seasons.
The Vikings are able to start talking Monday with coaches whose teams are playing in the first round of the playoffs this weekend. That would mean San Francisco offensive coordinator Greg Roman, Cincinnati offensive coordinator Jay Gruden and Cincinnati defensive coordinator Mike Zimmer could enter the process next week. If Spielman hasn't talked in any detail with Denver offensive coordinator Adam Gase or defensive coordinator Jack Del Rio by Sunday, though, he'd have to wait until the Broncos' season is over. Same goes for Bevell, Quinn, Carolina Panthers defensive coordinator Sean McDermott or any other possible candidate from a team with a bye this weekend.
Lastly, Leslie Frazier's chances of winding up as the defensive coordinator in Tampa Bay seem to hinge on whether the Dallas Cowboys will allow Lovie Smith to talk to Rod Marinelli. But even if Marinelli ends up as Smith's defensive coordinator in Tampa, Wooten said Frazier would still join Smith's staff as an assistant head coach.
February, 25, 2011
2/25/11
9:28
AM ET
INDIANAPOLIS -- We start the news cycle early here at the NFL scouting combine. At about 9 a.m. ET, the
Chicago Bears
announced they have completed contract discussions with coach Lovie Smith by agreeing to a two-year extension. Smith is now signed through the 2013 season.
General manager Jerry Angelo said last month that the Bears' run to the NFC Championship Game had solidified Smith's future with the team. It would have been an upset had he not received an extension, and Friday was a soft deadline given Smith's previously scheduled 10 a.m. appearance in the combine media center.
I'll have more after Smith addresses the news, but for now we can note that Smith is now tied for the fifth-longest tenure among NFL coaches. Hired in 2004, Smith has been in his job longer than every coach but Andy Reid (
Philadelphia Eagles
), Bill Belichick (
New England Patriots
), Marvin Lewis (
Cincinnati Bengals
), Jack Del Rio (
Jacksonville Jaguars
) and Tom Coughlin (
New York Giants
).
From a long-term perspective, this extension reconciles Smith's future with Angelo's. Both men are now signed through 2013. More in a bit.
May, 3, 2010
5/03/10
6:36
PM ET
Those of you who followed the story of former Detroit defensive line coach Joe Cullen should be sure to check out
this post
from my AFC South colleague Paul Kuharsky. Cullen is trying to resurrect his career in Jacksonville, where coach Jack Del Rio said: "Motivated guys are great, right? Players or coaches, that's what you want… I know Joe's very hungry for an opportunity, when he's been in the league and the line's he's worked with he's done a nice job with and I think he's very thankful for a second shot."
Former Green Bay defensive end
Aaron Kampman
, who know plays for Cullen and the Jaguars, said: "All I know is that there isn't a single one of us that's perfect, I know I'm not. This profession obviously puts you in a fishbowl and the great thing is that I know he's addressed it with the group and is moving forward. Each and every one of us needs to be about redemption."
March, 24, 2010
3/24/10
6:47
AM ET
ORLANDO, Fla. -- Chicago was one of 28 NFL teams to vote in favor of Tuesday's overtime rules change, but before the vote,
Brad Biggs of the Chicago Tribune
presented some compelling Bears-related evidence for maintaining the status quo.

Biggs noted the Bears are 11-3 in the past 10 seasons in overtime, including 8-1 under coach Lovie Smith. They are 4-1 in games ending with a field goal on the first possession of overtime over the past 10 years, and place-kicker Robbie Gould is the third-most accurate kicker in NFL history.
Tuesday was a more pressured environment than I've seen at an owners meeting in quite some time. There were some important and powerful people who really, really wanted this measure to pass.
I'll be spending some time with NFC coaches here Wednesday morning on the final day of the meetings. I'll be back with you mid-morning. For now, let's take a quick spin around the division:
February, 6, 2010
2/06/10
8:16
PM ET
FORT LAUDERDALE, Fla. -- Saturday was an interesting one for NFC North fans. We got defensive lineman John Randle into the Pro Football Hall of Fame, but were stymied on two other fronts: Receiver Cris Carter was among the first cuts from the Round of 15, while defensive end Richard Dent made it one step further before falling short.
[+] Enlarge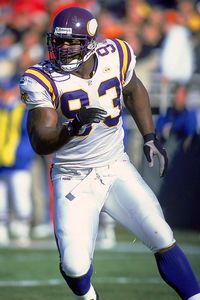 Getty ImagesJohn Randle finished his Hall of Fame career with 137.5 sacks.
I won't spend too much time discussing the players who didn't make it. Today is John Randle's day. But three quick points before we move on to him:
Many of you are already asking why Randle made it over Dent. After all, they finished their careers with the same number of sacks (137.5). Discussion among the 44 voters is confidential, but the vibe I got Saturday was this: Randle's total was deemed more impressive because he played much of his career at defensive tackle -- traditionally a harder position from which to pile up sack totals.

Carter actually regressed in the voting this year after making it all the way to the final cut in 2008. As we discussed Saturday, I can only attribute that result to Jerry Rice's surefire presence in this class and the relatively small number of receivers who are enshrined on a yearly basis. Entering Saturday's vote, there were 20 receivers in the Hall of Fame, a total less than running backs (25), quarterbacks (23), offensive linemen (34) and defensive linemen (27).

I know that Dick LeBeau played extensively for Detroit. But for coverage purposes, ESPN.com is considering him AFC North property. Check out this post from colleague James Walker.
Now, on to Randle.
Mark Craig of the Star Tribune
got ahold of him before Randle's cell phone died.
"It's an unbelievable feeling because of where I came from and what it took to just make it in the NFL," Randle said. "Words can't describe what it means. I'm in the Hall of Fame!"
Without exaggeration, I would say Randle ranks among the all-time success stories in recent Hall of Fame memory. He played college football at a Division II school (Texas A&I) that is
no longer in existence
under its current name. He went undrafted and was signed as a rookie free agent in 1990 by Minnesota scout Frank Gilliam, a player who was lucky if he weighed in at the 287 pounds he was typically listed at.
I spoke Saturday night with one of Randle's best friends, former Vikings linebacker Ed McDaniel.
"People always told Johnny that he wasn't big enough and wasn't good enough," McDaniel said. "So I know that every day he went out there, he wanted to show the other 30 teams that they made a mistake. He wanted to beat your guy every play. He wasn't a prototypical player, but he knew that when it was all over, he would be judged among the best players ever to play his position. That's what he was fighting for all those years."
There are all kinds of stories I could tell about Randle's whacky personality, and I'll get to a few in a moment. From a football perspective, however, I think Randle fundamentally changed the way defensive linemen are perceived.
In many ways, Randle was the first modern-day "three-technique" defensive tackle, the kind of interior disruptor you now see throughout the NFL. Before Randle, the NFL's top pass rushers always were defensive ends or linebackers. But Randle used his rare quickness to get a step on centers and guards, putting together nine seasons of 10 or more sacks.
As they say, the quickest point to the quarterback is up the middle. During the heart of his career from 1991-2002, Randle collected more sacks than anyone in the NFL.
"He revolutionized the game," McDaniel said.
Along the way, he proved to be one of the most colorful personalities in the game. Occasionally, Randle's eye makeup and non-stop trash talking overshadowed how good of a player he was.
To be sure, he always made sure he had fun playing the game. But Randle also believed he could get in the heads of opponents with some well-timed barbs -- so much so that he studied media guides for personal information he could banter with.
"Everyone has seen the NFL Films stuff from Johnny," McDaniel said. "That was the nice stuff. When he wasn't miked up, that's when the X-rated stuff would come. He would say stuff about guy's mothers, about their wives, about their children. He wanted to hit a guy at his weakest point. It was filthy, but it worked."
McDaniel told a story about playing in a game against Miami in the mid-1990s. Randle and fellow Vikings linebacker Jack Del Rio tackled a Dolphins running back. At the bottom of the pile, Del Rio was twisting one of the running back's ankles. Randle had the other and was yelling, according to McDaniel, "Harder, Jack, harder! Twist it off! Twist it off!"
"I said, 'Oh my God,' McDaniel said. "This is a level of football I've never seen."
I covered Randle during the latter stages of his career, and I rarely saw him stand in one place for more than a moment. He had a barb ready for everyone in the room, and considering how he dashed from place to place in the Vikings' locker room, I was always surprised how observant he was.
At the time, I was 26 and apparently looked younger. (The gray hair is a recent turn of events.) As he ran toward his locker one day, Randle stopped, looked at me and said: "Hey, does your mom know you're here?"
I looked around. Was he talking to me?
"I said, does your mom know you're here?"
"I don't know. Why?"
"Because," Randle said, "you're too young to be away from home by yourself."
I'm betting his enshrinement speech will be a knee-slapper.
January, 30, 2009
1/30/09
5:17
PM ET
Posted by ESPN.com's Kevin Seifert
Very quietly, the Detroit Lions are wrapping up their search for a personnel man to join new general manager Martin Mayhew in the front office. One name frequently mentioned in recent days is James "Shack" Harris, the former vice president of player personnel in Jacksonville.
Harris, former Cleveland general manager Phil Savage and former Denver general manager Ted Sundquist have all been mentioned as possible candidates. Although things could change, there have been recent indications that the Lions were focusing in on Harris.
Harris would fit the description of what Mayhew has said he was looking for: An experienced talent evaluator to serve as a second pair of trained eyes. Such an arrangement would lend credibility to a front office that hasn't engendered much lately.
Of course, at this time in the NFL offseason, that's not an easy job description to fill. The vast majority of qualified candidates are locked in with their current teams until after the draft. Typically, teams set the contracts of their personnel executives to expire in May to ensure continuity during this critical time of the season. And because the Lions aren't offering a job that would include final say on personnel issues, teams could block any interview requests for candidates under contract.
That leaves the Lions considering a pool of men who are currently unemployed. It's believed that Savage wasn't interested in joining the team in a subordinate role, but Harris is said to be ready to get back to work.
Harris wasn't perfect during his tenure in Jacksonville, where he shared final authority with coach Jack Del Rio. The Jaguars had some questionable draft choices during his tenure, from receiver Reggie Williams (2004) to receiver Matt Jones (2005), and they misfired last year when signing receiver Joey Porter to a free agent contract.
But Harris has more than a decade of experience in building playoff-caliber teams, something no one else in the Lions' front office can say. Prior to his stint in Jacksonville, Harris spent six years in Baltimore and was part of the Super Bowl championship team in 2000.
Hiring Harris as general manager would have been a suspect move. But bringing him in as a mentor of sorts for Mayhew would seem to be a good fit.