NFC North:

James Franklin
August, 25, 2014
Aug 25
1:19
PM ET
Most significant move:
By cutting kicker
Giorgio Tavecchio
, the Lions ended their kicking competition by settling on rookie
Nate Freese
from Boston College. Detroit coach Jim Caldwell continually called this a tight competition. However, Freese always worked with the first team and was the first kicker out in all three preseason games. Tavecchio had the more consistent camp of the two players, but Detroit invested a seventh-round draft pick in Freese. He may be Detroit's kicker for now and could end up as its kicker throughout the season, but another miss or two and the team might want to consider the free-agent wire, including recently released
Jay Feely
from Arizona.
Defensive backfield getting settled:
Detroit released corners
Jonte Green
and
Aaron Hester
and sent safety
DeJon Gomes
to injured reserve on Monday, giving some clarity to their secondary. Green was a somewhat surprising cut since it seemed like the team might at least keep him around until Saturday's final cuts, but
Chris Greenwood
clearly beat him out. The questions in the secondary is now how many corners and safeties the team takes and whether it looks at a sixth corner (likely Greenwood) or a fifth safety (either
Isa Abdul-Quddus
or
Jerome Couplin
). Those will be two situations to watch Thursday night.
What's next:
The Lions will probably search the waiver wire for secondary help, maybe take a look at a receiver or kicking options. Otherwise, they play Buffalo on Thursday and make final cuts Saturday.
Lions moves:
Cut CB Jonte Green, CB Aaron Hester, FB
Chad Abram
, K Giorgio Tavecchio, P
Drew Butler
, QB
James Franklin
, OG
Alex Bullard
, OL A.J. Dalton, DT
Gregory Hickman
, RB
Steven Miller
, DE
Kris Redding
and WR
Conner Vernon
. Moved S DeJon Gomes to injured reserve. Moved WR
TJ Jones
to PUP/reserve.
August, 18, 2014
Aug 18
1:59
PM ET
ALLEN PARK, Mich. -- Four
Detroit Lions
players have yet to play this preseason.
Only one, though, has been held out of both the Cleveland and Oakland games due to precaution. And barring anything changing, that will not be the case Friday night against Jacksonville. Wide receiver
Calvin Johnson
should play.
Johnson
"We plan to get him some work this week, and that's today I'm telling you that," Lions coach Jim Caldwell said. "Toward the end of the week, something adjusts and we have to adjust here and there, it could be that with a number of different guys.
"But we plan to get him some work this week."
The third game of the preseason is typically when teams give their starters a bunch of work, sometimes playing them into the second half. Caldwell wouldn't indicate how long he plans on playing Detroit's first unit Friday night and whether he'll play certain players more than others within that grouping.
When asked specifically about Johnson, Caldwell did say "that's a possibility, sure," about whether Johnson would play less than some of the other starters. Johnson had two offseason surgeries, one on his finger and one on his knee. He told ESPN.com last week that he now has a
protective splint for his fingers
, which have suffered injuries the past two seasons.
Caldwell was less certain about playing defensive end
Ezekiel Ansah
this week as Ansah continues to recover from offseason shoulder surgery. The Lions removed him from the PUP list last week but sat him against Oakland as he tries to get up to speed.
"The medical staff will look at it," Caldwell said. "Even though he's off of PUP, we're going to bring him along according to what he can handle from a physical standpoint, and so we'll get a sense of that.
"He's doing a little bit more today in practice, and he'll do a little bit more tomorrow and see what happens come game day."
The other Detroit players to not play in a preseason game this year are rookie wide receiver
TJ Jones
and rookie quarterback
James Franklin
. Jones remains on the team's PUP list as he recovers from surgery. Franklin is the team's fourth quarterback and has not taken many meaningful snaps in practice, either.
August, 8, 2014
Aug 8
4:00
PM ET
ALLEN PARK, Mich. -- A daily review of hot topics coming out of
Detroit Lions
training camp:
Kind of a weird practice for the Lions on Friday as it was a hybrid of what Jim Caldwell said he tries to accomplish on Fridays and Saturdays. So the length was a bit longer than a typical walk-through, but players weren't in pads, there was no hitting and most things were done at a speed much slower than what anyone will see Saturday night. This is all pretty typical and a sign that actual football is close to happening for the 2014 season in Detroit. It was also the first practice of the season not open to either season-ticket holders or some portion of the general fan base, so an overall quiet morning of work.
The better news for Detroit is the return of Eric Ebron and Calvin Johnson to practice Friday. Since Johnson missed Thursday as an excused absence, it wasn't too surprising to see him back on the field Friday. Ebron's return to the walk-through gives a little larger window to his potential debut Saturday night, but it'll still be a tricky call for Caldwell on how much to use him, depending on what his undisclosed injury was. Unlike a veteran such as Johnson, Ebron could use the work to familiarize himself with the offense and the pace of the NFL as a rookie. Joique Bell missed Friday's practice for "personal reasons," per Caldwell.
An area of concern for Detroit at this point might be Ezekiel Ansah. It would be stunning if Ansah played Saturday night considering he is still on the active physically unable to perform list, and days of practice to get him up to speed both physically and mentally with the new defensive scheme are starting to dwindle. The positive for Ansah is he keeps working on the side with athletic trainers and appears to be moving well when he does this, but until he is medically cleared and practices for a few days with his teammates, it's unclear how far behind he may be. He is a critical part of Detroit's defense this fall as he is expected to occupy the open defensive end spot that will have many pass rushing responsibilities. It is where Ansah thrived his rookie season, but at some point the Lions need to see him on the field.
Caldwell discussed the backup quarterback situation earlier this week and it sounds like there are no minds made up on the No. 3 quarterback slot -- or whether the Lions will carry three quarterbacks at all. At this point, if the team kept three on the 53-man roster, that third quarterback would almost definitely be Kellen Moore, but unless things change drastically, he won't be the No. 2 quarterback. James Franklin is still a major question mark, but from the limited amount he has shown, he is a long way from contributing to an NFL team. At this point, his best shot of sticking would be if the Lions kept two quarterbacks (Matthew Stafford and Dan Orlovsky) and keeping him as a major developmental project on the practice squad. It'll be interesting to see what happens during preseason games, though, where he should get some snaps.
The Lions don't practice again until Monday -- playing Cleveland in the preseason opener Saturday before an off day Sunday.
July, 24, 2014
Jul 24
2:15
PM ET
ALLEN PARK, Mich. --
James Franklin
spent the spring participating but also watching, learning but also being forced to observe at the time he would likely want to be out there the most. As the undrafted rookie quarterback the
Detroit Lions
picked up following May's draft, he entered offseason workouts understanding his opportunities would be limited.
He didn't know for sure, though, there would be none at all.
For a player trying to win a spot as the No. 3 quarterback on the 53-man roster or the practice squad, Franklin had a bit of a detriment to making the team.
[+] Enlarge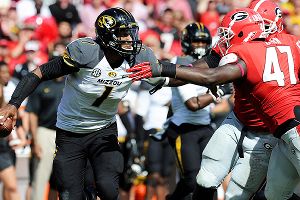 Dale Zanine/USA TODAY SportsLions QB James Franklin scrambled a lot at Missouri, but is working on staying in the pocket in the NFL.
"I always assumed I wouldn't (get many reps) and I kind of prepared for that," Franklin said. "I knew that was kind of them, based off, it was up to me how many reps I would get as far as learning the plays and getting them down better so that way they felt more comfortable putting me in."
There was so much to pick up. There was so little time to accomplish it. This was the biggest issue for the former Missouri quarterback, who, prior to May said he had never truly taken a five-or-seven-step drop during his time with the Tigers.
Missouri played a spread system, so everything he did came off a three-step drop or a little shuffle of his feet. There wouldn't be a pocket created for him, per se, with the Tigers. These were things he had to learn fast, so he understood that until he picked them up, he wasn't going to move past
Dan Orlovsky
or
Kellen Moore
into receiving actual snaps while those two quarterbacks were also learning the offense.
Franklin knew this would be an issue as he entered the league, even as he jumps into a system that will likely employ a lot of shotgun and some elements of the spread offense without the quarterback running.
Even though he didn't actually take a meaningful offseason snap -- and Lions coach Jim Caldwell said Franklin will receive the majority of snaps during preseason games -- Franklin began to understand the importance of staying in the pocket to help the offensive line protect him.
The learning, though, went beyond improving and adjusting his footwork to drop back correctly. It also hit on the plays themselves.
"I've definitely been going over the plays over and over, reciting the plays, because learning the plays isn't actually that bad," Franklin said. "It's just the long play calls that I have to be getting used to. That's something I think I've gotten a little bit better at and hopefully I won't worry about it too much so I can just go out there and play football."
Franklin said reciting play calls is his biggest concern entering camp, in part because like the new drops he has never done it before. His offense at Missouri was run using signals and short calls. This was his biggest immediate transition during rookie minicamp and continued to follow him throughout the spring.
The spring was for learning, though. Now, he has to win a job.
"I wish we could have done some more of (play calls) in college to kind of prepare me, but I can't make excuses now," Franklin said. "I just have to work with what I have."
And hope that what he has is good enough.
May, 11, 2014
May 11
11:15
AM ET
Here are some day-after thoughts on how the
Detroit Lions
did in the 2014 draft, with some time to sleep, reflect and also see the entire board of what they were trying to do.
The best pick the Lions made is probably second-round linebacker Kyle Van Noy. He fills an absolute need and Detroit general manager Martin Mayhew all but said Saturday night that he'll be a starter in the fall. That probably means Ashlee Palmer's job is in definite trouble as the third linebacker. But Van Noy gives Detroit some defensive flexibility. In person, he is a lot bigger than I initially anticipated. He's put together pretty well.
I panned the Eric Ebron pick throughout the draft -- not because Ebron won't be a good player, but because of who the team passed on at the point. Detroit desperately needed secondary help entering the draft and still needs help leaving the draft. Frankly, they needed defensive help overall, but they took care of some of those other needs later on -- including Van Noy. But Ebron felt more like a luxury. That said, if he becomes more of a wide receiver, which is entirely possible, it could end up being a very strong pick.
Speaking of the secondary -- this was probably Mayhew's biggest failing during the three-day period. Of the team's eight picks, Detroit used only one on its back seven -- in the fourth round on cornerback Nevin Lawson. Mayhew lauded Lawson's speed, but his height stands out. For months, defensive coordinator Teryl Austin explained how important tall cornerbacks were and in his history, he has often preferred players over 6-foot. Lawson is 5-foot-9. When asked about that, Mayhew said he was a short defensive back, so he can't be prejudiced about that. Nine corners went off the board in the fourth round before Detroit picked Lawson -- and one wonders how many of those were higher up on the Lions' board.
Fourth-rounder Larry Webster could end up being a good one -- but it won't be for a couple of years. He played at small-school Bloomsburg and has a good pedigree since his father played in the NFL. But even Mayhew acknowledged he is very raw at the position. He seems like an ideal candidate to learn for a year before being counted on for anything.
Drafting kicker Nate Freese in the seventh round likely means either John Potter or Giorgio Tavecchio probably won't be long for Detroit. The other will compete with Freese for the Lions' kicking duties.
Really like the addition of Caraun Reid. He is probably a bit of a developmental project as a defensive tackle coming from a small school, but he is an extremely intelligent and well-rounded person having gone to Princeton. As with many late-round guys, he'll make the team because of special teams at first -- and that is where he might excel. He appears to have a knack for blocking kicks, as he did that seven times at Princeton.
T.J. Jones could end up being a surprise as well. He's a receiver from Notre Dame who had 70 catches for 1,108 yards and nine touchdowns last season -- and was targeted 109 times by Irish quarterbacks. He will likely put pressure on Ryan Broyles and Jeremy Ross in the slot for a roster spot and playing time.
Good chance third-round pick Travis Swanson won't play much this season on offense, but he was drafted to be the team's starting center of the future -- unless he ends up as a starting guard. It's a fair bet he replaces either current center Dominic Raiola or left guard Rob Sims by 2015.
If Detroit can get some production out of its third-day players like it did out of the 2013 draft, the Lions' draft will likely look a lot better in retrospect than it does right now. But that's the thing with all of this. Until teams get on the field, this will all be speculation at best. A bit more informed speculation than before the draft, but we'll see how some of these players fit.
The Lions' undrafted free agents and tryout camp players won't be official until at least Monday and things can change quickly, so until it is official, be wary. But former Missouri quarterback James Franklin tweeted he will be joining the Lions -- and since the Lions did not draft a quarterback this weekend, that seems like a pretty safe bet. Among the other players who tweeted they will be a part of either the Lions' roster or rookie camp are Nebraska cornerback Mohammed Seisay, Appalachian State wide receiver Andrew Peacock, Kansas State offensive tackle Cornelius Lucas, Tennessee offensive lineman Alex Bullard and Oklahoma cornerback Gabe Lynn. The Detroit Free Press is reporting William and Mary safety Jerome Couplin, Robert Morris offensive lineman A.J. Dalton and Louisiana-Lafayette tight end Jacob Maxwell will also be undrafted free agents.
December, 31, 2013
12/31/13
3:25
PM ET
MINNEAPOLIS -- For the third time in eight years, the
Minnesota Vikings
are looking for a head coach, and unlike the processes that landed Brad Childress and Leslie Frazier in the job, this year's search could be a long one.
General manager Rick Spielman said on Monday he's looked at 13 categories where head coaches come from, and after all that research, he found that no one category was more likely to produce a successful head coach than another. That means the Vikings haven't found a shortcut in searching for their next coach, and it's also indicative of Spielman's rather deliberate style of doing things.
"That's why we have to do this extensive process, and we have to go out and find the right head coach we think is going to lead us into the future," Spielman said. "We will interview extensively. Talking to ownership, we will be very busy. I just told them, don't plan on any stadium meetings for the next two weeks."
Spielman said he hopes to have a coach in place by the Senior Bowl later this month. Here are some of the candidates that could make sense for the Vikings:
Darrell Bevell, Seattle offensive coordinator:
One of this year's hottest coaching candidates, Bevell is also plenty familiar with the Vikings; he was the team's offensive coordinator from 2006-10, and has already coached
Adrian Peterson
,
Phil Loadholt
and
John Sullivan
. It remains to be seen how Bevell would feel about coming back to a team -- and replacing a coach in Frazier -- that let him go after the 2010 season, but one benefit for Bevell would be familiarity with some of the Vikings' personnel. He'd also have a running back in Peterson who could be the same focal point of Bevell's scheme that
Marshawn Lynch
is in Seattle.
Bevell is reportedly set to interview with Washington, as well, so the Vikings would have competition for him, but his familiarity with the team and his success in Seattle make him an intriguing option.
[+] Enlarge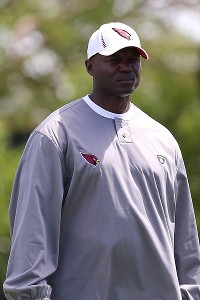 Christian Petersen/Getty ImagesArizona defensive coordinator Todd Bowles is one of many names the Vikings could have on their list of potential head coach candidates.
Todd Bowles, Arizona defensive coordinator:
According to ESPN NFL insider Adam Schefter, the Vikings have asked for permission to talk to Bowles, who has built one of the NFL's best defenses in Arizona and served as an interim head coach in Miami for the final three games of the 2011 season. Bowles has also received interest from Cleveland, and might be able to pick between several openings if he decides to leave the Cardinals. Under Bowles, Arizona allowed the seventh-fewest points and the sixth-fewest yards in the NFL this season. His background -- a Super Bowl-winning safety for the
Washington Redskins
in the 1980s, a longtime position coach and a defensive coordinator -- might skew a little too similar to Frazier's, and if the Vikings hired someone like Bowles, they'd also have to land an impressive offensive coordinator. But the Vikings' defense needs work, too, and Bowles could get a look.
James Franklin, Vanderbilt head coach:
Franklin, who was a wide receivers coach with Bevell in Green Bay in 2005, also coached
Josh Freeman
at Kansas State before moving on to Maryland and becoming the head coach at Vanderbilt, where he led the Commodores to their third nine-win season in school history in 2012. Franklin did a minority coaching internship with the Vikings in 2008, where he again worked with Bevell, and has received interest from the Vikings, according to Schefter. He's a former college quarterback who's worked with receivers, run offenses and could bring some life to the Vikings' passing game, and though he could get a look from Penn State if the Texans wind up hiring Bill O'Brien, the Vikings appear to be one of his early suitors in the NFL.
Adam Gase, Denver offensive coordinator:
Gase directed the Broncos' record-breaking offense and is getting attention for NFL jobs at just 35 years old, though he's already told teams he won't interview for jobs until after the Broncos' season is over. The major caveat with Gase, as it is for any coordinator working with
Peyton Manning
, is that the quarterback's ability to direct the offense at the line of scrimmage obviously wouldn't translate to another team. But before Manning came to town, Gase did build an offense around
Tim Tebow
that helped the Broncos get to the second round of the playoffs. If the Vikings can wait out what could be a long playoff run in Denver, Gase could be worth an interview.
Jay Gruden, Cincinnati offensive coordinator:
He might be the hottest candidate of the year, for his work with
Andy Dalton
and his leadership of the sixth-highest scoring offense in football. Gruden can't interview until next week, with the Bengals in the playoffs this week, but after he got interviews for the Chargers' and Eagles' coaching jobs last year, his name figures to make the rounds again this year. Gruden, the younger brother of Super Bowl winning coach and ESPN "Monday Night Football" analyst Jon Gruden, might get the Vikings' attention solely because of his quarterback pedigree; he won four Arena League titles as a quarterback and has had far more success with Dalton than the Vikings have had with
Christian Ponder
after taking him in front of Dalton in 2011.
Greg Roman, San Francisco offensive coordinator:
He'd be another coach the Vikings would have to wait on; the 49ers visit Green Bay in the first round of the playoffs this weekend, but Roman's command of one of the NFL's most diverse offenses could intrigue the Vikings. He built a power-running, angle-blocking scheme in San Francisco, and proved adept enough to harness
Colin Kaepernick
's talents when the 49ers switched quarterbacks last season. Roman might be able to maximize Peterson's worth while developing a young quarterback, and coming from one of the league's most successful teams over the last three seasons, he's got the kind of résumé that figures to interest the Vikings.
Dan Quinn, Seattle defensive coordinator:
Quinn is another candidate the Vikings have reportedly asked to interview, and another that should get plenty of attention after directing the NFL's best defense. He's in just his first season as a NFL defensive coordinator, having replaced Gus Bradley after he became the Jaguars' head coach before this season, but he'd been the defensive coordinator at the University of Florida before coming to Seattle. Quinn is just 43 years old, and is one of a number of young candidates the Vikings appear to be targeting. He'd represent a difference in philosophy from Frazier, but the Vikings' defense has undoubtedly lost some of its edge and might benefit from the kind of reboot Quinn could provide.
David Shaw, Stanford head coach:
He's said he has "no desires" to leave Stanford after replacing Jim Harbaugh, and the Vikings would have the added obstacle of buying him out of his current contract, but the work Shaw has done with the Cardinal is hard to ignore. He'll take them to their third straight BCS bowl game on Wednesday, when they face Michigan State in the Rose Bowl, and he's directed sound offensive schemes at Stanford since he was working for Harbaugh. He'd bring a similar philosophy to Roman, and the Vikings might also get the benefit of Shaw bringing Stanford co-defensive coordinator Derek Mason, a former Vikings defensive backs coach under Frazier who's directed a stout defense against some of the most prolific read-option schemes in the country.
December, 22, 2013
12/22/13
6:30
PM ET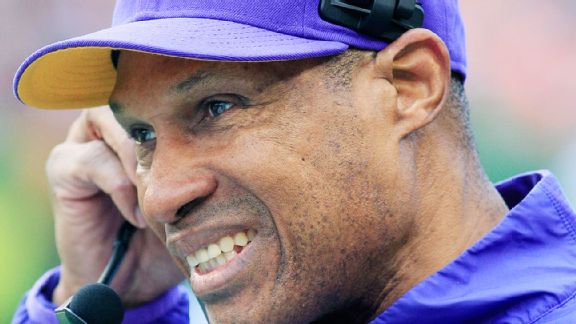 AP Photo/Tom UhlmanA 42-14 loss to the Bengals didn't help Leslie Frazier's case to remain the Vikings' head coach.
CINCINNATI -- The
Minnesota Vikings
had just finished their
10th and most lopsided loss of the season
, falling by four touchdowns to the
Cincinnati Bengals
at a time when such a shot could prove fatal to the chances of coach Leslie Frazier keeping his job. Running back
Adrian Peterson
-- who had said on Friday he looked forward to playing for Frazier "for the rest of my career," was even more pointed in his support of Frazier on Sunday.
After the season, Peterson said, he planned to communicate that support directly to ownership.
"I'm definitely not an individual that's looking for dramatic change. It would hurt if he leaves," Peterson said. "I try to say what I think, but there's a time and place for everything. With the season getting wrapped up, that time is coming. I'm going to give my input, see what they have to say and we'll go from there."
By that time, it might be too late for Peterson or anyone else looking to stump for Frazier. The Vikings need wins more than words to make that case, and instead of following up a blowout of the
Philadelphia Eagles
with another win over a playoff contender on Sunday, they got steamrolled, 42-14, by the Bengals in a game that guaranteed Frazier will have more seasons with double-digit losses (two) than double-digit wins (one) to his name as the Vikings' coach.
The loss, as much as anything, highlighted the glaring deficiencies on the Vikings' roster. Frazier can do little about his quarterback situation, where the inconsistent
Matt Cassel
has looked like the best of a weak bunch, and on Sunday, the coach's list of healthy cornerbacks included a converted safety (
Robert Blanton
), an undrafted free agent (
Marcus Sherels
), two practice-squad additions (
Shaun Prater
and
Robert Steeples
) and former second-round pick
Chris Cook
, who's been so unreliable that the Vikings were rotating him with Prater and Sherels on Sunday. That situation hangs more on general manager Rick Spielman than it does Frazier, but in light of how much the Vikings have apparently been doing their homework on coaching candidates, Frazier's fate might be sealed.
Citing multiple sources, ESPN NFL insider Adam Schefter reported on Sunday that Vikings ownership has told others around the league that it is planning to make a head coaching change after this season, though one team source was adamant that nothing has been decided yet. Vikings ownership has told others that it believes it presides over an attractive opportunity, one that will have another premium draft pick, along with the promise of a new stadium coming. The Vikings already have been doing their due diligence on potential replacements for Frazier, and their wish list is said to include Vanderbilt head coach James Franklin and Penn State head coach Bill O'Brien, among others.
I'd heard rumblings of candidates putting out feelers for the Vikings job as early as November, when the team was 1-7, and in reality, Frazier was in a tough spot last January, when ownership decided not to offer him a contract extension after a 10-6 season, choosing instead to pick up his 2014 option and effectively forcing him to repeat a season where the Vikings enjoyed a soft schedule, good fortune with injuries and the singular brilliance of Peterson during his 2,097-yard march on Eric Dickerson's record.
The odds of doing that were slim when the Vikings had so much uncertainty at possibly the two most important positions in the NFL -- quarterback and cornerback -- and while Peterson insisted after the loss that the Bengals weren't better than the Vikings, Frazier almost sounded at a loss for what he could do with his young secondary racked by injuries and not only Peterson, but backup
Toby Gerhart
trying to play through injuries.
"It's been tough, now. I'm not going to sit here and sugarcoat that," Frazier said. "Where we are in the secondary, and where we were today, having to get [running back]
Joe Banyard
up with Toby going down [after re-injuring his hamstring on the Vikings' first series], we tried our best to maximize the roster. ... The good thing about Joe Banyard, about Shaun, all those guys is, they're playing as hard as they can and giving you everything they have. But some of those matchups can be difficult, for sure."
Frazier said this week he was just making a "general comment" in a Sirius XM Radio interview when he praised the Rooney family for their patience with the
Pittsburgh Steelers
' coaches, but it's hard to believe he wasn't uttering the remarks without an eye toward his own situation. His status looked as bleak as ever on Sunday, when his players could only offer statements of support while the results pushed Frazier to the brink.
"We'll have some internal discussions, but I've got one more game in this season," Frazier said. "I'm looking forward to hopefully coaching that final game and getting us a win at Mall of America Field as we close out the [Metrodome]. That's where my focus will be."