February, 3, 2012
2/03/12
12:00
PM ET

Carter
In 1994, Cris Carter set an NFL record with 122 receptions over the course of a 16-game season. Shortly thereafter, the Pro Football Hall of Fame received and
put up for display his full uniform
, commemorating an achievement that figured to stand for some time.
The very next year, Herman Moore caught 123 passes for the
Detroit Lions
. Since then, the NFL has seen a 143-catch season (Marvin Harrison for the
Indianapolis Colts
in 2002) and another 123-catch campaign (
Wes Welker
for the
New England Patriots
in 2009). Welker also caught 122 passes this season. In fact, since Carter's 122-catch season, NFL wide receivers have produced 13 seasons that would have broken the record of 112 catches that Carter eclipsed in that 1994 season.
Carter was without question one of the best wide receivers of his era, but if I had to make an educated guess about why he has not yet been enshrined in the Hall of Fame, I would blame his timing. He produced his best seasons at the start of an NFL passing frenzy that has inflated statistics and left Hall voters reluctant to reward them.
There are 21 wide receivers in the Hall, fewer than any position except tight end, place-kicker or punter. And as the first chart shows, only four receivers whose careers began in the past 35 years have been elected. One of them, Art Monk, was enshrined 13 years after his retirement. A second, James Lofton, waited 10 years.
Hall voters might not agree, but the numbers suggest they haven't prioritized receivers as much as some other positions. And those who value the position have no doubt been torn in recent years by the presence of three quality candidates: Carter, Andre Reed and Tim Brown.
The second chart shows the receiving statistics of that trio over a relatively similar career span. Carter was a finalist in 2008, 2009 and 2010. Brown, who was also an elite kick returner, was a finalist in 2010. But Reed has been a finalist every year since 2007, and Carter's absence in 2011 suggests that Reed might have been pushed to the front of the line whenever a receiver (or two) is elected.
When he retired in 2002, Carter ranked second in NFL history in receptions and touchdown catches. He was No. 3 in total yards and total touchdowns. The NFL's offensive explosion has pushed him down in every category, and you hope he doesn't get permanently caught in the subsequent backlash. Catching 244 passes in two seasons, as Carter did in 1994 and 1995, was much more notable at the time than it is now.
While he will always be overshadowed by Jerry Rice, whose career more or less overlapped his, Carter also deserves some big-picture credit for sharpening the science of sideline footwork and warding off opponents with his arm. He was also as durable a receiver as this game as known, missing only four games in 14 seasons between 1988-2002.
I couldn't begin to tell you what might happen Saturday when voters convene to elect the class of 2012. Once again, Carter has joined Brown and Reed on the list of 15 semifinalists. Only five recently retired players, along with up to two nominees from the seniors committee, can make it.
I'll leave you with what the late Detroit Lions beat writer Tom Kowalski a said in a post-vote discussion last year. (
He also tweeted it
, so it's not as if I'm giving away a privileged conversation.) Kowalski, a member of the voting committee, looked at the projected ballots for 2012, 2013 and 2014 and predicted that the "snubs" of 2011 would be rectified over the next three years. If that's the case, it's just a matter of "when" for Cris Carter.
Note:
Carter is one of several former players with NFC North ties among the 15 semifinalists. That list also includes former Vikings defensive end Chris Doleman, current
Green Bay Packers
outside linebackers coach Kevin Greene and former Lions guard Dick Stanfel.
January, 25, 2012
1/25/12
11:55
AM ET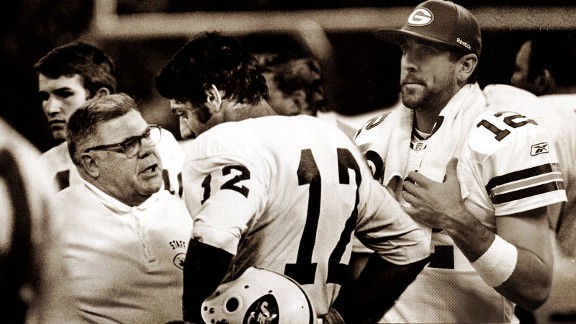 ESPN.com IllustrationHall of Famer Joe Namath and Aaron Rodgers could scheme against defenses.
MATCHUP GALLERY
In four seasons as the
Green Bay Packers
' starting quarterback,
Aaron Rodgers
has missed two starts. One was the result of a concussion, and the other a coaching decision in Week 17 of 2011. Otherwise, Rodgers has started 62 of a possible 64 games, winning a Super Bowl and (likely) an MVP award along the way.
That resume was enough for ESPN.com's panel of 20 Hall of Fame players to
make him a member of the "Any Era" team
that has been rolling out this week. Here is a sampling of their comments:
RAYFIELD WRIGHT

"Aaron Rodgers has the ability to recognize and run an operation and run a team. You aren't talking only about physical toughness. You're talking about mental toughness with him, and he is mentally tough."

MIKE DITKA

"Aaron Rodgers is the epitome of tough mentally and physically. He can handle the hits, but mental toughness is something more important."
In the video below, Hall of Fame receiver James Lofton said Rodgers' willingness to wait his turn in Green Bay behind Brett Favre, and the way he used his three years as a backup, makes him in Any Era player. "That's what quarterbacks used to have to do," Lofton said. "You used to draft a quarterback and you'd let them marinate a couple years."
January, 23, 2012
1/23/12
5:00
PM ET
As you know by now, ESPN.com is unveiling its 20-member "Any Era" team this week.
Detroit Lions
defensive tackle
Ndamukong Suh
was among the first four players named, as we noted earlier Monday.
A number of Hall of Famers made the trip to ESPN headquarters in Bristol to help assemble the team, and
ESPN's Front Row blog
spoke with former
Minnesota Vikings
defensive lineman
John Randle
, as well as receiver
James Lofton
, about the project and their choices of their "Any Era" coach.
Randle chose Vince Lombardi, while Lofton cited Bud Grant to complete the NFC North circle.
In the video below, Randle said "if I could have, I would have played the same way [Suh] plays." He said Suh has sent a message to the rest of the NFL: "Don't come to my gap, don't come toward me, because this is what is going to happen to you."
June, 6, 2011
6/06/11
9:40
AM ET
By
ESPN.com staff
| ESPN.com
We're Black and Blue All Over:
Chicago Bears
Former NFL coach Tony Dungy will meet with Lovie Smith on Monday
to share ideas
heading into the 2011 season.
The Chicago Tribune's Teddy Greenstein
recently hit the golf course
with Bears long-snapper Patrick Mannelly.
Detroit Lions
The Free Press compiled a list of
Detroit coaches who lasted just two seasons
as head coach. Can you name the Lions' representative in the list?
Green Bay Packers
Offensive tackle Bryan Bulaga
won the home run derby
prior to Donald Driver's charity softball game. Meanwhile, Driver said Sunday he wants to chase down
James Lofton's team receiving records
.
Defensive lineman
Cullen Jenkins offered his support
Friday at the hearing before the 8th Circuit Court of Appeals in St. Louis. Jenkins: "It would be easy for me to worry about getting my deal done. But you get out here and figure out what is going on and it is a much, much larger picture. ... Once I figured out what is going on, I just wanted to offer my support."
Minnesota Vikings
Lester Bagley, vice president of public affairs and stadium development for the Vikings, on
getting a stadium bill passed
: "We're optimistic. I think [Vikings owners Zygi and Mark Wilf] have done what they've been asked. They put $407 million on the table, plus about $20 million a year in operating cost and capital improvement. They put significant capital at risk. They've got a great site, they've got a great local partner, so I think we're in good shape because we delivered. The Vikings delivered, the Wilfs delivered what they were asked to deliver."
January, 8, 2010
1/08/10
7:22
PM ET
About four posts after I thought the day was winding down, here are two late Friday developments in the NFC North:
Detroit's coaching staff will coach the North team at the Jan. 30 Senior Bowl,
but at least one 2009 coach won't be among them. Special teams coordinator Stan Kwan was fired Friday, according to
John Niyo of the Detroit News
.
We discussed Kwan's status
earlier this week
when the special teams guru Bobby April got out of his contract in Buffalo. It goes almost without saying the Lions need to elevate their special teams play across the board, from coverage to returns. Our friends at Football Outsiders ranked Kwan's special teams No. 31 in the NFL this past season. I'm not sure if April and the Lions will be a match, but he's one of the best in the NFL.
Green Bay linebacker Clay Matthews was added to the Pro Bowl
after Chicago linebacker
Lance Briggs
pulled out because of a knee injury. Matthews was a first alternate for the honor after amassing 10 sacks. He becomes the Packers' first rookie to make the Pro Bowl since receiver
James Lofton
in 1978.
In quotes distributed by the Packers, Matthews said he has "gradually been getting better and better" throughout the season. He added: "I feel like I am playing at a level that benefits our team. I am able to generate pressure on the passer, hold the point of attack against the run, and overall be a force on the right side of the line. I just look to continue to develop."