May, 2, 2013
5/02/13
7:50
AM ET
We're Black and Blue All Over:
The Chicago Bears never mess around when it comes to signing their draft picks, and this week they became the NFL's first team to start locking up members of its 2013 draft class. Fifth-round pick Jordan Mills and sixth-round pick Cornelius Washington both agreed to terms Wednesday, as
Jeff Dickerson of ESPNChicago.com points out
.

There is no rush to sign draft picks at this time of year because NFL rules allow them to participate in offseason workouts even before they have a contract. And the NFL's current rookie scale has left less room for negotiating and made rookie deals more routine as training camp approaches.
Still, the Bears prefer to get their deals done early rather than risk market influence from other teams' deals later in the process. The players' incentive is to get their signing bonus earlier.
Continuing around the NFC North:
April, 9, 2013
4/09/13
4:15
PM ET
In the days since place-kicker
Jason Hanson
announced
his retirement
from the
Detroit Lions
, I've received a steady stream of the same question: Will he be elected to the Pro Football Hall of Fame?
Hanson, after all, finished his 21-year career with the third-most points (2,150) in NFL history. But I've largely brushed aside this issue by noting the obvious fact: Hall of Fame voters have almost entirely ignored specialists in their annual elections. Only one place-kicker (Jan Stenerud) has been enshrined, and punters have been shut out.
[+] Enlarge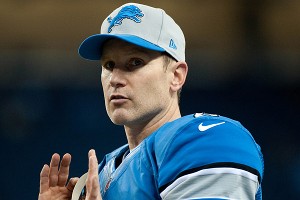 Tim Fuller/USA TODAY SportsRetired Lions kicker Jason Hanson says experts and outsiders "still don't quite know how to evaluate what makes one kicker better than another."
The topic arose during Hanson's retirement news conference Tuesday, one in which the Lions announced they would place him in their Ring of Honor. Hanson said he wasn't prepared to discuss his own candidacy, but spoke eloquently about the unique value of kicking in the game.
"I still believe to this day," Hanson said, "that media, a little bit, and fans and those who know the game still don't know quite what to do with kicking, and still don't quite know how to evaluate what makes one kicker better than another. I think it's a difficult thing. I understand that a little bit, but I think that the NFL -- let's just say as a blanket statement -- needs to come to grips with [it].
"I didn't invent the game, [but] we're part of it, and it's a big deal, what guys have done. Give them a separate wing in the Hall of Fame. But I don't know how you can ignore it. I was in it. I felt the pressure. I felt the intensity and the consequences of making and missing. It's something special. It's something unique to all of sports, and I think the guys who have done it well should be recognized. Where I fit in that equation, I don't know, and I'm not going to worry about, because it's not mine to worry about. But I definitely think the NFL has got to come to grips with kicking."
I'm not a member of the selection committee, but I would presume the primary argument regarding specialists is that they aren't full-time players in terms of snaps. On a good day, Hanson might have been on the field for perhaps 10-15 special teams plays.
Of course, a place-kicker can directly and disproportionately impact the outcome of a game in those 10-15 plays. Then there is the under-discussed value of field position for those who are also good at kickoffs, a skill Hanson said he hoped to be remembered for. Perhaps the encroachment of advanced statistics will provide new and easily digestible ways to evaluate kickers, one that will eventually elevate and honor some of the highest achievers in the role.
Should Hanson be in that group? That would be another discussion entirely, one that must include his annual advantage of kicking indoors at home. But first things first. An analysis of Hanson's candidacy is moot until the historic perception of his position changes.
February, 3, 2009
2/03/09
1:00
PM ET
Posted by ESPN.com's Kevin Seifert
My AFC East colleague, Tim Graham, has a post detailing the recent formation of the American Football Kicking Hall of Fame -- which exists primarily because only one kicker has been inducted into the more widely-known Pro Football Hall of Fame.
(It's Jan Stenerud, for those who didn't immediately guess.)
We're in early February and there are than two weeks before the next event on the NFL calendar (combine, baby!). So Tim's post got us to thinking: How many kickers and punters from the NFC North would be deserving of induction into the Kicking Hall of Fame?
The best way to identify possibilities is to answer this question: Who is the best punter and kicker in the history of each NFC North team?
I've gone through each team's histories and culled 12 nominations, two for each position on each team. But as many of you have pointed out, I'm still working to perfect my expertise in some corners of the NFC North. So I'd like your help.
| | |
| --- | --- |
| | |
| | Paul Spinelli/Getty Images |
| | Ryan Longwell, now with the Vikings, holds most Packers records for field goals. |
Did I miss anyone? Are any of these names out of place? And who would you pick?
Let me know what you think in the comments section below or in the mailbag. I'll come back later this week with the all-time NFC North kickers and punters team.
Kind of has a nice ring to it, huh?
CHICAGO BEARS
Kickers: Kevin Butler or Robbie Gould
Comment: Butler had 243 career field goals, over a 100 more than the next kicker on the list. Gould's career conversion percentage of 85.9 is by far the best in Bears history.
Punters: Bob Parsons or Brad Maynard
Comment: Maynard ranks second all-time with a 42.3 gross average and first with 194 punts downed inside the 20. Parsons ranked second with 158 inside the 20.
DETROIT LIONS
Kickers: Jason Hanson or Eddie Murray
Comment: Hanson is the Lions' all-time leading scorer, and his 385 career field goals is 141 more than Murray. Hanson's career percentage of 82.2 also bests Murray (75.1).
Punters: Yale Lary or John Jett
Comment: Lary's career gross average of 44.3 yards on 503 punts is amazing. Jett dropped 154 punts inside the 20.
GREEN BAY PACKERS
Kickers: Ryan Longwell or Chris Jacke
Comment: Longwell holds most franchise records for field goals. Jacke is a close second.
Punters: Craig Hentrich or Max McGee
Comment: Hentrich had a team-best 42.8 career gross average. McGee averaged 41.6 yards over 11 seasons while also playing receiver.
MINNESOTA VIKINGS
Kickers: Fred Cox or Gary Anderson
Comment: Cox's 455 career field goals is almost 300 more than the next player. Anderson had a perfect 35-for-35 season in 1998.
Punters: Greg Coleman or Chris Kluwe
Comment: Coleman dropped 154 punts inside the 20-yard line over 10 seasons. Kluwe has the best career gross average (44.8) in team history.