December, 15, 2013
12/15/13
11:30
PM ET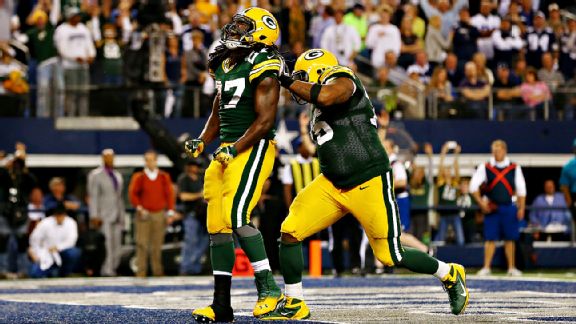 Tom Pennington/Getty ImagesEddie Lacy's fourth-quarter touchdown capped Green Bay's 23-point comeback.
ARLINGTON, Texas -- At one point on Sunday, referee Walt Coleman forgot to turn off his microphone. As he walked to the sideline to look at a replay of a key play in the fourth quarter, he asked two other officials: "So what happened?"
All 91,054 fans at AT&T Stadium could hear it.
You better believe many of them asked themselves the same question as they walked into the North Texas night about an hour later. Depending on their rooting interests, they were either amazed or bewildered.
In the visitors locker room, however, there was just belief.
The
Green Bay Packers
said they believed they could come back from a 26-3 halftime deficit. They believed their struggling defense would eventually start making big plays. They believed their backup quarterback,
Matt Flynn
, would rally them for a second straight week.
But did any of them really think their
37-36 victory
over the
Dallas Cowboys
would happen like this?
"No, not like this," said defensive tackle
Ryan Pickett
, a 13-year NFL veteran who has been around the league longer than any other player on the Packers' roster. "That was big. That was fun."
It matched the 1982 season opener against the Los Angeles Rams -- who led 23-0 at halftime before the Packers won 35-23 -- as the largest comeback in team history.
It kept the Packers' NFC North title hopes alive, perhaps even in time for starting quarterback
Aaron Rodgers
to return from his fractured collarbone for the penultimate game of the regular season next Sunday against the
Pittsburgh Steelers
.
In many ways, the madness that was this game began with the play that left Coleman unsure of what had just taken place. With 12 minutes and four seconds remaining, Packers cornerback
Tramon Williams
appeared to intercept a
Tony Romo
pass that went off the hands of tight end
Jason Witten
and return it to the Cowboys' 8-yard line. Williams thought -- and still thinks -- he cradled the ball to his chest to prevent it from hitting the ground.
But after Coleman watched the replay -- which the referee must do on all turnover plays -- he ruled that the ball hit the ground. The comeback, which at that point had pulled the Packers within five points, had seemingly been thwarted.
With the ball back in his hands, Romo marched the Cowboys down the field and completed that resurrected drive with a 5-yard touchdown pass to
Dez Bryant
that put the Packers in a 36-24 hole with 7:55 remaining.
"I was a little down in the dumps after that," Packers left guard
Josh Sitton
said. "But Flynn came up to me and said, 'Just believe, man. Just believe.'"
Sitton, after pausing for effect, said he told Flynn: "Hell yeah, let's do it."
And so they did.
With plenty of thanks to the Cowboys' wretched defense, which came in ranked last in the NFL, the Packers scored touchdowns on five straight possessions to start the second half. Four of them came on touchdown passes by Flynn, each to a different receiver.
Running back
Eddie Lacy
, whose 141 rushing yards made him the Packers' first rookie to rush for 1,000 yards since John Brockington in 1971, scored the other. It was the game winner, a 1-yard plunge with 1:31 to play with help from defensive tackles
Mike Daniels
and
B.J. Raji
, who came in as extra blockers.
Williams finally got his interception -- this one thanks to a replay review after it was originally ruled incomplete -- and it clinched the game. Packers coach Mike McCarthy wisely asked for a timeout and although it wasn't needed because the replay official eventually buzzed Coleman to take another look, it may have slowed down the Cowboys from quickly running another play.
"The one that I didn't get credited with, I thought I caught it," Williams said. "The one I did get credited with, I never felt more sure about a catch in my life. I showed my emotion on the field about it, didn't give the ref the ball back because I wanted them to take a look at it."
Fellow cornerback
Sam Shields
got one on the Cowboys' previous possession, when seemingly all they had to do was run out the clock. But they stopped running, something
DeMarco Murray
(134 yards) had done so well against the Packers' porous defense. Romo audibled on a second-down play, according to coach Jason Garrett.
Clay Matthews
nearly came up with a sack but when he didn't, Romo fired a pass in the direction of
Miles Austin
that Shields picked off with just 2:50 to go, setting up Lacy's touchdown.
Throw it all together, and it made for a victory that could serve multiple purposes for the Packers. It could show them the errs of their first-half miscues and, if all goes well and Rodgers comes back, it could mean something in the postseason.
"I haven't felt this way in a long time," Matthews said. "I feel like we won the Super Bowl."
McCarthy opened his postgame news conference with the word "Wow" and then went on to explain how it all happened -- even if not everyone could quite comprehend it.
"We were just sitting there in the locker room and kind of looking around like, 'What just happened?'" Flynn said. "I guess we're not really processing it. I know that we did have a really big comeback. We all realize that."
November, 1, 2012
11/01/12
3:00
PM ET
I've found over the years that dropped passes tend to generate high levels of angst among readers, regardless of their frequency. I get it. There are few things more frustrating in football than seeing a good-looking play have the proverbial rug pulled out from under it.
I tossed out a few of ESPN Stats and Information's raw numbers Wednesday on Twitter and was quickly deluged with individual questions and requests for more context. So I'll endeavor to pass along all relevant information in this post.
Drops are a subjective statistic, and my experience with ESPN Stats & Information is that an incompletion has to be an obvious, clear drop for it to be recorded as one. As a result, you might see other statistical services hand out more drops. But to me it's all relative, as long as the same standards are applied to each team, we can get a clear perspective on who is dropping lots of passes and who isn't.
As the chart shows, the
Green Bay Packers
have the most drops in the NFC North (19) as well as the highest drop percentage (6.6). The 19 drops is tied for the NFL lead, but as we discussed on Twitter, percentage is more important because it adjusts for teams who throw more often. It stand to reason that a team like the Packers would have more drops than the Bears, who have thrown 155 fewer targeted passes over the first eight weeks of the season.
For the Packers, receiver
Jordy Nelson
has been debited with five drops. Tight end
Jermichael Finley
has four, receiver
Randall Cobb
has three and receiver
Donald Driver
has two (on nine targeted passes). No one else has more than one drop, and receiver
James Jones
-- who has some of the most notorious drops in recent Packers history -- has not been debited with any in 2012.
Below are some other notable drop figures in the NFC North. For reference, the NFL leader in drops based on this standard are
Tampa Bay Buccaneers
running back
Doug Martin
and
Dallas Cowboys
tight end
Jason Witten
, who have seven drops apiece.
March, 29, 2011
3/29/11
1:00
PM ET
In compiling my list of the top 10 tight ends in the NFL, I found myself building around the four NFC North tight ends we've spent the
better part of two years writing about
. I didn't doubt that the
Detroit Lions
'
Brandon Pettigrew
would make the final cut after all of
ESPN.com's power rankers got around to power ranking them
, given his 71-catch performance in 2010, but I wondered how our other three tight ends would fare.
As it turned out, not too well.
Pettigrew took the No. 9 slot and
Green Bay Packers
tight end
Jermichael Finley
snuck into the No. 10 spot despite appearing on less than half of the ballots. I was the only voter to put
Greg Olsen
of the
Chicago Bears
and
Visanthe Shiancoe
of the
Minnesota Vikings
on my ballot.
In this case, I feel like neither a homer nor a power ranking manipulator, which I believe is a psychiatric condition outlined in most college-level textbooks. Instead, I feel like I was in was in a unique position to be able to judge these players in context. That's something I admittedly couldn't do with the two top 10 tight ends I left off my list,
Kellen Winslow
Jr. of the
Tampa Bay Buccaneers
and
Marcedes Lewis
of the
Jacksonville Jaguars
.
(But with each divisional blogger participating, it should all come out in the wash, right?)
I voted for Olsen because we're only one year removed from him being the top receiving option in the Bears' offense. He caught 60 passes, including eight touchdowns, in 2009. It's true that his numbers dipped significantly in 2010, but context is important: His 41 receptions were the most ever for a tight end in a Mike Martz offense, which traditionally relegates tight ends to blockers. Even
San Francisco 49ers
tight end
Vernon Davis
, who finished No. 4 overall in this balloting, managed 31 catches in his one season under Martz (2008).
That should count for something. (In Olsen's case, it put him No. 15 in our expanded balloting.)
As with Olsen, there is no arguing that Shiancoe's production slipped in 2010. Most notably, his touchdowns dropped from 11 to two. But I would argue that his 47 receptions last season were just as impressive, if not more, than his 56 in 2009, when you consider the rag-tag quarterback situation the Vikings found themselves in for the better part of 2010. That should count for something, and for Shiancoe it put him at No. 17.
Finley, meanwhile, no doubt would have ranked higher had he not suffered a season-ending knee injury in Week 5 last season. It's probably an accomplishment to rank in the top 10 considering he has missed 14 games over the past two seasons due to injury.
For the record, here is how I voted:
Vernon Davis
Jermichael Finley
Brandon Pettigrew
Greg Olsen
Visanthe Shiancoe
September, 8, 2010
9/08/10
1:15
PM ET
If you asked
Green Bay Packers
quarterback
Aaron Rodgers
a question this summer, chances were you would get some version of this two-word answer:
Jermichael Finley
.
Last week, our friends over at ESPNMilwaukee.com asked Rodgers who he would chose first in a fantasy football draft:
Peyton Manning
,
Drew Brees
or himself. Rodgers' answer (via
sportsradiointerviews.com
): "Jermichael Finley."
[+] Enlarge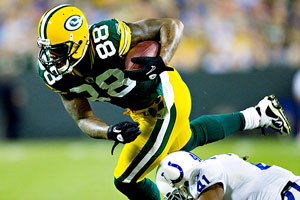 Jeff Hanisch/US PresswirePackers quarterback Aaron Rodgers knows he has a unique threat in tight end Jermichael Finley (88).
During an interview last month, my conversation with Rodgers drifted into a bit of a sensitive topic: the extent to which his much-discussed propensity to hold the ball too long contributed to the 50 sacks he took last season. Within four sentences, we were talking about Finley.
"The first eight games we had 36 [sacks]," Rodgers said. "The last eight, we had 14. I look at it like this, and this is taking all of that other speculation stuff out of it. When Jermichael Finley was on the field, and healthy, especially in the last eight games, we were able to do a lot more things on offense. He opens up the field, and I think we opened it up a little more on offense. We were able to avoid taking those sacks, and the ball was coming out of my hand a lot quicker. And we were making plays a little more regularly."
Indeed, as we
first touched on in January
, Rodgers threw more passes to Finley over the final eight games last season than any other Packers receiver, tight end or running back. (
The chart
accompanying this post details the numbers.) Finley probably has gotten more preseason hype than any tight end in the NFL, and for good reason, but I'm still surprised by how much significance Rodgers places on a tight end in an offense that also includes receivers
Greg Jennings
and
Donald Driver
.
During our conversation, Rodgers credited Finley with an enormous impact on the Packers' total offense. If he had suggested Finley has helped lower mortgage rates while also eliminating poverty, I probably wouldn't have blinked.
"He's a very confident guy," Rodgers said. "His confidence I think filters down to the rest of the team. He's an important part of our offense and allows us to do a lot of things. I think he's really improving his blocking, which will allow him to become an every-down player, which I think is important. That gives us the run/pass option every time he's on the field instead of being more pass-heavy. That's important.
"As far as his route-running goes, I think he's already very talented. But I think his understanding of the offense and making his own little tweaks to individual routes has improved."
As we noted in our
Packers Camp Confidential
, Rodgers has been pumping up Finley throughout the offseason. After realizing the impact he had on the second half of last season, Rodgers called him shortly after returning home from the Pro Bowl.
"I had a lot of fun with
Vernon Davis
and
Jason Witten
, two extremely talented tight ends," Rodgers said. "But I firmly believe Jermichael Finley is in their class. He is a Pro Bowl-caliber tight end. And that's what I told him. I said, 'You've got a lot of work in front of you, but you've got the talent and ability to be recognized as a Pro Bowl tight end every year.'"
For what it's worth, Finley led all NFL tight ends this preseason with 163 receiving yards. Despite limited playing time, his 12 receptions were tied for first among tight ends and his two touchdowns tied for fourth. And, oh, by the way, the Packers' offense finished the preseason at the top of the NFL rankings in yards per game (406) and points (30.8). Packers quarterbacks were sacked four times, tied for the third-best mark in the league.
If you listen to Rodgers, those individual and team statistics go hand in hand. Based on what I've seen and heard this summer, I don't doubt it.
August, 9, 2010
8/09/10
7:00
AM ET
ESPN.com NFL Power Ranking
(pre-camp): 6
GREEN BAY, Wis. -- The battalion of satellite trucks was long gone when the
Green Bay Packers
reported to training camp this summer, having vacated the premises shortly after quarterback
Brett Favre
was traded in August 2008.
Every player was signed and accounted for, making a distant memory of holdouts that have disrupted training camp in each of the past two seasons.
All that remained was the type of tranquility that allows a team to come of age. Many of us believe the Packers have the makings of a special group, one that is already off to a good start with a productive and --- more importantly -- quiet training camp.
"We determine our path that we're going to take," coach Mike McCarthy said. "Maybe we have less obstacles going into the year than we've had in the past for people to evaluate. If they think that and like us more this year, that's fine. But in reality, if you don't come here and put in the time and put in that foundation, it doesn't matter. These are our foundation days, and I like the work our guys have been putting in."
Quiet and determined, the Packers have been busy implementing some second-year wrinkles into defensive coordinator Dom Capers' scheme. They're facilitating the continued growth of tight end
Jermichael Finley
and are literally working overtime to rectify their special teams and kicking problems from a year ago.
[+] Enlarge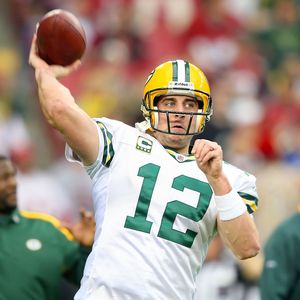 Christian Petersen/Getty ImageAaron Rodgers and the Packers faithful are thinking big.
These Packers are thinking big -- as big as it gets. So are their fans. I spotted more than a few "Super Bowl or bust" signs in the training camp bleachers last week. Those expectations are deserved and embraced in Green Bay.
"We have the right pedigree," quarterback
Aaron Rodgers
said. "... I like the way we're practicing. But a lot of things have to happen between now and the end of the season. You have to have a couple things go your way, you have to be able to stay healthy, and you have to execute down the stretch and win some games in the end."
Make no mistake, however. The building blocks are in place.
THREE HOT ISSUES
1. Have the Packers done enough to address the pass defense that let them down in losses to Pittsburgh and Arizona last season?
Three focal points jumped out during my visit to camp.
First, McCarthy has instituted
mandatory tackling drills
every day, an effort to limit yards after catch. You might not think that tackling is directly related to pass defense, but the Packers determined their problems stemmed as much from broken tackles after modest catches as they did from a lack of pass rush or poor coverage. So it's been back to the most basic of fundamentals this summer.
"If you're a high schooler," McCarthy said, "this is the practice you want to learn from."
Second, the Packers are
committed to leaving
second-year defensive lineman
B.J. Raji
at nose tackle rather than shifting him between tackle and end in their base scheme. Raji was unstoppable in an inside role at Boston College, and while the Packers' 3-4 scheme is not entirely comparable, this arrangement represents the Packers' best opportunity for collapsing the pocket.
Finally, there were some encouraging signs from two young cornerbacks the Packers are counting on for improved depth.
Pat Lee
grabbed an athletic interception by jumping over receiver
James Jones
during one practice, and second-year player
Brandon Underwood
has caught everyone's eye. Most recently, he returned an interception for a touchdown during a live period of Saturday's Family Night scrimmage. Rodgers and McCarthy went out of their way to mention Underwood during recent interviews.
"He's had a great camp," Rodgers said. McCarthy added: "Brandon is clearly a much more mature player. He has all the skills. ... The thing about him, he's a tough, smart guy, too. He's got a chance to be a really good player."
[+] Enlarge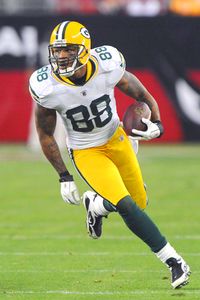 Kirby Lee/Image of Sport/US PresswireRodgers thinks tight end Jermichael Finley is Pro Bowl-caliber.
2. Can Finley continue his path to stardom?
Rodgers picked up the phone shortly after the Pro Bowl, where he worked with tight ends
Vernon Davis
and
Jason Witten
, and called Finley. "I firmly believe Jermichael Finley is in their class," Rodgers said. "He is a Pro Bowl-caliber tight end. And that's what I told him. I said, 'You've got a lot of work in front of you, but you've got the talent and ability to be recognized as a Pro Bowl tight end every year.'"
As I noted during the offseason, Rodgers threw more toward Finley than any other Packers player during the second half of last season. He changed the way opponents approached the Green Bay offense, and he spent much of the offseason working to upgrade his blocking skills to give the Packers more of a run-pass option when he is in the game. After dabbling in boxing and mixed martial arts to improve his hand quickness, Finley said: "I'm still a work in progress with my blocking and stuff. I just need to maintain and stay consistent. If I get that straight, the sky is the limit for me."
3. Can the Packers straighten out their special teams?
Rankings for combined coverage and return performance in the NFL are elusive, but Football Outsiders provides a
reliable independent analysis
. FO gave the Packers the worst special-teams rating in the league last season, and McCarthy has reacted with a number of measures that suggest the analysis is spot on.
The Packers are now devoting an extra 10 minutes to special teams per practice, a significant number considering how regimented modern-day NFL practices have become. They are holding an open competition to replace punter
Jeremy Kapinos
, for now pitting former Australian rules player
Chris Bryan
against
Tim Masthay
, and they welcomed a newly conditioned place-kicker
Mason Crosby
this summer.
Special teams coordinator Shawn Slocum is using the extra time to run coverage drills that emphasize controlled engagement with opponents. As for the punting competition, I couldn't say there was much separation between Bryan and Masthay. "Those guys are kicking it high and kicking it long," Slocum said.
As for Crosby, who struggled during the second half of last season, Slocum said: "Physically, I think he's at his best since I've been with him. He really put in some work in the summer and spring to increase his core strength. I think you're going to see that in his kickoff distance and from a field goal standpoint." Crosby missed five of his first 11 training camp kicks, but Slocum acknowledged that rotating Masthay and Bryan as holders probably played a role.
"We're working right now to build the cohesiveness of the hold, the snap and the kick," he said. "We missed a couple field goals, but I think his mentality is right where it needs to be, and we're working to get that together."
As if on cue, Crosby was lights-out during
Saturday's Family Night scrimmage
, drilling seven of eight attempts -- including shots from 47, 51 and 53 yards.
BIGGEST SURPRISE
I would never have guessed receiver
Donald Driver
would
have a contract extension
by the end of the first week of camp. From the outside, you could have put two and two together and wondered if he wasn't entering his final season with the team. After all, Driver has already set the franchise record for career receptions. He turned 35 in the offseason, was entering the final year of his existing deal and would need to hold off a hard-charging young receiver in
Jordy Nelson
. But it didn't take the Packers long to realize Driver is rejuvenated after having both knees cleaned out this spring. "I feel so much better," he said.
BIGGEST DISAPPOINTMENT
[+] Enlarge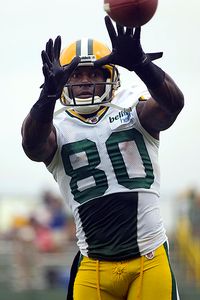 Jeff Hanisch/US PresswireThe Packers gave wide receiver Donald Driver an extension one week into camp.
To this point, the Packers have been unable to find a spot for veteran linebacker
Brady Poppinga
in their scheme. During a midweek shakeup of the linebacker depth chart, Poppinga found himself behind
Brandon Chillar
,
Clay Matthews
and
Brad Jones
. He was later sidelined by a concussion. Poppinga is a good player who might be better suited as a 4-3 linebacker -- or, if he bulked up, a 4-3 defensive end.
OBSERVATION DECK
Although there is a long way to go, it appears incumbent Daryn Colledge is holding off Jason Spitz for the starting left guard spot. Spitz has also been working behind center Scott Wells and would seem to be an ideal multi-position backup. The rest of the offensive line appears healthy and set: Chad Clifton and Mark Tauscher at tackles, with Colledge and Josh Sitton at guards.

Although the Packers dramatically cut down their sack totals during the second half of last season, pass protection remains a point of emphasis. "We've got to do a better job of cutting down sacks and negative yardage plays," Rodgers said. He added that Finley's presence "opens up the field" for the offense and, in turn, makes it more difficult for defenses to mount a pass rush. I thought it was an interesting, if not direct, correlation and will take a closer look at that in the coming weeks.

From the outside, cornerback Al Harris appears to be in phenomenal condition as he completes his rehabilitation from a serious knee injury. McCarthy said Harris is "champing at the bit" to begin practicing, but he simply hasn't been cleared medically. Still, the Packers are much more optimistic about Harris' future than they were a few months ago. McCarthy said Harris was "a big question mark" at the end of spring practice but said there is "no reason to think" Harris won't return to the field in 2010. "I just don't want him to do too much too fast," McCarthy said. "I don't want him to have a setback."

The Packers made a number of experimental adjustments to their base linebacker group, most notably moving Matthews to the left side and inserting Chillar on the right side. The move was prompted by a minor injury that caused Brad Jones to miss several days of practice, and the switchback has yet to occur. "Brandon is sort of a multi-purpose guy for us last year and we've liked what we've seen from him," Capers said. One way or the other, Chillar is going to play a lot this season.

Safety Atari Bigby will miss about a month of practice because of ankle surgery, and it's quite possible the Packers will open the season with rookie Morgan Burnett in the starting lineup. While the Packers are excited about Burnett's future, it's always a tough task to get rookies ready to start in Week 1. Understandably, Burnett is swimming in the playbook right now. "By the end of training camp," he said, "I'll have everything that I need down."

McCarthy has installed a sign on the office wall of each coordinator. It reads: "Less volume, more creativity." McCarthy said it applies mostly to his own offensive play-calling, but it's also appropriate to keep in mind as the Packers enter their second year in Capers' scheme.

The early-camp understanding has been that Will Blackmon will resume his role as the primary kickoff and possible punt returner, but Blackmon's surgically-repaired knee has been sore and cost him a number of practices during the first week. He didn't participate in the Family Night scrimmage, but McCarthy attributed his absence to normal post-surgery soreness.
January, 12, 2010
1/12/10
2:45
PM ET
We're going on a myth-busting crusade this week. On Monday, we addressed the fallacy of
prioritizing run defense
over pass defense when approaching Minnesota's offense. Today, I want to take a look at the Vikings' purported home-field advantage at the Metrodome for Sunday's divisional playoff game against Dallas.
[+] Enlarge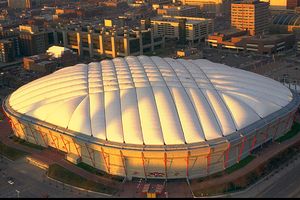 Judy Griesedieck//Time Life Pictures/Getty ImagesThe Vikings were 8-0 at home during the 2009 regular season.
Because it is small, enclosed and, shall we say,
wired for sound
, the Metrodome's reputation precedes itself. Some opponents walk into the building believing it will be loud and disruptive, a mental battle the Vikings win even before the opening kickoff.
The Vikings, for their part, were 8-0 at home this season and are 14-2 there in the past two seasons.
But some of us who sit in the Metrodome's open-air press box have noted long stretches of relative silence from the crowd, depending on the Vikings' most recent set of plays. It can also be jarring to hear the volume drop off when stadium operators turn off the sound effects. (NFL rules prohibit artificial noise after the play clock starts.) Finally, the Vikings, without question, squandered some of their pregame hysteria when they stopped introducing players individually to the crowd.
So how big of a hurdle will the Cowboys face Sunday? With the help of my friends throughout the statistical world, I poked through the numbers Tuesday. Here's what we found: Since the Metrodome opened in 1982, the Vikings have the NFL's third-best home record during the regular season. In the playoffs, however, it's been about a 50-50 proposition.
In the chart below, supplied by Vikings public relations guru Jeff Anderson, you see the Vikings have won about two-thirds of the 221 regular-season games at the Metrodome.
Most teams play better at home than on the road, but the Vikings have one of the more lopsided ratios in this regard over the past two decades. I reached out to NFC North friend Bill Barnwell of
Football Outsiders
on this issue.
Bill looked at the 15-season period between 1994-2008 and determined the Vikings had an average point differential of 8.45 between home games and those on the road. In the Vikings' case, they averaged 5.29 points more than their opponents during home games over that period. They had a losing record on the road over the same stretch, scoring an average of 3.16 points less per game than opponents.
According to Football Outsiders, the differential ranked No. 3 in the NFL:
St. Louis:
8.66
Kansas City:
8.49
Minnesota:
8.45
Arizona:
8.24
Denver:
8.19
Not unexpectedly, the postseason is a different story. Opponents are more skilled and battle-tested. The Cowboys, for example, advanced to the playoffs in part because they soundly defeated New Orleans at the Superdome last month.
The Vikings have lost four of their past seven home playoff games, dating back to 1992. Overall, their playoff record is 6-5 at the Metrodome. In other words, they're about a .500 team since the stadium opened 27 years ago.
So what does all this mean? As usual, it puts us somewhere in the middle. We can't minimize the impact of playing in the Metrodome over an extended period of time. And we can note that the Cowboys have two players -- offensive tackle
Flozell Adams
and tight end
Jason Witten
-- who have combined for 12 false start penalties this season. That would make them exceptionally susceptible to crowd noise.
But I also think we should be careful not to overestimate the value of this dynamic, especially in the postseason. Opponents are usually better equipped to handle such obstacles if they advance to the second round of the playoffs. This game will be won on the field, not in the stands.
September, 22, 2008
9/22/08
10:20
AM ET
Posted by ESPN.com's Kevin Seifert
GREEN BAY, Wis. -- Is it a bad thing when you roll into your hotel and the next day's newspapers are already stacked in the lobby? Last night was a late one here in the Fox River valley, especially after dropping Mosley off at his hotel somewhere near the shore ... of the Pacific.
During my drive back, I kept returning to one thing: How noticeably faster the Dallas Cowboys were during a 27-16 victory over Green Bay. The Packers have some speed on their roster, but it seemed no one could keep up with the likes of Felix Jones, Miles Austin and the entire Cowboys defensive line.
Part of speed is positioning and alignment, and I'm sure that when the Packers look at the film they'll see more than a few occasions where they lined up wrong and exacerbated the Cowboys' advantage. But you can't coach players to run faster, and if there is a postseason rematch between these teams, the Packers will need to focus more on offensive ball control to help out both their own defense and their offensive line.
The Packers used eight running plays and 14 passing plays in the first half Sunday night. Swapping that ratio, while out of character for coach Mike McCarthy, would have left the Cowboys' speedy offense on the sideline longer and given the Packers' offensive line an opportunity to wear down Dallas' pass rushers.
Instead, the Cowboys had possession of the ball for 18 minutes, five seconds in the first half and 32:12 overall.
We'll have our takes on all four NFC North games later today. For now, here are some snippets to chew on for a while from around the division:

NFC NORTH SCOREBOARD
Friday, 8/22
Saturday, 8/23