NFC North:

Jay Cutler criticized 2011
January, 25, 2011
1/25/11
3:50
PM ET
By now, you probably know that
Detroit Lions
linebacker
Zack Follett
-- whose career might be over following a serious neck injury -- referred to quarterback
Matthew Stafford
as a "china doll" during a radio interview in Fresno, Calif.
(He also took a couple of shots at
Chicago Bears
quarterback
Jay Cutler
, but more on that in a bit.)
In the context of football, a "china doll" is a delicate player who "breaks" every time he gets hit. Suffice it to say, it's no compliment.
Stafford has missed 19 of 32 games over his first two seasons because of various injuries, and Follett gave voice to the worst fears the Lions and their fans might have about him. Follett almost immediately backtracked, jumping on a
Detroit-area radio station
and later on his Twitter account, and in the end I think we'll view this episode as the result of
a (lovable) nut job
unintentionally veering into sensitive territory during what was supposed to be a light-hearted radio appearance.
First, here is what Follett said on ESPN 1430 in Fresno, via
Dave Birkett of the Detroit Free Press
: "Stafford, good guy. He's a china doll right now. Anytime he gets hit, he goes down. But the kid is -- hopefully, it's just patiently waiting for him, because the kid is an awesome talent. He has a tremendous arm. The throws that he makes during practice when no one can touch him, he looks like an All-American quarterback, but put him in a game, and you hit his shoulder. So hopefully, say a couple prayers, keep him healthy next year, and the Lions can do some damage in the NFC."
Viewed in context, I don't think that statement comes off as a complete rip job. But lest there be any doubt,
Follett later tweeted
:
Thats my bad on the china doll comment, just referring to his injury.. have no room to talk I was more broken then anyone this yr

Matts a baller I see it everyday on the field, and have no doubt he's going to do work next season!
I'm guessing most Lions players know Follett and understand his uniquely wired brain. So ultimately, Follett's comments about Cutler could have more staying power. To my knowledge, he is the only NFC North player to criticize Cutler for leaving Sunday's NFC Championship Game. Follett's neck injury makes him a question mark to play next season, but even if he isn't with the Lions, his words still implicated at least one Lions coach and could have lasting impact.
Follett said that Cutler "kind of just knew that they were going to lose, hung his hat up and said, 'All right, maybe next season.' That's his character, that's him. I'm not going to attack him, but I would handle it different." Then he added:
"We played him the first game of the season. He kind of has a swagger about him that, a little cockiness, that it kind of makes defensive players kind of chomp at the mouth. We're ready to get at him. Our [defensive coordinator], Gunther Cunningham, he wasn't a big fan of Cutler."
It's one thing for an AFC player who might never face Cutler or the Bears to take a shot. But Cunningham and the Lions play the Bears twice a year. I'm guessing these series of comments will rise to the top of the motivational file the Bears are almost certainly keeping right now.
January, 24, 2011
1/24/11
4:44
PM ET
I found myself falling in total agreement Monday while listening to
Chicago Bears
coach Lovie Smith and general manager Jerry Angelo defend their quarterback's toughness. Nothing in
Jay Cutler
's playing history suggests he is deficient in that area, and I don't think this 24-hour referendum has truly been about that issue.
"That's the last thing we should have to defend," Smith said. "He's a tough guy."
We touched on this earlier Monday
, noting the fascinating part of this news cycle has been the number of players -- retired and active -- who drew dramatic conclusions about Cutler based on what they saw and heard on television. (For now, we'll pass over the irony of NFL players practicing what they always profess to hate about the media: Playing amateur armchair quarterback.)
Rarely, if ever, do you see players questioning the proverbial manhood of a colleague. To do so with second-hand information is weak and usually the job of the media. (Sarcasm alert.)
Seriously, what I don't think we've answered today is whether this occasion was a unique confluence of stage, body language, social media and injury secrecy -- or whether it reflects Cutler's personal standing among scores of current and former players.
The Bears were spitting mad Sunday and Monday, but not upset enough to offer any further details of Cutler's condition. Smith said he had a sprained MCL in his left knee, but would not specify a degree -- Grade 1, 2 or 3 -- that would help explain exactly how debilitated Cutler was when he departed Sunday's game.
Such limited dispersal of injury information is nothing new for an NFL team, but this is one instance where more details might have helped out Cutler. I'm not sure if it would have drowned out his player-critics, but it might have given them less ammunition for their opinions. (Smith did say that Cutler would have been "questionable" to play in Super Bowl XLV.)
Regardless, Smith and Angelo were clearly stunned by the level of vitriol expressed.
"I think it's crap," Angelo said. "I thought they were a union. If that's the way they unionize themselves, they've got bigger issues than the one they have with the owners. I'm very disappointed in that. That to me is dirty pool. It is what it is. People are allowed to say what they want to say, but that doesn't mean it's right and it certainly is not grounded."
Said Smith: "What kind of guy would do that? I mean we're down right now. We lost the game. We're going through quite a bit. So to dog pile a little bit? You have to talk to those guys."
My instinct is to avoid overcomplicating this. One of the most recognizable players in the game left a high-profile, intense playoff game with an injury that wasn't serious enough to prevent him from standing on the sideline. Players watched the scene, were surprised and -- importantly -- felt unencumbered by any personal loyalty or friendship with Cutler as they tweeted away.
Substitute
Green Bay Packers
quarterback
Aaron Rodgers
for Cutler and let the same situation play out. Do players around the league hammer Rodgers the same way? Or does he get the benefit of the doubt? I think we know the answer to that question. Unfortunately, high school doesn't always end after you graduate. Sometimes it pays to be popular.
January, 24, 2011
1/24/11
10:00
AM ET
CHICAGO -- It's not surprising that
Chicago Bears
fans
are lashing out
over the knee injury that prevented quarterback
Jay Cutler
from returning to Sunday's NFC Championship Game. As would be expected, fans are angry and frustrated and found an easy target. It happens.
What has been stunning to me, however, is the volume of NFL players who joined the chorus. This might not have happened even two years ago, but the advent of Twitter has given players a voice at a time when they used to be out of the public eye and, like us, are caught up in the emotion of watching a game on television.
[+] Enlarge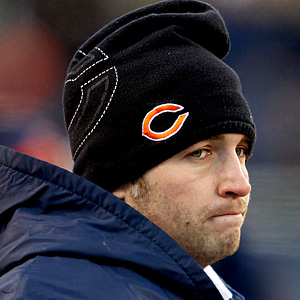 Jonathan Daniel/Getty ImagesJay Cutler spent the majority of the second half Sunday on the sideline.
As we noted Sunday
, Jacksonville Jaguars running back
Maurice Jones-Drew
said he thought Cutler should have finished the game. Colleague Mike Sando put together an item just of
NFC West players
who ripped him, from
Arizona Cardinals
defensive tackle
Darnell Dockett
to
Seattle Seahawks
linebacker
Aaron Curry
to Seahawks defensive end
Raheem Brock
-- who called him a "sissy."
Philadelphia Eagles
cornerback
Asante Samuel
wrote
Bears players should look at Cutler "sideways
." Jaguars linebacker
Kirk Morrison
wrote
: "If my knee was hurt or acl/mcl/pcl sprain, I would not be standing up on the sideline."
The criticism aimed at Cutler wasn't limited to current players. Former Tampa Bay linebacker
Derrick Brooks tweeted
:
BEARS fans I am so SORRY, I have to be crawling and cant get up to come off field,Josh Freeman would not come out, MEDS ARE AVAILABLE
Brooks followed-up that tweet with
the following
:
HEY there is no medicine for a guy with no guts and heart
Future Hall of Famer
Deion Sanders echoed
Brooks' remarks.
Folks i never question a players injury but i do question a players heart. Truth
It should be noted that no NFC North players have jumped into the fray; they have played Cutler more often than any other group. And Bears players were ruthless in defending him. We noted the angry responses from center
Olin Kreutz
and linebacker
Brian Urlacher
on Sunday.
Via Twitter
, safety
Chris Harris
wrote:
I will defend my QB all day. He was injured and he couldn't go. No one on our team questions his toughness POINT BLANK! He's a tough SOB

To all of u assaulting Jay's toughness. Are we 11-5 and NFC North Div Champs without him? No I think not. Please think before tweeting!
Thanks to social media, this really is an unprecedented situation. To have a wide swath of players criticizing another in real time, without the benefit of first-hand knowledge of the situation, is both dangerous and fascinating. What did Jones-Drew or Dockett or Brock base their opinions on? I'm guessing it was the mentality that players share of playing through injuries when at all possible.
So what do we make of the conclusions so many of them drew? Did they observe some kind of sideline activity that suggested Cutler wasn't injured enough to leave the game? Did the circumstances of the game mandate a different set of injury standards? Would Cutler have been better off flopping to the turf and then being been helped off the field?
If there were simply one or two players speaking out, maybe you could write them off as extremists. But the cross-section that we've already heard from suggests Cutler's departure struck a true nerve not just among fans but among his peers as well. Part of me wonders if it was more an indictment of Cutler's standing with his peers than it was a serious questioning of his toughness. If you don't like someone, you're going to be much less likely to give him the benefit of the doubt.
As we
discussed Sunday
, I'm not sure it's fair to Cutler. But this thing has gotten too big for rational thought and cooler heads to prevail. Time will tell whether the sting fades or if Cutler's reputation will take a permanent hit.
January, 23, 2011
1/23/11
8:05
PM ET
CHICAGO -- Cyberspace buzzed Sunday with talk of the single-worst thing you can say about a player in a team sport.
Did
Jay Cutler
quit on his
Chicago Bears
teammates in Sunday's NFC Championship Game?
[+] Enlarge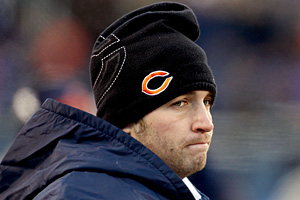 Jonathan Daniel/Getty ImagesChicago's Jay Cutler completed six passes for 80 yards with an interception against Green Bay.
Moments after the game, I suggested
we table that discussion
until we heard from the participants and knew all of the facts about Cutler's left knee injury. Let's just say that postgame interviews didn't do a lot to clear up the question.
Speaking to reporters, Cutler said he suffered the injury -- the details of which he did not specify - on the second-to-last series of the first half. (The final play of that drive was a sack by
Green Bay Packers
cornerback
Sam Shields
.)
Asked how the knee felt, Cutler said: "It hurt."
Asked why he played the first series of the third quarter and then left for good, Cutler said: "We gave it a go that first series but couldn't really plant and throw, so they kind of pulled me."
Asked to clarify if he or the Bears' medical staff made that decision, Cutler said: "Yeah, I was going to keep playing. But they made the decision giving Todd [Collins] a shot would be better for the team."
Cutler said he hoped the injury wouldn't require surgery but will have an MRI on Monday.
I think it's awfully hard to speculate that Cutler didn't want to continue playing because his team was down
14-0
and he had completed only six of 14 passes to that point. The question is not whether Cutler tapped out. It's whether, in the NFC Championship Game, Cutler should have insisted on continuing to play regardless of the pain and debilitation involved.
Although we don't know the exact nature of his injury, we do know Cutler stood on the sidelines for the remainder of the game. If there was medical fear of, say, a torn ligament, it's more likely he would have been on crutches or in the locker room to limit swelling.
I'm not a huge fan of the macho attitude that compels players to push through debilitating injuries, but it's clearly a part of football at the professional level. Everyone is dealing with one kind of injury or another, the thinking goes.
As a result, a number of current players criticized Cutler via Twitter during the game. One was
Jacksonville Jaguars
running back
Maurice Jones-Drew
,
who tweeted
:
"All I'm saying is that he can finish the game on a hurt knee ... I played the whole season on one ..."
Based on the hits we've seen Cutler take this season, I think we can all conclude he is a pretty tough guy. But barring some surprise discovery in Monday's MRI, I fear this episode could define Cutler's career for a long time. Fair or otherwise,
San Diego Chargers
quarterback
Philip Rivers
set the bar by playing an entire 2007 playoff game with a torn anterior cruciate ligament.
Two Bears players, center
Olin Kreutz
and linebacker
Brian Urlacher
, suggested Cutler sprained his MCL. Urlacher said "it's easy to talk [expletive] about someone when you're sitting on your couch watching their game" and added: "He's one of the toughest players on our football team."
Was he on Sunday? Unfortunately, that question will hound Cutler for years.