December, 13, 2012
12/13/12
11:00
AM ET
Way back in 2009,
we christened the
"JayRod" rivalry
to help us track what we figured would be a long and competitive rivalry between two young and ascending quarterbacks in the NFC North.
Since that point,
Jay Cutler
has led the
Chicago Bears
to a 32-21 regular-season record, in addition to an appearance in the 2010 NFC Championship Game.
Aaron Rodgers
, meanwhile, has pushed the
Green Bay Packers
to a 44-15 mark, along with a Super Bowl championship in 2010. He won the league MVP award in 2011.
In head-to-head matchups, however, the rivalry hasn't been much of a contest. More in this week's Blogger Blitz.
September, 27, 2010
9/27/10
12:00
PM ET
OK now. We've wrapped-up our review of Sunday's game at the Metrodome by offering Free Head Exams to all involved. Now it's time to flip the switch to Monday night's matchup between the
Green Bay Packers
and
Chicago Bears
.


I'm making my way to Chicago and plan to arrive at Soldier Field by late afternoon. To start things off, let's make sure you're up to date on everything we've posted about this game over the past week.
Monday night's game between the Green Bay Packers and Chicago Bears has been billed as a battle of coaching gurus, and for good reason. Packers defensive coordinator Dom Capers is spinning a scheme that hardly resembles its 3-4 title, while Bears offensive coordinator Mike Martz has already displayed a willingness to move away from his traditional seven-step drop passes to help quarterback Jay Cutler. According to ESPN Stats & Information, the Packers have used their base 3-4 set on 15 of their 114 defensive snaps this season. Most of the others have featured a form of the nickel or dime package with extra defensive backs. That trend poses an interesting decision for Monday night. Cutler has a 105.5 passer rating this season against nickel defenses, but he threw five interceptions in two games against the Packers' nickel last season.

The numbers suggest the Packers should be judicious with their running game Monday night. With tailback Ryan Grant (ankle) out for the season, the Packers don't have a runner who can stretch the field. Brandon Jackson, John Kuhn and Dimitri Nance have combined for a 2.7-yard per carry average outside of the tackles since the start of 2009, according to ESPN Stats & Information. And the Bears' defense has been especially stingy on outside runs this season, holding opponents to 2.2 yards per carry in those instances. Realistically, the Packers should focus on grinding some hard inside yards and then working their play-action game with quarterback Aaron Rodgers.
Finally, we noted the last time the Packers and Bears met at 2-0: Sept. 30, 1962 at Lambeau Field, where the Packers edged the Bears 49-0. The last time they were both undefeated for a rivalry matchup was Sept. 16, 1990, a 33-13 Bears victory at Lambeau.
More in a bit.
September, 21, 2010
9/21/10
11:15
AM ET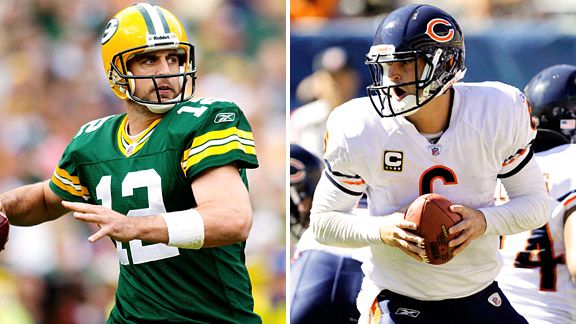 US Presswire, AP PhotoQuarterbacks Aaron Rodgers and Jay Cutler have both led their teams to 2-0 records heading into their "Monday Night Football" showdown.
Here we go! A full 15 months after we
tried to christen the "JayRod" rivalry
, we finally have a matchup worthy of hyping.
This is what we envisioned all along: Two smart, young quarterbacks with strong arms and favorable schemes leading their undefeated teams into a "Monday Night Football" showdown for sole possession of first in the NFC North.
Jay Cutler
and his
Chicago Bears
are one of the NFL's biggest surprises, while
Aaron Rodgers
and the
Green Bay Packers
have thus far satisfied expectations if not exceeded them.
Of course, we have a dramatic twist. After an offseason of massive hype for Rodgers, some of it here on this blog, Cutler has compiled the NFL's highest passer rating through two games and has appeared a natural in Mike Martz's aggressive offensive scheme. Rodgers, on the other hand, described his Week 1 performance at Philadelphia as "terrible." It was a slight exaggeration but nevertheless confirmation that he and the Packers have opened the season at less than full throttle.
Regardless, JayRod's teams are both 2-0 as the matchup approaches. If you subscribe to the theory that championships require elite quarterback play, you'll have no trouble deciding where to focus Monday night at Soldier Field (ESPN, 8:30 ET).
"It's big," Cutler
said Monday on ESPN 1000's "The Waddle & Silvy Show."
"The season is long, though. I don't think we want to put all of our eggs in this game. But it's a huge game."
Cutler and Rodgers spoke Sunday night, as they have routinely done since the Bears acquired Cutler last year. Cutler is 27. Rodgers turns 27 in December. If all goes as planned, they'll wage a decade-long battle for NFC North supremacy.
That vision seemed blurry, at best, for most of last season. While Rodgers earned the NFC's starting spot in the Pro Bowl, Cutler threw a league-leading 26 interceptions, including six in two losses to the Packers, and entered 2010 at a career crossroads.
Could he and Martz construct a cooperative dynamic to resurrect both of their reputations? Or would their personalities clash and take us through a spectacular conflagration?
A two-game sample size is too small to draw any grand conclusions, but it would be hard to foresee a better start. Cutler is not only completing nearly 69 percent of his passes, but he's averaging an NFL-high 10.14 yards per attempt. Essentially, that means Cutler has had elite-level accuracy while throwing plenty of low-percentage downfield passes. Already this season, the Bears have completed eight passes of 20 or more yards -- one more than the Packers and good for eighth best in the NFL.
Cutler has thrown a few passes up for grabs, and the worst -- into triple coverage Sept. 12 against the
Detroit Lions
-- was tipped by two different defenders. Tellingly, though, it's the only interception Cutler has thrown this season, and he credited his elevated decision-making to "a little bit of a lot of things."
"[Martz is] so conscious of giving me an answer for each and every coverage that goes with each play," Cutler said. "I'm not going out there thinking, 'If this happens, maybe I throw it here [or] maybe I've got to throw it here.' It's very clear-cut: 'Throw it here. If you get this, you've got to go here. If this happens, this is your hot [read].' He always gives me an answer. As long as I have an answer, most of the time I'm going to do the right thing."
When you take a step back, however, you realize that Cutler's turnaround goes back further than the start of this season. As you can see in the chart below, Cutler has thrown 13 touchdowns and two interceptions over his past four games dating to December 2009. If you want, you could argue that performances in meaningless games at the end of a 7-9 season have limited significance. They seem relevant to me, however, when you see Cutler pick up this season where he left off.
There's no doubt Cutler needed to harness his powerful arm with a more even-keeled mindset, a work in progress that has nevertheless manifested itself in ways beyond interception totals. To me, Cutler displayed more poise in
the Week 2 27-20 victory
over the
Dallas Cowboys
than I had ever seen from him in a Bears uniform.
Rather than capitulate to the Cowboys' initial frenzy, Cutler hung on. Instead of throwing wildly in the face of a blitz, he waited for Martz to make the necessary adjustments. (Most notably, Martz shortened Cutler's drops to let him release the ball quicker.)
"We knew [the Cowboys] were going to come out fired up," Cutler said. "... I just told those guys to hang in there. You just don't want a turnover there. You kind of want to play the field-position game. You just want to weather it a little bit. You just want to get through that first five, six, eight minutes and settle down a little bit. See what they're going to do, and make some changes."
Whoa. Was that really Cutler speaking? Or was it Rodgers, who has been nothing if not poised since the otherwise tumultuous moment he took over the job in 2008. That poise is why Rodgers clinically, but without a trace of concern, dissected his season following
last Sunday's 34-7 victory
over the
Buffalo Bills
.
In his first six quarters of the season, Rodgers completed 57.4 percent of his passes (27 of 47) for 298 yards. Those numbers won't get you kicked out of the league, but NFC North observers know they're pedestrian by Rodgers' standards. To that point, Rodgers had been uncharacteristically inaccurate, missing open targets on more than a few passes and throwing the same number of interceptions (two) it took him five games to accumulate last season.
After halftime against the Bills, however, Rodgers completed 11 of his final 13 passes and accounted for three touchdowns as the Packers pulled away.
"The second half was more the way I'm capable of playing,"
Rodgers said
, "[with] the rhythm I felt like I should be playing with."
Which brought him up to speed just in time to fulfill another line on our NFC North wish list. "JayRod" finally means something. Six days to go.
September, 17, 2009
9/17/09
2:00
PM ET

Posted by ESPN.com's Kevin Seifert
Green Bay quarterback
Aaron Rodgers
was the runaway winner of JayRod I, and it wasn't just because Chicago's
Jay Cutler
threw four interceptions as part of his Lambeau Field meltdown. Rodgers bested Cutler in two important measures of clutch play: Fourth-quarter performance and passer rating on third and fourth downs.
Rodgers threw the game-winning 50-yard touchdown in the fourth quarter of Sunday night's 21-15 Packers victory. Here is the breakdown of each player's performance, courtesy of ESPN Stats & Information:
Jay Cutler vs. Aaron Rodgers in 4th quarter
Cutler
Rodgers

4-8

Comp-Att

4-5*

51

Pass yds

79*

0-1

TD-INT

1-0

30.7

Passer rtg

158.3

* Three comp., 69 yds to Greg Jennings, including game-winning 50-yd TD with 1:18 to go.
Cutler struggled throughout the game on third and fourth downs, completing only three of 11 passes. Rodgers completed eight of 13. Again, the full breakdown:
Jay Cutler vs. Aaron Rodgers on 3rd and 4th down
Cutler
Rodgers

3-11

Comp-Att

8-13

52

Pass yds

108

0-2

TD-INT

1-0

7.2

Passer rtg

113.6
Volumes have already been written on Cutler's performance and comportment both on the field and in his postgame news conference, in which he apparently offended some reporters and former NFL coaches with his nonchalant answers. As
David Haugh of the Chicago Tribune wrote
, Cutler's personal interaction with reporters is largely irrelevant.
Here is what I consider important: Did Cutler's emotional frenzy catch up to him during the game? There's nothing wrong with being competitive, but stomping around the field and engaging opponents physically and verbally -- as he did with Packers linebacker Clay Matthews -- aren't exactly attributes of a mature leader.
That anxiety could have heightened his stress level in clutch situations. Most of his big plays, as you can see below, occurred on first and second down:
Jay Cutler by down vs. Packers, 9/13/09
3rd/4th down
1st/2nd down

Comp-Att

3-11

14-25

Pass yds

52

225

TD-INT

0-2

1-2

Passer rtg

7.2

66.3
JayRod II is scheduled for Dec. 13 at Soldier Field. I'll try to make it this time.