June, 5, 2013
6/05/13
6:00
PM ET
My view of Jeff George's career is admittedly skewed by its duration, but in the one season I covered him, George was a good citizen and a highly productive quarterback for the
Minnesota Vikings
in 1999. I can't stamp out the stories that preceded and postdated his time with the Vikings, but I guess I'm not feeling the cyber-snickering that's erupted since
the team acknowledged George is spending some time as a guest coach this spring.
Such arrangements are relatively common and are often done as a favor to the former player/aspiring coach rather than with the intent of providing additional tutoring to the new players. So no, the Vikings almost certainly didn't seek out George to help develop
Christian Ponder
.
(If they had, of course, we should remember that Jeff George was a much, much better NFL quarterback than Ponder has been to this point in his career.)
Ponder told reporters that he hasn't spoken too much with George, which fits perfectly in line with what a guest coach should do: Listen, observe and make an occasional suggestion. If they had spent the entire week together locked in the film room, I would worry about what that meant for quarterbacks coach Craig Johnson and offensive coordinator Bill Musgrave.
Here's hoping that George can find the fulfillment in a coaching career that he didn't achieve as a player.
January, 4, 2013
1/04/13
7:20
AM ET
We're Black and Blue All Over:
Here's a good news/bad news development for the Detroit Lions. The good news is their coaching staff will manage one of the two Senior Bowl teams for the second time in four seasons. The bad news? Well, it's the same thing. Playoff teams don't coach in the Senior Bowl, and typically priority starts with the NFL's worst team and works its way down until someone accepts. It's not an honor you want more than once.

At the same time, there is unquestionable value in spending extra time with the draft prospects. Last season, for example, the Minnesota Vikings liked Notre Dame safety Harrison Smith so much they decided to draft him after the Senior Bowl and never visited with him again so as to limit evidence of their interest.
The game, which follows a week's worth of practices, is scheduled for Jan. 26 in Mobile, Ala.
Let's take our morning spin around the NFC North:
November, 4, 2010
11/04/10
7:45
AM ET
We're Black and Blue All Over:
Admit it. You've considered the scenario
David Haugh of the Chicago Tribune
wrote about Thursday: The Chicago Bears one day trade quarterback Jay Cutler to the Washington Redskins, where he could reunite with former Denver Broncos coach Mike Shanahan, and acquire embattled Redskins quarterback and -- Chicagoland native -- Donovan McNabb via free agency or a trade.

Cutler has thrown 33 interceptions in his first 22 games with the Bears, who are 10-12 in those games. Watching him this season, especially recently, has made you wonder whether he is a fit for an offense that requires as much as offensive coordinator Mike Martz does in his.
Ultimately, Haugh doesn't think it's time for the Bears to rid themselves of Cutler. But there might be less to this package than originally believed.
Haugh: "I understand now what was less obvious then. Cutler's unrelenting immaturity too often undermines his immense talent. And when he loses focus, he can lose teammates and games. That said, I still wouldn't trade a player the organization guaranteed $20 million who is still young enough to stop all those dreaded comparisons to Jeff George. There's a difference in criticizing Cutler for his play of late and abandoning all hope that a gifted 27-year-old quarterback with no leadership skills to speak of can be rehabilitated. Cutler doesn't need a trade to save his NFL life or the Bears from himself. He needs an intervention."
Your thoughts as we take our spin around the division ...
December, 18, 2009
12/18/09
10:15
AM ET
As I was putting together
this week's Have at It
, I wondered if Chicago's enraged fan base would direct its ire toward quarterback
Jay Cutler
or the larger picture around him. For the most part, it was the latter.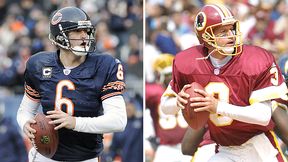 Getty ImagesIs Jay Cutler turning out to be Jeff George -- a strong-armed quarterback who doesn't win?
Spurred by some new comparisons between Cutler and former NFL quarterback
Jeff George
, we asked if you thought Cutler would make it in Chicago. A few of you have seen enough to conclude he will not, but anecdotally, it appeared the majority remain hopeful he will -- if the Bears can find a way to better support him.
Jimead01
suggested that "we should allow Chicago to build an offense around him before we start making Jeff George comparisons. … So far, Cutler's era in Chicago feels like square peg meets round hole."
Surething-6
acknowledged that, based on statistics alone, "he's definitely struggling." But: "If you look outside of that, he has had no running game to set up the play-action pass, and a pretty bad defense in Denver last year and the same is true this year in Chicago. Also having young but talented receivers has hurt him too."
Titiritero83
wrote of the importance to "contextualize Cutler's performance through his career thus far." (Note for the future: Anyone who uses the word "contextualize" receives an automatic inclusion in Have at It.) Continued Titiritero83: "Cutler has been on teams the past two seasons that have had horrible defensive efforts and no running game. I think there aren't too many quarterbacks in the league who are going to have success if there is no possibility of keeping a defense honest with play action."
Of course, no one found Cutler blameless in his plight. A few of you pointed to some of the worrisome on-field character trends that have helped spur the George comparisons. Wrote
Andylet445
: "I can't recall the last time I saw a quarterback calling for a penalty in the process of being sacked like this week vs. the Packers instead of protecting his body."
Cutler is too "thin-skinned and immature," wrote
BlutosPackers
. When considering the whole package, wrote
machinemanske
, it's hard to believe Cutler will make it:
"He may have a strong arm, but couple that with poor mechanics, questionable decision-making and non-existent leadership skills and the arm won't get the job done. Now pile on the facts that the Bears have no way to effectively build their team through the upcoming draft, [Brian] Urlacher has got to be nearing the end of his career and there HAS to be some coaching/coordinator changes in the next few years. Cutler fails, and it's only partially his fault."
My take?
To start, I think the Jeff George comparisons are too dramatic at this point. From a physical standpoint, Cutler is much more than a strong arm. His mobility is far superior in terms of evading the rush. George was a pocket statue relative to Cutler.
If you look at a comparison between George and Cutler in their first 50 games, it's not even a contest. George was sacked 146 times over that stretch. Cutler has been sacked 80 times. If you're interested, Cutler also had a touchdown-interception ratio of 73-59. George's was 41-46.
From a maturity standpoint, you're dealing with two different issues. I recognize Cutler has exhibited some warning signs. But at his worst, George undercut his team's authority figures during games. To date, I haven't seen any evidence of that with Cutler.
I do think Cutler needs to do some serious soul-searching this offseason. His public persona -- in interviews and during games -- is absolutely and without question too dour for optimum success. Some people thrive off the perceived slights of others, but in Cutler's case it doesn't appear to benefit him on the field. If anything, it leaves him focused too much on officiating and trash talk than it does on making good decisions.
With that said, I believe the Bears did Cutler a disservice by dropping him into an offense ill-equipped for his arrival. Before deciding whether Cutler is Jeff George -- a strong-armed quarterback who doesn't win games -- I would like to see how he would perform with some experienced receivers, a line that inspires his confidence and with play calling that emphasizes his strengths.
Good quarterbacks are supposed to cover up for some inefficiencies, and few ever experience the ideal scenario we're describing. But the Bears need to move closer to that ideal before we make any final judgments.
December, 16, 2009
12/16/09
10:15
AM ET
Hopefully you got a chance to listen to
Brian Billick's interview
Tuesday morning on ESPN Radio, especially the segment where he discussed
Jay Cutler
's first season in Chicago.
[+] Enlarge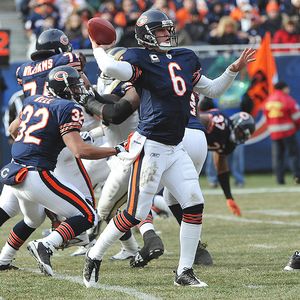 G. Newman Lowrance/Getty ImagesJay Cutler has thrown 19 touchdown passes and 22 interceptions in his first season with the Bears.
Most notably, Billick said Cutler is "beginning to feel Jeff Georgish." Yikes. The reference, of course, is to former NFL quarterback Jeff George --
the No. 1 overall pick in 1990
who was known more for his strong arm than he was for winning games. His career record as a starter was 46-78.
Billick isn't the first person to make that comparison, but his stature as a Super Bowl-winning coach brings a level of credibility to the observation. Here's the full quote, spoken after Billick worked Sunday's Green Bay-Chicago game as a FOX analyst:
"I was a huge Jay Cutler fan, and I'm not ready to bail on him yet. But I'm going to make an analogy here that's going to scare a lot of people. He's beginning to feel Jeff Georgish. Tremendous talent. The two interceptions, two touchdowns in the game [Sunday]. The interceptions, you just scratch your head and say, 'Where exactly were you going with this ball?' And then the two touchdown throws … there is probably not four guys in this league that could make the kind of throws that he made to get those two touchdowns. So it's a head-scratcher. Obviously huge, huge potential. But right now, it's only potential I think."
More importantly, what do you think? Cutler
has started 50 NFL games
and has a record of 22-28. Based on what you've seen this season, do you think he's going to make it? Will Cutler be a winning quarterback in Chicago? The bounty the Bears gave up for him, along with an October contract extension, suggests he'll get every opportunity to do it.
I've provided Cutler's rankings in key quarterback measurements below. Let me know what you think in the comments area below. As always, I'll publish a representative sample, along with my own take, Friday morning. Have at It.
March, 30, 2009
3/30/09
11:00
AM ET
Posted by ESPN.com's Kevin Seifert
Perhaps the best year of Jeff George's career, and certainly the most tranquil, came in 1999 when he led Minnesota to nine victories and a playoff berth in 12 starts. He got along with his coaches and teammates. Beat reporters found him to be down-to-earth and honest. Fans loved his gunslinger mentality.
| | |
| --- | --- |
| | |
| | Jonathan Daniel/ALLSPORT |
| | Jeff George last saw game action with the Redskins in 2001. |
That's why I'm a bit surprised and saddened by George's continuing campaign to convince the Vikings he should still be their quarterback. He told Michael Silver of Yahoo! Sports last week that the Vikings would have won the Super Bowl had they paired him with tailback Adrian Peterson, and he followed up by providing this quote to Sean Jensen of the St. Paul Pioneer Press:
"Wouldn't the fans at the Metrodome want to see if I can do again what I did in '99?. That would be all [coach] Brad Childress, for bringing me back. It would be a storybook ending. It would be unbelievable."
Just a calendar update here: 1999 was 10 YEARS AGO. That's an eternity by NFL standards. Not many players pick up where they left off a decade earlier. George, 41, hasn't thrown a regular-season NFL pass since 2001, another eternity in this league. I don't doubt that he still has a strong arm, but George must know there is more to playing quarterback in the NFL than that.
To suggest the job would be "easy" with Peterson in the lineup is an alarming overstatement. Quarterbacks still have to avoid the pass rush. They still must absorb hits. They still must read defenses that have changed dramatically over the past 10 years. And I have a hard time imagining George in the Vikings' strict version of the West Coast offense. Isn't he best matched with a downfield passing game?
As a reporter, I always appreciate when a player honestly expresses his thoughts. But fair or otherwise, NFL teams do not. Thoughts and quotes like the one below are why the league largely moved on after his departure from Washington in 2001:
"I've been trying to figure out how to get back in, and it just amazes me that I'm not on somebody's roster. I've been throwing two or three times a week, and every time I go out there to throw, I can't believe I'm not a backup somewhere. I know it's a young man's game, but you can't tell me I'm not better than some of the quarterbacks that are out there. I look at teams like Minnesota or Chicago, and I want to scream at the people in charge, 'What are you thinking?' "
The Vikings and Bears deserve their share of criticism for the way they've handled their quarterback situations in recent years. But did they err by not signing Jeff George? I can tell you that most NFL coaches don't want a backup quarterback who so directly expresses his superiority over the likely starter. A backup's job is twofold: He must prepare to start, but in the meantime he must accept his subordinate status. There's nothing in George's current sentiments that suggests his aptitude for that role, which really was his only ticket back into the league.
The truth of the matter is that the Vikings wanted George to return in 2000. They spent almost two months trying to negotiate a contract that would allow him to be their starter while also recognizing that Daunte Culpepper, drafted No. 11 overall in 1999, would eventually get his chance. George balked at that arrangement, choosing instead a more lucrative offer from Washington.
We'll never know for sure. But if George had re-signed and continued playing at a high level, it's hard to imagine the Vikings jettisoning him the following year in favor of Culpepper. Receivers Randy Moss and Cris Carter loved playing with him and a mini-dynasty -- at least offensively -- could have occurred.
But George made a business decision, the type that gets made every year in the NFL. It didn't work out, and thus his rocky career ended on a down note. But by continuing to push the Minnesota angle, he's diminishing the most positive legacy he produced in the league.
George is a proud man whose exasperation is understandable but ultimately unfounded. The last time he took to the public airwaves, Childress unnecessarily suggested he should attend a fantasy camp to continue playing. My suggestion is that he disconnect his phone. That way, he won't answer the next time a reporter calls to ask if he thinks he should still be playing. It's time for everyone to move on.