July, 18, 2014
Jul 18
11:00
AM ET
Examining the
Green Bay Packers
' roster:
Quarterbacks (3)
The Packers have not kept three quarterbacks on their opening-day roster since 2008, but they might be inclined to do so this season in order to avoid a situation like last year, when Rodgers broke his collarbone. Coach Mike McCarthy is high on Tolzien, who made two starts last season, but Flynn has proved he can win as a backup in Green Bay.
Running backs (4)
The return of Harris, who missed all of last season because of a knee injury, gives the Packers insurance behind Lacy and Starks. Kuhn is valuable both as a fullback and on special teams. It's possible they'll keep a fourth halfback, but the loss of
Johnathan Franklin
to a career-ending neck injury has left them without a strong in-house candidate for that spot.
Receivers (6)
The Packers often keep only five receivers, but given that they drafted three -- Adams (second round), Abbrederis (fifth round) and Janis (seventh round) -- there's a good chance they will keep six. Abbrederis and Janis will not only have to show they're better prospects than second-year pros
Myles White
and
Chris Harper
, but they also could help themselves if they can return kicks.
Tight ends (4)
McCarthy likes tight ends (he has kept five before), and the wild card is undrafted rookie
Colt Lyerla
.
Offensive linemen (8)
The Packers typically only activate seven offensive linemen on game day, so they can get away with keeping just eight on the roster. Barclay's ability to play all five positions also allows them some freedom.
Lane Taylor
could be the ninth lineman if they go that route.
Defensive line (7)
Worthy and Guion have work to do to make the roster, but there's room for them if you count
Julius Peppers
and
Mike Neal
among the outside linebackers, which is where they lined up more often in the offseason.
Linebackers (8)
There will be some tough cuts here. Second-year pros
Nate Palmer
and
Andy Mulumba
both played last year as rookie outside linebackers. It also may be tough for highly touted undrafted rookie
Adrian Hubbard
to make it.
Cornerbacks (6)
Hayward's return from last season's hamstring injury means he likely will return as the slot cornerback in the nickel package, a role played last year by
Micah Hyde
(who may primarily play safety this year).
Safeties (4)
The major question here is whether Hyde or Clinton-Dix will be the starter alongside Burnett.
Chris Banjo
, who played primarily on special teams last season, might be the odd man out.
Specialists (3)
There's no competition at any of these spots.
June, 30, 2014
Jun 30
8:00
AM ET
GREEN BAY, Wis. -- Between now and when the
Green Bay Packers
report to training camp on July 25, we will spend considerable time looking at the roster from a variety of angles.
In the days leading up to camp, we will break things down by position group. And before that, we will look at several players who need to give the Packers more than they did last year.
But before we do any of that, let's reset the depth chart as it likely stands heading into training camp. This is an unofficial assessment, but it is based on observations during organized team activities and minicamp practices combined with interviews with assistant coaches and scouts.
First up is the offense:
Quarterback
s:
Aaron Rodgers
,
Matt Flynn
,
Scott Tolzien
,
Chase Rettig
.
Notes
: Expect a legitimate battle for the No. 2 job between Flynn and Tolzien in the preseason. Coach Mike McCarthy noted several times how much Tolzien improved thanks to a full offseason with the Packers. The biggest question here is whether the Packers will keep three quarterbacks rather than only two. Rettig looks like a camp arm, at best.
Running backs
:
Eddie Lacy
,
James Starks
,
DuJuan Harris
,
Michael Hill
,
Rajion Neal
,
LaDarius Perkins
.
Notes
: The loss of
Johnathan Franklin
to a
career-ending neck injury
struck a blow to what appeared to be a deep position. But it also sorted out things somewhat, although Harris still needs to show that he can be productive like he was late in the 2012 season. The knee injury that cost him all of last season does not appear to be an issue. Neal and Perkins, a pair of undrafted rookies, both are slashing backs similar to Harris with Perkins (5-foot-7, 195 pounds) also being similar in stature.
Fullbacks
:
John Kuhn
,
Ina Liaina
.
Notes
: There's no reason to think the veteran Kuhn won't be around for another season.
Receivers
: Outside --
Jordy Nelson
,
Jarrett Boykin
,
Davante Adams
,
Jeff Janis
,
Kevin Dorsey
,
Chris Harper
. Slot --
Randall Cobb
,
Jared Abbrederis
,
Myles White
,
Alex Gillett
.
Notes
: Adams, the rookie from Fresno State, may eventually supplant Boykin, but he will have to catch the ball more cleanly than he did in the offseason. He battled drop issues at times during the OTAs and minicamp. Fellow rookie Janis showed up regularly during team periods. Harper was off to a strong start until a hamstring injury knocked him out. In the slot, Abbrederis looks like a natural fit. White bulked up after contributing some as a rookie last season and should not be ignored.
Tight ends
:
Richard Rodgers
,
Andrew Quarless
,
Brandon Bostick
,
Ryan Taylor
,
Jake Stoneburner
,
Colt Lyerla
,
Justin Perillo
.
Notes
: Even if Quarless is healthy for the start of camp, Rodgers might still have the edge for the starting job after a strong offseason. He's more dynamic as a receiver than Quarless, who missed the entire offseason because of an undisclosed injury. Bostick came back late in the offseason from foot surgery. While there are high expectations for Lyerla, the undrafted rookie did not flash often enough during offseason practices.
Tackles
: Right side --
Bryan Bulaga
,
Don Barclay
,
Aaron Adams
,
John Fullington
. Left side --
David Bakhtiari
,
Derek Sherrod
,
Jeremy Vujnovich
.
Notes
: Bulaga practiced with a large brace on his surgically repaired left knee and has something to prove after missing all of last season, but the fact that he's back at right tackle shows how much the Packers believe in Bakhtiari on the left side. Sherrod made it through the full offseason program for the first time, which is something of an accomplishment considering his injury history. But he's running out of time to show he can play like the first-round pick that he was in 2011. Barclay, who started 18 regular-season games the last two seasons, has split his time between right tackle and guard and looks like the No. 6 offensive lineman.
Guard
: Right side --
T.J. Lang
, Barclay,
Lane Taylor
. Left side --
Josh Sitton
, Barclay,
Andrew Tiller
,
Jordan McCray
.
Notes
: Barclay likely would be the top back up at both guard spots, although Taylor worked at right guard with the No. 2 offensive line while Barclay played right tackle or left guard.
Center
:
JC Tretter
,
Garth Gerhart
,
Corey Linsley
.
Notes
: Tretter took all the snaps with the number one offensive line this offseason. It is his job to lose, but his lack of experience makes him something short of a sure thing. Gerhart worked ahead of Linsley, a fifth-round pick, but if anyone is going to challenge Tretter it might be Linsley.
June, 7, 2014
Jun 7
8:00
AM ET
Each week, I will ask for questions via Twitter with the hashtag #PackersMail and then will deliver the answers over the weekend.
June, 3, 2014
Jun 3
8:00
PM ET
GREEN BAY, Wis. -- Here's a look at what stood out from the
Green Bay Packers
' second open OTA session of the offseason Tuesday:
1. Rookie catch up:
Second-round receiver
Davante Adams
and third-round defensive tackle
Khyri Thornton
returned after missing last week's OTA sessions to attend the NFL Players Association Rookie Premier event. Adams said he stayed in his playbook during the trip to and from Los Angeles. "When I was out there, I was studying my playbook," Adams said. "When I was on the flight, I was studying my playbook. That's pretty much all it was."
Boykin
2. Boykin, Harper shine:
Receivers
Jarrett Boykin
and
Chris Harper
had big days during team and 7-on-7 passing periods Tuesday. Both stood out during the team blitz period, catching hot reads from quarterbacks
Aaron Rodgers
and
Matt Flynn
. Boykin has been working as the No. 3 receiver despite the arrival of Adams and fellow draft picks
Jared Abbrederis
and
Jeff Janis
. Harper, a fourth-round pick of the
Seattle Seahawks
last year, was claimed off waivers last Oct. 18 and is an intriguing prospect with good size (6-foot-1, 228 pounds). "Chris has really improved," Packers coach Mike McCarthy said after practice. "I mean, I think you saw the first snap there in the team period, I mean, he runs a great post and Aaron hits him right in stride. I mean, that's the kind of explosiveness that he has."
3. Barclay's versatility:
Third-year pro
Don Barclay
is making a case for being the team's most versatile offensive lineman. He worked with the starters at left guard Tuesday, when
Josh Sitton
appeared to be limited. Last week, Barclay worked at right tackle behind
Bryan Bulaga
. He also could take reps at center. At this point, Barclay looks like he might be the team's top backup linemen at several positions. "Donny has the ability to potentially play five positions on the offensive line," McCarthy said. "I don't know how many guys you can say that about."
4. Inside pass-rush combination:
It looks like defensive coordinator Dom Capers is going to give
Datone Jones
and
Mike Daniels
every chance to be his primary interior pass rushers in the sub packages. The Packers hope Jones can make the kind of jump Daniels made last year, when he increased his sack total from 2 to 6.5.
5. Another new guy:
With
B.J. Raji
absent from Tuesday's practice,
Letroy Guion
took most of the reps at nose tackle with the starters. Guion, the former
Minnesota Vikings
defensive lineman who signed a one-year deal with the Packers this offseason, gives the Packers a taller option at the spot. He has two inches on the 6-2 Raji.
6. To the House:
Fourth-year cornerback
Davon House
, who is coming off an inconsistent season, came up with an interception during a team period, when he picked off a corner route thrown by Flynn that was intended for
Kevin Dorsey
.
Crosby
7. Kicking competition:
There's not another kicker on the roster this year, but it's still worth charting all of
Mason Crosby
's field goals. He went 7-for-8 during a team period on a windy Tuesday. His only miss was wide right from 47 yards. He also missed from 43 yards, but that kick was whistled dead at the snap and therefore did not count. Last year at this time, Crosby was kicking for his job. This year, he's coming off a career-best season in which he made 89.2 percent of his regular-season field goals.
8. Punt return rotation:
Randall Cobb
,
Micah Hyde
,
Tramon Williams
and Abbrederis took turns catching punts during a special teams period.
9. Roll call:
Add cornerback
Jumal Rolle
to the list of those who did not practice. McCarthy does not give injury updates during OTAs, and Rolle was not available for comment. Others who did not practice due to injuries were: running back
Johnathan Franklin
, linebacker
Clay Matthews
, linebacker
Nick Perry
, tight end
Andrew Quarless
and tight end
Brandon Bostick
. Those five also missed last week's sessions.
10. Roll call, part II:
Rookie tight end
Colt Lyerla
, defensive end
Jerel Worthy
and Raji were not in attendance. Lyerla's agent, Vinnie Porter, said the Packers were aware of Lyerla's absence in advance and excused him even though that was not necessary because it is a voluntary workout. McCarthy said he expected Lyerla back Wednesday. Worthy's grandmother died last week after she was accidentally shot.
The Packers' next open OTA session is next Tuesday at 11:30 a.m. local time.
June, 3, 2014
Jun 3
8:00
AM ET
GREEN BAY, Wis. -- The
Green Bay Packers
will hold their second open practice of their organized team activities on Tuesday at 11:30 a.m. local time.
It will be outside on Ray Nitschke Field and open to fans (weather permitting) and reporters (rain or shine).
Here are some things to keep an eye on:
1. Davante Adams and Khyri Thornton
: The rookie pair missed last week's OTA sessions because
they were selected to attend
the NFL's annual Rookie Premier in Los Angeles. Coach Mike McCarthy did not sound too happy about it. "My understanding is the rookie premiere is part of the CBA contract, and I won't touch that with a long telephone pole," he said. "That's part of the legal counsel. I have no opinion on that stuff. Do I like that they're missing practice? No, I don't like that they're missing practice. I don't understand it either, but that's part of a contract." Approximately 40 rookies participated in the event. Adams, a second-round pick from Fresno State, is expected to compete for the No. 3 receiver spot. Thornton, a third-round pick from Southern Miss, is expected to provide depth on the defensive line.
2. Rookie roles
: Last week, there wasn't a single rookie who worked with the No. 1 offense or defense. At some point, that will change. Could it be this week? The Packers will no doubt begin to integrate first-round safety
Ha Ha Clinton-Dix
-- and likely several others -- into the mix with the starters. However, when OTAs opened last week,
Micah Hyde
took all the reps with the starters at free safety. The second-year defensive back is working at safety for the first time after playing cornerback last year as a rookie.
3. Quarterback competition
: The Packers believe they are in a better situation behind
Aaron Rodgers
than they were last year at this time, when
Graham Harrell
and
B.J. Coleman
were battling for the backup job. This year, they have a proven capable backup in
Matt Flynn
, who went 2-2 in four starts last season. And if
Scott Tolzien
develops like the Packers believe he can, then there might be a legitimate competition for the No. 2 job later this summer. The Packers also have a fourth quarterback, Boston College undrafted rookie
Chase Rettig
, on the roster. McCarthy has said he would like to take four quarterbacks to training camp.
4. Running back rotation
: It might be the deepest group of running backs the Packers have had in McCarthy's nine season as head coach, but there's still plenty to sort out behind starter
Eddie Lacy
.
James Starks
was productive -- and finally healthy for the most part -- last season in a limited role that suited him well. But
DuJuan Harris
, who missed all of last season because of a knee injury, is back and practicing at full speed. There's also still hope for
Johnathan Franklin
, a fourth-round pick last season who did not practice last week and is coming off a neck injury that landed him on injured reserve last December. It's tough to judge running backs in these non-pads practices, but you can sometimes get a feel for how they're planning to use them.
5. Return duties
: The Packers are not a team with the luxury of a proven kick returner -- unless they want to use receiver
Randall Cobb
, and there is no reason to think that they do. They liked what Hyde gave them in the punt return game last year, but they are sure to put several players through return tryouts this summer. Among the recent draft picks who could do it include receivers
Jared Abbrederis
and
Jeff Janis
plus cornerback
Demetri Goodson
. Look for them to get extended reps during OTAs.
May, 15, 2014
May 15
6:05
PM ET
GREEN BAY, Wis. -- It's not imperative that the
Green Bay Packers
have all their draft picks signed by the time rookie orientation camp starts Friday, but they now have three of the nine under contract and likely will have a few more done before they hit the field for the first time.
The latest to put his name on a contract was fifth-round pick
Corey Linsley
. The center from Ohio State is expected to compete with
JC Tretter
for a starting job.
Here's a look at the contract status of the Packers' nine draft picks:
Draft picks who have not signed will still participate in workouts with the assurance that they will be fully compensated in the event they sustain an injury.
May, 14, 2014
May 14
5:50
PM ET
GREEN BAY, Wis. -- A few hours after the agent for receiver
Jared Abbrederis
confirmed that
his client signed his rookie contract
with the
Green Bay Packers
, another draft pick's deal was done.
Jeff Janis
, a seventh-round receiver from Saginaw Valley State who was picked two rounds after Abbrederis, also has signed his four-year deal.
That signing was listed on Wednesday's NFL transactions notice, although Abbrederis' was not, probably because the paperwork was not filed before the end of official league business.
The Packers have seven more draft picks to sign, but those are mostly formalities. Perhaps the only deal that could take more than a few days is that of first-round pick
Ha Ha Clinton-Dix
.
All of the draft picks are expected to participate in rookie orientation camp, which begins Friday. Those without signed contracts will be assured their full value even if they get injured this weekend.
In another move, the Packers waived cornerback
James Nixon
because he failed his physical. Nixon began last season on the practice squad but was added to the roster Oct. 7 and played in three games before he sustained a knee injury Nov. 17 that landed him on injured reserve. The injury, a torn meniscus, was not expected to prevent him from being ready for the start of this season. Nixon was one of the fastest players in training camp with the Packers last season, having run a 4.31 40-yard dash during his pro day last year.
May, 12, 2014
May 12
1:15
PM ET
GREEN BAY, Wis. -- The
Green Bay Packers
have assigned uniform numbers to their rookies, who are reporting to Lambeau Field for the first time Monday.
Here's a look at them and their numbers:
S Ha Ha Clinton-Dix (first-round pick)
WR Davante Adams (second round)
DT Khyri Thornton (third round)
TE Richard Rodgers (third round)
OLB Carl Bradford (fourth round)
C Corey Linsley (fifth round)
WR Jared Abbrederis (fifth round)
CB Demetri Goodson (sixth round)
WR Jeff Janis
*Wore multiple numbers with the Packers
Note
: Based on a picture Janis took of his locker and posted on his
Instagram account
, it appears the Packers have issued the No. 80. It likely has been given to one of the undrafted rookies, although those players have not yet been added to the official roster.
That number has not been worn since
Donald Driver
, the team's career receiving leader, retired following the 2012 season. While it has been suggested that number be retired to honor Driver, it should be noted it was also worn by Pro Football Hall of Fame member
James Lofton
with the Packers from 1978-86.
May, 11, 2014
May 11
1:00
PM ET
GREEN BAY, Wis. -- The best answer to how the
Green Bay Packers
did in the draft is this: Ask me in three years.
But there's a place for instant analysis to be taken with a giant block of salt.
With that in mind, it's still interesting to see what the analysts' initial thoughts were on a team's draft class. Following his marathon TV duties, ESPN draft expert Mel Kiper Jr. broke down
how each team did during the three-day selection process

.
Let's start with the fact that Kiper clearly liked the Packers' draft. He gave it a grade of a straight "B." Only eight teams earned higher marks.
Now let's back up and let Kiper explain his grading process.
He wrote:
The story of the draft is the acquisition of talent, but the story of NFL success is talent development. I know I can't grade a draft class regarding performance for at least a few years, which is a reason why I audit old drafts. But what I do here is assess three main things:
" How much overall talent did a team add based on board position?
" How effectively did they address key personnel needs?
" How efficient were they in maneuvering on the draft board?
And remember: I have to use my player grades as the prism. I'm well aware all NFL teams see players differently -- I have many debates with GMs throughout the year about players. I might have a high grade on a linebacker many teams see as a late-round pick. That's the reality of player evaluations.
Kiper further broke down his grades into two parts: needs and value.
Here's how he graded the Packers on both:
Need
: B-minus
Value
: B-plus
Now, let's dig further into what Kiper thought of the some of the Packers' nine selections.
On first-round pick safety Ha Ha Clinton-Dix
: "An easy call at No. 21. I thought he'd be off the board by then, potentially to Dallas or Baltimore, so Green Bay got a good value there, and he addresses a need at free safety, where the Packers didn't have much."
On drafting three receivers
: "
Davante Adams
isn't explosive, but he catches everything and will flourish with
Aaron Rodgers
(This tends to happen with good receivers catching passes in Green Bay lately.) I really thought they needed a WR or two in this draft, and I loved the additions of
Jeff Janis
and
Jared Abbrederis
. If you saw Abbrederis simply steal
Bradley Roby
's lunch money in Columbus, you know he can battle NFL-level athletes, and Janis is a major physical talent for a seventh-rounder. He dropped on hand size and competition level coming out of D-II."
On outside linebacker Carl Bradford
: "Carl Bradford is a player I really like, and I'll be interested to see if they move him around a little bit. I thought inside linebacker was a big need even though that's typically something you can address later, but they didn't touch it."
On the Packers' draft overall
: "There's not a point where you feel like the Packers flat out got a steal, but aside from the question at ILB, there's not much not to like."
---
May, 10, 2014
May 10
7:30
PM ET
»
NFC wrap-ups
:
East
|
West
|
North
|
South
»
AFC
:
East
|
West
|
North
|
South
GREEN BAY, Wis. -- A wrap-up of the
Green Bay Packers
' draft.
Click here
for a full list of Packers draftees.
[+] Enlarge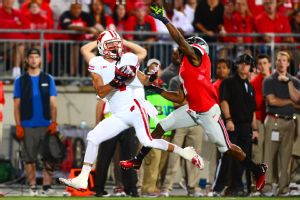 Andrew Weber/USA TODAY SportsReceiver Jared Abbrederis is the first Wisconsin player drafted by the Packers since guard Bill Ferrario (fourth round) in 2001.
Best move
: Even though much of the pre-draft focus was on improving the defense -- something general manager Ted Thompson did by taking Alabama's
Ha Ha Clinton-Dix
in the first round (No. 21 overall) -- he did not ignore the other side of the ball. He wisely added depth to the receiving core with the highly productive
Davante Adams
of Fresno State in the second round (No. 53) and later local product
Jared Abbrederis
of Wisconsin in the fifth round (No. 176), and the small-school
Jeff Janis
from Saginaw Valley State in the seventh (No. 236). He then took a shot with developmental tight end
Richard Rodgers
of Cal in the third round (No. 98) and brought in competition for the starting center job with
Corey Linsley
of Ohio State in the fifth round (No. 161).
Riskiest move
: Defensive tackle
Khyri Thornton
. Taking him in the third round (No. 85 overall) seemed too high. Even he didn't think he would be drafted on Day 2. "Khyri was an interesting one, kind of came up later in the process," said Packers director of college scouting Brian Gutekunst. "But he had so much twitch, so much upside, it was something we couldn't pass on. The way he's able to run, a 4.9 guy for a 312-pound man, the kid can run. He's got a lot of upside. We felt fortunate to get him." You could also call Baylor cornerback
Demetri Goodson
a risk, although it's less of one in the sixth round (No. 197). Goodson will turn 25 years old next month and was out of football for five years. He played three seasons of basketball at Gonzaga before he transferred to Baylor in 2011 and played three years of football.
Most surprising move
: For the first time in 10 drafts as the Packers general manager, Thompson did not make a single trade. He picked at his spot all nine times. By the time the draft reached the fifth round, it became clear this was going to be a different draft strategy for Thompson. He had never before made it that far into a draft without making a trade. Perhaps equally surprising was the fact that he picked a player from the University of Wisconsin -- and it wasn't linebacker
Chris Borland
, a player many thought might interest the Packers. Instead, he took Abbrederis, making him the first UW player drafted by the Packers since guard Bill Ferrario (fourth round) in 2001.
File it away
: Next year, when Thompson tells you he doesn't draft for need, remember this: Among his first six picks were a safety (Clinton-Dix), a receiver (Adams), a tight end (Rodgers) and a center (Linsley). Not coincidentally, the Packers had an opening for a starting free safety, lost a receiver (
James Jones
) and a center (
Evan Dietrich-Smith
) in free agency, and have not re-signed last year's starting tight end (
Jermichael Finley
).

NFC NORTH SCOREBOARD
Thursday, 9/4
Sunday, 9/7
Monday, 9/8