October, 25, 2009
10/25/09
1:45
PM ET
Posted by ESPN.com's Kevin Seifert
PITTSBURGH -- We'll know in a few hours if we just saw a significant play in a close game or a blip on the way to an otherwise inevitable outcome.
Pittsburgh lost an 8-yard touchdown pass to receiver
Santonio Holmes
because officials called tight end
Heath Miller
for offensive pass interference on the other side of the field. Miller drilled Vikings tight end
Chad Greenway
on what looked like a pick play, but it had no impact on Holmes beating cornerback
Cedric Griffin
to the far left side of the end zone.
Jimmy Kennedy
's sack of
Ben Roethlisberger
on the ensuing third-down play forced the Steelers to settle for
Jeff Reed
's 39-yard field goal.
That could potentially be a significant turnaround for a Vikings team that is having trouble moving the ball so far against the Steelers' attacking defense. In its first three series, Minnesota has had had four plays in which it has gained zero or negative yards. Two of them have been sacks, and tight end
Visanthe Shiancoe
's false start pushed the Vikings back 5 yards on another play.
You want to suggest that the focus on the running game to settle things down, but thus far tailbacks
Adrian Peterson
and
Chester Taylor
have combined for 3 yards.
September, 21, 2009
9/21/09
1:16
PM ET

Posted by ESPN.com's Kevin Seifert
After Chicago's 17-14 victory over Pittsburgh, here are
three (mostly) indisputable facts I feel relatively sure about:

Quarterback Jay Cutler helped turn two unknown receivers into stars in Denver, and now he's working on a new project in Chicago. Brandon Marshall was a fourth-round draft pick, and the Broncos drafted Eddie Royal to be a kick returner. By the end of their rookie years, each was a Pro-Bowl caliber receiver. I'm not predicting the same thing for Bears rookie Johnny Knox, but it's hard to avoid the comparisons. Cutler clearly feels comfortable throwing him the ball, targeting him nine times Sunday against the Steelers. Knox figured as the Bears' No. 4 receiver this season, but his connection with Cutler should guarantee him regular playing time.
After all the late-week hubbub about a shakeup at safety, veteran Kevin Payne still got plenty of playing time. That's because the Bears decided to keep Danieal Manning as their nickelback despite making him a starting safety. That means every time the Steelers went to three receivers, Manning moved inside and Payne entered the game to play safety. It's a little unconventional to swap safeties so frequently during the course of the game, but ultimately I guess it's a reflection of whom the Bears consider their best five defensive backs. Tells you a lot about what the Bears think not only of Nate Vasher, but also Corey Graham. Both have been starting cornerbacks in the past.
We had a Tommie Harris sighting in the fourth quarter. Chicago's mysterious defensive tackle burst through the line and dropped Steelers tailback Mewelde Moore for a 2-yard loss on a first-down play. The Steelers ultimately were unable to convert a first down, and place-kicker Jeff Reed followed by missing a 43-yard field goal. Harris once made those plays routinely, tipping the field-position battle to the Bears' favor with a play behind the line. We've chronicled his knee problems this summer, but I think the Bears would be happy with one or two of those kinds of plays per game.
And here is
one question I'm still asking:
What's happened to the Bears' running game? In two games, Matt Forte has totaled 84 yards. And it's not like the Bears haven't given him a chance. Forte has 38 carries already, tying him for seventh in the NFL. If anything, you would think Forte would have more success early this season as teams adjust to Cutler's arrival. But that hasn't been the case. The Bears can certainly rely on Cutler to carry their offense, but it's not the style of coach Lovie Smith and I would expect him, if anything, to pound Forte even more until he breaks through.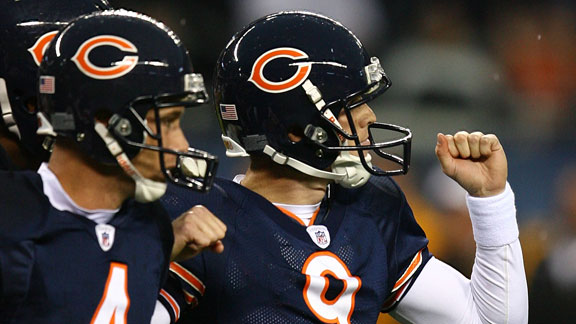 September, 20, 2009
9/20/09
8:21
PM ET

Posted by ESPN.com's Kevin Seifert


This is what people mean when they say the NFL is a week-to-week league.
Last week, we media jackals watched Chicago's close loss at Green Bay and started wondering if the Bears would open the season 0-3. With a tough home game against Pittsburgh, followed by a long trip to Seattle, it seemed a logical (if speculative) conclusions.
This week, the Bears are 1-1 and tied for second place in the NFC North after Green Bay's unexpected home loss to Cincinnati. They're back in it, even if they were never out of it.
Of everything that happened Sunday at Soldier Field, two things stood out to me:
Tight end Greg Olsen -- who someone chose as the 2009 emerging star in the NFC North -- made a couple of huge plays in the fourth quarter after coming back an earlier brutal hit from Pittsburgh safety Tyrone Carter. The first was a 29-yard over-the-head reception, with Carter approaching for another hard hit, to set up the Bears at the Steelers' 23-yard line. Five plays later, receiver Johnny Knox caught a 7-yard touchdown pass to tie the game at 14. The second was recovering Matt Forte's fumble at the Steelers' 45-yard line with less than three minutes to play. The recovery prevented the Steelers from getting great field position and allowed the Bears to continue their game-winning drive.
Everyone who has complained about the state of the sod at Soldier Field owe the Chicago Park District an apology. You think the loose grass didn't at least play a role in the Steelers' place-kicker Jeff Reed missing from 38 and 43 yards in the fourth quarter?