NFC North:

Jeremiah Washburn
August, 21, 2014
Aug 21
3:30
PM ET
ALLEN PARK, Mich. --
Michael Williams
is trying to think less. It might sound odd as he is in the midst of transitioning from tight end to offensive tackle, but understand his logic.
He was a processor at Alabama, needing to understand everything he saw and then making calls and decisions off those reads. As he moved to tackle, he discovered he no longer had to make the calls.
He still had to recognize the actual calls so he could understand and adjust his assignment, but the decisions no longer rested with him.
[+] Enlarge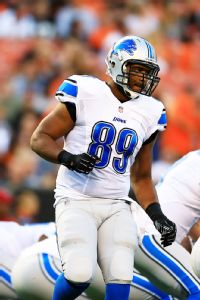 Andrew Weber/USA TODAY SportsMichael Williams, drafted as a tight end in 2013, is "going to play tackle in the NFL," according to Detroit Lions offensive line coach Jeremiah Washburn.
"I've always been a player to actually think about stuff while I'm doing it," Williams said. "But I think I have to retool my mind to just go."
So far, he has. Williams initially made the position switch prior to spring workouts to elongate his career, now in its second season with the
Detroit Lions
. He saw more long-term stability at tackle, didn't mind the blocking much to begin with and had a body that could add weight while not losing his speed.
Even with the weight gain, his footwork has apparently remained. While he is still in his infancy of playing offensive line, the way he made the move impressed his coaches with his movement and ability to take contact.
"That one is unique in itself," Lions coach Jim Caldwell said. "Offensive linemen and defensive linemen, I think you have to go through a psychological metamorphosis to go in there and play from where you've been previously, particularly if you were outside those particular areas.
"This guy has done it and he's done a nice job within it and he's getting better every week."
Whether that progression continues in Detroit might depend a lot on what happens over the next two weeks. Williams missed almost a week of the preseason because of injury, yet when he returned, he ended up as a second-team tackle against Oakland last Friday.
He had a positive grade from Pro Football Focus against the Raiders, including one of the highest pass-protection grades on the team.
The transition has been hardest in protecting Detroit's quarterbacks. Run blocking as a tight end is similar to run blocking as an offensive lineman. But on pass plays before, he would be running routes, not staying in trying to keep defensive ends from annihilating his quarterback.
Pass protection movements are less instinctual than mauling an opponent against the run. It requires more balance and leverage, which has been tricky.
"Anyone can kick back and do it and make it look good," Williams said. "But when you get to the top of that set and you have a 300-pound man rushing you, you kind of have to have some kind of balance to punch him, so as long as you are doing that and have balance at the top of your sets, you're doing pretty good.
"It just takes a while to get that, and I'm trying to get it."
It is something that takes linemen years to master, and Williams is trying to accelerate the process enough to have a chance at a roster spot. With the balance and pass-protection movements, he is still "50-50 on that," when it comes to how natural it is.
This is expected and why, if Williams does not make the roster and clears waivers, he could be a strong candidate for a spot on the Lions' practice squad to see if he can continue to develop as a tackle.
"He's going to play tackle in the NFL. He is, at some point. I don't know when, but he will," Lions offensive line coach Jeremiah Washburn said. "There's just not a lot of tackles out there with his kind of speed and balance.
"He's going to continue to get technique and Bobby Johnson has been working with him a lot, with his pass-pro technique. I'm excited to see what happens to him."
Where that happens is the question.
January, 15, 2014
Jan 15
12:05
PM ET
Jim Caldwell is the new
Detroit Lions
coach, and though there has been a lot of consternation about the hire, the Lions will succeed or fail based upon his decisions and his ability to develop players, notably quarterback
Matthew Stafford
.
Caldwell will meet with the media for the first time Wednesday, and based on what I've heard and been told about his interview on Jan. 3, he has a detailed plan for how he is going to fix both the Lions and Stafford.
Those are his two most important tasks as Detroit's head coach. If he is unable to do that, he'll join the line of Marty Mornhinweg, Steve Mariucci, Rod Marinelli and Jim Schwartz as coaches who couldn't quite reach the level the team wanted.
[+] Enlarge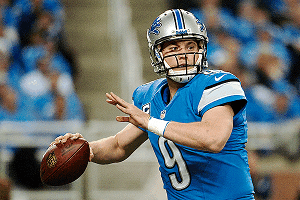 Tim Fuller/USA TODAY SportsDeveloping Matthew Stafford is one of the most important tasks facing new Lions coach Jim Caldwell.
If he can succeed, he'll have a chance to do something only one coach in the Super Bowl era, Wayne Fontes, has even come close to doing with the Lions: turn the team into a consistent winner.
Here's a look at five things Caldwell will have to do early in his tenure with the Lions.
1. Hire a competent staff:
He could have some names as early as his introductory news conference, but Teryl Austin is a name I've been told multiple times as a likely defensive coordinator. Bill Lazor was a name for offensive coordinator, but h has been hired by Miami. If Caldwell doesn't put together a strong staff, that will be an issue early on. Former Ohio State coach Jim Tressel also could end up on Caldwell's staff.
2. Make smart decisions about free agents with GM Martin Mayhew:
Dominic Raiola
and
Brandon Pettigrew
are two of the bigger free agents for the Lions. Raiola is a strong presence in the locker room, and it might be smart to bring him back for continuity on an offensive line that was one of the best in the league last season. Pettigrew could be interesting. He is an important cog, as was
Dallas Clark
, Caldwell's tight end in Indianapolis and with the Ravens this season. Of course, Clark is also a free agent, so Caldwell might push to get him to Detroit.
3. Matthew Stafford:
Part of the reason Caldwell was hired was to work with Stafford, with whom the coach met on his interview. Stafford, according to receiver
Kris Durham
, seemed to like Caldwell. That relationship will be critical to any success Caldwell has in Detroit. He believes he has a plan to fix Stafford -- both
Joe Flacco
and
Peyton Manning
are high on Caldwell's ability to help quarterbacks -- and the coach will have to be able to implement that plan as soon as possible.
4. Keep at least two current assistants:
This goes with the first point. John Bonamego did a really good job with special teams almost all season, including finding strong gunners in
Don Carey
and
Jeremy Ross
. Jeremiah Washburn turned an offensive line with two rookies on the right side into one of the top groups in the NFL, and players seemed to really like him. Jim Washburn and Kris Kocurek did a good job with the defensive line, and Matt Burke was strong with the linebackers. Consider at least some of them to keep some continuity.
5. Get out in the community:
This might sound silly, but Caldwell is not a popular hire with the Detroit fan base. By all accounts, he is a good, well-intentioned man, so by doing a lot of community outreach early on, he could turn some people who are currently not pleased about the hire. Of course, the best way to do that is to win games, but getting out in the community would be a strong start.
September, 19, 2013
9/19/13
5:30
PM ET
ALLEN PARK, Mich. -- LeCharles Bentley showed up in
Larry Warford
's home last December, iPad in tow, ready to make his pitch.
It was a recruitment that began before Warford and Bentley first talked or actually met. It started with a television remote control, an obsession with college football and the need to flip through college games.
Bentley found Warford, now the
Detroit Lions
' starting right guard, while watching Kentucky play Western Kentucky. The former NFL offensive lineman didn't care about the score. He observed Warford, his hip movement and how his explosion jumped off the screen. It made Bentley track the kid and eventually make his pitch.
[+] Enlarge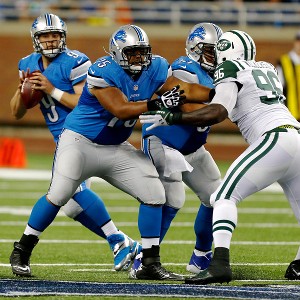 AP Photo/Scott BoehmLions guard Larry Warford has a champion in former NFL offensive lineman LeCharles Bentley.
Which is how he ended up in Warford's home three months later, offering his services to the soon-to-be NFL rookie. By the time the meeting ended, Warford remembered thinking simply: "Cool. Let's go."
"The deal was sealed once the meeting was over," Bentley said. "I knew what he wanted and he knew what I wanted and I knew that he was going to be willing to buy in. It takes time to develop that trust between athlete-trainer, athlete-coach. Obviously it was a little bit of trepidation there in that I only have X amount of time to get this thing right. 'OK, I got this, OK, we're going to get it done.'
"He understood what I was trying to get done, which was the exact opposite of what he had been hearing from so many different people. He just had to trust the process."
It began with making Warford, who weighed 343 pounds at Kentucky, leaner. Using a system without intense treadmill or high-impact aerobic workouts -- a system Bentley won't divulge -- he systematically made Warford thinner, stronger and more NFL-ready.
This helped impress scouts, general managers and coaches leading up to the draft. The weight shift also gave Bentley something to work with when Warford needed to transition to football training from the time organized team activities ended until training camp.
Among those who noticed were the Lions, who coached Warford during the Senior Bowl. After the game, he became a priority target. They drafted him hoping he'd one day be a starter.
The two months from OTAs to training camp shifted the timetable. Warford contended right away. He was able to compete because of small technical tweaks suggested by Lions offensive line coach Jeremiah Washburn during OTAs, and then again by Bentley when they resumed working out in Arizona.
"I was taking too big a step just off my first kick," Warford said. "I was really shifting my balance too much from one side to the other.
"All my weight would be distributed to my outside foot, so that would get me off-balance. You really don't notice it until somebody else says something to you. Even on film, it's hard to say, 'Am I really doing that?' Because you really can't tell."
Washburn and Bentley stayed in touch during the summer, exchanging text messages about Warford's progress. By the time Warford started camp, Washburn said Warford was more focused. More intent.
[+] Enlarge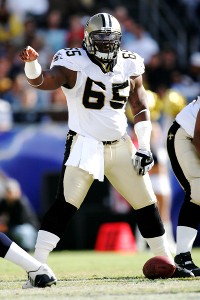 AP Photo/David DrapkinLeCharles Bentley was a two-time Pro Bowler with New Orleans.
Bentley said that unlike a lot of other young players, Warford started working harder once he was drafted instead of relaxing. Part of his early success, too, has to do with Warford playing next to veteran center
Dominic Raiola
, who helps teach toughness and professionalism to the rookie.
It was similar to an experience Bentley had as a rookie right guard playing next to Jerry Fontenot in New Orleans.
Both Washburn and Bentley credited each other for helping with the transformation of Warford into a player who has taken every snap for Detroit already this season.
"We did notice a big change in him when he came back in training camp as far as attitude, body," Washburn said. "Again, spending those however-many weeks in Arizona with LeCharles made a big difference.
"Then just his attitude, we knew he was going to make a significant push."
When Warford arrived at Bentley's facility after OTAs, he mentioned that the speed of everything overwhelmed him. So Bentley started to explain what he needed to do and how it would be counter to his likely plan of action.
Warford needed to give himself more space instead of crowding into a defensive lineman. It may not seem like much, but the one-to-two-tenths of a second Warford buys by stepping back to read what is going on has contributed to his success thus far.
"You have to literally think about your step, just take a step, take a step, shorten it, shorten it, shorten it," Warford said. "It has to get to where you have to do it so many times that you don't have to think about it anymore, you just have to do it. 'OK, that's it.'
"It's such a simple fix, but it makes the biggest of differences. That's the crazy thing about [the] offensive line. It's the subtle things that make the biggest differences."
One of the subtleties goes back to Bentley's initial plan -- to help Warford drop weight. Once Bentley changed his client's weight (he's now at 333 pounds), he knew Warford had the body type, the hip explosion and the skills to become a quality NFL offensive lineman.
Warford will have to watch his weight his whole career, but here's the scary part for opponents. What Detroit is seeing now could be the beginning.
"Larry is, he's a sports car naturally. Genetically, that's what he is," Bentley said. "But he just had this dump-truck frame. He's a guy that if you remove layers of what's presented to you, more and more of that sports car is going to come out.
"The really cool thing about Larry is he's not even near where he's going to be as he continues to grow in the NFL in terms of body composition. This is just the first year."
January, 14, 2013
1/14/13
4:00
PM ET
Let's update
our earlier post
on the
Detroit Lions
coaching staff. The team has announced replacements for the three assistant coaches that departed earlier this month. The news leaves only their special-teams coordinator position to be filled; it opened Monday when Danny Crossman departed to join the
Buffalo Bills
in a similar capacity.

A closer look at the changes:
Coach:
Running backs/running game coordinator Curtis Modkins
Came from:
Buffalo Bills, where he was offensive coordinator/running backs from 2010-12.
Comment:
The Bills ranked fifth in the NFL last season in average yards per rush (5.0) and sixth in rushing yards (2,217).
Coach:
Tight ends coach Bobby Johnson
Came from:
Jacksonville Jaguars
, where he was the tight ends coach in 2012
Comment:
Johnson has spent most of his career as a college tight ends or offensive line coach.
Coach:
Offensive line coach Jeremiah Washburn
Came from:
Was the Lions' assistant offensive line coach from 2009-12.
Comment:
He is the son of longtime NFL assistant Jim Washburn.
Coach:
Wide receivers coach Tim Lappano
Came from:
Was the Lions' tight ends coach from 2009-12.
Comment:
Being entrusted with coaching
Calvin Johnson
is a prized promotion.