November, 7, 2013
Nov 7
12:00
PM ET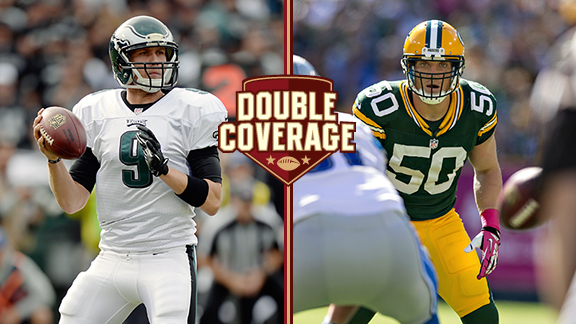 Getty ImagesNick Foles and A.J. Hawk meet Sunday in Green Bay in a game that's turned in the Eagles' favor.
If you expected the
Philadelphia Eagles
to have the edge at quarterback for their Week 10 meeting against the
Green Bay Packers
at Lambeau Field, go to the head of the class.
The teams play Sunday, a week after their quarterbacks made headline news. The Pack's
Aaron Rodgers
broke his collarbone in Monday night's loss to the
Chicago Bears
, a day after the Eagles'
Nick Foles
tied the NFL record with seven touchdown passes against the
Oakland Raiders
.
A game that looked to be safely in the Packers' column is suddenly wide open. NFC North aficionado and all-around NFL expert Kevin Seifert breaks down the game with ESPN.com Eagles reporter Phil Sheridan.
Phil Sheridan:
I'll start with the obvious one: Can the Packers win without Rodgers? Did they take his durability for granted in not having a better backup in place?
Kevin Seifert:
On a local level, the backup quarterback has been an annual source of controversy for the Packers throughout Rodgers' career as a starter. Nationally, most people didn't find out about it until Monday night.
Seneca Wallace
is the backup only because he was available when they realized none of the players they took to training camp was up to the job. He is 6-15 in his career as a starter, and his career seemed over in August 2012 when the
Cleveland Browns
released him.
The Packers' entire scheme is built around Rodgers doing things that only Rodgers can do. Think of what happened when the
Indianapolis Colts
played without
Peyton Manning
in 2011. The Packers will need to make fundamental changes to their offense -- and expect substantial elevation in other areas of their team -- to make it through this wilderness.
I have to imagine the Eagles can't believe their luck to be facing Wallace instead of Rodgers, huh?
Sheridan:
They are saying all the right things about wanting to face the best and never wanting to see anyone get hurt, but they aren't oblivious. This game looked like a double-digit loss the day the schedule came out, and it still looked like an easy Packers home win until Rodgers' collarbone broke Monday night. So it not only becomes a winnable game for the Eagles, it comes when a win, combined with a Dallas loss (the Boys are in New Orleans), would move them even with the Cowboys at 5-5.
And it's not like the Eagles owe anybody an apology when it comes to luck. They haven't had a quarterback start and finish two games in a row since September, and they've been down to
Matt Barkley
twice.
They may not have a starter as good as Rodgers, but their backup isn't half bad. Foles threw for seven touchdowns Sunday against an Oakland defense that didn't blitz or, at times, even cover receivers. Given Dom Capers' background, how would you expect him to respond to a challenge like this?
Seifert:
Capers is known for major scheme changes from week to week, depending on matchups. But as usual, the Packers are dealing with injuries that will limit his options. They are down four linebackers at the moment, although the Packers are hopeful that
Clay Matthews
can return soon -- if not Sunday -- and play with a club to protect his broken thumb.
In short, I'm not sure how many options Capers will have. He does have a group of talented cornerbacks --
Tramon Williams
,
Sam Shields
,
Casey Hayward
and
Davon House
. Capers will have to hope that they can stick with the Eagles' group of perennial All-Pros and future Hall of Famers better than the Raiders did.
Are the Eagles' receivers really that good?
Sheridan:
If they are, they have managed to keep that greatness a secret until Sunday in Oakland.
DeSean Jackson
is a dynamic player, no question about that, but he has been taken out of games in the past when cornerbacks get physical with him. The Raiders did not, and Jackson went off.
As for
Riley Cooper
and
Jason Avant
, they have not made up for the loss of
Jeremy Maclin
to a torn ACL during training camp. Cooper had great numbers Sunday -- five catches, three touchdowns, 139 yards -- but he has been neutralized more often than not during the season.
Tight ends
Brent Celek
and
Zach Ertz
had big numbers at Oakland too. So either the Eagles offense really turned a corner or the Raiders just didn't have anyone playing corner. Maybe a bit of both.
The Packers have added a more robust running game to their offense this season. Now that Rodgers is hurt, can
Eddie Lacy
& Co. carry the team until the quarterback is back? Is that even possible in this pass-happy league?
Seifert:
I tend to doubt it. Up until Monday night's game against the Bears, much of the Packers' success in the run game came against light boxes (six men or fewer) designed to focus first on the pass, according to the charting we get from ESPN Stats & Information. The Bears brought a safety into the box Monday night and the Packers still rushed for 199 yards, but we should note that the Bears have the NFL's fourth-worst rush defense this year.
And even when you run successfully, it usually takes longer to score and thus your total points can drive down. The Packers were averaging 30 points per game before scoring 20 Monday night against the Bears.
How do you think the Eagles will approach it? Eight men in the box? Nine? How about 11?
Sheridan:
This sets up a bit like the Tampa Bay game, I guess.
Mike Glennon
was making his second start, and the Bucs' passing game was not expected to be a big threat. The Eagles focused on shutting down
Doug Martin
, and they did, holding him to 67 yards on 16 carries. It helps, of course, to get a lead and force the opponent to throw the ball more.
All season, the Eagles' focus has been to stop the run while limiting big pass plays downfield. That made them vulnerable to intermediate passing and runs after the catch. Tampa Bay's
Vincent Jackson
, for instance, had nine catches for 114 yards and two touchdowns while the Eagles were focused on Martin.
That has to be the Packers' blueprint for success. If Wallace can get the ball out quickly and catch
Jordy Nelson
and
Andrew Quarless
in stride, the Packers can move the ball. The Eagles are better at tackling and covering underneath than they were, but there's opportunity there.
January, 9, 2011
1/09/11
11:31
PM ET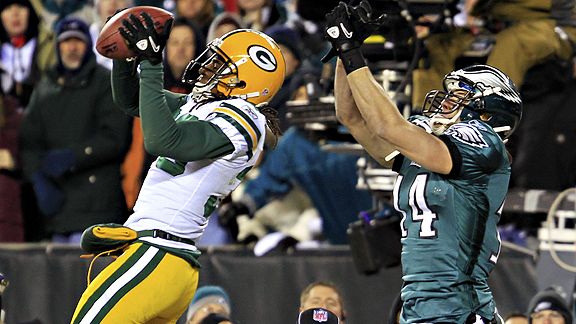 Chris Trotman/Getty ImagesPackers cornerback Tramon Williams' interception sealed Green Bay's 21-16 win over the Eagles.
PHILADELPHIA -- Forty-four seconds remained Sunday at Lincoln Financial Field. The
Philadelphia Eagles
were out of timeouts but only 27 yards away from a potential winning touchdown. Big-play receivers
DeSean Jackson
,
Jason Avant
and
Jeremy Maclin
were spread out, from right to left, across the formation.
Green Bay Packers
cornerback
Tramon Williams
, however, found himself lined up against reserve receiver
Riley Cooper
, a 6-foot-3 backup who caught only seven passes during the regular season and had been targeted on only two end zone throws. At the snap, Cooper began running a half-speed go-route that looked for all the world like a backside decoy. Surely, the Eagles wouldn't look his way and ignore their big-play trio.
Williams wasn't buying it, and the reason helps explain why the Packers were in position to take
a 21-16 wild-card playoff victory
.
"We watched these guys on film and they do a lot of that," fellow cornerback
Charles Woodson
said. "You have to pay attention to them. A lot of their deep routes, they kind of come off lackadaisical and then they take over. ... Maybe he tried to put Tramon to sleep. But obviously Tramon woke up pretty early this morning."
Indeed, Vick took a chance that Cooper could outjump Williams for the ball. But Williams calmly turned around, established position and intercepted the ball to clinch the game. That play is the best way I can illustrate why the Packers advanced to Saturday's divisional playoff round against the
Atlanta Falcons
. Unlike their 2009 postseason flameout, the Packers have both the skill and the scheme to play elite-caliber defense in the playoffs.
Their cornerback depth dropped off significantly beyond Woodson last season, and it showed in a 51-45 wild-card loss to the
Arizona Cardinals
. Sunday, however, Williams was the best pure cover man on the field. And the Packers' film study last week had prepared him for the exact situation he faced in the most crucial situation of the game.
"We know what kind of team we are," Williams said. "That's the frustrating part when you go out and put a performance up like the Arizona game last year. We came back this year and learned from it. We were put in a position to win the game by making a play defensively, and we won it."
A week ago, we
put some pressure on the Packers' offense
to step up after it managed 10 points in a playoff-clinching victory over the
Chicago Bears
. Against the Eagles, tailback
James Starks
broke through for 123 rushing yards and quarterback
Aaron Rodgers
threw three touchdown passes. It might not have been the kind of explosive performance that fantasy players have come to hope for from the Packers' offense, but it was more than enough for a Packers defense that has been remarkably stout all season.
The Packers, in fact, have scored at least 21 points in 10 games since the start of the regular season. They've won nine of them, thanks to a defense that has come of age.
[+] Enlarge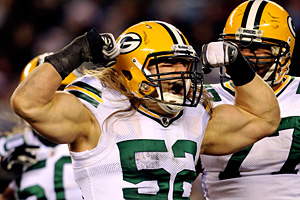 Al Bello/Getty ImagesIn 2009, New England traded the pick that became Clay Matthews and ended up with Darius Butler instead.
"We've had some ups and downs on this roller coaster of a year," said linebacker
Clay Matthews
. "But hopefully we're peaking at the right time. ... You can say we're dangerous, but we're just playing at the level that we know how. It shouldn't surprise anybody the way we played."
Yes, Williams' interception was but the pinnacle in an all-day harassment of the Eagles' offense. It began on the first play from scrimmage, when linebacker
Desmond Bishop
broke free on a blitz and sacked Vick for a 9-yard loss. It continued with Matthews' embarrassment of right tackle
Winston Justice
, a one-sided slaughter so severe the Eagles finally benched him in the fourth quarter.
Vick threw for 292 yards and rushed for 33 more, but the bottom line for any defense is points. The Eagles' point total was 40 percent below their season average of 27.4, and it's worth noting that one of their two touchdowns came after they recovered a Rodgers fumble at the Packers' 24-yard line in the third quarter.
"We knew coming in that we wouldn't stop Vick," defensive lineman
Ryan Pickett
said. "We just wanted to contain him. We always said, 'Make him earn every yard.' That was our thing coming into the game. I think that's what we did. ... He was pretty beat up by the end of the game. We got some licks on him. Vick is a tough guy. We got to him a lot. Our coaches did a lot to mix him up and confuse him."
And so it's instructive to look at how Packers defensive coordinator Dom Capers approached Vick.
From the outside, it appeared the Packers' overriding goal was to give Vick as many different looks as they could.
"You've got to use all of your calls in a game like this," Woodson said.
According to ESPN Stats & Information, the Packers used at least five defensive backs on 57 of the Eagles' plays. (The other three came in short-yardage packages.) That personnel usage was almost identical to the teams' Week 1 meeting, a 27-20 Packers victory in which they used at least five defensive backs on every defensive snap, but they blitzed considerably more Sunday.
Within that nickel scheme Sunday, Capers offered every combination imaginable. He sent at least five pass-rushers on 41.9 percent of Vick's dropbacks. On eight plays, Capers rushed three or less men. Vick completed six of eight passes against that look, but I would argue the variety paid dividends in the long run.
"You can't bring pressure every time," Matthews said. "He's going to pick you apart. You can't drop into coverage every play. He's going to do the same thing. So what we had was a good balance of both."
I'm not letting the Packers' offense off the hook here. It'll need to do its part. But what the Packers demonstrated Sunday was simple. They are playing a brand of defense that can lead the way in a playoff game and -- provided adequate support -- win every time.
That's a combination that could take a team places. Next stop for the Packers: the Georgia Dome.
April, 13, 2009
4/13/09
10:30
AM ET
Posted by ESPN.com's Kevin Seifert
We brought you the first-round highlights of Mel Kiper's latest mock draft last week. Of course, the exercise left out a Chicago team that gave up its first-round pick in the Jay Cutler trade. But Mel's mock extended four rounds, giving us the opportunity to discuss the receiver he selected for the Bears in the second round with the No. 49 overall pick.
| | |
| --- | --- |
| | |
| | Kevin C. Cox/Getty Images |
| | Mel Kiper Jr. has the Bears selecting Georgia receiver Mohamed Massaquoi. |
Like every other NFL team, the Bears plan to draft the best available athletes. But it is the assumption of many people that they -- Surprise! -- will just so happen to have a receiver at the top of their draft board when the No. 49 pick rolls around.
When you look at it, receiver is the Bears' last remaining area of need on offense after revamping the offensive line and upgrading at quarterback. (We'll save their defensive personnel for another day.)
Kiper has the Bears selecting Georgia receiver Mohamed Massaquoi, a reliable and big-framed pass catcher who would complement Devin Hester nicely. Massaquoi figures to develop into a strong possession receiver and received stellar grades from Scouts Inc. for his toughness, durability and character.
You need an Insider subscription to see the entire mock draft. But for those of you who are interested in draft strategy, I can tell you Massaquoi was the eighth receiver taken in this mock. The following were already off the board at No. 49:
Texas Tech's Michael Crabtree
Missouri's Jeremy Maclin
Maryland's Darrius Heyward-Bey
Rutgers' Kenny Britt
North Carolina's Hakeem Nicks
Florida's Percy Harvin
Ohio State's Brian Robiskie
Massaquoi is one of numerous receivers the Bears have worked out privately in recent weeks, although his came after the Cutler trade altered the Bears' draft status. Massaquoi was a team captain at Georgia, graduated in December and has excellent size at 6-foot-1 1/2 and 210 pounds. Here's how Scouts Inc. evaluated his competitiveness and toughness:
Willing to go across the middle and has shown ability to hold onto ball after taking a big hit. A physical blocker that works hard to sustain. Does a good job of throwing blocks for other receivers and flashes ability to deliver a knockout blow on crack-back blocks.
I always caution people against "shopping" for draft picks. The way a player performed in college is not always an indication of his pro potential. Sometimes "possession receiver" translates into "slow" in the NFL. (Massaquoi ran a 4.66 in the 40-yard dash at the scouting combine.)
But no player available at No. 49 overall is a perfect prospect. Massaquoi, who caught 58 passes last year for the Bulldogs, likely will be the type of player -- if not the player -- the Bears wind up targeting.
April, 9, 2009
4/09/09
1:00
PM ET
Posted by ESPN.com's Kevin Seifert
You've been waiting for it, and now it's here: ESPN legend Mel Kiper Jr. is offering up a four-round mock draft for Insider subscribers. It's behind the pay wall of ESPN.com, but since I like you guys so much, I'll steal some the high-profile NFC North picks for Black and Blue readers (just keep 'em to yourselves).
(Remember, Chicago doesn't pick until No. 49 overall because of the Jay Cutler trade.)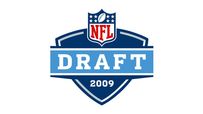 DETROIT LIONS
No. 1 overall: Georgia quarterback Matthew Stafford
No. 20 overall: Mississippi offensive lineman Michael Oher
My 1.5 cents: Kiper has been all about Stafford for months, so that's no surprise. But Oher at No. 20 would be a pretty nice catch. And, for all you Lions fans who want a linebacker at that spot, let's just say Mel has a certain Ohio State player who backs up the line landing in Detroit during the second round.
GREEN BAY PACKERS
No. 9 overall: Boston College defensive tackle B.J. Raji

My 1.5 cents: Nose tackle is one of the few defensive positions the Packers seem to have locked down with Ryan Pickett. But general manager Ted Thompson has always been about taking the best player. Raji is a force. Kiper has the Packers addressing the offensive line in Round 2. Packer types: I'd like to follow-up on Raji in a future post. Your thoughts?
MINNESOTA VIKINGS
No. 22 overall: Rutgers receiver Kenny Britt

My 1.5 cents: For whatever reason, everyone seems to think the Vikings will take a receiver with their first pick. In this scenario, Britt is the best available with Missouri's Jeremy Maclin and Maryland's Darrius Heyward-Bey off the board. Arizona offensive lineman Eben Britton is also available here.
April, 8, 2009
4/08/09
6:50
AM ET
Posted by ESPN.com's Kevin Seifert
Chicago remains abuzz about the Bears' prospects for adding a veteran receiver to go along with new quarterback Jay Cutler.

Coach Lovie Smith didn't rule out the possibility of pursuing Torry Holt or Plaxico Burress, although the agent for Holt recently told Brad Biggs of the Chicago Sun-Times that he doubted Holt will visit the Bears. Holt played for St. Louis when Smith was the Rams' defensive coordinator, and Smith told reporters Tuesday that Holt is a "great player, great guy." His comments on Burress were less expansive, according to Vaughn McClure of the Chicago Tribune.
Smith: "Would we like to get another receiver? Possibly. As for how we'll get it, free agency or the draft, we really don't know."
The Tribune's David Haugh suggests the Bears back off any interest in Burress: "Burress coming to town would be bad for everybody around here, except possibly bail bondsmen."
The Bears continue to seem more likely to pursue a receiver in the draft. According to the Sun-Times, receivers coach Darryl Drake put Oklahoma receiver Juaquin Iglesias through a private workout Tuesday. Drake is scheduled to work out Georgia receiver Mohamed Massaquoi on Wednesday. Both players are candidates for the Bears' second-round selection.
Continuing around the NFC North:
March, 29, 2009
3/29/09
9:30
AM ET
Posted by ESPN.com's Kevin Seifert
Team needs: Receiver, safety, right tackle
Dream scenario: Chicago's personnel deficiencies at receiver all but mandate a significant commitment in the draft, starting with the No. 18 overall pick.
| | |
| --- | --- |
| | |
| | Icon SMI |
| | Jeremy Maclin could provide an immediate upgrade to Chicago's receiving corps if he were available at No. 18. |
At this point, it's possible that only one receiver -- Texas Tech's
Michael Crabtree
-- will be off the board when the Bears jump on the clock. That means Chicago will have its choice of Missouri's
Jeremy Maclin
, Maryland's
Darrius Heyward-Bey
, North Carolina's
Hakeem Nicks
, Rutgers'
Kenny Britt
, Florida's
Percy Harvin
and others. Grabbing the best of that remaining group at No. 18 would address a huge need at an appropriate value. Receivers don't often contribute immediately, but that's not always an expectation for a player drafted in the second half of the first round.
Plan B: I don't see a scenario in which the Bears won't have their choice of at least two of the receivers noted above. But some teams avoid drafting receivers in the first round because they are not always ready to contribute right away. If the Bears follow that thinking, they might look toward the offensive line or possibly trade down to explore the safety market in the second round. If they decide to go the route of an offensive lineman, the Bears might hope for Mississippi tackle Michael Oher or Arizona tackle Eben Britton to be available.
Scouts Inc. take: I think they need a receiver and I like the idea of a bigger guy like Hakeem Nicks. Harvin doesn't make as much sense for the Bears because what he does is a lot like what Devin Hester tries to do. To have a bigger guy like Hicks makes more sense on the opposite side. The receiver position is the toughest position to draft and develop. But I don't think they'll draft a receiver. That's the history of their general manager, Jerry Angelo. If I were them, I would be hoping that a tackle like Michael Oher from Mississippi would fall to them. That would be more of a Jerry Angelo type of pick. -- Jeremy Green
Who has final say: Jerry Angelo enters his eighth draft as the Bears' general manager.
Now On the Clock: New York Jets, March 30.
Previous On the Clock: Tampa Bay Buccaneers. The team-by-team series.
March, 27, 2009
3/27/09
6:02
PM ET
Posted by ESPN.com's Kevin Seifert
I thought ESPN draft analyst Todd McShay conducted an interesting exercise earlier this week on "SportsCenter": How would the first round of the draft be impacted if Detroit passed on Georgia quarterback Matthew Stafford and selected Baylor offensive tackle Jason Smith instead?
(Many of us think that's the likely scenario, but now's not the time for boasting.)
You need an Insiders subscription to view the entire version of this mock draft, but I'm authorized to let you know where the Black and Blue falls. Take a look:
No. 1 overall: Detroit takes Smith

No. 9 overall: Green Bay takes Penn State defensive end Aaron Maybin. Alabama offensive tackle Andre Smith is still on the board at this point.
No. 18 overall: Chicago takes Maryland receiver Darrius Heyward-Bey. Missouri receiver Jeremy Maclin and Florida receiver Percy Harvin are both off the board.

No. 20 overall: Detroit takes Oklahoma tight end Brandon Pettigrew. Kansas State quarterback Josh Freeman is off the board at this point, if you were wondering.

No. 22 overall: Minnesota takes Arizona offensive tackle Eben Britton, who could fit in at right tackle.
Discuss.
March, 6, 2009
3/06/09
10:30
AM ET
Posted by ESPN.com's Kevin Seifert
You know it's starting to be draft season when Mel Kiper Jr. starts adjusting the Big Board. You can view Kiper's updated ranking of the top 32 players here, but for your convenience -- and especially for those with interest in Detroit (No. 1 overall) and Green Bay (No. 9) -- here is Kiper's 10 best players in the draft as of Thursday night:
Wake Forest linebacker Aaron Curry

Texas Tech receiver Michael Crabtree

Georgia quarterback Matthew Stafford

Baylor offensive tackle Jason Smith

USC quarterback Mark Sanchez

Texas defensive end/linebacker Brian Orakpo

Virginia offensive tackle Eugene Monroe

Missouri receiver Jeremy Maclin

Boston College defensive tackle B.J. Raji

Alabama offensive tackle Andre Smith
A few thoughts:
This is not a mock draft that predicts who will draft whom. It's simply Kiper's ranking of the best players.
Like many observers after the combine, Kiper now considers Curry the draft's best player. There have only been two linebackers taken No. 1 overall since the 1970 merger. Will Detroit make Curry the third?
Kiper now ranks Stafford ahead of Sanchez but is giving the latter more love than a lot of analysts. Sanchez didn't have a scintillating combine and his experience remains a question mark.
Andre Smith now ranks as Mel's 10th-best player, but the bigger question is how many teams will be scared away by his character questions.