NFC North:

Jerry Angelo fired
January, 3, 2012
1/03/12
6:05
PM ET
By nature, the
Chicago Bears
' decision
to fire general manager Jerry Angelo
leaves them a substantively different organization Tuesday evening. The general manager establishes a long-term football vision for every franchise, and the Bears' will change based on whom they hire to replace Angelo.
With that said, Bears officials took great pains during a news conference to insist that the nature and structure of the franchise will remain intact. Team president Ted Phillips said that the new general manager will have the same role and authority that Angelo did, including supervision of the head coach, and new chairman George McCaskey denied being the catalyst for Angelo's ouster.
Earlier Tuesday, we wondered if this episode signaled a new era of Bears ownership after more than a decade of hands-off rule. But unless McCaskey was telling a bald-face lie Tuesday, this was not the case of a trigger-happy new sheriff.
"I said when I became chairman that I didn't feel any particular need to place a personal stamp on the Bears," McCaskey said. "[M]y job was to work with and support the CEO and that's what happened in this case. Ted consulted with me. I supported his decision."
In the end, the Bears weren't looking to effect a culture change after missing the playoffs for the fourth time in the past five years. Instead, Phillips said, they are just looking for a way to get better players.
"We want to close that talent gap with our division rivals," Phillips said, "and that's why that decision was made."
Phillips wouldn't go into a point-by-point assessment of Angelo's shortcomings, but he did say that the Bears need better success at the top of the draft. Only two of Angelo's first-round draft picks remain part of the organization, and both -- tackle
Gabe Carimi
and guard
Chris Williams
-- finished the season on injured reserve.
Angelo deserves credit for some of his mid-draft selections, including receivers
Earl Bennett
and
Johnny Knox
. But in the past six drafts, the Bears have selected only three players who have made the Pro Bowl: Running back
Matt Forte
, returner
Devin Hester
and Knox, who was originally an alternate and made it as a returner in 2009.
Phillips will conduct the search for a new general manager, making clear to all candidates that coach Lovie Smith will remain in his job. Smith is not a candidate to be elevated, Phillips said, and Angelo assistant Tim Ruskell will operate the personnel department in the interim.
Who knows where this search will take the Bears. Phillips said he is still accumulating a list of candidates and is willing to spend a month or longer on the process. But if you were hoping the Bears would clean house or make a dramatic show of change after their disappointing finish, well, they've fallen short of your expectation. Their basic structure and many of the components remain in place. Only the identity of the general manager will change.
January, 3, 2012
1/03/12
11:43
AM ET
Now that we know the
Chicago Bears
will move on without general manager Jerry Angelo but will retain coach Lovie Smith, the next question is natural: Who will take the top front-office leadership position?
We should be careful about assuming that person will be a traditional general manager, not with the Bears operating under a new chairman (George McCaskey) for the first time in nearly 30 years. At the very least, however, someone will have to run the personnel department and head up draft preparations. The first option would seem to be Tim Ruskell, a close friend of Angelo who joined the team in 2010 as director of player personnel.
Ruskell's arrival after five years as the
Seattle Seahawks
' president of football operations
seemed like a succession plan for Angelo's eventual retirement
. But Angelo didn't retire Tuesday. He was fired, and that wouldn't bode well for anyone in the front office with close associations to him.
Ruskell's candidacy depends on the extent to which the Bears want to change their front-office culture. He would be a different leader than Angelo, but his ascension wouldn't qualify as a game-changer. His ties to Angelo and their similar philosophies date back to their time together decades ago with the
Tampa Bay Buccaneers
.
On the other hand, there is NFC North precedent for the right-hand man of a fired general manager to be promoted. That's exactly what the
Detroit Lions
did after firing Matt Millen in 2008. Current general manager Martin Mayhew had been Millen's assistant for seven years.
Bears president Ted Phillips will address the situation at a 5 p.m. ET news conference.
January, 3, 2012
1/03/12
11:21
AM ET
It appears the Chicago Bears will stop short of a complete overhaul after firing general manager Jerry Angelo early Tuesday morning.

The team
announced on its website
that coach Lovie Smith "will remain as head coach and continue to evaluate his coaching staff." Smith is under contract through the 2013 season, as Angelo was.
The Bears have called a late-afternoon news conference to discuss Angelo's departure. Regardless of what the Bears decide for Smith in 2012, nothing will change the fact that he will soon be working for a general manager who didn't hire him. That's not typically a recipe for long-term security among NFL head coaches.
January, 3, 2012
1/03/12
10:36
AM ET
A week or two ago, I was discussing the future of the
Chicago Bears
with a friend. We started with the obvious -- whether offensive coordinator Mike Martz would return -- then moved up the ladder a bit. Was there any chance of a bigger shake-up after the Bears missed the playoffs in four of the five seasons since appearing in Super Bowl XLI?
[+] Enlarge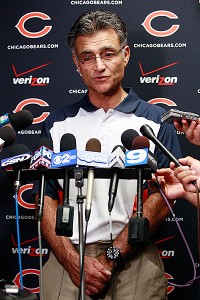 AP Photo/Nam Y. HuhJerry Angelo had run the Bears' football operations since 2001.
Under the McCaskey family, we agreed, the Bears have been a methodical and slow-moving organization that wasn't prone to emotional reactions. But in a development that didn't register with enough people this past year, a new McCaskey assumed leadership in the summer. George McCaskey, the younger and more involved brother of former chairman Michael McCaskey, is now ultimately responsible for the team.
We'll find out soon whether it was George McCaskey
who fired Jerry Angelo on Tuesday
or whether the parting was mutual. But make no mistake: One of the NFL's most stable franchises has jumped into uncertain waters for the first time in a decade. The move is a surprise mostly because it came from the Bears. Angelo's 11 seasons are more than most NFL franchises give their general managers.
Angelo has run the Bears' football operations since 2001. He hired coach Lovie Smith in 2004, and together they have one of the longest tenures of any football leadership structure in the NFL. Angelo's departure leaves every aspect of the Bears' program under review, including Smith, and there is no telling where that might lead. Smith signed a contract extension last winter through the 2013 season, but after today he won't be working for the person who hired him. That situation rarely bodes well for a head coach, at least in the long term.
We'll get more into Angelo's time with the Bears as the day progresses. Suffice it to say, it will go down as a mix of on-the-field success and front-office missteps, including a series over the past calendar year that suggested Angelo's regime was lively but disorganized. A botched draft-day trade with the
Baltimore Ravens
, the failure of free-agent signings
Chester Taylor
and
Brandon Manumaleuna
, (which cost the McCaskey family about $12 million for nearly no production) and the arrest of receiver
Sam Hurd
on federal drug distribution suspicion were the latest examples. Eventually, those things pile up.
More to come.