November, 7, 2014
11/07/14
10:00
AM ET
EDEN PRAIRIE, Minn. -- Concluding our Q&A with
Minnesota Vikings
coach Mike Zimmer (here's
part 1
and
part 2
):
What has your working relationship been like with [general manager] Rick [Spielman] and the Wilfs?
Zimmer:
Really good. Really good. I don't talk to Mark and Zygi all that much -- every Monday after the game we talk, after the game, I see them and stuff like that, and sometimes before the game, but that's really about it. But they've been, with everything, anything I've asked for, they've been accommodating. Rick has been really good. We'll sit down and talk; we'll watch film together, we'll watch the game tape after the game together. It's actually been pretty easy. That part has been easy.
[+] Enlarge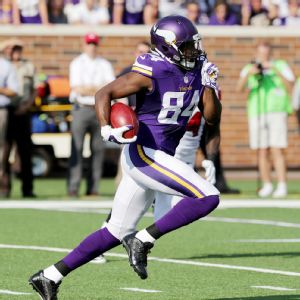 AP Photo/Jim MoneCordarrelle Patterson has had problems playing at a consistently high level.
Was that a big adjustment for you -- being more involved in the higher-level stuff with management?
Zimmer:
Not too much, because in Dallas, Jerry Jones was pretty involved. And then in Cincinnati, I met with Mike Brown every Monday. He was involved in all the draft meetings and everything. He was at practice every single day. It really wasn't that much different.
At least watching from the outside, it seems like your working relationship with Rick is pretty good -- it seemed like you were kind of able to say, 'Here's what I need to be successful,' and he was able to go get it. Is that how it's worked?
Zimmer:
Yeah, and he's said, when he goes on the road now and looks at these college guys and stuff, even now, in watching how we play and the things we do, I think he's getting a better idea of what we need. Everything happened so fast before the draft -- getting here in January and all that, and trying to evaluate. Now, [Scott] Studwell and George Paton and Rick, when they're watching the tape and seeing how we play, the things we do and the techniques we're teaching, I think they have a good idea of that. It's never going to be 100 percent agreement on everything, but from watching the defensive players for so long, I have a good idea -- now, I'm wrong a lot, too, and we all are -- but I think the core characteristics that we're looking for in guys are easier to spot when you've been watching the tape.
In terms of getting all the pieces you need and guys that are perfect fits in your system, is it hard to expect that to happen in a year? Do you think it takes a couple cycles of player acquisition to get everything you need?
Zimmer:
I don't ever look at it like that, because I think I'm a pretty good coach, and I can coach guys into doing it. Like,
Josh Robinson
, I think he's had a pretty good half so far. I think when guys learn the techniques we're trying to teach, they can improve. That's all I've ever tried to do, is improve players -- whoever they are, whoever we have at the time -- and then worry about the next year and figure out how we can get other guys in here. My job is to take each player and make them better every day.
You mentioned Cordarrelle [Patterson] a little bit [in your Tuesday news conference]. Is he still figuring out what you guys want from him, or is it a matter of being consistent in practice every day? What's the summary of where he's at right now?
Zimmer:
It's not so much the consistency in practice, because I think he's doing a lot of good things in practice. It's maybe the consistency in the game a little bit more. That's really it -- it's being consistent, running the same route all the time, being at the same depth, running the same release, so that everybody is on the same page. That's really what it's about.
When he got here, of course, he hadn't played a lot of football. Is it something that just takes time for him to learn all the nuances of the game?
Zimmer:
Yeah, and it's different for every player.
Anthony Barr
is coming here as a young guy that's learned a lot of things in a short amount of time, and some guys take a little bit longer. That's always how it's been. I've had some really great players that, in their third year, they start really coming on and figuring it out -- guys that have probably played more football than [Patterson] did. As long as they work, and they want to do the things the right way, and continue to do it good -- and I think he does. That's why it was good last week [against Tampa Bay] that he had some success. We've just got to keep trying to get him maintaining the consistency level.
You've mentioned you haven't been paying a whole lot of attention to Adrian Peterson's legal status. If he comes back, is it hard to put him back in the system when it's been this long?
Zimmer:
I think it all depends on the guy a little bit. Each person is different. I've had a player tear his Achilles, and the first day back, he remembers everything and how to do it. And then you have other guys that will come back, and you have to re-teach their steps and technique -- everything. I think everything's different with every player.
August, 28, 2014
8/28/14
4:01
PM ET
MINNEAPOLIS -- Here's what we know about
Adrian Peterson
's phone call with Jerry Jones, based on
ESPN senior writer Don Van Natta's story
and the running back's statement after the piece was published on Thursday afternoon: Jones was handed a phone in his suite at AT&T Stadium on the night of George Strait's final concert. He talked with Peterson for several minutes, and confirmed to Van Natta after the call that Peterson told him he's interested in playing with the Dallas Cowboys at the end of his time with the
Minnesota Vikings
.
Jones
Peterson
The point at which Peterson's tenure in Minnesota ends is, mostly, up to the Vikings, who have him under contract through the 2017 season and could release him after next season with just a $2.4 million cap hit. So in the meantime, the main question before us is this: Does a casual conversation between a high-profile player and an opposing team official, expressing mutual admiration and general talk about the possibility of working together at a future date, constitute tampering?
NFL rules say if a team is contacted by a player under contract with another club, "the contacted club must immediately report such contact to the owner or operating head of the club which holds the player's rights." Jones told Van Natta he did not contact the Vikings, has not talked with Peterson since the call and did not consider the exchange to constitute tampering. A precedent established six years ago might support his point.
Back then, of course, the Green Bay Packers filed tampering charges against the Vikings for former coach Brad Childress and offensive coordinator Darrell Bevell's contact with Brett Favre while the quarterback was weighing his options during the summer of 2008. Favre eventually decided to play, was traded to the New York Jets and wound up with the Vikings a year later, but the NFL dismissed the Packers' tampering claim on the grounds that neither Favre nor the Vikings were soliciting one another.
Were the Vikings to file tampering charges against the Cowboys, they might have a stronger case to make because of Jones' on-the-record confirmations that Peterson expressed interest in playing for the Cowboys and the owner did not report the conversation to the Vikings. But as far as we know, it's not as though Peterson told Jones to trade for him this season, or Jones promised Peterson a job if he should ever leave Minnesota.
A Vikings official would not comment on whether the team would file a tampering claim against the Cowboys, saying the club would defer to the NFL. Peterson has
mused openly about the possibility of playing in Texas
before, and his phone call with Jones represents a more direct version of those thoughts. If the NFL were to apply the same standard to this phone call that it did to the Vikings' 2008 talks with Favre, though, the Cowboys might not face repercussions for Jones' decision not to report the conversation to Vikings owner Zygi Wilf.
December, 12, 2013
12/12/13
10:00
AM ET
IRVING, Texas -- The
Green Bay Packers
and
Dallas Cowboys
are two of the most storied franchises in NFL history, but with three games to play in the 2013 season both are on the outside of the playoff chase and in need of a win.
The Packers have fallen on hard times without
Aaron Rodgers
but won last week against the
Atlanta Falcons
. The Cowboys are coming off a humiliating loss to the
Chicago Bears
and have a short week to get ready.
ESPN.com Packers reporter Rob Demovsky and Cowboys reporter Todd Archer debate the matchup in this week's Double Coverage.
Archer:
I'll skip the "What's Aaron Rodgers status?" and ask about Ted Thompson's approach to the backup quarterback. The Cowboys pay
Kyle Orton
a lot of money to hopefully never throw a pass. Is there any regret form the Packers that they did not have a better backup quarterback situation behind Rodgers, considering their struggles without him?
[Editor's note: Rodgers was officially ruled out for Sunday's game on Friday.]
Demovsky:
Thompson admitted at the end of training camp that he probably should have signed
Vince Young
much earlier than he did, although after watching Young for about a month, I'm not sure he would have been any better had the Packers signed back in the spring. Where they probably erred was in not drafting a quarterback. They overestimated what they had in
Graham Harrell
and B.J. Coleman, and neither one developed enough. When Ron Wolf was the GM, he made it a regular practice to draft a quarterback in the middle-to -late rounds. Not all of them worked out, but guys like
Ty Detmer
,
Mark Brunell
,
Matt Hasselbeck
and
Aaron Brooks
all came up through the Packers' system.
Packers defensive coordinator Dom Capers said
Tony Romo
is "playing probably as good as he has in his career." Do you agree with that assessment?
Archer:
I'd agree with that, sure. It's hard to argue against his numbers. He has 3,244 yards passing with 27 touchdowns and seven interceptions. He's taking care of the ball. He had one really careless throw and it cost the Cowboys big-time in their loss to the
Denver Broncos
. Romo gets most of the blame for the December/January woes this team has had, but in his last 16 games he has 34 touchdowns and seven picks. It's hard to play better than that. But you know what? He has to. This defense is so bad that Romo has to be nearly perfect. There can be no poor drives. If they don't get points they at least need to chew up time because there's not an offense the Cowboys can slow down right now.
When the Packers won Super Bowl XLV at AT&T Stadium they were able to overcome so many injuries, especially on defense as we talked about. The difference this year is Rodgers missing time, but is there anything more to it than that?
Demovsky:
They did end up with 15 players in injured reserve in their Super Bowl season, and then during that game itself they lost
Charles Woodson
to a broken collarbone. But you know what? This defense played fine early this season and even during the stretch
Clay Matthews
missed because of his broken thumb. Capers said last week that losing Rodgers had nothing to do with the Packers' defensive slide, but I'm not buying it. The Packers' defense got four turnovers in the Thanksgiving game at Detroit and still got walloped 40-10 because the offense couldn't do a darn thing with them. To be sure, there are issues on defense. Their failure to address needs at safety has hurt them up the middle, where their inside linebackers also haven't played well enough.
It sounds like Monte Kiffin is already taking heat, but how much of it is personnel? When I saw Packers castoff
Jarius Wynn
playing Monday night against the Bears, to me that was a red flag that there are talent issues, perhaps some of them caused by injuries.
Archer:
There are talent issues and there are depth issues. Blame the owner and GM who constructed this team. Blame the coaches -- Kiffin and Rod Marinelli -- for saying the line was a position of strength. The Cowboys thought they had pieces to fit Kiffin's scheme at the start of the year.
DeMarcus Ware
has not been DeMarcus Ware in part because of injuries, but he acknowledged he has to play better.
Bruce Carter
was supposed to be the ideal weak-side linebacker and he just has not made any plays. The corners are more man corners and Kiffin has tried to play more man but all of them --
Brandon Carr
,
Morris Claiborne
and
Orlando Scandrick
-- have had issues.
Sean Lee
has been hurt and could miss Sunday's game with a neck injury. He's been good but the defense has been lit up with him on the field, too. It's just a mess. Until Jerry Jones realizes he needs better players, not necessarily better schemes, it will be a mess.
Let's stick with the defensive coordinators. From the outside looking in, it appears Capers is catching a lot of grief too. Are the Packers committed to the 3-4 regardless or could they pull a Dallas and move to a 4-3 in the future?
Demovsky:
When the cornerstone of the defense is Matthews, an outside linebacker, I would think they'd have to stick with the 3-4 even if they part ways with Capers, which I'm not sure will happen anyway. Mike McCarthy has continually praised Capers and the defensive staff. It's probably more about personnel. They need a few more playmakers to help out Matthews. They haven't gotten enough production from their defensive front. I'd look for an overhaul in personnel more than a coaching change.
Knowing the temperature in the Cowboys locker room like you do, how do you think they will react to getting steamrolled Monday night? Is this a group that will fight? Or will they pack it in?
Archer:
This is where I have to give Jason Garrett credit. This team has fought. Maybe they didn't fight all that much in the losses to New Orleans and Chicago, but they have not packed it in. You saw the last time the Cowboys packed it in in 2010 at Lambeau Field when Wade Phillips was the coach. The Cowboys lost 45-7 and were completely disinterested. Phillips was fired the next day and Garrett took over. There is some gumption to this team. They do work hard. They do the right things. I'll say it again: Most of it is a talent issue. I'd expect the Cowboys to come out with the effort Sunday because they're still very much in the playoff chase. But do they believe they can really make a run? I don't know about that.
October, 27, 2013
10/27/13
7:55
PM ET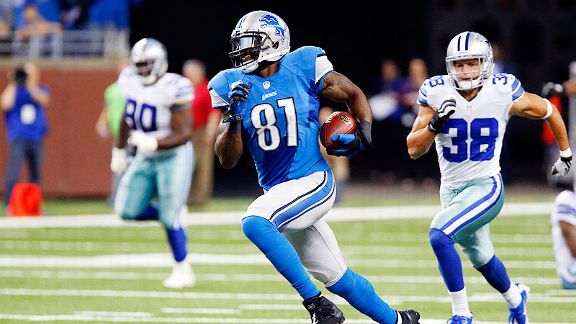 AP Photo/Duane BurlesonCalvin Johnson's 329 receiving yards left Dallas behind and his teammates reaching for superlatives.
DETROIT --
Calvin Johnson
opened the door to the side of the interview room Sunday afternoon, but there was one problem. He entered too soon.
Johnson smiled, turned around and left. He would, for the first time all day, wait his turn.
His quarterback,
Matthew Stafford
, was still talking, explaining how the
Detroit Lions
came from behind Sunday to beat the
Dallas Cowboys
31-30
, how it was his decision to dive across the end zone after a fake spike and about how his receiver is more humble than he is talented. Because after a while, adjectives cease to work describing Calvin Johnson.
How else can you explain what he did Sunday, catching 14 of the 16 passes Stafford threw to him for a team-record 329 yards -- the most yards in a regulation game in NFL history and second only to Flipper Anderson's 336 yards in an overtime win in 1989?
"I've literally never seen anything like that before in my life,"" Lions running back
Reggie Bush
said. "He's the greatest receiver in the history of the National Football League."
And the Lions needed him to be that great in order to win Sunday, to come back from 10 points down with 6:45 left to win on their final offensive play. Johnson caught slants and turned one into an 87-yard reception. He leaped between two Cowboys defenders to catch a 54-yard pass to start a touchdown drive.
Then there were all the other plays in between.
"It's crazy," Johnson said.
Perhaps crazier was how Dallas played Johnson. He said he saw a lot of single coverage. Single coverage on Johnson is almost like not covering him at all.
That would explain why Cowboys owner Jerry Jones, after he watched his team get shredded, said simply, "We could not cover Calvin Johnson."
No one could Sunday. Not even close. Johnson left teammates shaking their heads in amazement. They see it all the time, every day. Center
Dominic Raiola
said after the game he thought he had seen everything with Johnson, anything he could possibly do.
He then admitted he was wrong.
Much was made last week about Dallas receiver
Dez Bryant
saying he could do whatever Johnson could do. On and off the field, Johnson turned it into a nonissue; he said he heard about Bryant's boast only when Bryant texted him to explain things. Then Johnson went out and had one of the best days ever for a wide receiver, while Bryant scored two touchdowns on three catches and got into heated conversations on the sideline with
Tony Romo
and
Jason Witten
.
The thing that endears Johnson the most to his teammates is what Stafford was talking about just before Johnson walked in and then out of his quarterback's news conference. That humble nature. The fact that perhaps the best wide receiver in the history of the game isn't a diva.
He doesn't throw tantrums. He doesn't complain about not seeing the ball. He goes out and makes plays, ones that defy explanation, and all he wants is to win in a city that hasn't seen much of it over the history of the franchise.
Remember, he was part of the Detroit team that went winless in 2008. He saw the lows. To fans, he remained a permanent high point, someone they could latch on to as theirs, as one of the best in the game, much like they did with Barry Sanders during his career.
Now, Johnson is part of a winner, of a team that can come back to pull out a victory down six points with 62 seconds and 80 yards to go. Even his celebration of Stafford's fake spike signal and touchdown dive with 12 seconds left was understated.
He looked at the refs, raised his arms.
"The only thing that went through my mind is that we won the game," Johnson said. "I was happy he did it."
Then he'll get asked about his play, about himself, and he shrugs it off. He'll talk about single coverage and turnovers and his team and its ability to come back.
His teammates, though, will do the lauding.
"I have not ever seen anything like that," receiver
Kris Durham
said. "As a receiver, you're like, yeah, 100 yards would be a great day. I can't tell you what 300 would do. That's probably more receiving yards than I've got on the season. So that tells you something right there."
Durham's close. He has 310 receiving yards, far fewer than Johnson's NFL-leading 821 yards -- and that's with missing a game to rest his ailing knee. But yes, on Sunday, Johnson had 19 more yards in one game than Durham has had all season.
The deep ball helped. Half of Johnson's catches were for 20 yards or more, according to ESPN Stats & Information. He's done that three times in his career now. No other receiver has done it even once since the beginning of the 2001 season.
And there really is no other parallel.
"Amazing," Raiola said. "Nothing more you have to say about him."
There might be one thing even more amazing than what he did Sunday, how he played against Dallas. It might also be the scariest part of all of it.
He might not even be fully recovered from his leg injury yet.
"Just wait," Detroit coach Jim Schwartz said. "Until he's 100 percent."
For the rest of the NFL, that might be the worst news of all.
November, 19, 2010
11/19/10
4:00
PM ET
»
NFC Final Word
:
East
|
West
|
North
|
South
»
AFC
:
East
|
West
|
North
|
South
Five nuggets of knowledge about Week 11:
[+] Enlarge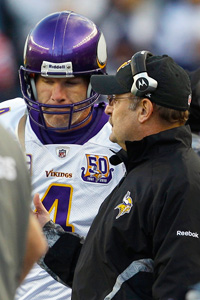 AP Photo/Stephan SavoiaThe Packers have a chance to make life more miserable for Vikings QB Brett Favre and coach Brad Childress.
Put 'em away:
I can't help but think the
Green Bay Packers
are viewing Sunday's game at the Metrodome as a symbolic opportunity to vanquish the team, player and perhaps the coach that has cast a shadow over them during the past two years. The
Minnesota Vikings
have won the NFC North in both seasons since quarterback
Brett Favre
's 2008 departure. Favre single-handedly knocked the Packers out of contention last season with two signature performances against them. But the rivalry between these two franchises goes beyond Favre. The Packers would love to bury the Vikings in their home stadium, and if a by-product is getting their second opposing coach fired in as many games, then so be it. As we
discussed earlier this week
, Vikings owner Zygi Wilf isn't eager to fire coach Brad Childress. But the Packers can dream, right?
Packer time:
Yes, this is traditionally the time when coach Mike McCarthy's teams start churning out victories. In 2006, the Packers went 7-4 after their bye. In 2007, they were 8-2, and last season they were 9-3 after it. (The 2008 season is the exception, when the Packers slumped to 2-7 after their bye.) Whether or not they are motivated to bury the Vikings, the Packers need to win in order to keep pace with the 7-3
Chicago Bears
. Through the purple haze, I can only assume they saw this quote from Bears coach Lovie Smith after Thursday night's victory against the
Miami Dolphins
: "We wanted to put the pressure on that second-place team behind us."
Getting after it:
The Packers blitzed Favre on 43.3 percent of his dropbacks in the teams' Week 7 meeting, causing two of his three interceptions and resulting in a 37.8 passer rating. I'll be curious to see whether the Packers feel obligated to pressure him at the same rate, or if they sit back and allow Favre's less reliable arm to create its own mistakes. ESPN Stats & Information has tracked each of Favre's 16 interceptions this season, grading eight of them as underthrown. I realize an underthrown pass can be in the eye of the observer, especially when a quarterback might intentionally be throwing a back-shoulder pass. But anecdotally, I think we can agree that Favre's accuracy hasn't been as good this season. Elbow tendinitis and soreness in his right shoulder have assuredly played a part. Pass rush is still the best way to force Favre into making mistakes, but the point is that he has made plenty on his own this season.
Two forces:
The Packers have caused 19 turnovers this season, tying for the fifth-best mark in the NFL. The Vikings have committed 23, the league's fourth-worst mark. Moreover, the Packers lead the league with 80 points scored off of turnovers. Those numbers and rankings have built up over 11 weeks, so it would be reasonable to expect more of the same Sunday at the Metrodome. If that's the case, it's hard to imagine a Vikings win. Their three victories this season have all come at home, but they were against the
Detroit Lions
(2-7),
Dallas Cowboys
(2-7) and
Arizona Cardinals
(3-6).
Something's gotta give:
The Detroit Lions have lost 25 consecutive road games. The Dallas Cowboys haven't won at home all season. Per their typical luck, the Lions might be catching the Cowboys about two weeks too late. Interim coach Jason Garrett appears to have breathed some life into this talented but underachieving outfit, and if he wants to earn the permanent job, he'll need to start winning some home games at owner Jerry Jones' debt-ridden palace. The Lions won in Dallas the last time they played there -- a 39-31 victory in Week 17 of the 2006 season. But tellingly, they've only won twice away from Ford Field since then.
October, 14, 2010
10/14/10
10:00
AM ET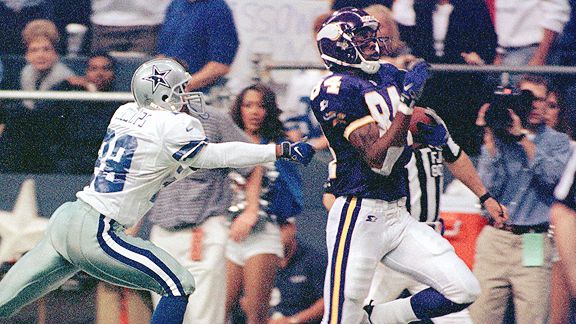 AP Photo/Tim SharpRandy Moss has scored 11 touchdowns in seven career games against the Dallas Cowboys.
It's been 12 years. It could be 100.
Randy Moss
will never forget the shock the
Dallas Cowboys
delivered during the 1998 draft.
Moss began the day convinced the Cowboys would draft him if he were still available with their No. 8 overall pick. Their decision to pass, instead selecting defensive end
Greg Ellis
, threw Moss into a rage that has cooled only slightly over time. His teams have won all seven games they've played against the Cowboys, fueled largely by the numbers you see in the chart to your right.
Moss has scored at least one touchdown in six of those games and has produced five 100-yard performances. Coincidence? As he prepared this week for Sunday's game between the Cowboys and his
Minnesota Vikings
, Moss shook his head.
"You can go back to the '98 draft," Moss said. "That would be your answer."
Speaking later on a conference call with Dallas-area reporters, Moss outlined in new detail why he was so sure he would land in Dallas and why it hit him so hard when the Cowboys passed. During a pre-draft meeting, owner Jerry Jones ripped up his official itinerary and instead sent him to Deion Sanders' house for a private meeting.
"So I thought that was just a way of them telling me we really want you, we're thinking about drafting you," Moss said. "So when I was able to talk to Deion Sanders at his house ... he just told me how bad the organization wanted me and he thought that me coming there would benefit everybody and things like that. The love that I received and the conversations that I had for those 48 hours had me believing that I was going to be a Dallas Cowboy up 'till draft day."
When the Cowboys drafted Ellis, Moss said his mother was devastated, taking it as a personal indictment of her troubled but talented son.
"Just seeing her facial expression and how she looked," Moss said, "I really took that to heart, man, and I told myself any time I play the Dallas Cowboys I'm never going to forget that look."
Jones jokingly apologized last week for the draft blunder. Moss took minor interest in the gesture.
"I always forgive, man, that's in the Bible," he said. "I always forgive but I never forget."
Kickoff is 4:15 ET at the Metrodome.
January, 13, 2010
1/13/10
1:00
PM ET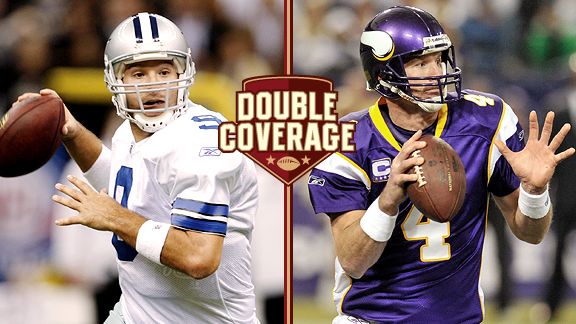 Icon SMIThe Vikings-Cowboys playoff matchup on Sunday will feature high-powered passing attacks led by Tony Romo and Brett Favre.
Here on the ESPN Blog Network, we're bracing ourselves for quite possibly the biggest divisional playoff game in the history of the 2010 postseason. Come Sunday afternoon at the Metrodome, Dallas and Minnesota will reprise a storied postseason rivalry -- sans (hopefully) whiskey bottles, push-offs and Hail Marys. (Well, at least the
push-offs
.)
ESPN.com's Matt Mosley and Kevin Seifert have spent most of the week buried in the film room -- er, basement -- refining the blogging plan for the rest of the week. As now they're ready to start breaking down this most critical game.
Kevin Seifert:
Greetings from the North Pole, Matt. Actually, you're going to get lucky this weekend. We're expecting unseasonably warm temperatures here this weekend, with highs in the 30s. Normally we call that "May" in Minnesota. Usually at this time of year, you can get frostbite on half your hand while walking from the parking lot to the media entrance at the Dome.
Matt Mosley:
I will look for any excuse to visit Minneapolis in mid-January and this game is as good as anything else I might come up with.
Sid Hartman
and I have been waiting on this postseason matchup for years. Jerry Jones tried to capture the "charm" of the Metrodome in his new Cowboys Stadium, but I'm not sure things worked out. And by the way, Drew Pearson told me to pass along his best wishes to Vikings fans.
KS:
OK, Matt. Let's get down to it. Everyone in the world thinks the Cowboys are going to win this game. Even
ESPN's Trent Dilfer
is convinced of it. You've been close to the Cowboys this season. Are they as hot as everyone says they are?
MM:
Kevin, in my eight years of covering the team, I've never been around a more confident bunch of players. I think they're the hottest team in the NFC right now because of something that took place last month in New Orleans. The players got sick and tired of all the talk of their December failures and went out and overwhelmed a Saints team in the Superdome. That game did wonders for the Cowboys' confidence. No quarterback in the playoffs has performed as well as
Tony Romo
over the past six games and he benefits from having a dominant defense. So yes, I think the Cowboys are as hot as everyone at the Mall of America is indicating.
KS:
Actually, Matt, you need to be more specific. We now have
Mall of America Field
here in addition to the
Mall of America
. At Mall of America
Field,
the conversation is revolving around two things: Are the Vikings willing to accept that they are a pass-first offense? And can their tackles,
Bryant McKinnie
and
Phil Loadholt
, keep
DeMarcus Ware
and
Anthony Spencer
at bay long enough for
Brett Favre
to get the ball downfield?
If they come out of the gates aggressively and use their full array of offensive weapons, I think they can put up some serious points against the Cowboys' defense. The Vikings are one of two teams in NFL history to have six players catch at least 40 passes. That's too many receivers for any defense to keep track of if the pass protection is there.
What's your take, Matt? Do you think Ware & Co. can be slowed down?
MM:
I agree with the aforementioned Dilfer that Loadholt and McKinnie are outmatched by the Cowboys' outside linebackers. Since the last time you saw this team, Spencer has become a force. Cowboys defensive coordinator/head coach Wade Phillips even lines them up next to each other at times.
Donovan McNabb
didn't have a chance against the Cowboys' pass rush and you can argue that
Jason Peters
and
Winston Justice
are superior offensive tackles to what the Vikings have to offer. The Cowboys' plan is to make sure Favre has to test those 40-year-old legs. The last time he saw this defense, he completed 5 of 14 passes and was intercepted twice before being knocked out of the game at Texas Stadium. He was of course with a 10-1 Packers team at the time in '07.
Keith Brooking
told me Tuesday that the Eagles and Vikings have similar offenses, but he alluded to the fact that Brad Childress is much more likely to use the running game than his mentor, Andy Reid. Of course, that's a lot easier to do when you have the pride of Palestine, Texas,
Adrian Peterson
, in your backfield. It's been quite a while since a team has put up points on this defense -- and that includes a Chargers team that was held to a season-low in points. I don't think we'll have a shootout on our hands, but Sid might have other ideas.
[+] Enlarge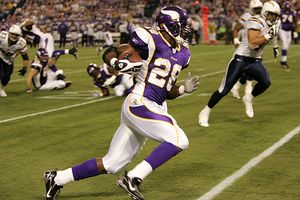 K.C. Alfred/Union-Tribune/Getty ImagesHow will Adrian Peterson figure into the Vikings' game plan against Dallas' tough run defense?
KS:
I'll check with Sid when I see him. In the meantime, Matt, we have two elephants crowding the room for this game: The head coaches. In Minnesota, there is an unspoken fear that Brad Childress will get in the way and try to force his power running game on the Cowboys. Prior to Favre's arrival, and at times this year, that has been Childress' preference. Childress also made a couple of questionable game-management decisions in last year's playoff loss to Philadelphia.
On the other side, however, is Phillips. Do Minnesota fans have anything to fear in this matchup?
MM:
Calling Phillips an elephant is a low blow, Kevin. The man might fill out a pair of Russell coaching shorts, but he deserves better from you. And yes, there's reason for Vikings fans to fear The Wade. No matter what you say about his head-coaching credentials, he's always been an excellent defensive coordinator. He puts players in position to succeed and he does a superb job of exploiting weaknesses. From reading your fine work on a regular basis, I'm aware that Vikings center
John Sullivan
isn't a large man. He'll be facing one of the best nose tackles in the game in
Jay Ratliff
. From time to time, the behemoth-type centers give Ratliff a little trouble. But he's been known to destroy the guys who are close to his size. Everyone's focused on the offensive tackles, but I could see the "Ratt" having a big game in the middle. It all starts with him in this defense.
KS
: Interesting. OK, Matt. This was great but is only a step in our coverage plan for this week. Keep checking back on the NFC East and NFC North blogs through Sunday.
MM:
Just to be honest, my coverage plan for Saturday is a little weak because of travel. But I've thoroughly enjoyed this tremendous show of synergy within the NFL Blog Network. Kevin, I arrive at 8:10 local time on American, so please pass that along to my driver. Peace and courage from the Beast.
February, 17, 2009
2/17/09
5:30
PM ET
Posted by ESPN.com's Kevin Seifert
So you think Chicago coach Lovie Smith might be overextending himself by taking over the Bears' defensive playing? You might want to check out what happened Tuesday in Dallas, where owner Jerry Jones confirmed that coach Wade Phillips would serve as his own defensive coordinator in 2009.
I've been told that things always get done bigger in Texas, and true to form, the Cowboys' move is a step beyond what Smith plans. Because Jones isn't replacing the fired Brian Stewart, Phillips will call the defensive signals and presumably be responsible for conceiving and implementing the defensive gameplan.
That's more than what Smith has laid out for himself. Smith has said he will call most of the defensive signals on game day and has assigned defensive coordinator Bob Babich to coach linebackers. But Babich also retained his title and will have some say in day-to-day management of the defense. Assistant head coach/defensive line coach Rod Marinelli will also have a level of authority.
(There have also been indications in Seattle that coach Jim Mora will handle a large portion of the defensive play-calling.)
I suspect that people who follow and write about the Cowboys will see this move as a subtle shift toward offensive coordinator Jason Garrett, and the politics of the situation make it almost apples and oranges in comparison to the Bears. But, as the season approaches, it'll be interesting to note that Smith is not the only head coach to have taken on additional defensive duties.