NFC North:

Jim Bob Cooter
August, 16, 2014
Aug 16
7:00
PM ET
ALLEN PARK, Mich. -- A daily review of the hot topics coming out of
Detroit Lions
training camp:
The Lions ended their camp Saturday afternoon with a practice that lasted a little less than one hour with no pads at all and a lot of players in baseball caps catching passes -- including specialists Sam Martin and Don Muhlbach. Why would Lions coach Jim Caldwell bring the players out there less than 12 hours after they returned from a West Coast trip to Oakland?
"The practice was kind of to break a sweat and often times guys find out they have an injury that they didn't know about," Caldwell said. "So we run them a little bit, loosen it up a little and go through our corrections and get them off the field to get them some rest tomorrow and get back at it at Monday."
Once Monday hits, the Lions will go into their regular practice mode, which also means practices are also no longer fully open to reporters. He also did this Saturday practice to give players an idea of how days go with evaluation and film.
The biggest topic again was defensive tackle Nick Fairley, who seemed more jovial Saturday than he was at any point last week. That's probably a good sign for him and Caldwell indicated he felt he had improved during Friday night's game against Oakland.
Detroit did have a transaction Saturday, signing linebacker Shamari Benton out of Central Michigan and releasing linebacker Justin Jackson from Wake Forest. Benton had 111 tackles, including 10.5 tackles for loss, last season for the Chippewas. He also had four sacks and an interception. He apparently trained at a gym in suburban Detroit co-owned by Tony Scheffler and Ndamukong Suh. He was so new, the Lions didn't even have a jersey for him at practice Saturday.
Caldwell also appeared to be pleased with backup quarterback Dan Orlovsky, saying he "demonstrated that [Friday] night, but we still have two more games to go." Orlovsky was markedly better than he was in the preseason opener, when he was outplayed by No. 3 quarterback Kellen Moore. He appeared to regain his hold on the backup spot with his performance Friday night. Part of the backup quarterback's job, Caldwell said, is to be a collaborator with starting quarterback Matthew Stafford, quarterbacks coach Jim Bob Cooter and offensive coordinator Joe Lombardi.
Asked three of the Lions players who attended Notre Dame (there are five in all as Alex Bullard and Joseph Fauria started at the school and transferred to Tennessee and UCLA, respectively) about the academic investigation at their alma mater. TJ Jones said he knew little about it and wanted to hear more details. Theo Riddick declined to comment, but said he would speak with Notre Dame if the school reached out. Golden Tate, who did not play under current coach Brian Kelly, declined to comment.
July, 10, 2014
Jul 10
12:00
PM ET
The main key for success for the
Detroit Lions
this season is remarkably simple and has been the main focus of the franchise since it fired coach Jim Schwartz following the 2013 season.
Stafford
From hiring new head coach Jim Caldwell, offensive coordinator Joe Lombardi and quarterbacks coach Jim Bob Cooter to signing
Golden Tate
, re-signing
Brandon Pettigrew
and drafting
Eric Ebron
, that focus has been giving quarterback
Matthew Stafford
everything he could possibly need to succeed.
Stafford has to use those tools to turn into the elite quarterback the team has been hoping for since they drafted him first overall in 2009. Statistically, Stafford has been one of the better quarterbacks in the NFL, putting up massive numbers for the Lions during his first five seasons.
Yet for every fourth-quarter comeback he completed and remarkable play he made, he has also made a decision leaving those watching and wondering what he saw or thought on that play. That has been the conundrum of Stafford's career. The Lions believe any issues Stafford has are correctable and these are the guys to do it after working with
Peyton Manning
and
Drew Brees
.
If the Lions turn Stafford into the consistent quarterback that led them to the playoffs in 2011 full-time, then the entire shift in coaching staffs and upgrading the offensive roster will have been worth it. But it all falls to Stafford -- as it often does to quarterbacks around the league.
There's a reason many franchises believe they can go only as far as the quarterback plays. Thus far, Stafford has taken them from a club that didn't win a game in 2008 to one with realistic playoff expectations each season.
Detroit has set itself up for more than that now, though. The Lions have a roster with enough talent to at least make a run at the playoffs, if not succeed in the postseason. If they do, Stafford and his improvement will play a major role in making it that far.
May, 28, 2014
May 28
3:15
PM ET
ALLEN PARK, Mich. -- It is a new season with a new coaching staff and the practices and games that matter are still months away, yet the
Detroit Lions
are still living in the same issued world as last season.
Those receivers, they are struggling to catch passes.
This isn't a new phenomenon with Detroit, a team that was the worst in the NFL in drop rate last season. Rather, even with a new staff and an emphasis on catching the ball, the Lions are still not completely sharp in that area. Good thing for them games that matter don't happen until September.
[+] Enlarge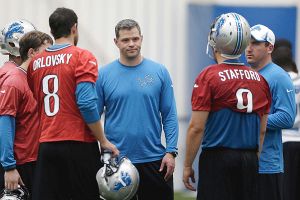 Carlos Osorio/AP PhotoOffensive coordinator Joe Lombardi talks with the quarterbacks after the Lions' OTAs on Wednesday.
"Today was a little sloppy, I'm not going to lie to you," Lions offensive coordinator Joe Lombardi said. "I was getting a little angry today because I thought mostly the drops and, you know, some of the alignments weren't what you want. And so it was really a concentration issue more than anything."
It was that concentration that foiled the Lions often last season with a costly turnover, a poor decision, a bad read, or that 7.3 percent drop rate. It was also that concentration -- specifically with hands and with the drops -- the Lions spent part of the offseason trying to fix. It is why the team signed receiver
Golden Tate
.
It's also been a mantra of head coach Jim Caldwell to find receivers who can catch passes. Yet Tate, who had one of the top drop rates in the NFL the past few seasons, dropped two passes Wednesday. So did
Reggie Bush
.
"I think it's always a concern but I do think there is good hands here," Lombardi said. "So it's really a matter of concentration and getting these guys the reps and a lot of it is just getting their comfort level down.
"They are still learning the offense so they are thinking where do I line up, what's the depth of my route, and I think when they get more comfortable, their concentration will come up a little bit."
That goes for the pass catchers and the guy throwing them the ball most often, quarterback
Matthew Stafford
.
He described Lombardi's offense as "play-intensive, verbage-intensive," and that can make it difficult to pick up as a lot of Detroit's players are both learning what Lombardi wants as well as making sure they aren't confusing it with what former coordinator Scott Linehan ran the past five seasons with the Lions.
The drops were an issue for at least one day so far, Wednesday, as the Lions continue to work the bigger issue: Helping to improve Stafford.
One of the things they worked on was his footwork -- something every coach at every level preaches about along with different ways to work on it. While Stafford wouldn't divulge what quarterbacks coach Jim Bob Cooter and Lombardi have changed about his footwork, he did say they have brought an alternative to what he learned under Linehan and Todd Downing.
"It's whatever these coaches brought with them," Stafford said. "It's not salsa dancing or anything. It's football quarterback drills."
No matter what else Detroit's coaches tinker with. No matter what else the Lions try to implement, the offense still remains being either as good or as poor as Stafford and the wide receivers -- and on Wednesday, it was a bit rough -- are able to grasp and learn the offense.
"We're still kind of getting into the swing of our offense, still learning it, still trying to get lined up right but that's part of OTAs," Bush said. "We're not supposed to be perfect right now.
"If we were perfect right now, I'd be a little bit worried."
May, 22, 2014
May 22
10:00
AM ET
»
NFC Wrap:
East
|
West
|
North
|
South
»
AFC:
East
|
West
|
North
|
South
»
Grades

ALLEN PARK, Mich. -- With free agency and the NFL draft in the rearview mirror and training camp just a couple months away, we assess the
Detroit Lions
' offseason moves.
[+] Enlarge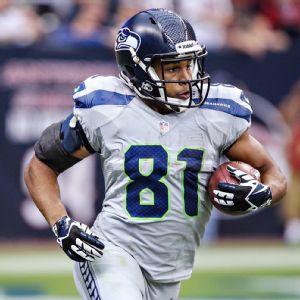 Troy Taormina/USA TODAY SportsWith Golden Tate flanking Calvin Johnson, the Detroit wide receiver depth has greatly improved.
Best move:
The Lions desperately needed to upgrade their wide receiver corps and making
Golden Tate
the biggest priority of the free-agent period ended up being a smart move for the club. They signed a player who can complement
Calvin Johnson
as well as having some of the best hands in the league. As a bonus, he is a really competent blocker who plays above his size.
Riskiest move:
Detroit opted to not go after an impact cornerback during free agency and then waited until the fourth round to draft one earlier this month. Why is this a risk? It means Detroit is trusting that one of its unproven cornerbacks (
Jonte Green
,
Chris Greenwood
) or one of the players who was inconsistent last season (
Chris Houston
,
Darius Slay
) will be prepared to make the jump or return to form in 2014.
Most surprising move:
The Lions declined Nick Fairley's fifth-year option for a seemingly baffling reason. Detroit wanted to use it to try to motivate the talented but inconsistent defensive tackle to improve his game. In doing so, they essentially could be letting him walk out the door. There was no downside for Detroit in picking up Fairley's option. It is not a guaranteed option and considering the unresolved contract situation surrounding
Ndamukong Suh
, it could leave the Lions without either of their top two defensive tackles come 2015.
Everything focused on Stafford:
One of the biggest themes of the offseason was finding help for quarterback
Matthew Stafford
, now entering his sixth season with Detroit. The Lions signed him a new target in Tate, drafted him a new tight end in
Eric Ebron
and brought back a familiar comfort player in
Brandon Pettigrew
. It hired a coaching staff full of quarterback experience, from head coach Jim Caldwell (worked with
Peyton Manning
) to offensive coordinator Joe Lombardi (worked with
Drew Brees
) to quarterbacks coach Jim Bob Cooter (worked with Manning). In a league driven by quarterback play, the Lions placed a lot of their 2014 focus on making sure Stafford can do as well as he can.
April, 10, 2014
Apr 10
3:00
PM ET
ALLEN PARK, Mich. – He's able to come in and meet with his coaches now, finally able to pick their brains about what the new
Detroit Lions
offense will look like. What he might be expected to do under his new coaching staff that he didn't have to do before.
Already this week,
Matthew Stafford
has spent time watching old game tape of both the
New Orleans Saints
and
Baltimore Ravens
offenses to try and learn. He's studied the routes those receivers ran, the varying plays both teams implemented.
He knows it won't all be the same and he anticipates having a lot of questions – but it's a start.
[+] Enlarge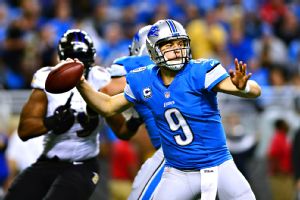 Andrew Weber/USA TODAY SportsDetroit quarterback Matthew Stafford has been a fixture in the film room during the offseason.
"It's exciting. These guys have great track records, have worked with some really great players at the quarterback position, specifically," Stafford said. "I'll be picking their brains as much as they'll allow. Obviously
Golden [Tate
] is a big-time addition to our team.
"He's going to be a big contributor this year and we're excited to have him."
Much of the offseason has been focused around Stafford because of what happened to Detroit at the end of last season. The Lions collapsed at the end of the 2013 season, eventually costing former coach Jim Schwartz his job, mostly due to an inefficient offense prone on drops from receivers and turnovers from Stafford.
So look at what the Lions did this offseason. They hired a head coach, Jim Caldwell, and quarterbacks coach, Jim Bob Cooter, who has worked with
Peyton Manning
. They hired an offensive coordinator -- Joe Lombardi -- whose main experience was as the quarterbacks coach for
Drew Brees
in New Orleans. Their two biggest free-agent signings were pass-catchers – Tate and tight end
Brandon Pettigrew
. They also brought back another big offensive piece,
Joique Bell
, to complement
Reggie Bush
.
The focus has been offensive at almost every turn, all to help Stafford be the best version of himself as a quarterback. He also recognizes for the Lions to be good, he has to be good.
"In the NFL, if your quarterback plays really well, your team generally plays really well, and I understand that. We're no different than any team," Stafford said. "The better I play, the better we'll play as a team. Common theory says that. Nobody puts more pressure on me than I do. I want to be as good as I can possibly be, not for myself but to help this team win, and that's the No. 1 goal."
Stafford said he has not spoken with Brees about Lombardi but had texted with Manning about Caldwell and the progression Manning made under his former head coach. Since the hiring of this staff, that has been the focus of the questions -- how will they work with Stafford to turn him from a good quarterback with inconsistencies and some accuracy issues into one of the NFL's elite quarterbacks.
"He's a sharp guy," Caldwell said. "He's smart. He's dedicated. He wants to be good and still, it's obviously quite present in his attitude today, yesterday and tomorrow, right? He's a worker. I have no doubt, with a guy that has that kind of attitude and obviously he has ability, both physically and mentally.
"He has the intellect to do it and I think he'll be fine."
Stafford has already put some of the work in by grabbing the old game film to understand the receiver route trees he might now be throwing to as opposed to what he worked with under Scott Linehan. He doesn't know the terminology yet -- that'll come -- because the offensive installation has been in meeting-form only thus far.
He knows he needs to improve and make smarter, better decisions. From what he says, he's committed to doing so. That'll start now, by making sure he learns as much as possible and asks so many questions it is almost like he's turning into a reporter.
"I think I can always improve. I've had some really great moments, some bad moments, for sure," Stafford said. "But the biggest thing I want to do is help this team win any way I can. I'm going to be learning a new system and I want to be coached in that system as well as I can.
"I don't know everything there is to know about this system, for sure, and so I'm going to ask a bunch of questions and do everything as right as I possibly can."
Detroit's success depends on it.
February, 7, 2014
Feb 7
6:08
PM ET
New
Detroit Lions
offensive coordinator Joe Lombardi said Friday morning that he would like to hire a quarterbacks coach. It would appear the Lions have found their guy.
Bruce Feldman from CBS Sports is reporting the Lions
will hire Jim Bob Cooter
as their new quarterbacks coach.

Cooter, whose actual name is James Robert Cooter, was an offensive assistant with Denver last season, and the offensive quality control coach with Kansas City in 2012.
He has ties to Lions head coach Jim Caldwell, having worked with him in Indianapolis as an offensive staff assistant in 2009, an offensive assistant in 2010, and the assistant to the offensive coordinator in 2011.
Prior to that, he was a graduate assistant at the University of Tennessee for two seasons. He was a reserve quarterback for Tennessee from 2002 to 2006.
Cooter has never coached quarterbacks, though. One thing Lombardi said he wasn't concerned about in wanting a dedicated quarterbacks coach is having too many people talking with quarterback
Matthew Stafford
.
"Well, I think it's important that Jim (Caldwell) and I and the quarterback coach are all on the same page. I mean, we had something similar in New Orleans. You know, Sean (Payton) certainly knew a lot about coaching quarterbacks. Pete Carmichael had been the quarterback coach before I became the quarterbacks coach, and he moved on to coordinator," Lombardi said. "So, there were three voices there, but I learned from Sean and Pete, and Pete had learned from Sean, so we all spoke the same language. There wasn't any pull.
"We're going to have the same situation here, and I'm sure those relationships will evolve a little bit. But, you know, there's a process to playing quarterback, and that process is going to start Day 1 of the offseason when Matthew gets in here. I guarantee you that Coach Caldwell, myself and the quarterbacks coach will be on the same page as how we want that process to go, the language that we're using with him. All those things will be consistent."