May, 10, 2011
5/10/11
1:00
PM ET
What key event significantly changed the fortunes of the Vikings -- for better or worse? Give us your take and we'll give you our definitive moment on May 17.
The
Minnesota Vikings
, founded in 1961, are the relative expansion team of the NFC North. Their early history was marked by a golden age of four Super Bowl appearances, more than the
Chicago Bears
and
Detroit Lions
over that span. More recently, they've offered an entertaining and drama-filled timeline of off-field shenanigans.
Behind coach Bud Grant, hired in 1967, the Vikings appeared in four Super Bowls in a seven-year span. General manager Jim Finks, who would later play a part in the Bears' renaissance, plucked Grant out of the Canadian Football League.
Finks and Grant assembled a defensive line that changed the game and served as the franchise's anchor. Two of its members, Alan Page and Carl Eller, are enshrined in the Pro Football Hall of Fame. A third, Jim Marshall, played in a then-record 270 consecutive games.
The decision to draft receiver
Randy Moss
in 1998 was transformative, elevating the Vikings from a team that couldn't sell out the Metrodome to one that has sold out every game since. Ultimately, however, the Vikings failed in their efforts to build a championship team around him.
Finally, the Vikings' humiliating performance in the 2000 NFC Championship Game -- they appeared to give up at halftime of a 41-0 loss to the
New York Giants
-- sparked a downswing that lasted for most of the decade. It took eight seasons to win another division championship and 10 seasons to return to the NFC Championship Game.
Use the module in this post to cast your vote. If you vote Other, give us your suggestion in the comments area below.
July, 5, 2010
7/05/10
12:00
PM ET
A weeklong look at current or former players or coaches with Hall of Fame potential in the division.
Chicago Bears:
Brian Urlacher
, middle linebacker
Claim to fame:
Since joining the Bears in 2000, Urlacher has made six Pro Bowl teams and been named an All-Pro four times. He was the NFL's Defensive Rookie of the Year in 2000 and Defensive Player of the Year in 2005.
[+] Enlarge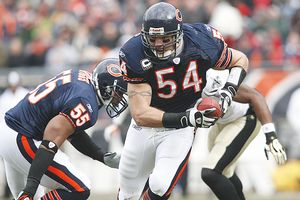 Tom Fluegge/US PresswireExtraordinarily athletic for a linebacker, Brian Urlacher has recorded 17 interceptions and 37.5 sacks in his career.
Case for enshrinement:
Urlacher was the best player on a defense that dominated the league during the middle years of this decade, one that overcame the Bears' offensive woes and led them to the Super Bowl in 2006. As a middle linebacker in the Tampa 2 scheme, Urlacher carried as much responsibility as any defensive player in the game -- calling defensive signals, chasing down ball carriers and covering the deep middle of the field during pass plays.
In that role, Urlacher has been an athletic playmaker unmatched in his prime, notching 17 interceptions and 37.5 sacks, while getting downfield faster than any linebacker in the game.
Case against enshrinement:
Injuries have slowed Urlacher in the past three seasons and he might not have compiled enough Canton-caliber seasons before that point. Detractors also could suggest he benefited disproportionately from the play of defensive tackles
Tommie Harris
and
Tank Johnson
, who kept blockers away from Urlacher more often than not. Hall Of Fame voters haven't been kind to even the best of Bears defenders. Mike Singletary and Dan Hampton are the only Chicago defensive stars from the 1985 Super Bowl team in Canton. Their teammate Richard Dent is now a six-time finalist for Hall of Fame induction but still is waiting for his official invite.
Parting shot:
As we noted last fall
, Urlacher might not stand as the best linebacker of his era.
Ray Lewis
,
Junior Seau
and
Derrick Brooks
might have something to say about that.
Detroit Lions:
Billy Sims, running back
Claim to fame:
He was a dominant runner during the early 1980s. Sims became the Lions' all-time leading rusher even though a knee injury ended his career after 4 1/2 years. (
Barry Sanders
later overtook him.) Sims was a three-time Pro Bowl player, still ranks as the Lions' No. 2 rusher, and has the second-most rushing touchdowns in team history.
Case for enshrinement:
It's obviously a long shot, but it's important to remember how brightly Sims' star shined during his brief career. He rushed for 153 yards in his first NFL game, led the league with 16 touchdowns as a rookie and finished his career with 5,106 yards in 60 career games.
His career ended midway through the 1984 season, at a time when he was averaging a career-high 5.3 yards per rush. There is precedent for acknowledging Hall-worthy careers cut short by injuries. Did you know that Chicago Bears Hall of Fame running back Gale Sayers, forced to retire at age 28, gained fewer career rushing yards (4,956) than Sims in more games (68)?
Case against enshrinement:
Sayers was a special case who was also a dangerous return man. In reality, it's difficult for voters to consider a running back who ranks No. 106 on the NFL's all-time rushing list. But Sims was one of the NFL's top players during the time he spent in the game.
Parting shot:
Sims' impact on the team also should be considered. The Lions were 2-14 the year before he was drafted. In 1980, they improved to 9-7. By 1983, they were division champions.
Green Bay Packers:
Jerry Kramer, guard
[+] Enlarge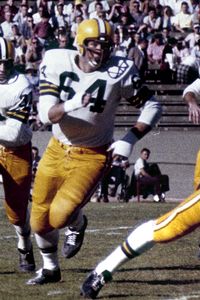 David Boss/US PresswireThe Packers won three NFL Championships and two Super Bowls during Jerry Kramer's career.
Claim to fame:
During an 11-season career from 1958-68, Kramer was a five-time All-Pro. He was named to the NFL's All-Decade Team for the 1960s and was the only guard selected for the NFL's 50th Anniversary team. Every other player on that team has been enshrined in the Hall of Fame.
Case for enshrinement:
As with most successful offensive linemen, most of Kramer's contributions came in a team context.
During his tenure, the Packers rushed for 21,637 yards -- the second-highest total among all NFL teams over that period. Kramer's blocking was one of the reasons fullback Jim Taylor posted five consecutive 1,000-yard seasons. Over that stretch, Taylor rushed for more yards than anyone but Cleveland's Jim Brown. Overall, the Packers made the playoffs eight times in Kramer's career and won three NFL Championships and two Super Bowls.
Case against enshrinement:
Guard isn't usually a highly valued position. In the history of the game, only 11 players who were primarily guards have made the Hall of Fame.
Voters could also be split on the source of the Packers' running success, from Vince Lombardi's coaching to the individual talents of Taylor and running back Paul Hornung.
Parting shot:
Kramer made one of the most famous blocks in history, clearing the way for Bart Starr's quarterback sneak to win the 1967 "Ice Bowl" game.
Minnesota Vikings:
Jim Marshall, defensive end
Claim to fame:
Marshall set a then-NFL record by playing in 282 consecutive games, of which he started 270. He played in two Pro Bowls, four Super Bowls and recovered an NFL-record 29 fumbles.
Case for enshrinement:
If "answering the bell" is one of the main prerequisites for NFL players, then Jim Marshall is one of the greatest of all time. Although some of the stories have been embellished a bit over time, suffice it to say that Marshall battled through enormous pain and legitimate injuries to play for so long and at such a high level.
A punter (
Jeff Feagles
) and a quarterback (
Brett Favre
) have since surpassed his record, but it's doubtful a defensive lineman ever will approach it. It would take 17 seasons of starting 16 games to do it. (Or 15 years if the NFL moves to an 18-game season.)
The longevity mark sometimes overshadows Marshall's skills as a pass-rusher. Although sacks weren't an official statistic then, the Vikings credit him with 127 -- only three fewer than teammate and Hall of Fame tackle Alan Page and 13 more than newly elected tackle
John Randle
.
Case against enshrinement:
Like it or not, one of those 29 fumble recoveries always will haunt Marshall's candidacy. In 1964, he picked up a fumble against San Francisco and ran 66 yards in the wrong direction for what was ruled a safety.
Parting shot:
Another factor that might not be fair but is worth considering: Two members of the Purple People Eaters, Page and Eller, are already in the Hall of Fame. Would voters agree that 75 percent of one defensive line should be enshrined?
July, 1, 2010
7/01/10
12:00
PM ET
Notable players:
Defensive linemen Carl Eller, Gary Larsen, Alan Page and Jim Marshall; receiver Gene Washington; center Mick Tingelhoff; quarterback Joe Kapp; safety Paul Krause.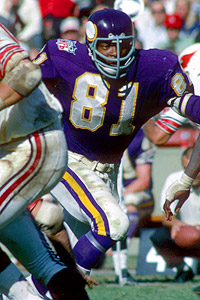 Malcolm Emmons/US PresswireCarl Eller was part of a Vikings defense that allowed just 133 points in 1969.
Analysis:
On the strength of a defensive line that sent all four starters to the Pro Bowl, the 1969 Vikings won 12 consecutive games and became the first NFL expansion team to reach a Super Bowl. The "Purple People Eaters" defense allowed the fewest points in the league that season (133), while the Vikings offense scored a league-high 379 points.
NFL Films recently produced a series naming the 1969 Vikings one of the five best teams in league history that didn't win the Super Bowl. The 1998 Vikings were also on that list, but the '69 team was more balanced. Its offense scored at least 50 points in three different games, while the defense allowed the fewest points, yardage and first downs in the NFL while ranking second in takeaways. The 12-game winning streak was the longest in a 35-year span of the league.
The team's two losses that season came by one point at the
New York Giants
in the season opener and by a touchdown in the season finale at Atlanta. Both defeats came with starting quarterback Joe Kapp sidelined and backup Gary Cuozzo taking most of the snaps. Despite the presence of three future Hall of Famers (Eller, Page and Krause), Kapp was named MVP for the way he inspired a team-oriented concept throughout the year.
In a legendary gesture, Kapp turned down the award and reiterated the team's battle cry that season: "40 for 60" -- 40 players committed for 60 minutes of football. Players were so confident in the sum total of their talent that they often laughed at opponents when they celebrated touchdowns.
Speaking in the NFL Films piece, Marshall said opponents would ask why they were laughing when they had just given up a touchdown. "Yeah," Marshall said, "but you're not going to win the game. We are."
There was a sense of destiny for this team, and its 23-7 loss to the
Kansas City Chiefs
in Super Bowl IV was stunning. But when you consider the four Vikings teams that went to the Super Bowl, as well as the 1998 team that just missed it, you have to consider the 1969 group as the most dominant.
Most impressive victory:
Tie for the team's collective work against the 10-3
Cleveland Browns
. The Vikings took two games against the Browns by a combined score of 78-10, including a 51-3 romp in the regular season and a 27-7 victory in the NFL Championship Game.
Did you know?
The 1969 Vikings won the last NFL Championship in history. The NFL and AFL merged the year afterward, creating conference championships that fed into the Super Bowl.
Honorable mention
1998:
Finished a franchise-best 15-1, set the NFL record (since broken) with 556 points scored and made it to NFC Championship Game.
1973:
Advanced to Super Bowl VIII with a 12-2 record and a resounding victory at Dallas in the NFC Championship Game.
1976:
This team's two losses came by a total of five points. It breezed through the playoffs before a 32-14 loss to Oakland in Super Bowl XI.
September, 16, 2009
9/16/09
5:15
PM ET

Posted by ESPN.com's Kevin Seifert
EDEN PRAIRIE, Minn. -- Sunday will mark the first of two pretty significant milestones for Minnesota quarterback
Brett Favre
. By opening the Vikings' game at Detroit, he'll extend his streak of consecutive starts to 271 and break the NFL record held by former Vikings defensive end Jim Marshall.
And if all goes well for Favre, he'll pass Marshall on the league's all-time list for consecutive games played later this season. (Note the distinction between games STARTED and games PLAYED.) The Vikings' Dec. 6 game at Arizona would be Favre's 283rd consecutive GAME.
New York Giants
punter
Jeff Feagles
is the only player ahead of Marshall with a mark of 337 consecutive games played and counting. (Punters don't get credit for starts.)
Reflecting on that history Wednesday, Favre recalled an earlier milestone. In a 1999 game against Chicago, he broke Ron Jaworski's record for most consecutive starts by a quarterback.
"They stopped the game," Favre said. "I was kind of like, it's not that big of a deal. It is and it isn't. But I feel like stopping the game every time now. I think I always knew how difficult it was to play. It's the game of football. You can get hurt doing anything. But the game of football is physical. I don't get hit every play like running backs and linemen, but I think about 16, 17 straight years. That's a long time."
Indeed, Favre hasn't missed a start since taking over the Green Bay job on Sept. 27, 1992. Wednesday, he said the closest he has come to missing a game was after fracturing the thumb on his throwing hand in Week 7 of the 2003 season.
"It's important because I know how hard it is to do," Favre said. "... But it's not important enough just to play just to keep the streak alive. That's never been my intention."
Perhaps not, but Favre is nevertheless entwined and invested in the streak. Part of his value and identity is showing up for work every day. Many moons ago, I covered the Baltimore Orioles when Cal Ripken broke Lou Gehrig's record of 2,130 consecutive games. There were regular calls for Ripken to end his streak after he broke the record, but Ripken considered his daily availability to be the ultimate individual contribution he could make in a team environment. I'm guessing Favre feels the same way.
September, 7, 2009
9/07/09
7:14
AM ET

Posted by ESPN.com's Kevin Seifert
One item escaped us of full discussion during the weekend flurry of roster moves: Green Bay's decision to release safety Anthony Smith, one of its two free-agent acquisitions this winter. (Smith was claimed on waivers by St. Louis, the team with No. 2 priority in the waiver system.)

General manager Ted Thompson
said
the Packers decided they wanted more of a swing player who could move between safety and cornerback. As a result, they traded for Baltimore defensive back Derrick Martin.
Thompson: "It was just a thing, we had an opportunity to get a player from Baltimore that kind of fit what we were looking for. A little bit of a corner, a little bit of a safety, special teams. It just came down to that."
Martin has a bit of a checkered past; in 2008, he was arrested at a security checkpoint in Cleveland on suspicion of marijuana possession. The charges were later dropped, but he served a one-game NFL suspension.
Martin told
Tom Pelissero of the Green Bay Press-Gazette
that he has "never failed a drug test." He hopes to get up to speed quickly in the Packers' scheme and perhaps serve as the dime back in their defense.
Continuing around the NFC North:
April, 29, 2009
4/29/09
4:00
PM ET
Posted by ESPN.com's Kevin Seifert
Jon of Minnesota suggests a juicy angle to the possibility that Brett Favre could some day end up in Minnesota:
I bleed purple and won't venture to guess what Favre's going to do. Brett probably doesn't even know. One other interesting factoid though which you ... didn't mention. The consecutive games record is at 270 by former Vikings great (and goof) Jim Marshall. Favre is currently at 269. Just saying.
As long as we're blogging from Fantasyland, we might as well consider the possibility of Favre surpassing Marshall's mark while in a Vikings uniform. Oh, the irony. (Or is it just interesting? The actual definition of irony always escapes me.)
There are a few caveats to Jon's suggestions. First, Favre's agent reiterated Wednesday that Favre has no plans to play in 2009. Take that for what it's worth.
Second, New York Giants punter Jeff Feagles technically owns the consecutive-games streak, which stands at 336. Marshall's record is for non-kickers/punters.
Second: While it's commonly held that Marshall's streak is 270 games, the NFL record book lists it at 282. The 12-game discrepancy dates back to Marshall's rookie season with Cleveland in 1960. He started 270 consecutive games but played in 282.
Favre could surpass both numbers by playing a 16-game season in 2009. But he's retired so there's no way that could happen.