February, 6, 2013
Feb 6
2:35
PM ET
Everything we wrote last week
about
Green Bay Packers
fans' adulation for receiver
Donald Driver
played out Wednesday in the Lambeau Field atrium. A capacity crowd of thousands, many of whom
had waited in minus-3 degree temperatures
for tickets, greeted Driver and his family as he formally announced his retirement.
[+] Enlarge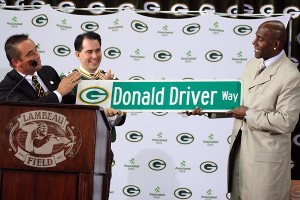 Mary Langenfeld/USA TODAY SportsMayor Jim Schmitt announced Wednesday that a street will be re-named Donald Driver Way in honor of the retiring wide receiver.
I watched most of the hour-long ceremony via the Packers' website. It included some genuinely funny remarks from stoic general manager Ted Thompson, who noted that public speaking is "one of my favorite things." Coach Mike McCarthy got choked up speaking about Driver's family, and both the governor of Wisconsin and the mayor of Green Bay showered Driver with honors.
Gov. Scott Walker, wearing a Packers jersey with Driver's No. 80, declared Wednesday "Donald Driver Day" in Wisconsin. Mayor Jim Schmitt, meanwhile, said that a statue outside the venerable Titletown Brewery will be identified as Driver and a nearby street will be re-named "Donald Driver Way."
Driver, meanwhile, said that "football was just a starting point" for him and appears set to start a career in television. He will co-host an episode of the Katie Couric daytime talk show, has a book due out in September and will participate in an "Extreme Makeover" series as well.
I guess you can say what you want about the excess of this event, but we should all be so lucky to receive such a sendoff.
October, 30, 2009
10/30/09
10:45
AM ET
Posted by ESPN.com's Kevin Seifert
I continue to be underwhelmed by the hype heading into Sunday's game between
Brett Favre
, er Minnesota, and Green Bay at Lambeau Field. I think everyone recognizes it's a critical matchup in terms of NFC North standings, but to this point, the sideshow has yet to transcend reality. (
Yes!!!
)
| | |
| --- | --- |
| | |
| | Genevieve Ross/Getty Images |
| | How are Packers fans going to react to Brett Favre's return to Lambeau Field? |
You offered some funny suggestions and a few thoughtful ideas this week in response to
our request
for how Green Bay fans should handle Favre's return.
Aliahdayne1005
suggested a "waffle" station, manned by former Packers defensive tackle
Gilbert Brown
, be set up on the Vikings sideline.
Exileondaytonstreet
would love the Packers to use only two songs on the public address system: "
Mississippi Queen
" (Mountain or Grand Funk versions) and "
The Night They Drove Old Dixie Down
" by The Band.
Aliahdayne1005
might have had the coolest idea:
"Bring back the entire '96 team: Butler, Freeman, Levens, Chmura, ... all of them. Seat them right behind the Viking bench. Give Brett a little something to think about and remind him what a special team he used to be a part of. A distracted Brett turns into a turn-over machine."
But the appetite for such stunts seems muted, I'm happy to report. (Seriously.)
Pinter Neesbak
writes: "It is my sincere hope that the fans are as classy as they have been historically, showing respect for a man who they supported for almost two decades while cheering their beloved Packers on to victory Sunday."
MiracleMan720
went
Allison Krauss/Ronan Keating
on it and wrote: "You say it best....when you say nothing at alllllllllllllllllll."
Mjschaefer260
had a simple plea: "Is playing the game a possibility? I'd be fine with that."
My take?
As I've said, I don't sense the same tension heading into this game as I did for the Oct. 5 "Monday Night Football" affair. Maybe that's because I haven't gotten over to Green Bay yet. But I'm assuming some of the commenters on the original Have at It entry are there, and I didn't scroll through any evidence of mass hysteria or anything beyond the anticipation of a big game.
Green Bay mayor Jim Schmitt's insertion into the hype makes me feel a little dirty. I suppose he could be concerned the city will be perceived poorly if fans erupt in, say, a non-traditional fashion on Sunday. But like most politicians, he hasn't allowed an opportunity for attention to pass him by.
I know this is going to sound quaint, perhaps even silly and out of touch. But I think the best thing fans can do Sunday upon seeing Favre is to cheer the bejeezus out of the Packers. Showing class is always nice. But just as important is this: Every moment directed at Favre, no matter how creative, is another moment suggesting you haven't gotten past his departure. Essentially ignoring him, while channeling excess emotion toward the team you actually root for, would be the highest form of fandom and a reminder that your support is based on the team, not individual players or components.
Stepping off the soap box …. now. See you all Sunday.
October, 28, 2009
10/28/09
11:15
AM ET
Posted by ESPN.com's Kevin Seifert
I'll admit it: I was originally turned off by Green Bay mayor Jim Schmitt's decision to insert himself into the hype for Favre-Packers II this week. As you might recall, Schmitt
began soliciting
suggestions to "tastefully" commemorate
Brett Favre
's return to Lambeau Field in a Minnesota uniform.
Schmitt took to the ESPN airwaves this week, appearing on ESPN2's "First Take" to continue promoting the idea. In the video below, Schmitt says the common thread among Green Bay citizens is that "they like Brett Favre but they love the Packers."
Politicians rarely miss an opportunity for attention, but I suppose I'm fine with a mayor trying to steer the behavior of his citizenry when it's the subject to national interest in the sports world. Among the ideas he'll likely pursue, Schmitt said, is changing the name of a local "Minnesota Ave." to "Rodgers Dr." in order to honor current Packers quarterback
Aaron Rodgers
. Another has been for schoolchildren to write "12 reasons 4 staying in Green Bay" as a civic venture that plays off the jersey numbers for Rodgers and Favre.
Finally, Schmitt said he's planning some sort of stunt revolving around waffles, a dig on Favre's inability to make a decision. That's pretty funny, but I wonder if it's an appropriate message coming from a mayor's office.
So I'll turn it over to you: What's the best way for Green Bay citizens, Wisconsinites and Packer fans to treat Favre's return? Think in terms of the values and ideals you want to reflect and project.
I've got some strong thoughts on the matter, but I'll hold them for our usual Friday morning post, where I'll also compile a representative sample of your responses. Have at It.