September, 21, 2014
Sep 21
7:45
PM ET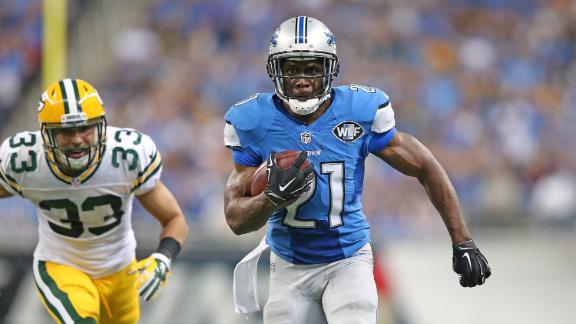 DETROIT -- Each Saturday in the
Detroit Lions
' defensive line meeting, coaches Jim Washburn and Kris Kocurek handed out a link to a chain.
There are, defensive tackle
Nick Fairley
said, 10 chain links. Each of the Lions' 10 linemen then talks about what he will do the next day. After the exercise, the chain is put together. The next day it comes out onto the field with the Lions before the game.
If you're looking for a strong link for this Detroit team, it resides with the defensive line. Injuries have decimated the secondary -- they played their fourth, fifth and sixth slot cornerbacks of the season Sunday -- and middle linebacker
Stephen Tulloch
missed most of the game with a knee injury.
Yet the Detroit defensive line shut down Green Bay's run and flustered Packers quarterback
Aaron Rodgers
throughout the Lions' 19-7 win. It's a win where the defense actually outscored the Packers' offense, 8-7.
That started with the defensive line.
"Every time in the defensive line room, man, our main thing is staying on gap and staying fundamental," Fairley said. "They are not going to be able to run the ball if we're able to do that. If we don't shoot ourselves in the foot, we're going to be able to stop the run ... nine times out of 10, that's what we're going to be able to do the whole year."
Through three games, Detroit has managed it well. The Lions entered the game with the stiffest run defense in the league, allowing 2.5 yards a carry. Gap integrity remained intact Sunday as the Lions allowed 3.5 yards a carry and picked up a safety on a run.
The first Detroit touchdown came off a Green Bay run, too.
Eddie Lacy
got the ball on the Packers' second offensive play. Fairley moved into the gap between the Green Bay center and left guard. Lacy bounced to the 'B' gap between the guard and tackle. Fairley was stuck, but he was able to 'just put my arm out and was able to get my hands on the ball."
Lacy's fumble led to a
Don Carey
touchdown and started a day for the Detroit defensive line that saw it produce three tackles for losses, two quarterback hits and the Fairley forced fumble. The line also helped put enough pressure on Rodgers to produce a career-worst performance against the Lions.
Detroit rushed its front four on 25 of Rodgers' 29 dropbacks, according to ESPN Stats and Information. Against that pressure, Rodgers completed just 58.3 percent of his passes for only 5.8 yards an attempt. That was possible because Detroit shut off the run.
"The plan was, basically, keep Aaron in the pocket, stop the run, and at least on the pass get in his face," defensive end
Jason Jones
said. "Make him uncomfortable back there."
Detroit gambled in trusting its front four. The Lions played both safeties high -- something Rodgers noticed quickly -- throughout the game. Rodgers said Green Bay never adjusted and did what Detroit wanted.
"We really took it as a challenge, playing two high safeties against them," Lions linebacker
DeAndre Levy
said. "You kind of have to with how good a quarterback he is and how great of receivers he has. I think it's kind of a risk-reward thing.
"You take the risk of maybe not being as tight in the run, but you'd rather Lacy have the ball than Aaron Rodgers. Not to knock Lacy, he's a great running back, too, but we kind of put it on ourselves and stepped to the challenge."
March, 14, 2014
Mar 14
2:25
PM ET
ALLEN PARK, Mich. -- He tried something different for a season, thinking even though he had been a defensive end for years, the transition to playing outside linebacker might work.

Tapp
After a one-year stint with Washington,
Darryl Tapp
decided he needed to return to some familiarity, not with a team, but with a situation. In understanding why Tapp signed a one-year deal with the
Detroit Lions
, the answer is two-fold.
Going back to defensive end in a 4-3 and the coach he would play for, Jim Washburn.
"Our relationship actually started at the Senior Bowl," Tapp said during a teleconference Friday. "Coach Washburn was with the Titans and his staff was the North, and he got his hands on me and that was my first introduction to the NFL, the way he coached me up and the way he brought me with the speed and the way they do things in the NFL.
"Then, in Philadelphia, he had me again and I've been trying to get with that guy for the last five years at that time, and it just worked out well in Philadelphia."
Tapp played two seasons for Washburn, 2011 and 2012 with the Eagles, before the two were separated again. But being a free agent for the second time in his career -- the first time was last season, when he took a chance on making a position switch -- Tapp knew he wanted to play for the guy he felt could really help him.
That was Washburn, so Detroit became a viable option.
Whether he is the same player or not, though, is debatable. His production has dipped every year since 2008, when he had 54 tackles and 5.5 sacks. After a 2009 season with 49 tackles for Seattle, he was traded to Philadelphia.
He hasn't played 16 games in a season or made more than 30 tackles in a season since. Tapp, though, doesn't believe he has diminished as a player. According to Pro Football Focus, he graded out positively in every season he played except for last season at outside linebacker and, coincidentally, the 2008 season, which was his best statistical year.
"Stat line don't always tell the story," Tapp said. "Let's get that first and foremost. I'm the same player that I was coming out of the draft, just a few years older and a few years wiser."
Whether he's able to contribute will be determined.
If you're looking for more on Tapp, here's what our Washington reporter, John Keim,
told me about him
.
January, 15, 2014
Jan 15
12:05
PM ET
Jim Caldwell is the new
Detroit Lions
coach, and though there has been a lot of consternation about the hire, the Lions will succeed or fail based upon his decisions and his ability to develop players, notably quarterback
Matthew Stafford
.
Caldwell will meet with the media for the first time Wednesday, and based on what I've heard and been told about his interview on Jan. 3, he has a detailed plan for how he is going to fix both the Lions and Stafford.
Those are his two most important tasks as Detroit's head coach. If he is unable to do that, he'll join the line of Marty Mornhinweg, Steve Mariucci, Rod Marinelli and Jim Schwartz as coaches who couldn't quite reach the level the team wanted.
[+] Enlarge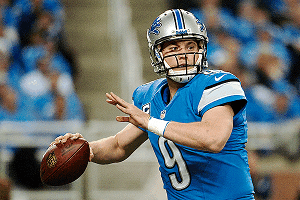 Tim Fuller/USA TODAY SportsDeveloping Matthew Stafford is one of the most important tasks facing new Lions coach Jim Caldwell.
If he can succeed, he'll have a chance to do something only one coach in the Super Bowl era, Wayne Fontes, has even come close to doing with the Lions: turn the team into a consistent winner.
Here's a look at five things Caldwell will have to do early in his tenure with the Lions.
1. Hire a competent staff:
He could have some names as early as his introductory news conference, but Teryl Austin is a name I've been told multiple times as a likely defensive coordinator. Bill Lazor was a name for offensive coordinator, but h has been hired by Miami. If Caldwell doesn't put together a strong staff, that will be an issue early on. Former Ohio State coach Jim Tressel also could end up on Caldwell's staff.
2. Make smart decisions about free agents with GM Martin Mayhew:
Dominic Raiola
and
Brandon Pettigrew
are two of the bigger free agents for the Lions. Raiola is a strong presence in the locker room, and it might be smart to bring him back for continuity on an offensive line that was one of the best in the league last season. Pettigrew could be interesting. He is an important cog, as was
Dallas Clark
, Caldwell's tight end in Indianapolis and with the Ravens this season. Of course, Clark is also a free agent, so Caldwell might push to get him to Detroit.
3. Matthew Stafford:
Part of the reason Caldwell was hired was to work with Stafford, with whom the coach met on his interview. Stafford, according to receiver
Kris Durham
, seemed to like Caldwell. That relationship will be critical to any success Caldwell has in Detroit. He believes he has a plan to fix Stafford -- both
Joe Flacco
and
Peyton Manning
are high on Caldwell's ability to help quarterbacks -- and the coach will have to be able to implement that plan as soon as possible.
4. Keep at least two current assistants:
This goes with the first point. John Bonamego did a really good job with special teams almost all season, including finding strong gunners in
Don Carey
and
Jeremy Ross
. Jeremiah Washburn turned an offensive line with two rookies on the right side into one of the top groups in the NFL, and players seemed to really like him. Jim Washburn and Kris Kocurek did a good job with the defensive line, and Matt Burke was strong with the linebackers. Consider at least some of them to keep some continuity.
5. Get out in the community:
This might sound silly, but Caldwell is not a popular hire with the Detroit fan base. By all accounts, he is a good, well-intentioned man, so by doing a lot of community outreach early on, he could turn some people who are currently not pleased about the hire. Of course, the best way to do that is to win games, but getting out in the community would be a strong start.
January, 24, 2013
1/24/13
8:30
AM ET
We're Black and Blue All Over:
The Detroit Lions' decision to hire respected veteran coach Jim Washburn, confirmed this week by coach Jim Schwartz, is a creative way to adjust their defensive coaching staff without firing anyone.

The Lions have replaced three offensive assistants, all of whose contracts had expired. They retained defensive coordinator Gunther Cunningham and his staff, but Washburn will take on an unspecified role that will include partnering with current defensive line coach Kris Kocurek.
"The more eyes on those guys the better," Schwartz told reporters Wednesday, via
Dave Birkett of the Detroit Free Press
. "That can help with technique, that can help with scheme, it can help with the game plan, it can help with game day. There's a lot of positives there. He's very familiar with our scheme. He's had a lot of production."
Washburn, 63, has been an NFL defensive line coach for 14 seasons and coached Kocurek when both were with the Tennessee Titans. Washburn's role with the Lions is relatively unique on NFL coaching staffs, but in the end the Lions added a good coach without rocking the boat.
Continuing around the NFC North: