February, 21, 2014
Feb 21
8:00
AM ET
INDIANAPOLIS -- One by one, the top tight ends in this year's NFL draft rolled through Lucas Oil Stadium as part of Thursday's interview session at the scouting combine.
There was
Eric Ebron
of North Carolina,
Jace Amaro
of Texas Tech,
Austin Seferian-Jenkins
of Washington,
Troy Niklas
of Notre Dame,
C.J. Fiedorowicz
of Iowa and on and on.
Most, if not all, were asked which NFL tight end they admired, emulated or resembled.
For some, like Ebron, it was
San Francisco 49ers
tight end
Vernon Davis
.
[+] Enlarge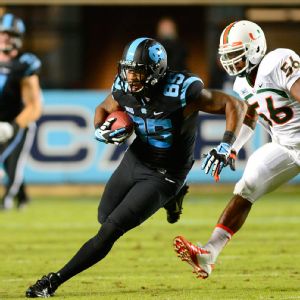 Bob Donnan/USA TODAY SportsCarolina likely would have to trade up in the first round of the NFL draft to have a shot at selecting Eric Ebron.
For others, like Amaro and Fiedorowicz, it was the New England Patriots'
Rob Gronkowski
.
For Seferian-Jenkins, it was the New Orleans Saints'
Jimmy Graham
and the Denver Broncos'
Julius Thomas
, who like him had a background in basketball.
Not one of them, however, mentioned
Jermichael Finley
.
Yet if the
Green Bay Packers
don't bring back their starting tight end, which is a likely course of action given his neck injury and his expiring contract, one of those players could become the next Finley.
Most of the top tight end prospects said Thursday that they had either visited with the Packers or planned to talk with team representatives this week at the combine.
So too will Blake Baratz, the agent who represents Finley, but the Packers may have already decided that Finley's neck fusion surgery was too much of a risk to bring him back. If that's their plan, then there are plenty of viable options in this draft, which features playmaking tight ends of all sizes.
It starts with the 6-foot-4, 250-pound Ebron, who likely will be the first tight end taken in the draft and could be gone before the Packers pick at No. 21.
"I'm very fast; I'm very different," said Ebron, who along with the other tight ends will do their on-field testing this weekend. "I play the tight end role like no one else."
In some ways, he plays it like Finley, whose physical presence is similar to Ebron's.
Amaro (6-5, 255) is as much receiver as he is tight end. Most of last season, when he caught 106 passes for 1,352 yards (the NCAA record for a tight end), he played standing up away from the line of scrimmage.
"That's why I'm so unique," Amaro said. "It's kind of a revolution into the game and how the tight ends are coming in across the board. I like to see myself as both a tight end and a receiver."
But can he block?
That's not an issue with Fiedorowicz (6-5½, 265), who was more of a blocking tight end in Iowa's run-heavy offense.
"A lot of tight ends in the NFL are either blocking tight ends or receiving tight ends," Fiedorowicz said. "I like watching Rob Gronkowski. He can dominate both the line of scrimmage and down the field."
Seferian-Jenkins (6-5, 262) said he was asked to do both last season at Washington, where he played basketball as a freshman.
"At the tight end position, you've got a lot of great players [in this draft]," he said. "But what I think I do is if you watched me play, I split out and played receiver. I've done fullback. I've played in line. I think I've showed I'm very capable of being a playmaker down the seam and run regular routes as a receiver, and I've shown the capability of being a blocker."
Niklas (6-6½ , 270) might be the biggest bruiser of this bunch. He began his college career as an outside linebacker.
"I can block, and I enjoy blocking," Niklas said. "I think it's something I can use to my advantage."
Further down the tight end pecking order is Jacob Pedersen of Wisconsin. He grew up just north of Green Bay in Michigan's Upper Peninsula. He's a late-round prospect who would love the chance to be the Packers' next tight end.
"Growing up 45 minutes away from Green Bay, obviously it'd be a childhood dream to play for your home team," said Pedersen, one of six Badgers invited to the combine. "But I'm just hoping to get drafted by a team. Whoever takes me, they're going to get my best effort."
October, 4, 2013
10/04/13
7:00
AM ET
LAKE FOREST, Ill. -- While complimentary of his accomplishments,
Chicago Bears
tight end
Martellus Bennett
refused to indulge in comparisons with New Orleans tight end
Jimmy Graham
.
Asked if Graham was a pretty good player, Bennett deadpanned: "I don't give a [expletive]."
Graham
Bennett
Graham was named the NFC's Offensive Player of the Month on Thursday, marking the first time a tight end had received such an honor in either conference since 1986 when the NFL started the award. Graham hauled in 27 passes for 458 yards and six touchdowns in his team's first four games, and according to ESPN Stats & Information is one TD away from tying the league record for touchdown catches by a tight end over a team's first five games.
Antonio Gates
(2010) and Mike Ditka (1963) currently share that record.
"A lot of guys play my position. I think (Graham) does a phenomenal job for the Saints, but I'm not in competition with him," Bennett said. "We have different roles on our team. He's the No. 1 target over there and I have different job from him. We're different athletes. I think a lot of times people try to compare us but we do a lot of things differently. He does a good job going up for the jump ball, and making plays for them. He's the No. 1 choice over there. I'm a team guy. Whatever I've got to do, if I have to block a little bit more, whatever it is, I'll do that."
Bennett appears to assume more responsibilities as a blocker in Chicago's system than Graham in the scheme of the Saints, but the Bears have definitely incorporated him heavily in the passing game. Bennett is currently tied for fourth in the NFL among tight ends for touchdown receptions (3), tied for sixth in receptions (20) and eighth among players at his position with 225 receiving yards.
Bennett led the Bears with eight receptions last week in the loss to the Lions, and gained 90 yards.
"Everybody impacts differently. I don't compare myself to (Graham). I don't care what he does for his team. My role on my team, I make a different impact on this team. I have a different job," Bennett said. "I don't care if I catch 10 balls or two balls. As long as I make an impact, in the run game or whether it's helping out in pass protection, whatever it may be. Just like everything else in life. Everybody makes an impact doing different things. Some of us make charitable donations, other people donate their time. There's no wrong way to make an impact. There's no wrong way to eat a Reese's."
June, 26, 2013
6/26/13
4:15
PM ET
In conjunction with its Future Power Rankings, you might have noticed that ESPN.com's Insider group is posting its projected top 10 players at each position in 2016. Obviously it can't include those who haven't entered the league yet, but I was particularly interested in the tight end position given the number of relatively young and talented players we have in the NFC North.
Rudolph
As it turns out,
analyst Gary Horton included only one of our division's tight ends

: the
Minnesota Vikings
'
Kyle Rudolph
, whom he ranked No. 2 overall behind the
New Orleans Saints
'
Jimmy Graham
. That left out the
Green Bay Packers
'
Jermichael Finley
, the
Chicago Bears
'
Martellus Bennett
and the
Detroit Lions
'
Brandon Pettigrew
and
Tony Scheffler
.
Here's what Horton wrote about Rudolph, who was an injury replacement to the 2012 Pro Bowl and wound up winning MVP honors:
"He is a gifted receiver with soft hands and he is Christian Ponder's favorite target. That should continue for years to come … if his QB plays to the level expected. Rudolph is a 'move' tight end who excels in space, and he is a tough defensive matchup. As much as his QB looks to him for a key play, this passing game doesn't stretch the field enough. Without Percy Harvin, can the guys outside threaten defenses enough to open things up for Rudolph? If that happens, the sky is the limit for him."
As we've discussed before
, Rudolph's most important physical attribute is his enormous wingspan and catching radius. He stands a legitimate 6-foot-6, has 34-inch arms with enormous hands (10 3/4 inches). Any quarterback would love to throw to a player who has such a physical advantage over his opponents, and more often than not over the past two years, Rudolph has managed to catch passes that no defender could reach.
In terms of these rankings, it's worth noting that Rudolph is the youngest starting tight end in the NFC North. He'll be 26 in 2016. Finley and Bennett will be 29, Pettigrew will be 31 and Scheffler will be 33. That makes him easiest to project as a star in 2016. But the second-best tight end in football by then? That's where at least one analyst sees him going.
June, 2, 2012
6/02/12
8:00
AM ET
Hey, whaddya say we throw together a weekend mailbag? Comments, questions, criticism and praise are always welcome
through the mailbag
,
Facebook
,
Twitter
or
skywriting
.
Via Facebook, Kona reacts to the latest lively comments from Green Bay Packers tight end Jermichael Finley:
"oh goodness.. As usual, the media blowing things out of proportion…."
Kevin Seifert:
In truth, those of us who are used to hearing Finley hardly blinked at his comments, which came after last Wednesday's organized team activities (OTA).
For those curious,
Jason Wilde of ESPNMilwaukee.com
offers a succinct rundown. Finley said that he and quarterback
Aaron Rodgers
"didn't have chemistry" in 2011, suggested he needs to "freestyle" more on the field instead of playing like a "robot" and insisted that Pro Bowl tight end
Rob Gronkowski
and
Jimmy Graham
are "going to have to show me a little more" before he assesses their level of play.
Some of those comments, particularly the one about chemistry with Rodgers, drew national attention. Here is what I'll say about them: We long ago learned that Finley has a way of making general sentiments sound more dramatic and that he rarely is as convinced about an assertion as he appears to be.
In the case of Rodgers, Finley was simply referring to their minimal work together last offseason because of the lockout. By "freestyle," he didn't mean he plans to ignore playcalls. He simply wants to play with more instinct, which is what the NFL's best players routinely do. On the other hand, I'm not sure if I can interpret his comments on Gronkowski and Graham other than to say he wants to see how they respond to defensive adjustments.
With all of that said, at some point Finley will need to clean up his method for public expression if he wants anything he says to be taken seriously. In Green Bay and around the NFC North, he's more or less viewed as a harmless loose cannon. But eventually something he says will strike a teammate or coach -- or opponent -- the wrong way, if it hasn't already. Trouble would ensue.
From a national perspective, there will be upwards of 2,880 players on NFL rosters this summer. It's too much to ask national media members and fans to know Finley well enough to brush off his words without taking a closer look.
---
Chris of Detroit questioned our criticism of Detroit Lions general manager Martin Mayhew for not addressing his team's off-field issues in a public manner:
I believe that you don't realize that Mayhew rarely addresses the media for good or bad. [Coach Jim] Schwartz is the face of the organization, he has and will always address such in-house issues. Since Mayhew took over he has addressed the media once before and after the season, rarely any other time especially with off the field issues. Mayhew has taken a lot of heat from local media for is lack of access to the media, however they all praise him for being consistent and allowing his coach to be the face of the franchise. While I agree that a GM should be held accountable for his draft class being in trouble, I give him credit for not being vocal during good and bad times as the Lions GM.
Kevin Seifert:
Believe me, I'm well aware that Mayhew rarely speaks publicly and that the Lions' set-up calls for Schwartz to speak for the franchise on most matters. But I still don't think it's right for Mayhew to hide behind that structure in times of unique circumstances.
I fully understand why Mayhew wouldn't want to speak regularly. He wants his actions to speak for themselves and doesn't want to be put in a position to evaluate coaches and players in a public manner during the season. Rare is a general manager who comments on, say, a coach's decision to bench a quarterback or go for it on fourth down. And by all indications Mayhew maintains that policy on both a local and national level. It's not as if he has separate rules for different reporters or outlets.
I guess I just saw six incidents in five months to be beyond the daily operation and structure of any NFL team. It's not quite a crisis, but it is a dire-enough situation that team vice chairman Bill Ford
called it "disappointing, very disappointing" and "a shame"
last week.
I don't believe that Mayhew has an obligation to "to take the heat" from a throng of media because he "deserves" that punishment. Again, I thought it was unfair in this case for Schwartz to do all of the explaining and to be cast alone in the spotlight for something that is not only this serious, but also something an issue for which he does not have ultimate responsibility.
---
In
the comments of this post on Chicago Bears offensive lineman Gabe Carimi, WINDYCITYWOMBRAIDERRETURNS notes that two first-round picks of former general manager Jerry Angelo -- Carimi and Chris Williams -- could "make or break the season."
Kevin Seifert:
In a way, it's interesting to see so much discussion on the Bears' relative lack of attention to their offensive line when two former first-round picks could conceivably be among their five starters this season.
Our commenter is no doubt hoping that Williams makes a career comeback and overtakes the left tackle position from
J'Marcus Webb
. That might be too much to ask, and it's quite possible Williams is headed for a year as a swing left/right tackle before departing the franchise in 2013.
But even if that's the case, it's not clear if Webb has any better chance than Williams to develop into a fixture at left tackle. That circumstance places further scrutiny on Angelo's failed attempt to lock down the position with Williams five years ago.
---
Brandon of London, Canada, remains concerned about Minnesota Vikings quarterback Christian Ponder after reading this post:
While I would usually 100% agree with your feeling that you can't read too much into OTA's and off-season practices etc., but shouldn't the Vikings be extremely concerned that Ponder cannot even succeed when there's 0 pressure against their historically last bad secondary of last season (plus a few rookies)? Shouldn't now be when he's wowing people and being over-hyped?
Kevin Seifert:
There is something to be said for that. I mean, it's far more common to read enthusiastic coverage of a player lighting it up during spring drills than the other way around.
And to be clear, my post wasn't meant to suggest that Ponder struggled through the OTA that I watched. He had one really bad mistake that I saw, one that seemed rare even in this kind of setting. But he also made his share of nice passes. He was inconsistent, which isn't totally unexpected for a player going through his first NFL offseason, and I thought that positive/negative was implied in the "fits and starts" headline.
February, 23, 2012
2/23/12
6:54
PM ET
INDIANAPOLIS --
Green Bay Packers
tight end
Jermichael Finley
just skipped through Lucas Oil Stadium, stopping to speak with a handful of reporters before meeting with general manager Ted Thompson here to finalize his new two-year contract.

Finley made clear that he didn't want to test the open market and couldn't envision a better situation for his future growth -- and another payday -- than Green Bay. As we discussed earlier Thursday, Finley could put himself in prime position in 2014, when the NFL's salary cap is expected to rise and two of the NFL's best tight ends,
Jimmy Graham
and
Rob Gronkowski
, probably will have signed lucrative extensions.
"It was a no-brainer to sign a two-year deal," Finley said, "and come back to the table at 26 when Jimmy Graham done hit it and Gronkowski done hit it and raised the market. I'm going to be back then, knocking on the door."
As a blog community, I think we can all say we're looking forward to it.
February, 22, 2012
2/22/12
12:15
PM ET
We've discussed several times the possibility of a precedent-setting offseason fight between the
Green Bay Packers
and tight end
Jermichael Finley
. Namely: If the Packers make him their franchise player, could Finley justifiably argue
he is a receiver rather than a tight end
? The answer could be the difference between a $5.5 million tag and one around $9 million.
Neil Hornsby of Pro Football Focus
has reconciled and further analyzed some numbers we introduced as part of last week's discussion. Finley is among a group of hybrid pass-catching tight ends who are used all over the field, according to Hornsby's film analysis, Finley could argue that he was aligned away from the tackle on 51 percent of his plays in 2011 and that he was in a 2-point stance on 60 percent of his plays.
Because Finley was lined up as a receiver on a mathematical majority of plays, Hornsby concludes: "In every measurable category Finley should be considered a wide receiver for the purposes of the tender."
That might be true from a technical sense. But from this vantage point, a more equitable challenge would be to request a new franchise classification that takes into account the way tight end play has evolved for some NFL teams. Finley,
Jimmy Graham
and
Rob Gronkowski
are used differently than earlier generations. On the one hand, they are higher-profile and have more impact on the passing game than traditional in-line tight ends. But it's hard to consider them receivers when true receivers play nearly 100 percent of their snaps away from the line of scrimmage and in a 2-point stance.
In that scenario, the value of Finley's franchise tag could rise above that of tight ends but fall short of the one assigned to wide receivers.
I'm not sure if that will happen, but that possibility seems much more realistic than putting players like Finley in the same category as, say,
Vincent Jackson
of the
San Diego Chargers
or
Dwayne Bowe
of the
Kansas City Chiefs
. Stay tuned.
February, 14, 2012
2/14/12
2:00
PM ET
First in a daily series on NFC North players who are candidates to receive their team's franchise tag. The window for tagging players opens Monday and closes March 5.
[+] Enlarge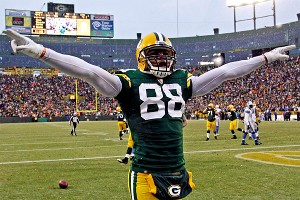 AP Photo/Morry GashJermichael Finley had a career-high eight TD catches in the first 16-game season of his career in 2011.
The
Green Bay Packers
have several candidates for their franchise tag, but most public discussion has centered around tight end
Jermichael Finley
. He is part of a Packers free agent class that also includes quarterback
Matt Flynn
and center
Scott Wells
, but the price tag for quarterbacks (projected to be $14 million) makes Flynn a less likely franchise target. Conventional wisdom, meanwhile, suggests the Packers should be able to reach an amicable long-term agreement with Wells.
Finley's case is interesting on several levels. As
we noted during the regular season,
the NFL's new collective bargaining agreement changed the calculations for franchise tags in a way that makes it a more attractive tool for the Packers to retain Finley's rights. The franchise tag is no longer the average of the five highest-paid players at a given position. Instead, it is the average of the highest salaries at the position over the past five seasons.
Franchise numbers for 2012 haven't been announced, but it's expected to be around $5.5 million for tight ends. From a team standpoint, that figure is quite reasonable for a 24-year-old tight end who caught a career-high eight touchdown passes in the first 16-game season of his career in 2011. From a financial standpoint, most NFL teams would be happy to lock up an ascending free agent tight end for $5.5 million in cash and salary-cap commitment.
Is there anything Finley can do to fight that eventuality, short of holding out? Although neither Finley nor his agent have spoken publicly about it, several media outlets have suggested the possibility that he could declare himself a wide receiver, based on how often the Packers use him in the slot or split wide. That designation would qualify Finley for a significantly higher franchise number, perhaps double the one for tight ends, and give him more leverage in a long-term negotiation.
There is some precedent for appealing the position classification for franchise players. In 2008,
Baltimore Ravens
linebacker
Terrell Suggs
spurred the NFL and NFL Players Association
to create a new defensive end-linebacker position
for the 3-4 scheme. The change elevated his franchise value by about $500,000.
According to
Pro Football Focus (PFF),
Finley lined up as a receiver on a little less than half of his total snaps in 2011 (roughly 409 of 883). I'm not sure if he could argue he is a wide receiver, but you wonder if the recent trend toward receiving tight ends -- led by the
New England Patriots
'
Rob Gronkowski
and the
New Orleans Saints
'
Jimmy Graham
-- might eventually lead to a new hybrid franchise tag.
In the end, Finley's value lies in his production relative to his position. He had one of the better seasons for a tight end in the NFL last season, catching 55 passes for 767 yards to go along with the eight touchdowns. But if you applied those numbers to a receiver, they would hardly be considered elite.
It's usually a better situation for all parties to find common ground on a long-term contract. But unless the franchise tag for tight ends turns out to be much higher than projected, the Packers are in a fine spot with one of their best players.
January, 16, 2012
1/16/12
12:30
PM ET
After the Green Bay Packers' 37-20 playoff loss to the New York Giants, here are three issues that merit further examination:
Kevin SeifertFollowing their loss to the Giants, the Packers take a seat in the examination room.

Some of you thought I affixed too much blame for the defeat on the Packers' offense. The defense, of course, had trouble tackling Giants ball carriers all afternoon and gave up a touchdown on a Hail Mary that "should never happen," cornerback Charles Woodson said. But isn't that the way the Packers' defense played most of the season? Time and again, the offense's elite play overcame what was an ordinary defense. To me, it was always on the offense to carry this team to the Super Bowl. Its stunning failure Sunday, mostly through unforced errors, explains why the Packers are at home Monday. With that said, however, the Packers should take a long big-picture look at their defense this offseason. Coordinator Dom Capers has now sandwiched two alarmingly porous seasons (2009 and 2011) around a championship-caliber year in 2010.

Tight end Jermichael Finley might have complicated his offseason with a case of the dropsies that continued into the playoffs. Our friends at ESPN Stats & Information tend to have a high standard for what constitutes a drop, but they had Finley with eight during the regular season -- the third-highest total in the NFL. Finley remains a matchup nightmare, and it's worth noting that the Giants had these words written on a whiteboard in their locker room at Lambeau Field: "Play physical football and beat the hell out of number 88." (Thanks to NFC East blogger Dan Graziano for that one.) Obviously, Finley was front and center in the Giants' defensive focus. I don't think the drops will change the way the Packers evaluate his future, and the relatively low franchise figure for tight ends -- around $5.5 million -- gives them a reasonable option for 2012. But I think we can all agree that Finley's season ended somewhat short of expectations that he would blossom into the NFL's best tight end.. The Packers' star-studded offense requires distribution of the ball, minimizing individual statistics. But if you're talking about the NFL's best tight ends, you probably mention at least three others -- Vernon Davis, Jimmy Graham and Rob Gronkowski -- before you get to Finley.

If Sunday was Donald Driver's final game with the Packers, he spent it providing evidence that he can still help someone in 2012. Driver was a part-time player in 2011, catching 37 passes while playing on about half of the Packers' plays. He'll turn 37 next month and has one year remaining on a contract that calls for a $2.2 million roster bonus and a $2.6 million base salary. Assuming 2011 second-round draft pick Randall Cobb continues his development, it's hard to imagine the Packers bringing Driver back with compensation totaling $5 million. But Driver's legs looked lively and his hands were reliable as ever in a three-catch, 45-yard performance Sunday. He told reporters that he doesn't plan to retire, and you would think another NFL team would be interested in the depth he could provide.
And here is one issue I still don't get:
The Packers had gained a bit of momentum and tied the score at 10 early in the second quarter. I didn't feel they had gained control of the game, but I didn't think the Giants were in control, either. So it's difficult to find a conventional explanation for why Packers coach Mike McCarthy called for an onside kick at that point. If he thought he could catch the Giants unsuspecting, he was wrong. According to New York media reports, the Giants had worked on the exact type of onside kick during practice Friday. McCarthy didn't directly explain himself when asked Sunday, saying only that he was "trying to put … players in a position to make an impact play." That moment was the first alarm bell of the game for me. Why didn't McCarthy trust his offense, or defense for that matter, after a conventional kickoff? Usually that's a move reserved for coaches who think their team needs a boost. The move didn't cost the Packers any points, but it was the first time I thought the Packers' season might soon be coming to an end.