August, 18, 2014
Aug 18
5:30
PM ET
GREEN BAY, Wis. --
Green Bay Packers
cornerback
Sam Shields
broke in to the top 100 on
ESPN's #NFLRank project
, but just barely.
It remains to be seen how many cornerbacks will check in higher than Shields as the rest of the list is unveiled over the next two weeks. The fifth-year cornerback was No. 95 on the
list of top defensive players
in the league as polled by 85 ESPN NFL contributors, including all 32 NFL Nation reporters.
But the four-year, $39 million contract he signed as a free agent in March suggests the Packers expect him to be even better than that.
Based on average per year, Shields' $9.75 million pay ranks tied for sixth among all NFL cornerbacks behind
Darrelle Revis
($16 million),
Richard Sherman
($14 million),
Patrick Peterson
($14.01 million),
Joe Haden
($13.5 million) and
Brandon Carr
($10.02 million).
According to ESPN Stats & Information, since Shields' rookie season of 2010, no player has more postseason interceptions than he does (four).
This is the second year of this ESPN project, and Shields did not make the top 100 last year. Over the next two weeks, the list of players will be revealed 10 at a time. The Packers did not have any players in the 91-100 category on the offensive side of the ball.
August, 6, 2014
Aug 6
10:35
PM ET
DETROIT --
Darius Slay
has spent the past year trying to claim the No. 23. On Wednesday, he finally got it.
Slay
The second-year cornerback initially approached veteran
Chris Houston
for the number after he was drafted in 2013, but Slay said Wednesday night that Houston rebuffed him and that he didn't want to offer him anything for the number -- a typical tradition for a requested number switch in pro sports.
Then, Houston was released in June and Slay approached Lions head coach Jim Caldwell, asking for the switch.
"He said, 'You got to work for it,'" Slay said. "Obviously, I've been doing my work in practice and he felt like I deserved it today."
Slay said Caldwell told him during lunch Wednesday he could finally make his desired switch from the No. 30 to his desired 23.
Caldwell said after practice Slay earned the jersey switch and that he held a competition between players who wanted it to see who played the best.
"It was a fairly popular number," Caldwell said.
Why did Slay want 23?
Part of the reason is it is his favorite higher number since he can't wear a number between 1 and 19 due to NFL regulations. So he wanted 23. And there was another reason, too.
His favorite player in the NFL -- something he mentioned often last season -- is Cleveland cornerback
Joe Haden
, who he will coincidentally see Saturday night when the Lions open the preseason against the Browns.
Now that Slay has the number, the Lions are hoping he can do more than just idolize Haden. They hope he can start playing like him as well.
"That's my role model," Slay said. "I look up to him and [he's] one of my favorite players."
October, 20, 2013
10/20/13
11:43
PM ET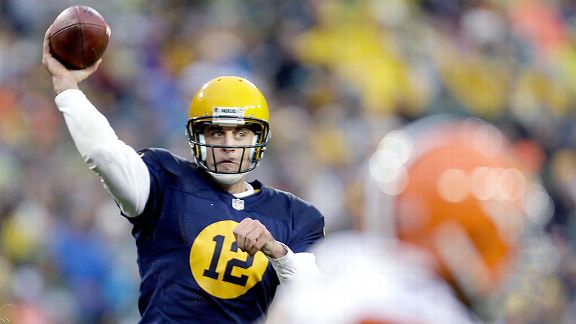 Mike McGinnis/Getty ImagesEven without two of his top receivers, Aaron Rodgers threw three TD passes to lead the Packers.
.
GREEN BAY, Wis. -- It's starting to look like it might not matter who the
Green Bay Packers
line up at receiver.
A street free agent cut last season by the
Jacksonville Jaguars
?
An undrafted rookie promoted last week from the practice squad?
As long as
Aaron Rodgers
is the one throwing them the ball, they will be productive.
What other explanation could there possibly be for what happened at Lambeau Field on Sunday, when seldom-used receiver
Jarrett Boykin
, turned away by the Jaguars more than a year ago, led the Packers with eight catches for 103 yards and a touchdown in Sunday's
31-13 rout
of the
Cleveland Browns
?
A week earlier, Boykin dropped two passes when pressed into action after
Randall Cobb
(fractured fibula) and
James Jones
(knee) were injured against Baltimore. On Sunday, Boykin and rookie
Myles White
, promoted from the practiced squad last week, took their places, and the offense, while perhaps not turbocharged like usual, still had plenty of pep.
Considering what the Packers were missing, including tight end
Jermichael Finley
-- who left on a stretcher after a scary neck injury in the fourth quarter -- it might say more about Rodgers than anyone else.
Imagine what Boykin and White (who caught one pass for 9 yards) would have done with, say, Browns quarterback
Brandon Weeden
-- who completed just 40.5 percent of his passes on Sunday -- throwing them the ball?
"Yeah, that would've been tough," White said when that scenario was proposed to him after the game. "But I'm just glad we're here."
That the Packers didn't completely abandon their preferred three-receiver set just because
Jordy Nelson
was the only one of the original trio still standing tells you everything you need to know about Rodgers. Sure, they relied more than usual on their tight ends, and running back
Eddie Lacy
(22 carries for 82 yards and one touchdown) had another productive day.
But minus two of his top three receivers -- and then without his playmaking tight end for the final 10 minutes -- Rodgers still threw three touchdown passes without an interception. He completed 25 of 36 passes for 260 yards and finished with a passer rating of 117.8.
"I don't think it would have been able to be possible, not without [No.] 12," White said, referring to Rodgers. "Because he's a genius out there on the field."
Perhaps the smartest thing Rodgers and coach Mike McCarthy did was to get Boykin involved early with a couple of short passes. On the Packers' opening possession, Rodgers threw a hitch to Boykin, who gained 4 yards. On third-and-8 on the next possession, Rodgers went to Boykin on a stop route for a 15-yard gain, and they were off and running.
"I think he's a confidence guy," Rodgers said. "So we wanted to make sure we got him some plays early."
Both of those drives ended with touchdowns -- the first on a 10-yard pass to Finley and the second on a 1-yard run by Lacy -- and the Packers proved they could function with this hodgepodge cast.
The Packers needed Boykin and, to a lesser extent, White because the Browns blanketed Nelson with their best cornerback,
Joe Haden
. Nelson still managed five catches for 42 yards and a touchdown, but Rodgers knew he couldn't force the ball to him every time.
So, wisely, he didn't.
[+] Enlarge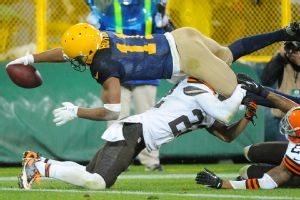 Benny Sieu/USA TODAY SportsSeldom-used Jarrett Boykin played a starring role Sunday, with eight catches for 103 yards and a TD.
Rodgers targeted Boykin more often (10 times) than Nelson (six) and White (two) combined. In the second half, Boykin delivered a pair of big plays. His 39-yard catch and run set up Nelson's 1-yard touchdown catch in the fourth quarter, and then, Boykin scored one of his own, when he stretched out for the goal line at the end of a 20-yard reception.
"I felt like we were on a better rhythm today," Boykin said of his connection with Rodgers. "Just a little bit of like dialing in and him giving me what he wants me to do and me focusing on what I need to do to get in an area to where he can make a terrific pass."
Who knows how many more injuries the Packers will sustain? If Finley's
scary-looking neck injury
is serious, even more will be placed on Rodgers.
But, after a day like Sunday, when the Packers (4-2) moved into first place in the NFC North, there's little reason to think the Packers -- more specifically, Rodgers -- can't handle it.
"There's a lot on his shoulders, and he handles it well," said Packers backup quarterback
Seneca Wallace
, who signed with the team last month. "I've been around some good quarterbacks, and there's a lot of pressure on him, and he handles himself well, tremendously well.
"A lot of the stuff he does, people don't understand because you've got the
Peyton Manning
s and the
Tom Brady
s who get all the attention but handles himself very well no matter what."
October, 16, 2013
10/16/13
9:00
AM ET
A weekly examination of the
Green Bay Packers
' quarterback play.
Rodgers
Rewind:
Aaron Rodgers
lost two of his top-three receivers --
Randall Cobb
and
James Jones
-- to first-half injuries on Sunday against the Ravens, leaving the Packers with only two available receivers. That put more pressure on Rodgers to feed the ball to
Jordy Nelson
. Rodgers completed 4 of 9 passes that he targeted to Nelson with one touchdown and one interception. It was only the second time since the start of the 2012 season that Rodgers failed to connect on at least half of his throws to Nelson in a game, according to ESPN Stats & Information. The result was Rodgers' lowest completion percentage (53.1 percent on 17-of-32) since Week 9 of last season.
Fast-forward:
It might not get any easier for Rodgers and Nelson on Sunday against the
Cleveland Browns
. The Browns have a top-tier cornerback in
Joe Haden
, who likely will be matched against Nelson.
Force-feeding:
Without Cobb and Jones in the second half against the Ravens, Rodgers relied heavily on Nelson and tight end
Jermichael Finley
. According to ESPN Stats & Information, the pair accounted for nine of Rodgers' 11 second-half targets. In the first four games, those two accounted for 34 percent of Rodgers' targets.
Prediction:
The Browns have a solid pass defense, ranking eighth in yards allowed per game through the air, and they have allowed just six passing touchdowns in six games. Rodgers hasn't thrown more than one touchdown in a game since Week 2. So odds are Rodgers will have trouble throwing more than one touchdown. But Rodgers loves when people doubt him, and that's surely what some will do given that he won't have his leading receiver, Cobb, and Jones' status is uncertain. For that reason alone, Rodgers will throw multiple touchdowns this week against the Browns.
March, 22, 2012
3/22/12
10:40
AM ET
It's my duty as your NFC North blogger to administer this urgent alert: The play-in round of the "Madden 13" cover contest is over, and now it's time to get this bracket started.
We'll move through one round a week, culminating with the final matchup during the week of April 21. If you're a fan of an NFC North team, I highly encourage you to vote for your representative's opponent …. er, your representative.
There's nothing to
the Madden cover jinx.
Nothing
. Really,
I mean it
.
Here are the first-round matchups for our players. Seeds are in parentheses:
Follow this link to the bracket
, where you can vote quickly and anonymously. Nothing less than the future of the free world is at stake.
April, 9, 2010
4/09/10
12:05
PM ET
Much of our debate on Green Bay's pre-draft needs has centered on offensive tackle and outside linebacker. But some of you suggested an alternate focus during
last week's discussion
: cornerback.
A cornerback with sophisticated coverage skills is one of the four most-difficult targets in any draft, a list that (in my opinion) also includes pass-protecting left tackles, pass-rushing defensive ends and competent quarterbacks. That's one of the reasons you saw the Packers issue a high tender to restricted free agent
Tramon Williams
, who has made 20 NFL starts.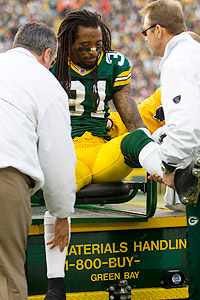 Jeff Hanisch/US PresswirePackers cornerback Al Harris, who injured his knee last season, might not be ready when the 2010 season begins.
Another big reason is something we haven't discussed much in this space: The uncertain future of longtime starter
Al Harris
, who at 35 is rehabilitating a left knee injury that was more serious than we originally thought.
Harris has been chronicling his recovery over at the
National Football Post
, but coach Mike McCarthy spoke with realism last month when discussing Harris' timetable for returning to the field. McCarthy called it a "real serious injury" and indicated that team doctor Patrick McKenzie performed two separate procedures on him to regain full range of motion.
"We'll just continue to watch that and see how he responds," McCarthy said, adding that it's "probably fair" to compare Harris' timetable to the one right tackle
Mark Tauscher
followed last year. Tauscher wasn't ready to start practicing until October.
If Harris isn't ready to start the season, Williams would start opposite
Charles Woodson
. In that scenario, the Packers would be counting on several other players to recover from injuries, including
Will Blackmon
and
Pat Lee
, to provide depth.
A first-round cornerback might not be a dramatic need, but it wouldn't be a luxury either. For what it's worth, here are Mel Kiper's
top five available cornerbacks
:
1. Florida's Joe Haden
2. Alabama's Kareem Jackson
3. Rutgers' Devin McCourty
4. Boise State's Kyle Wilson
5. Florida State's Patrick Robinson
December, 24, 2009
12/24/09
10:05
AM ET
This week's
SportsNation chat
is the gift that keeps on giving.
Joe of Detroit
asked the question many Lions fans are considering: "If you are the Lions GM and say Suh is off the board. Who are you drafting?"
The Lions currently stand at No. 2 in our speculative order for selecting in the 2010 draft. I actually think it's possible Nebraska defensive tackle Ndamukong Suh could be available if the Lions hold at No. 2. With St. Louis positioned ahead of them, a quarterback could be the No. 1 overall pick. But if Joe's scenario is right, who are the early favorites to be taken in the next few slots?
I'll add the standard disclaimer that the draft evaluation process doesn't begin in earnest until next month, when the college all-star games begin. But as I've written before, it's never too early for media speculation!
During our chat, I suggested Oklahoma defensive tackle Gerald McCoy or Tennessee defensive back Eric Berry. If all things were equal, I would say the Lions would benefit most from a big-time defensive tackle. The No. 2 overall pick is awfully high to pick a safety, unless you think he can play cornerback.
But don't take my word for it. ESPN analyst Mel Kiper Jr.
updated his Big Board
on Tuesday. You'll need an Insider subscription to view the entire list, but here is his current listing of the draft's top five players:
1. Suh
2. McCoy
3. Berry
4. Notre Dame quarterback
Jimmy Clausen
5. Oklahoma quarterback
Sam Bradford
ESPN's Scouts Inc. takes a
different view
, so let's take a look at their top five players as well:
1. Berry
2. Suh
3. McCoy
4. Florida cornerback Joe Haden
5. Georgia Tech defensive end Derrick Morgan
It's important to note the three common denominators: Suh, McCoy and Berry. As the final days of 2009 dwindle away, that trio should be your early target for inspection.
December, 3, 2009
12/03/09
10:45
AM ET
I'll put this as delicately as I can. Detroit isn't going to make the playoffs this season. The Lions' final five games aren't as important as, say, those of many other NFL teams. So I hope no one is offended if we expand our Lions focus to include the 2010 draft.

(We could do the same for Chicago, but, uh, let's just say this isn't shaping up to be an
eventful draft
for
the Bears
.)
Draft mania starts earlier and earlier every year, and you might be surprised at how many mailbag questions and chat comments I've been getting about the Lions' potential targets. I can honestly say on Dec. 3 that I have no idea how the Lions regard the draft class of 2010. But that doesn't mean we can't discuss these issues among ourselves.
If the season ended today, the Lions' 2-9 record would give them the No. 4 overall pick. I think we can agree they have needs across their roster, with the exception of quarterback. So let's start off this conversation by taking a look at the top of
Mel Kiper's Big Board

and
Scouts Inc.'s Top 32
. (Both lists include draft-eligible juniors.)
Kiper's full list is behind ESPN's Insider paywall, but I'll pass along his top 6 players because two of them are quarterbacks. Keep in mind that Florida defensive end
Carlos Dunlap
was among this group until his recent legal issues.
1. Nebraska defensive tackle
Ndamukong Suh
2. Oklahoma defensive tackle Gerald McCoy
3.Tennessee defensive back
Eric Berry
4. Notre Dame quarterback
Jimmy Clausen
5. Oklahoma quarterback
Sam Bradford
6. Oklahoma State offensive tackle
Russell Okung
And here are the top 6 according to Scouts Inc:
1. Berry
2. McCoy
3. Suh
4. Okung
5. Florida cornerback
Joe Haden
6. Georgia Tech defensive end
Derrick Morgan
As we've discussed previously, I think it would be criminal for the Lions not to focus on both of their lines during the next few drafts. Some individual positions are of more immediate need than others and some are harder to fill. Left tackle is at the top of both lists, as far as I'm concerned. So for that reason, if I'm the Lions, I'm taking a hard look at Okung and any other blue-chip left tackles that emerge during predraft workouts.
Like it or not, the best left tackles are often high draft choices. The position requires such a specific skill set and physical parameters that there simply aren't many players available each year who can play it at a high level.
Of course, I wouldn't argue with a playmaking defensive tackle to fit the
Albert Haynesworth
role in coach Jim Schwartz's defense.
If it were up to you, what would you prefer?