January, 28, 2013
1/28/13
9:30
AM ET
By
ESPN.com staff
| ESPN.com
Chicago Bears
New Bears offensive coordinator Aaron Kromer has a
history of developing players
and getting the most out of them. "You look at the way we have turned our offensive line over," Saints assistant head coach Joe Vitt said. "He has taken Jermon Bushrod as a rookie, now he's a two-time Pro Bowler. You see what he has done with Jahri Evans. You see what he has done with Brian De La Puente. You see what he has done with Zach Strief when Jon Stinchcomb left."
Former Bears safety Chris Harris has
decided to call it a career
.
Detroit Lions
Carlos Monarrez of the Detroit Free Press
: "One year after finishing fourth in takeaway differential, the Lions were second-to-last in the category this season. The ball just never seemed to fall into the defense's hands. In 2011, the Lions' defense had 34 takeaways. In 2012, it had 17. 'The turnover ratio is really out of whack and a lot of it is because we didn't get any,' general manager Martin Mayhew said this month. 'Now, for instance, some of our guys, like a guy like Cliff [Avril], we didn't play with a lot of leads. And we played with some leads last year, so we had some opportunities really to tee off and get our pass rush going and everybody could just cut loose and just go. We didn't have as many of those. That may have been a reason for some of the decline in sacks and quarterback fumbles. But our guys in the [secondary] didn't make enough plays.'"
At a Super Bowl event on Sunday, San Francisco 49ers center
Jonathan Goodwin had some kind words
for Lions offensive lineman Jeff Backus.
Green Bay Packers
Despite being on the opposing team,
Jeff Saturday delivered one final snap
to Peyton Manning during Sunday's Pro Bowl. "You know what, man, this is what it's all about. I'll remember this one," Saturday said. "It's been a pleasure. We've had a great time. We had a great run together. I've enjoyed playing with him. He's a class act all the way across the board. I've been very appreciative of the time I got to spend with him in Indy and I know he'll do great things in Denver."
Minnesota Vikings
Tight end
Kyle Rudolph claimed MVP honors
Sunday in the NFC's 62-35 rout of the AFC in the Pro Bowl.
The Star Tribune's Jim Souhan
details the similarities
between 49ers coach Jim Harbaugh and Minnesota's Leslie Frazier.
June, 18, 2012
6/18/12
6:14
PM ET
As we noted in
the preceding post
, the NFL gathered 12 NFL reporters -- including ESPN's Adam Schefter -- to present further evidence of the
New Orleans Saints
' bounty program. One newsbit has already emerged with interest to NFC North blog readers.
The bounty on
Minnesota Vikings
quarterback
Brett Favre
in the 2009 NFC Championship Game was at least $35,000; initially the NFL alleged only that linebacker
Jonathan Vilma
offered $10,000.
According to USA Today's Jarrett Bell
, those who contributed to the $35,000 pot included Vilma, defensive lineman
Charles Grant
, current Saints interim coach Joe Vitt and Mike Ornstein, a marketing official with ties to coach Sean Payton.
Favre suffered an ankle injury in the game but did not miss a snap.
I don't have much to add here. We discussed the Favre bounty extensively in the spring. In March, Vikings center
John Sullivan
and punter
Chris Kluwe
called
for lifetime bans
of the
Saints players involved
. In May, we noted
the precarious balance
the NFL Players Association faced in defending both the suspended players and those who might have been targets of the bounty program.
May, 8, 2012
5/08/12
8:30
AM ET
We're Black and Blue All Over:
We spent a good part of Monday night
following the Minnesota Vikings' stadium vote
in the state House of Representatives, so Tuesday morning we should shift to the other big story going on in the NFC North.
New Orleans Saints interim coach Joe Vitt said he did not tell current Green Bay Packers defensive lineman Anthony Hargrove to deny the existence of a bounty program when both were with the New Orleans Saints in 2010. Hargrove
made that claim
of Vitt and former Saints defensive coordinator Gregg Williams in a signed declaration that was leaked Monday.
Vitt told
Mike Triplett of the New Orleans Times Picayune
: "At no time did I ever tell Anthony Hargrove to lie or deny the existence [of the alleged bounty program]. He can say whatever he wants to say. It just didn't happen."
Consider it yet another twist in a story that doesn't seem to have a lot of indisputable truths.
Continuing around the NFC North:
May, 7, 2012
5/07/12
3:54
PM ET
The signed declaration submitted to the NFL by
Green Bay Packers
defensive lineman
Anthony Hargrove
, revealed
Monday by Yahoo! Sports,
is troubling on a number of counts.
First,
contrary to an NFL statement last week
, the declaration offered neither confirmation of a
New Orleans Saints
bounty program nor an admission that Hargrove participated in one when he played for the Saints in 2009 and 2010. Instead, the declaration revolves around Hargrove's contention that then-Saints defensive coordinator Gregg Williams and assistant head coach Joe Vitt instructed Hargrove to deny all knowledge and existence of a bounty program when NFL investigators questioned him in 2010. Specifically, Hargrove said he was told to "play dumb."
[+] Enlarge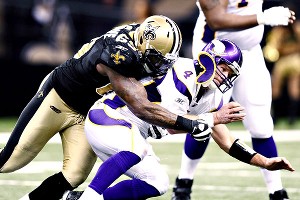 Tom Hauck/Getty ImagesAnthony Hargrove contends that coaches Gregg Williams and Joe Vitt asked him to deny the existence of a bounty program.
Second, the declaration frankly paints a scene of the two Saints coaches blackmailing and implicitly threatening a player who at the time was one year removed from serving a year-long NFL suspension for violating the NFL's substance abuse program. According to the document, which Hargrove signed last month, Williams told Hargrove he had been working on a depth chart and had penciled him in as the starting left end after a year spent mostly as a reserve defensive lineman.
Williams used that nugget to start a conversation that ended with him asking Hargrove to fend off NFL investigators. There was no overt mention of a quid pro quo, but I think any reasonably intelligent person can see what Williams was up to, at least based on the account Hargrove gave in his declaration.
After following Williams' instructions, Hargrove reported he was "never given an opportunity to compete for the starting defensive end job." I guess someone could consider Hargrove's return to reserve status in 2010 as evidence that there was no quid pro quo. It could also be a broken promise made to elicit loyalty.
Meanwhile, the declaration implies that Vitt also requested a degree of loyalty because he was part of the
St. Louis Rams
' coaching staff when Hargrove was drafted in 2004. Vitt also played a role in bringing Hargrove to the Saints in 2009, vouching for him when few teams were willing to offer him a contract.
Obviously there are two sides to every story, and
as we hinted at last week
, this declaration helps paint a broader role of Hargrove's participation in the investigation and the merit, or lack thereof, for the eight-game suspension he has been served with to start the 2012 season.
On the surface, the declaration doesn't provide the information the NFL claimed last week that it did. (The NFL's statement last week: "Hargrove submitted a signed declaration to the league that established not only the existence of the program at the Saints, but also that he knew about and participated in it.")
Perhaps the league has other evidence. But to me, and I would think most people, Hargrove's admission that he was instructed to deny the existence of a bounty program is not the same as acknowledging he either knew about it or participated. It isn't even enough to say that Hargrove lied. He followed instructions to deny knowledge. If that's the only evidence the league has on Hargrove, then an appeal initiated Monday might have some merit.
Again, as we discussed last week, Hargrove must own the original words he spoke to investigators. But this declaration provides some context for why he said what he said.
It might be easy for us to say in a vacuum that we would tell the full truth at all times, but this was a player who was still in the process of convincing the league he was employable. He was being offered a promotion by one of the few teams that originally expressed interest. It's dirty stuff. This entire episode -- the bounty program and the NFL's investigation -- gets murkier with every layer peeled away. What's next?
March, 21, 2012
3/21/12
1:48
PM ET
From the beginning,
Minnesota Vikings
fans have taken the NFL's bounty investigation personally. The league, after all, found that the
New Orleans Saints
had given players a financial incentive to knock quarterback
Brett Favre
out of the 2009 NFC Championship Game. Although Favre did not leave the game, he was pummeled throughout and threw two interceptions -- one after an illegal hit -- that had a direct outcome on the game. Even if indirectly, many Vikings fans insist the bounty program impacted the outcome of a contest that decided the NFC's Super Bowl participant.
So shortly
after the NFL announced
its unprecedented sanctions against the Saints and its leadership, I threw out a question on Twitter: Was it enough for you? Has justice been served in the form of the following penalties?
Indefinite suspension of former defensive coordinator Gregg Williams
One-year suspension of coach Sean Payton
Eight-game suspension of general manager Mickey Loomis
Six-game suspension of assistant head coach Joe Vitt
A $500,000 franchise fine
Forfeiture of second-round draft picks in 2012 and 2013
Future discipline of individual players to be determined
With varying levels of anger, most of you said no.
"Nothing will ever be enough," tweeted
@missjackson75.
@KimSherayko
: "no bc what's done is done we can't replay the game."
@Shea_Carr:
"I would have like to see at least 1 first rd pick gone."
@JeremyAnderson:
"no, I think they should lose the trophy."
And in the end,
@PaulFerence
had the most thought-provoking response: "I'd take a year suspension for the coach, an 8 game suspension for the GM, and the loss of two 2nd rd picks for a title here."
I don't know if we'll ever settle whether the bounty program squashed the Vikings' Super Bowl hopes that year. Favre's second interception, as well as an inexcusable 12-men-in-the-huddle penalty, both played huge roles in a close game. I do, however, think you're entitled to eternal anger at losing to a team found to have competed above the ethical rules of the game and then lying repeatedly about it when confronted by the league. Often our natural (if immature) reaction is to assume that a victorious opponent cheated. In this case, that's exactly what happened, according to the league.
But in the same breath, I think you're underestimating how much turmoil this punishment will throw the Saints' entire franchise into. Say what you want about Payton, but he is one of the league's best coaches. The Saints won't have him in 2012 and can't promote Vitt, his logical replacement. Whoever coaches the Saints this season will be underqualified for the job, and it's easy to see a disastrous 2012 campaign that could reverberate for years to come. Removing a head coach from the mix for a year is unprecedented, and it would be wrong to assume Payton would seamlessly restore the Saints' championship-caliber play upon returning in 2013. On a personal note, Payton will lose his 2012 salary of $7 million.
And let's not forget that these sanctions could end the career of the man who masterminded the program and has been the first target of your ire. Gregg Williams' suspension is technically indefinite, but will he ever be hired as a defensive coordinator again?
In the end, I'm not sure if there were a set of penalties -- short of reversing the outcome of the game -- that could have distilled your anger in this case. If it makes you feel any better, the bounty program led to the steepest discipline in NFL history. That will have to do.