March, 3, 2014
Mar 3
12:00
PM ET
Every day we'll take a look at one of the Detroit Lions heading for free agency, what he has meant to the team before and a prognosis on whether or not he'll be back with the club in 2014.
To view the entire series to date, click this link.
Free agent to be:
John Wendling
Position
: Safety
Age:
30
Years in the league:
7
What he made last season:
$938,334 (cap number); $715,000 (base salary), $15,000 (roster bonus)
What he did last season:
Wendling wasn't needed at all defensively in 2013, playing one snap the entire season with the defense. But his real role is on special teams, where he made 14 tackles and was one of the team's most used and effective special teamers. That was part of why he was brought over from Buffalo after the 2009 season and why he made an impact with the Lions over the past four seasons.
His potential market value
: Could be decent, although not as a priority free agent by any means. He will be a player who will eventually be brought into a camp by a team that struggled on special teams coverage last season. The
Washington Redskins
, for example, was one of the worst teams in the league on both punt and kick coverage.
Will he fit the Lions still:
No. It initially looked like Wendling could be a candidate to return to Detroit through free agency because of his role on special teams and familiarity with John Bonamego's coverage systems. However, once the Lions claimed
Isa Abdul-Quddus
off waivers earlier this year and then kept him off the restricted free agent market by giving him a one-year deal that counts $695,000 against the cap, that likely took Wendling's potential special teams spot. Bonamego was the person general manager
Martin Mayhew
said went into his office to campaign for Abdul-Quddus. At the NFL combine, Mayhew said Wendling would not be back with Detroit in 2014.
What happens:
As mentioned above, Wendling will likely find a spot in a training camp because of his special teams prowess, not any potential he has as a safety. At 30 years old, Wendling is likely on his last few years in the NFL as player who specializes in special teams play, but he should still be productive enough for a team to take a look at him and give him a shot to make a roster.
January, 16, 2014
Jan 16
4:27
PM ET
New
Detroit Lions
coach Jim Caldwell met with the team's assistants still under contract Thursday afternoon and came away with at least one holdover hire from Jim Schwartz's staff.
Special-teams coach John Bonamego will return to the team for a second season.
Bonamego was instrumental in the success of Detroit rookie punter
Sam Martin
, who had a 41-yard net average this season and a 47.2-yard gross average. He was almost a consensus pick as an All-Rookie punter this season.
The Lions were also seventh in punt return yardage this season with 474 yards. The team had a punt and kick returned for a touchdown -- both from returner
Jeremy Ross
.
Detroit also was strong in coverage, finding two capable gunners in Ross and
Don Carey
. The Lions' punt coverage team was among the best in the NFL.
Bonamego came over from Jacksonville after the 2012 season.
Detroit struggled with field goals this season, having two blocked as well as an extra point. But kicker
David Akers
is a free agent as well as long-snapper
Don Muhlbach
. Akers is not expected to be brought back by the team as the Lions have signed two kickers,
John Potter
and Giorgio Tavecchio, to reserve/futures contracts.
The Lions have also not retained three coaches -- with more staying and going likely to come. Offensive coordinator Scott Linehan and wide receivers coach Tim Lappano were let go the day Schwartz was fired. The Lions' team reporter also said assistant wide receiver coach Kyle Valero was let go. According to Aaron Wilson of The Baltimore Sun, quarterbacks coach Todd Downing has not been retained by the team.
The Lions are also expected to hire Baltimore defensive backs coach Teryl Austin as the team's defensive coordinator, but that has not been officially announced yet.
January, 15, 2014
Jan 15
12:05
PM ET
Jim Caldwell is the new
Detroit Lions
coach, and though there has been a lot of consternation about the hire, the Lions will succeed or fail based upon his decisions and his ability to develop players, notably quarterback
Matthew Stafford
.
Caldwell will meet with the media for the first time Wednesday, and based on what I've heard and been told about his interview on Jan. 3, he has a detailed plan for how he is going to fix both the Lions and Stafford.
Those are his two most important tasks as Detroit's head coach. If he is unable to do that, he'll join the line of Marty Mornhinweg, Steve Mariucci, Rod Marinelli and Jim Schwartz as coaches who couldn't quite reach the level the team wanted.
[+] Enlarge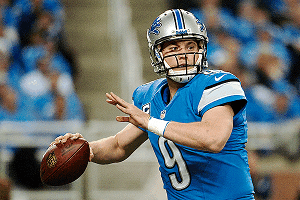 Tim Fuller/USA TODAY SportsDeveloping Matthew Stafford is one of the most important tasks facing new Lions coach Jim Caldwell.
If he can succeed, he'll have a chance to do something only one coach in the Super Bowl era, Wayne Fontes, has even come close to doing with the Lions: turn the team into a consistent winner.
Here's a look at five things Caldwell will have to do early in his tenure with the Lions.
1. Hire a competent staff:
He could have some names as early as his introductory news conference, but Teryl Austin is a name I've been told multiple times as a likely defensive coordinator. Bill Lazor was a name for offensive coordinator, but h has been hired by Miami. If Caldwell doesn't put together a strong staff, that will be an issue early on. Former Ohio State coach Jim Tressel also could end up on Caldwell's staff.
2. Make smart decisions about free agents with GM Martin Mayhew:
Dominic Raiola
and
Brandon Pettigrew
are two of the bigger free agents for the Lions. Raiola is a strong presence in the locker room, and it might be smart to bring him back for continuity on an offensive line that was one of the best in the league last season. Pettigrew could be interesting. He is an important cog, as was
Dallas Clark
, Caldwell's tight end in Indianapolis and with the Ravens this season. Of course, Clark is also a free agent, so Caldwell might push to get him to Detroit.
3. Matthew Stafford:
Part of the reason Caldwell was hired was to work with Stafford, with whom the coach met on his interview. Stafford, according to receiver
Kris Durham
, seemed to like Caldwell. That relationship will be critical to any success Caldwell has in Detroit. He believes he has a plan to fix Stafford -- both
Joe Flacco
and
Peyton Manning
are high on Caldwell's ability to help quarterbacks -- and the coach will have to be able to implement that plan as soon as possible.
4. Keep at least two current assistants:
This goes with the first point. John Bonamego did a really good job with special teams almost all season, including finding strong gunners in
Don Carey
and
Jeremy Ross
. Jeremiah Washburn turned an offensive line with two rookies on the right side into one of the top groups in the NFL, and players seemed to really like him. Jim Washburn and Kris Kocurek did a good job with the defensive line, and Matt Burke was strong with the linebackers. Consider at least some of them to keep some continuity.
5. Get out in the community:
This might sound silly, but Caldwell is not a popular hire with the Detroit fan base. By all accounts, he is a good, well-intentioned man, so by doing a lot of community outreach early on, he could turn some people who are currently not pleased about the hire. Of course, the best way to do that is to win games, but getting out in the community would be a strong start.
August, 2, 2013
8/02/13
8:40
AM ET
We're Black and Blue All Over:
Training camp is a time for sweat, soreness, exhaustion and, naturally, arachnids. Check out this video that Chicago Bears rookie Kyle Long
posted to his Instagram account
Thursday night.

It appears that just as young Kyle hit the hay, he found something that looked a lot like a tarantula next to him. "Either tarantulas are indigenous to Illinois," he said in the video, "or I've been pranked."
I'm going to go with the latter, and I'm quite glad I didn't see this video until morning.
Continuing around the NFC North on this fine Friday:
January, 21, 2013
1/21/13
6:30
AM ET
We're Black and Blue All Over:
Good Monday morning to all of you. I snuck out the back door late last week after the Chicago Bears completed their coaching search, hiring Marc Trestman to replace Lovie Smith after a 2 1/2-week search. All is well. Just a long weekend when the football world was focused elsewhere.
(Just the same, I appreciate the "Hey Seifert, I would work every day if I got to write about football for a living" tweets and notes.)
We'll catch up this morning on the Bears' largely-completed coaching staff, re-set the NFC North Pro Bowl roster and take a quick peak at an NFC North angle in Super Bowl XLVII. But first, let's catch up on some local stories while also thanking our ESPN.com blog network editing team for posting links in my absence: