November, 7, 2012
11/07/12
9:51
AM ET
»
NFC Midseason Teams
:
East
|
West
|
North
|
South
»
AFC
:
East
|
West
|
North
|
South
We've posted an All-NFC North team after every season since we started this blog five seasons ago. (Links:
2011
,
2010
,
2009
,
2008
.)
Below, you'll find our first attempt at a midseason division team. As always, its composition is a blend of advice I've received from football professionals, my own eyes and consultations with some media services I respect. (For those interested, here is
Pro Football Focus' All-NFC North team from last week.
)
As we've learned in past years, there isn't always a direct correlation between individual frequency and team success. If there were, the
Minnesota Vikings
-- who sit in third place here in Week 10 -- wouldn't have a division-high eight players on this team.
Many of the choices are obvious and/or self-explanatory. Here are some thoughts on the more difficult decisions:
October, 22, 2012
10/22/12
10:30
AM ET
After the Minnesota Vikings' 21-14 victory over the Arizona Cardinals, here are three issues that merit further examination:
ESPN.com

Rookie safety Harrison Smith got plenty of post-game attention for his game-changing 31-yard interception return for a touchdown early in the third quarter. The Vikings put Smith in a position to track quarterback John Skelton from the middle of the field, and he smartly anticipated the throw to receiver Early Doucet. As we've said several times already this season, Smith makes the plays you would hope an NFL-caliber safety would make. I guess it just reinforces how long it has been since the Vikings got good safety play. "It's a breath of fresh air," coach Leslie Frazier said, "some of the things he's doing and has been doing throughout the season."

This fact bears repeating: The Vikings sacked Skelton seven times without blitzing once. Not a single time. Never in 69 snaps, according to ESPN Stats & Information. (Some of you thought the Vikings blitzed on a fourth-quarter play that ended with Kevin Williams' sack, but replays show the Vikings jumped out of a blitz just before the snap and sent only four rushers.) Five of the seven sacks came in the second half after the Vikings established a 21-7 lead, just as defensive end Jared Allen predicted they would if and when they grabbed a lead. But it's quite an accomplishment nonetheless for defensive coordinator Alan Williams, and one that future opponents will no doubt take note of. If the defense had a weak spot Sunday, it was its inability to tackle tailback LaRod Stephens Howling, who rushed for 104 yards on 20 carries. "The little guy ran well," Williams said.

The Vikings felt good about their matchup with the Cardinals' run defense, but tailback Adrian Peterson nevertheless looked spry and rejuvenated after taking two days off from practice to rest his sprained ankle. He ripped off 153 yards on 23 carries, his highest yardage total since Week 7 of last season (175 yards against the Green Bay Packers). It's amazing to realize Peterson's season total of 652 yards is just seven yards behind Arian Foster's league lead given his ankle injury and ongoing recovery from knee surgery in December. Now the question is how Peterson will handle the quick physical turnaround that he and the rest of his teammates must make this week. Thursday's game against the Tampa Bay Buccaneers is fast approaching. The Vikings will essentially have one practice, on Tuesday, to prepare for the game.
And here is one issue I still don't get:
Where has this Antoine Winfield come from? I realize Winfield has struggled with injuries in recent years, missing six games in 2009 and 11 in 2011. But even after he reported to training camp healthy, it was hard to have high expectations for him. He had just turned 35, after all, and the Vikings seemed to be developing a part-time role for him as a nickel cornerback. But in terms of tackling and run support, at least, Winfield is playing as well as he ever has in a Vikings uniform. He entered Sunday's game leading the Vikings with seven tackles behind the line of scrimmage, a huge number for a cornerback, and Sunday he made a key tackle of Skelton on a fourth-down bootleg -- technically it counted as a sack -- in the third quarter. "Just came up and made a play," Winfield said. He's been doing that a lot this year. I can't say I expected it, and I wonder if the Vikings did, either.
October, 21, 2012
10/21/12
4:00
PM ET
MINNEAPOLIS -- A few thoughts after the Vikings'
21-14 win
at the Metrodome on Sunday:
What it means:
The Vikings are 5-2 after overcoming a shaky and worrisome 58-yard performance from quarterback
Christian Ponder
. The Vikings managed only 60 yards of offense in the second half, but their defense (seven sacks) did more than enough to secure this victory.


PetersonWatch:
Tailback
Adrian Peterson
displayed as much explosiveness as we've seen since his return from knee surgery. He totaled 153 yards on 23 carries, including runs of 27, 22 and 17 yards. On the 27-yarder, Peterson dragged two Cardinals defenders the final 10 yards. His 13-yard scoring run in the first quarter snapped a career-long streak of five consecutive games without a touchdown, and frankly, it's not clear why the Vikings didn't feature him in the second half more often as Ponder's struggles continued.
PonderWatch:
Ponder threw two bad interceptions and completed only 8 of 17 passes even as the Vikings maintained the most conservative approach imaginable. He threw high and behind tight end
Kyle Rudolph
in the first quarter, setting up the Cardinals' only touchdown, and floated an ill-advised pass just before halftime that was also intercepted. That's six interceptions, and a total of seven turnovers, for Ponder in his past three games after going without an interception in the Vikings' first four games. The Vikings are 2-1 in those games, but it's worrisome that he's missing on some basic throws. A season-high crowd of 61,068 was testy, giving Ponder a Bronx cheer when he threw a ball out of bounds in the third quarter and then booing a bit later when the Vikings shifted into an open backfield.
Defensive gains:
The Vikings had a hard time tackling Cardinals running back
LaRod Stephens-Howling
, who finished with 149 combined rushing and receiving yards. But safety
Harrison Smith
's 31-yard interception return for a touchdown in the third quarter staked them to a 21-7 lead, allowing the pass rush to let loose. Defensive end
Brian Robison
finished with three sacks (and a forced fumble) and defensive end
Jared Allen
had two against immobile quarterback
John Skelton
. Meanwhile, cornerback
Antoine Winfield
upended Skelton on a failed bootleg play on fourth down to end a third-quarter scoring threat.
Injury report:
Vikings tight end
John Carlson
was taken into the locker room for evaluation of a possible concussion and did not return.
What's next:
The Vikings need to rest quickly. They'll host the
Tampa Bay Buccaneers
on Thursday for their second game in five days.
October, 19, 2012
10/19/12
10:30
AM ET
EDEN PRAIRIE, Minn. -- It's right there on paper. Add it up, and the
Arizona Cardinals
have allowed 22 sacks in their past three games. Their offensive tackles, especially, have had a rough start to this season. And on Sunday, they'll face one of the NFL's premier pass-rushers in
Jared Allen
while protecting relatively immobile quarterback
John Skelton
.
So we're set for a jailbreak at the Metrodome, right?
[+] Enlarge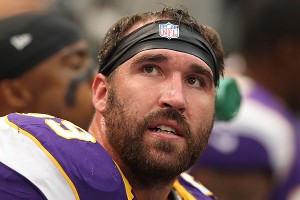 Brace Hemmelgarn/US PresswireDefensive end Jared Allen says the Vikings need to be successful on early downs if they hope to exploit Arizona's pass protection.
Allen was prepared for that storyline when he met with reporters at the
Minnesota Vikings
' practice facility this week. Since the start of the 2011 season, after all, he has an NFL-high 26 sacks. And in a victory last season against the Cardinals, Allen and teammate
Brian Robison
combined for four sacks of quarterback
Kevin Kolb
.
But to everyone who suggests a mismatch on paper, Allen said: "You can't just go into this saying you're licking your chops" and noted most of the Cardinals' pass-protection issues have come when they've fallen behind or otherwise been pushed into passing downs.
"You have to be good on first and second downs," Allen said. "When you watch the film, you see the reasons teams have been successful against the Cardinals is they've forced them to go down the field [passing]. They forced their offense to spread out and create some matchup problems. We have to be very good on first and second down. We have to smash the run, and when we get a chance to get their quarterback, we have to."
In their disaster two weeks ago against the
St. Louis Rams
, for example, the Cardinals allowed five of their nine sacks in the final 21 minutes of the game. Regardless of when the sacks have occurred, however, the total numbers are startling.
According to
Pro Football Focus (PFF)
, Cardinals right tackle
Bobby Massie
has given up an NFL-high 10 sacks. Left tackle
D'Anthony Batiste
ranks second with nine sacks allowed, and no other NFL tackle has allowed more than five. Combined, Massie and Batiste have allowed a stunning 54 quarterback hurries in six games. PFF hasn't credited another tackle with more than 13 hurries this season. Batiste has also been whistled for six penalties this season, five for holding and one false start.
Allen and Robison haven't piled up the sack numbers as they did last season. Allen has recorded four while dealing with neck and groin injuries, while Robison has one. Allen insists he won't press to add to that total, but it's easy to imagine him having plenty of opportunities.
"I get excited for every game," he said. "But this is a situation where you can't dictate it. If you start worrying about one thing, the focus shifts. Every time you go out and you try to force a pass-rush situation or you try to do this or that, A), you affect the integrity of the defense, so now I'm letting down 10 other guys. And B), you don't accomplish what you need to accomplish.
"The game is a rhythm. Things are going to come. If we can be good on first or second down, or even first down, then you can pin your ears back and get after it. If you can do that over and over again, you get rhythm."
October, 16, 2012
10/16/12
2:19
PM ET
On paper, at least, the
Arizona Cardinals
' quarterback shift sounds favorable for the
Minnesota Vikings
. Backup
John Skelton
is expected to
start Sunday at the Metrodome
, providing the Vikings with a stronger-armed but far less mobile adversary than the injured
Kevin Kolb
.
The Cardinals have allowed an NFL-high 28 sacks, including 23 in their past three games alone, and Kolb was injured last Sunday while running for his life in a loss to the
Buffalo Bills
. The Vikings' two losses this season have each come against teams whose quarterbacks broke the pocket against them.
Indianapolis Colts
rookie
Andrew Luck
gained 21 key yards on four scrambles and avoided several near-sacks in Week 2. Meanwhile,
Washington Redskins
rookie
Robert Griffin
III scrambled for a game-clinching 76-yard touchdown and a total of 138 yards last Sunday at FedEx Stadium.