NFC North:

Jonathan Stewart
September, 20, 2011
9/20/11
2:41
PM ET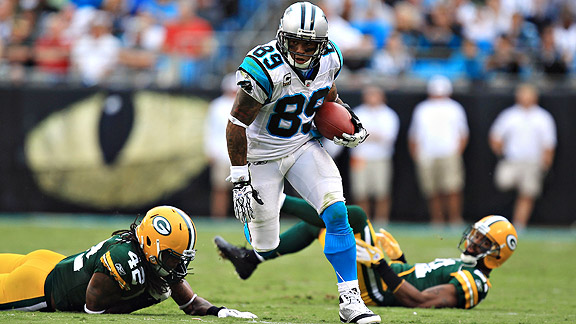 Streeter Lecka/Getty ImagesThe Packers' secondary has allowed over 400 yards passing in back-to-back weeks.
Through two games this season, opponents have smoked the
Green Bay Packers
' defense at a record pace. No one around the team seems concerned about it. Should they be?
I suppose there are any number of reasonable answers to that question. But as we stand here on Sept. 20, it seems the Packers would do themselves more harm by overreacting to allowing a pair of 400-yard passing games in as many weeks. Over time, most NFL teams would accept big yardage totals as long as it's balanced by the kind of red zone defense the Packers have played so far this season.
There is a measure of risk involved with expecting a defense to tighten routinely on key plays, but coach Mike McCarthy said that what he calls "adversity play" is "the strength of our team right now. That's why we're 2-0. We've stepped up two weeks in a row when it's counted, but we definitely have a lot of work to do."
Yes,
Carolina Panthers
rookie
Cam Newton
lit up the Packers for 432 yards last Sunday at Bank of America Stadium. That performance came a week after
Drew Brees
logged 419 yards for the
New Orleans Saints
. Even in a pass-happy league, as the chart shows, the Packers defense ranks near the bottom of the NFL in yardage, points allowed and third-down conversion rate.
Yet the Packers have managed to win on both occasions thanks literally to a handful of important plays. They've allowed only three touchdowns on 11 opponent trips to the red zone, a touchdown percentage of 27.3 that ranks third in the NFL. They also rank near the top of the league in takeaways (five) and sacks (seven).
That's why McCarthy seemed comfortable with the situation, and
that's why you heard
linebacker
Clay Matthews
say: "I don't think we're concerned." Cornerback
Charles Woodson
told reporters that the Packers "definitely have a lot of things to clean up," but expressed full confidence that they would.
The Packers are now down two starters from their Super Bowl team, having lost defensive end
Cullen Jenkins
via free agency and safety
Nick Collins
to a neck injury. Jenkins' expected replacement,
Mike Neal
, had knee surgery earlier this month and will miss a significant amount of the season. Cornerback
Tramon Williams
, meanwhile, is rehabilitating a shoulder injury that kept him out of the Panthers game.
But those developments, along with the on-field performance in Weeks 1 and 2, are causing only a mild reaction among the football people I trust. Matt Williams of Scouts Inc. cited mitigating factors in both cases.
"It's been a little worrisome," Williamson said. "Tramon Williams being out was a huge part of it this past week, though. … I didn't worry too much against the Saints. Brees will do that to everyone. This past weekend opened my eyes a little, but I'm not yet officially concerned."
Williamson did question whether second-year cornerback
Sam Shields
, who excelled as a nickelback last season, would be ready to handle a larger role if Williams' injury lingers. And he also brought up an important point: After Jenkins' departure, do the Packers have enough pass-rushers to complement Matthews?
I'm sure the Packers are hoping that defensive lineman
B.J. Raji
will pick up much of Jenkins' slack, and linebacker
Erik Walden
has proved an aggressive pass-rusher off the edge. Raji and Walden each have a sack this season, but obviously the sample size is small.
In reality, you can point to three series of plays that ensured the Packers' 2-0 record:
[+] Enlarge

AP Photo/Mike RoemerThe Packers stuffed Mark Ingram at the goal line to preserve their victory in Week 1.

Stopping Saints running back Mark Ingram at the goal line on the final play of Week 1.

Limiting the Panthers to a field goal after they had first-and-10 at the 11-yard line on their second possession Sunday.

Again holding the Panthers to a field goal after facing first-and-goal at the 8-yard line in the fourth quarter.
Had the Saints or Panthers scored a touchdown on any of those possessions, the Packers could have at least faced an overtime situation. You don't want to play with such a thin margin of error, but everything that has happened is "correctable" McCarthy said, and "are things we can adjust to."
An unofficial poll via Twitter this week suggested you are nervous but nowhere near panic.
@Jacobklossner
noted the Packers are "finding ways to win" but wondered: "How long does that last?"
@Elvin1983
is "mildly alarmed with the secondary" and thinks the red zone defense has been called on "too often."
What exactly has happened? I don't think it can be traced to one or two factors. But I do think the Panthers' opening drive Sunday was a nice illustration of where the Packers have been vulnerable at least to this point.
In completing six of seven passes, Newton capitalized on two personnel advantages. First, the Panthers' abundance of tight ends forced Matthews to drop into coverage twice and sit on the line of scrimmage on a third play. Matthews hit Newton after one throw, but Newton smartly threw to the area Matthews vacated for an 18-yard play to tight end
Jeremy Shockey
. And on a screen pass to running back
Jonathan Stewart
, Matthews slipped at the snap. He got up in time to chase down Stewart from behind, but not before a 19-yard gain.
Second, the Panthers had a rare strength advantage against cornerback Charles Woodson. Veteran receiver
Steve Smith
escaped contact on two occasions to get open for passes of 15 and 12 yards. I guess it's possible that Woodson's coverage skills have slipped, but generally speaking, I don't think there are many NFL receivers who are strong enough to escape Woodson the way Smith did.
That said, I think it's worth tracking Williamson's point about the Packers' pass rush. Matthews obviously can't do it all on his own. But given what we know about their defensive personnel and coaching staff, it's reasonable to believe the Packers will level themselves out. You might consider that unjustified cover for a group in crisis, but I consider it a deserved benefit of the doubt.
April, 7, 2011
4/07/11
12:00
PM ET
»
NFC Draft Watch
:
East
|
West
|
North
|
South
»
AFC
:
East
|
West
|
North
|
South
Each Thursday leading up to the NFL draft (April 28-30), the ESPN.com NFL blog network will take a division-by-division look at key aspects of the draft. Today's topic: history in that spot.
Chicago Bears

The Bears' top pick is No. 29 overall. Here are the past seven players taken in that spot, with their NFL team in parentheses:
2010: Cornerback
Kyle Wilson
(
New York Jets
)
2009: Wide receiver
Hakeem Nicks
(
New York Giants
)
2008: Defensive end
Kentwan Balmer
(
San Francisco 49ers
)
2007: Offensive guard
Ben Grubbs
(
Baltimore Ravens
)
2006: Center
Nick Mangold
(New York Jets)
2005: Defensive back
Marlin Jackson
(
Indianapolis Colts
)
2004: Wide receiver
Michael Jenkins
(
Atlanta Falcons
)
ANALYSIS:
The bottom of the first round is a great place to find starting-caliber guards and centers. The top tackles are usually off the board. Fortunately for the Bears, they could use a guard or center just as much as a tackle. While coach Lovie Smith wants to bring back veteran center
Olin Kreutz
, a free agent, he will have to be replaced someday. And more depth at guard could allow the Bears to move 2008 first-round draft pick
Chris Williams
back to left tackle.
Detroit Lions

The Lions' top pick is No. 13 overall. Here are the past seven players taken in that spot, with their NFL team in parentheses:
2010: Defensive end
Brandon Graham
(
Philadelphia Eagles
)
2009: Defensive end
Brian Orakpo
(
Washington Redskins
)
2008: Running back
Jonathan Stewart
(
Carolina Panthers
)
2007: Defensive lineman
Adam Carriker
(
St. Louis Rams
)
2006: Linebacker
Kamerion Wimbley
(
Cleveland Browns
)
2005: Offensive lineman
Jammal Brown
(
New Orleans Saints
)
2004: Receiver
Lee Evans
(
Buffalo Bills
)
ANALYSIS:
Unfortunately for the Lions, this isn't a great spot to get an elite cornerback. Those types of players are usually drafted in the top seven or eight picks. (The Lions are hoping that Nebraska's
Prince Amukamara
somehow slips through the cracks.) This is a nice area to draft a second-tier defensive lineman, and this year, the Lions will probably have their pick of offensive tackles as well.
Green Bay Packers

The Packers' top pick is No. 32 overall. Here are the past seven players taken in that spot, with their NFL team in parentheses:
2010: Cornerback
Patrick Robinson
(New Orleans Saints)
2009: Defensive tackle
Ziggy Hood
(
Pittsburgh Steelers
)
2008: Defensive end
Phillip Merling
(
Miami Dolphins
)*
2007: Receiver
Anthony Gonzalez
(Indianapolis Colts)
2006: Defensive end
Mathias Kiwanuka
(New York Giants)
2005: Offensive guard
Logan Mankins
(
New England Patriots
)
2004: Tight end
Benjamin Watson
(New England Patriots)
*First pick of second round.
ANALYSIS:
There are some awfully productive players on this list. Part of the reason is that the previous year's most successful organization was in that spot and thus was more likely to make a good scouting decision. But it also tells us the Packers should have an opportunity to select a player who can make an immediate impact as long as they don't limit themselves to certain positions.
Minnesota Vikings

The Vikings' top pick is No. 12 overall. Here are the past seven players taken in that spot, with their NFL team in parentheses:
2010: Running back
Ryan Mathews
(
San Diego Chargers
)
2009: Running back
Knowshon Moreno
(
Denver Broncos
)
2008: Offensive tackle
Ryan Clady
(Denver Broncos)
2007: Running back
Marshawn Lynch
(Buffalo Bills)
2006: Defensive lineman
Haloti Ngata
(Baltimore Ravens)
2005: Linebacker
Shawne Merriman
(San Diego Chargers)
2004: Linebacker
Jonathan Vilma
(New York Jets)
ANALYSIS:
This list tells us what we knew already: You can get a blue-chip, impact player here if you exercise good judgment. The Vikings' decision, of course, will be complicated by their need for a quarterback. What will they do if they have, say, a potentially elite pass-rusher like North Carolina's
Robert Quinn
available to them? Take Quinn and look for a quarterback later? Or prioritize the quarterback?
February, 21, 2009
2/21/09
12:38
PM ET
Posted by ESPN.com's Kevin Seifert
INDIANAPOLIS -- In a perverse way, Saturday's news that Texas Tech receiver Michael Crabtree has a stress fracture in his left foot could benefit two NFC North teams.
Before the injury, Scouts Inc. ranked Crabtree as its top overall prospect. Most mock drafts have suggested that he would be no worse than a top-five pick in the April draft. The injury could sink his ranking by some degree -- possibly to the mid-round area where Chicago (No. 18) and Detroit (No. 20) are scheduled to pick.
NFL teams are still processing the medical information and implications of the injury. Last spring, Oregon running back Jonathan Stewart needed surgery on his right big toe but was still drafted by Carolina at No. 13 overall.
The Lions have met with Crabtree but were unlikely to take a receiver with the No. 1 overall pick. But one of the draft's top game-breakers with the No. 20 pick? That might be something to consider.
That is, of course, if the Bears haven't snapped him up first. Chicago's receiver deficiency has been well-documented, and the Bears have other needs as well. (Right tackle among them.) But Saturday's news means the Bears have a more legitimate chance to draft Crabtree than they thought they would when they arrived in Indianapolis.
November, 18, 2008
11/18/08
7:16
AM ET
Posted by ESPN.com's Kevin Seifert
There's a hole in my heart
That can only be filled by you.
And this hole in my heart
Can't be filled with the things I do.
Can't say I heard Extreme playing in Chicago's locker room on Sunday, but Green Bay officials made an interesting discovery Monday. According to Rob Demovsky of the Green Bay Press-Gazette, there was a "fist-sized hole" in a wall of the visitor's locker room at Lambeau Field.
The hole appeared sometime between the last home game, Oct. 19 against Indianapolis, and Sunday's 37-3 Packers victory over the Bears. A Packers spokesman said the team has no plans to investigate.
This isn't the first time the Packers' visitor's locker room has incurred damage. After a victory over Minnesota in 2002, a few holes appeared in the wall of a temporary trailer used to house the visiting team during Lambeau construction.
Now, on to more substantive matters around the NFC North:
September, 15, 2008
9/15/08
12:46
PM ET
Posted by ESPN.com's Kevin Seifert
After Carolina's 20-17 victory over the Bears, here are three (mostly) indisputable facts I feel relatively sure about:
1. The Bears won't lose faith in tight end Greg Olsen after he fumbled following both receptions Sunday. The way their offense is shaping up around tailback Matt Forte, Olsen will be in position for so many play-action passes -- as long as offensive coordinator Ron Turner and quarterback Kyle Orton continue feeding him the ball. Olsen ultimately will be the best pass-catcher on this team, especially if Devin Hester is sidelined because of a rib injury.

An aside: Watching Olsen's struggles Sunday reminded me of an October day in 1999, when Minnesota tight end Jim Kleinsasser fumbled twice -- against the Bears, ironically -- in a 24-22 Vikings loss. Then-coach Dennis Green moved him to fullback the following week, and the Vikings have never considered Kleinsasser much of a receiving threat since. There's no chance the Bears will go to those lengths with Olsen, but for some reason it jogged my memory. Anyway ...

2. Yes, Carolina running back Jonathan Stewart gobbled up 76 rushing yards in the second half. But I choose to attribute that performance to heat and conditioning rather than a leaky run defense. This was textbook maneuvering by the Panthers: Bring in young, fresh legs against a veteran group that has been baking in dark jerseys all afternoon. Stewart sliced through the Bears on a number of occasions, but before the heat got to them, Chicago held starter DeAngelo Williams to 31 yards on 11 carries. That's more reminiscent of the quality of the Bears' run defense.

3. It's interesting how quickly it became public knowledge that Orton was responsible for changing the call on a key third-and-1 play in the fourth quarter. Orton switched from a run to a pass that fell incomplete and was nearly intercepted. On fourth down, the Panthers stopped fullback Jason McKie for no gain. The Bears want Orton to be more than a "game manager," but it's clear they also have some unwritten limits for him. Afterwards, Turner second-guessed himself for giving Orton an option.
And here is one question I'm still asking:
How badly is Hester injured? He did not return Sunday after bruising his ribs, and the Bears aren't the same team without him. The mere threat of him as a returner changes the way teams play, and the Bears are far from knowing how good he can be as a receiver. The team should be holding its collective breath while awaiting Hester's prognosis.