August, 26, 2010
8/26/10
11:18
PM ET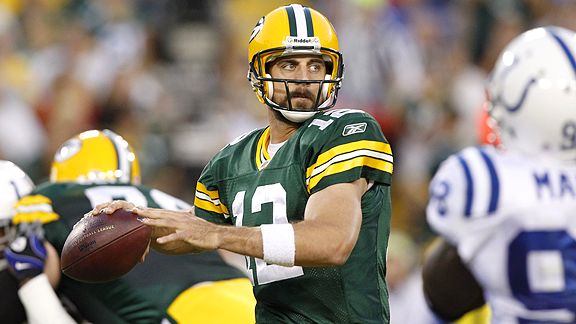 AP Photo/Jeffrey PhelpsAaron Rodgers completed 21 of 29 passes for 195 yards, three touchdowns and a 124.9 passer rating.
The worst opening sentences of any sports story I've ever read went this way:
Somebody call 911.
[Random player] is on fire.
But for whatever reason, those sentences keep running through my head after watching the first half of the
Green Bay Packers
' preseason game against
Indianapolis Colts
. So here goes:
Somebody call 911.
AARON RODGERS IS ON FIRE AND THERE ARE FLAMES COMING OUT OF HIS ARM AND OH MY GOD IT CAN'T BE STOPPED!
OK, that's out of my system now.
If anyone has any doubts about what Rodgers and the Packers could do this season, I hope you at least watched the first half of Thursday night's
59-24 romp over the Colts
. Rodgers overcame some early inaccuracy to lead a surgical two-minute drill just before halftime, a 78-yard procession over 1 minute and 22 seconds that reinforced his near-elite status in this league.
I know it was only a preseason game, but if you were watching, you saw the Colts' first-team defense getting in his face and knocking him down multiple times. But Rodgers completed all seven of his passes on the drive, including three ropes to tight end
Jermichael Finley
that covered 40 yards and a 3-yard flip to receiver
James Jones
for a touchdown.
After missing on eight of his first 22 passes, Rodgers finished 21 of 29 for 195 yards. The effort actually lowered his preseason passer rating to a still-sick 142.3. In just over four quarters of play this preseason, Rodgers has completed 41 of 53 passes for 470 yards, six touchdowns and no interceptions.
Yeesh.
The Packers led the Colts 28-17 at halftime, after which both teams began sitting their starters. All in all, it was a pretty impressive night for a team with Super Bowl aspirations. You can see a winning formula developing before your eyes: An offense that averages 56 points per game and a defense that gives up some yards but also makes some big plays.
(Joking on the 56 points. For the most part.)
Let's hit five random observations before calling it a night. You have to read until the end to find out the last time the Packers scored so many points in a preseason game.
[+] Enlarge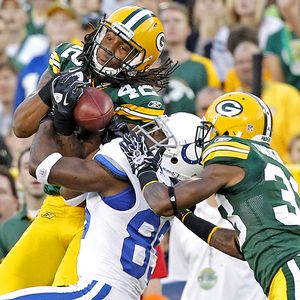 AP Photo/Jeffrey PhelpsMorgan Burnett (42) is making a strong case to be the Packers' Week 1 starting strong safety.
1. You are excused for getting jittery after the Colts ran up 17 points on their first four possessions.
Their first two plays were
Joseph Addai
's 49-yard run and an 18-yard touchdown pass from
Peyton Manning
to
Pierre Garcon
. On the former, defensive tackle
B.J. Raji
got moved way out of position, and on the latter, safety
Nick Collins
appeared to be barking instructions to rookie
Morgan Burnett
when Manning quick-snapped the ball.
Thereafter, however, the defense settled down as coordinator Dom Capers appeared to go exclusively with nickel and dime packages. The Colts' next three possessions ended in two punts and an interception by Burnett, who surprised Manning with a veteran decision to jump a short route. I don't see how Burnett is not the Packers' Week 1 starter at strong safety.
Playing without linebackers
Clay Matthews
,
Brad Jones
and defensive end
Cullen Jenkins
, I considered it an acceptable preseason performance by the Packers defense. You?
2. I've picked on Raji a bit lately, but he did make a nice play to tackle receiver Reggie Wayne on a screen for a 4-yard loss.
Because of Capers' scheme choices, Raji spent almost the entire night as a defensive tackle rather than playing on the nose. That alignment also led to extensive first-team playing time for rookie defensive lineman Michael Neal, who started in Jenkins' place.
3. Running back Brandon Jackson ran hard after replacing Ryan Grant in the second quarter,
but Jackson's red-zone fumble in the second quarter isn't going to motivate coaches to give him similar opportunities during the regular season. Grant was removed after eight carries but no injury was reported.
4. When evaluating Rodgers' night, keep in mind that receiver Greg Jennings was deactivated as precautionary measure because of back spasms.
In his place,
Donald Driver
caught five passes, including a touchdown. Jones, meanwhile, had four receptions and the touchdown.
5a. The Packers scored two special teams touchdowns.
Consider it a confidence booster, if nothing else, for a group that had spent the summer trying to get its footing.
Korey Hall
recovered a muffed punt return in the end zone during the second quarter, and
Jason Chery
returned a punt 75 yards for a score in the fourth quarter.
5. Trivia answer:
The 59 points were the Packers' highest preseason total since defeating your Cedar Rapids Crush 75-0 in 1938.
March, 31, 2010
3/31/10
1:00
PM ET
»
NFC History
:
East
|
West
|
North
|
South
»
AFC
:
East
|
West
|
North
|
South
»
Draft Watch
:
Biggest needs
(2/17) |
Busts/gems
(2/24) |
Schemes, themes
(3/3) |
Recent history
(3/10) |
Needs revisited
(3/17) |
Under-the-radar needs
(3/26) |
History in that spot
(3/31) |
Draft approach
(4/7) |
Decision-makers
(4/14) |
Dream scenario/Plan B
(4/21)
Each week leading up to the NFL draft (April 22-24), the ESPN.com blog network will take a division-by-division look at key aspects of the draft. Today's topic: History in that spot.

Chicago Bears
The Bears' top pick is No. 75 overall. Here are the last five players taken in that spot, with their NFL team in parentheses:
2009:
Ball State tackle
Robert Brewster
(Dallas)
2008:
Oklahoma defensive back
Reggie Smith
(San Francisco)
2007:
Illinois State receiver
Laurent Robinson
(Atlanta)
2006:
Louisville guard
Jason Spitz
(Green Bay)
2005:
Virginia Tech defensive back
Eric Green
(Arizona)
Robinson had 37 receptions as a rookie but has since moved to St. Louis. Spitz was the Packers' opening-day center last season before a back injury sidelined him. He is a candidate to start in 2010. Smith has played in 13 games over the past two seasons for the 49ers, with seven tackles and no interceptions.

Detroit Lions
The Lions' top pick is No. 2 overall. Here are the last five players taken in that spot, with their NFL team in parentheses:
2009:
Baylor offensive tackle
Jason Smith
(St. Louis)
2008:
Virginia defensive end
Chris Long
(St. Louis)
2007:
Georgia Tech receiver
Calvin Johnson
(Detroit)
2006:
USC running back
Reggie Bush
(New Orleans)
2005:
Auburn running back
Ronnie Brown
(Miami)
Brown, Bush and Johnson have all been dynamic playmakers for parts of their careers. Coincidentally, all three have been slowed by knee injuries of varying severity. The Rams are still waiting for elite payoff from Long and endured an inconsistent rookie season from Smith.

Green Bay Packers
The Packers' top pick is No. 23 overall. Here are the last five players taken in that spot, with their NFL team in parentheses:
2009:
Mississippi offensive tackle
Michael Oher
(Baltimore)
2008:
Illinois running back
Rashard Mendenhall
(Pittsburgh)
2007:
LSU receiver
Dwayne Bowe
(Kansas City)
2006:
Oklahoma guard
Davin Joseph
(Tampa Bay)
2005:
Nebraska cornerback
Fabian Washington
(Oakland)
Oher, Mendenhall, Bowe and Joseph have been full-time starters. Washington moved from Oakland to Baltimore.

Minnesota Vikings
The Vikings' top pick is No. 30 overall. Here are the last five players taken in that spot, with their NFL team in parentheses:
2009:
Rutgers receiver
Kenny Britt
(Tennessee)
2008:
Purdue tight end
Dustin Keller
(
New York Jets
)
2007:
LSU receiver
Craig Davis
(San Diego)
2006:
LSU running back
Joseph Addai
(Indianapolis)
2005:
Virginia tight end
Heath Miller
(Pittsburgh)
All five are skill players, for what it's worth. Davis has been a bust, but Miller, Addai and Keller are highly productive players. Britt is on pace to be as well.