December, 12, 2013
12/12/13
8:00
AM ET
LAKE FOREST, Ill. -- As
Cleveland Browns
receiver
Josh Gordon
makes a run at the NFL record books,
Chicago Bears
defensive coordinator Mel Tucker expects his group to face a tall order containing him Sunday on the road.
Chicago held down
Dallas Cowboys
receiver
Dez Bryant
(two catches for 12 yards and a touchdown) on Monday night with
Tim Jennings
as the primary man in coverage, but Gordon presents perhaps a more formidable challenge.
Tucker sees big-play ability as Gordon's most significant attribute.
"He has a large catch radius. He's fast. He can take a 5-yard slant and turn it into a 60-yard touchdown," Tucker said. "Really, he's playing with a lot of confidence. The quarterbacks have confidence in him to go up and make plays. He can catch the ball in a crowd and win the contested one-on-one battle."
Gordon's eye-popping statistics over the past four games certainly support that. Suspended for the first two games, Gordon leads the NFL in receiving yards (1,400) and has racked up 774 yards over the past four games.
He currently averages 127.3 yards per game, and the NFL record for single-season average per game is 129 yards.
Browns quarterback
Jason Campbell
believes Gordon has hit his comfort zone.
"Coming into the season, I know there was a lot of trade talk and a lot of trade rumors. And with him missing the first two games of the season, I think he had a chance to really sit back and just look at things on the outside of what a great opportunity he has and what a great opportunity he's missing out on when he wasn't playing," Campbell said. "When he came back, he had a totally different mindset about playing in the NFL, a totally different mindset about his ability to make plays, and I think a lot of it is, once the trade rumor was also over with, I think he was able to relax and just start to play the game."
September, 22, 2013
9/22/13
4:24
PM ET
MINNEAPOLIS -- My thoughts on the
Cleveland Browns
'
31-27 win
over the
Minnesota Vikings
at Mall of America Field on Sunday.


What it means:
The Browns pulled out their first victory of the season days after trading running back
Trent Richardson
, with third-string quarterback
Brian Hoyer
shaking off three interceptions to lead a late-game scoring drive. The Vikings, meanwhile, blew a lead and gave up a last-minute touchdown for the second straight week. A team that went 10-6 last season is now 0-3, heading into a quasi-home game in London, and the loss to the Browns exposed serious issues on both sides of the ball.
Vikings stock watch:
Falling -- Vikings' secondary. Minnesota lost
Chris Cook
,
A.J. Jefferson
and
Jamarca Sanford
to injuries, and while it remains to be seen if any of them are long-term problems, the injuries left an already-thin secondary vulnerable to Hoyer, who recovered from a miserable second half to stun the Vikings at home.
Antoine Winfield
is sitting at home, and though the Vikings so far have been reluctant to talk their former Pro Bowl defensive back out of retirement, Sunday's events could change their minds.
Browns stock watch:
Rising -- Browns' run defense. Cleveland had given up an average of just 59.5 yards per game in its first two losses, and even though
Adrian Peterson
ran for 88 on Sunday, the Browns made sure they didn't come easy. Peterson's longest gain of the day was 9 yards, and the Vikings had to rely on
Christian Ponder
and their passing game more than they would have liked to.
Hoyer Watch:
In the first half, Hoyer looked capable of pulling out a surprising victory, making a number of effective throws on rollouts to keep him away from the Vikings' defensive line and burning cornerback A.J. Jefferson on a stop-and-go route to
Josh Gordon
for a 47-yard touchdown. He threw a pair of interceptions in the second half, when the Vikings turned up the heat with blitzing linebackers, but he rebounded to lead an 11-play, 55-yard drive for Cleveland's final touchdown, finding
Jordan Cameron
in the corner of the end zone.
Ponder Watch:
In a game that exposed plenty of issues for the Vikings, Ponder's play was what got fans the most riled up. He crumbled after leading a couple of drives early in the game, throwing for just 7 yards in the third quarter, and was unable to direct a late-game drive to put the game away after the Vikings took a 27-24 lead on a
Blair Walsh
field goal. The Vikings' play calling will come into question after the team handed Peterson the ball just five times in the fourth quarter, and the team's offensive line again left Ponder running for his life. But a quarterback the Vikings drafted 12th overall still has not shown any signs of being a fixture at the position, and on Sunday, a quarterback making his second career start got the last laugh on Ponder.
What's next:
The Vikings (0-3) head to London to take on the
Pittsburgh Steelers
at Wembley Stadium, while the Browns return home for their first division home game of the season, playing host to the
Cincinnati Bengals
next Sunday afternoon.
September, 19, 2013
9/19/13
12:00
PM ET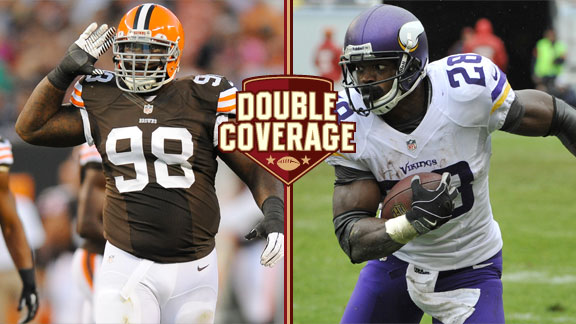 Getty ImagesPhil Taylor and the thus-far stout Browns run defense gets a major test in Adrian Peterson.
A pair of teams desperate for their first victory square off in Minneapolis this weekend when the
Minnesota Vikings
host the
Cleveland Browns
.
The Vikings are coming off a last-second loss in Chicago, after which players were venting about the defensive call that led to the Bears' touchdown with 10 seconds left. Minnesota goes from Minneapolis to London for a date with the
Pittsburgh Steelers
, and the Vikings are in dire need of some positive momentum.
The Browns, meanwhile, have scored just 16 points in a pair of losses, and already have made major changes. They will start
Brian Hoyer
at quarterback this weekend with starter
Brandon Weeden
out because of a thumb injury. Meanwhile, the Browns traded running back
Trent Richardson
on Wednesday, parting with their top playmaker in exchange for the
Indianapolis Colts
' 2014 first-round draft pick.
As the teams meet for the first time since 2009, ESPN.com Vikings reporter Ben Goessling and ESPN NFL Insider Matt Williamson break down the game:
Goessling:
Matt, the last time these two teams faced each other, it was on opening day in 2009,
Brady Quinn
was under center for the Browns and Brett Favre was playing his first regular-season game in a Vikings uniform. How things have changed since then. The Vikings have their own quarterback issues --
Christian Ponder
probably keeps his job for now after a solid second half in Chicago last week, though he's in serious need of some consistency. With Hoyer at quarterback, Richardson gone to Indianapolis and
Josh Gordon
coming back from a suspension, what can we expect from the Browns' offense?
Williamson:
I was feeling optimistic about Cleveland's offense going into Week 3 with Gordon returning and the disaster at the right guard position seemingly resolved. But now Weeden is out and Hoyer is in. That doesn't bother me nearly as much as the loss of Richardson, who should be the foundation of this offense as a runner and underrated receiver. I truly think the Colts got themselves a great young back. But that leaves the Browns in a very precarious situation in the backfield. It is going to be a long year on this side of the ball.
The Vikings had an outstanding rookie class in 2012 and made three picks in the first round of this latest draft. Although there are obvious concerns at the quarterback position, Minnesota has quietly established a fine young nucleus. What roles do you see for its three first-round picks for this game, as well as going forward in 2013?
Goessling:
It's interesting you bring that up, because
Cordarrelle Patterson
's role -- or perhaps his absence -- has been a big topic of conversation this week. He got only five snaps in the Vikings' first game, and had just six as a receiver last Sunday, even after he ran the opening kickoff back 105 yards for a touchdown. He's young, and raw, but he might also be one of the most dangerous players the Vikings can put on the field, aside from
Adrian Peterson
. Coach Leslie Frazier all but called for Patterson to be on the field more during his news conference Monday. The challenge for the Vikings is to either work him into their base offense or go to enough multiple-receiver sets that they can use him, but I don't doubt we'll see him more going forward.
That could be especially important considering how good the Browns have been against the run in their first two games. They've allowed just 59.5 yards per game -- how will they fare against Peterson this weekend?
Williamson:
Well, facing Peterson is obviously the ultimate challenge, and his run blocking, including the tight ends and fullbacks, is quite good as well. But I am very impressed with the Browns' run defense -- and it starts up front. I believe that
Phil Taylor
is on the verge of stardom; his battle with
John Sullivan
, an excellent center in his own right, in the middle of the formation, will be crucial for the success of Cleveland's interior run defense. But the Browns also have very good size at outside linebacker and do a nice job containing the outside run; their second- and third-level defenders get to the ball carrier well.
I mentioned before that the right guard position has been a nightmare, but the Browns' excellent set of offensive tackles,
Joe Thomas
and
Mitchell Schwartz
, also has struggled much more than would be expected against two formidable defenses. As you know,
Jared Allen
is still playing at a very high level. But as some might not know,
Brian Robison
is also excelling this year and
Everson Griffen
is a highly athletic and intriguing end, too. Could Minnesota's defensive ends rule the day?
Goessling:
They certainly could. They struggled in Week 1 in Detroit, as
Matthew Stafford
found
Reggie Bush
on a number of early screen passes before the rush could get home. But the Vikings put consistent pressure on
Jay Cutler
last week, and Allen caused a Cutler fumble that Robison returned 61 yards for a touchdown. The Vikings also have not played at home yet, which means they will have the advantage of the crowd disrupting the opposing offense's snap count for the first time this year. Minnesota has enough issues on the back end of its defense that it needs a strong pass rush to cover up for some of those deficiencies, and if the defensive line can get to Hoyer, the Vikings should be able to slow the Browns down and win the game.
To close this up, what's the biggest thing you think the Browns need to do to win the game? What kind of a shot will they have without Weeden and Richardson?
Williamson:
I really don't like Cleveland's chances at all, but its defense could keep this game close and limit Peterson's production. Of course, Ponder could have a very poor game, or the Browns could score on defense or special teams. But I can't see their offense this week moving the football with any sort of consistency. As Cleveland's front office is doing, it is time to start looking toward next year.
July, 11, 2012
7/11/12
7:20
AM ET
We're Black and Blue All Over:

Reactions to the Green Bay Packers' record-setting
operating profit of $42.7 million
, announced Tuesday, have been interesting.
Off the top, it's worth noting that the profit was
calculated separately from the $64 million
raised through a stock sale this winter. That money is required to be used for renovations currently underway at Lambeau Field.
As we discussed at the time
, the stock sale essentially took the place of public fees revenues that NFL teams normally seek in such situations.
Then, of course, there is the football side of the equation.
As ESPN business analyst Andrew Brandt noted
, those unprecedented revenues and profits will be a bargaining chip for agents of players seeking contract extensions. While the salary cap will always limit the Packers' ability to spend money, there is still a difference between what a high-revenue team might spend on its roster in pure cash terms and what a low-revenue team could spend.
Good luck to general manager Ted Thompson and his contract negotiator, Russ Ball.
Continuing around the NFC North: