August, 31, 2013
8/31/13
6:30
PM ET
Most significant move:
Despite
J'Marcus Webb
making 44 starts in 46 career games, including 32 consecutive starts at left tackle over the last two years, the Bears made the decision to part ways with him, even after reducing his salary to the league minimum for a veteran with three years of tenure.

Webb entered the offseason as the starter at right tackle, and stayed in that spot through the early part of training camp. Then, after the preseason opener at Carolina, the club demoted Webb to the second team behind rookie fifth-round pick
Jordan Mills
.
The demotion put Webb in competition for a backup role with veterans
Jonathan Scott
and
Eben Britton
. A five-year veteran, Britton has 30 games of starting experience on his résumé, but also possesses more versatility than Webb because of his ability to kick inside to guard and center. Scott hasn't played all preseason, and recently underwent a procedure on his knee. But the team is confident that even a dinged-up Scott is more reliable than a fully healthy Webb.
Webb possesses the physical skillset to be a starter in the NFL for several years, but lacks motivation and passion, which is a no-no for general manager Phil Emery and the new coaching regime. The new staff worked diligently to coax out the best in Webb, but couldn't do it consistently enough for the team to feel confident in the three-year veteran, even as a backup.
Good outing, bad result:
Quarterback
Jordan Palmer
performed well in the preseason finale against Cleveland despite little preparation after signing as an injury replacement for Matt Blanchard. But a 64.7 completion percent and a passer rating of 102.8 with a touchdown pass in his preseason debut wasn't good enough to keep the Bears from cutting Palmer.
A big part of that was the team's reported desire to sign a third quarterback with practice-squad eligibility. Palmer doesn't have any practice-squad eligibility remaining.
What's next:
With the 53-man roster finalized, the Bears will start to build their practice squad. If the club wants to bring back some of the players it cut, it will have to wait until they clear waivers. The Bears will likely be looking to add a few players cut from other teams to their practice squad, too.
Bears cuts:
QB:
Trent Edwards
,
Jordan Palmer
. RB:
Armando Allen
. OG: Dennis Temple,
Edwin Williams
. LB:
Jerry Franklin
,
J.T. Thomas
. WR: Brittan Golden,
Terrence Toliver
, Josh Lenz. OT:
J'Marcus Webb
,
Cory Brandon
. DT:
Corvey Irvin
, Christian Tupou. S:
Tom Nelson
,
Brandon Hardin
. LS: Brandon Hartson. CB: Demontre Hurst. TE:
Fendi Onobun
. FB: Harvey Unga. DE: Aston Whiteside,
Josh Williams
.
Note:
Brandon and Irvin received injury settlements. Hardin was waived/injured, which means if he clears waivers, he'll revert to Chicago's injured reserve.
August, 30, 2013
8/30/13
12:14
PM ET
August, 30, 2013
8/30/13
10:25
AM ET
CHICAGO -- The
Chicago Bears
have informed veteran quarterback
Jordan Palmer
that he will be released prior to the deadline for NFL teams to establish their 53-man roster, Palmer announced Friday morning on his official Twitter account (@JwPalms).

"I really appreciate all the kind words from the #Bears fans but I'm headed home today," Palmer wrote. "Crazy biz but appreciative."
Palmer had a strong first-half performance Thursday against Cleveland when he completed 11-of-17 passes for 111 yards and one touchdown, for a passer rating of 102.8. Chicago receivers also dropped at least three throws that would have otherwise resulted in completions.
Bears head coach Marc Trestman praised Palmer following the game. The Bears signed both Palmer and fellow quarterback
Trent Edwards
after second-year QB Matt Blanchard fractured his left hand in the club's second preseason game. The Bears and Blanchard later reached an injury settlement.
"It says a lot about his preparation," Trestman said. "He came in here; he dug in; he has learned a lot of the offense and spent a lot of time, on his own, trying to assimilate all of it. I'm happy for him that he came out and played very efficiently for us."
It's possible the Bears could turn to Palmer later in the regular season if the team suffers an injury to either starting quarterback
Jay Cutler
or No. 2
Josh McCown
.
Edwards replaced Palmer in the second half and went 10-of-17 for 135 yards and tossed an interception that went through the hands of tight end
Fendi Onobun
and returned for a touchdown by the Cleveland defense.
The Bears could be leaning toward keeping just two quarterbacks on the Week 1 active roster and signing a quarterback to its practice squad.
In other news, the Bears also informed wide receivers Britton Golden and
Josh Lenz
of their release Friday.
NFL teams have until 3 p.m. CT on Saturday to trim the roster to 53, but the Bears are expected to make the majority of their roster moves on Friday.
August, 6, 2013
8/06/13
9:41
PM ET
BOURBONNAIS, Ill. -- In a practice filled with defensive highlights, defensive end
Shea McClellin
authored the play of the day on Tuesday when he sniffed out a screen pass and intercepted a hard-thrown ball from quarterback
Jay Cutler
in the flat.
McClellin initially rushed up field on the play from his end spot before anticipating the throw by Cutler and coming down with a difficult catch. If the sequence had occurred in a real game, McClellin would have scored an easy defensive touchdown.
[+] Enlarge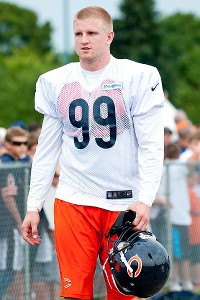 Bradley Leeb/US PresswireShea McClellin said he feels faster, and it showed on a nice play Tuesday.
"I was just doing my job and reading my keys," McClellin said. "The ball was right there so I picked it off. I was just doing my job. I feel faster out there than I did in the spring after I lost eight pounds. I still feel like I get a little heavier, but I'll work on that after camp.
McClellin has been in a groove the last week, routinely winning one-on-one battles with offensive lineman in individual and team drills. The likely plan for the former first-round pick is to move him around the defensive front, lining him up in a two-point or three-point stance depending on the defensive call or the matchup, while sometimes requiring that he cover a tight end or guard the flat on passing downs.
The Bears asked McClellin to do some of that last year as a rookie, but expect to see more of it in 2013. That's because McClellin should receive a significant boost in play-time in the Bears' three-man starting defensive end rotation that also includes
Julius Peppers
and
Corey Wootton
.
On the topic of defensive lineman moving around, the Bears had several lineman stand up in a two-point stance and either rush the quarterback or run with a tight end in coverage, the most notable being Pro Bowl defensive tackle
Henry Melton
.
As the wide receiver bubble starts to take shape, Joe Anderson is doing whatever he can to earn a spot on the Bears' final 53-man roster. A standout on special teams in the final three regular-season games of 2012, Anderson has made several impressive catches throughout camp.

On Tuesday, he beat safety Major Wright down the deep middle of the field and hauled in a touchdown bomb from Cutler.

"It was just a beautiful pass by Cut, man," Anderson said. "The safety sat and I just ran by him."

Anderson has the necessary physical skills (6-foot-1, 196 pounds), but admits that he still needs to work on the mental aspect of his game. Anderson was an undrafted rookie free agent last summer out of Texas Southern.

"I'm just as strong as Brandon Marshall or anyone else that is out here," Anderson said. "So it's not the physical part, it's more mental, like learning the fundamentals of the game. Just the little things that can get you open in tight coverages, and that starts in the film room, getting in your playbook and taking good notes in the meeting room. Then you need to come out on the field and apply it all."

It appears to be an open competition at wide receiver after the top three on the depth chart. Wideouts Anderson, Eric Weems, Devin Aromashodu, Terrence Toliver, Marquess Wilson, Josh Lenz, Marcus Rucker, Britton Golden and Jerrell Jackson all figure to get an extended look in the upcoming preseason games.

Wilson, the Bears seventh-round draft choice, is intriguing because although his 6-foot-4, 184 pound frame may not be ready to contribute much for the Bears on offense or special teams this season, would he clear waivers if the team cut him with the intent of bringing him back on the practice squad? The last thing the Bears want to do is completely cut ties with a 20-year old receiver, who if he stayed in school and continued producing at the same rate he had over his first three years at Washington State, would've been a first-round or second-round pick in 2014.



Wide receiver Earl Bennett (concussion symptoms), nickel back Kelvin Hayden (hamstring), linebacker D.J. Williams (calf), offensive tackle Jonathan Scott (knee) and Peppers (excused) were all sidelined on Tuesday.

Left tackle Jermon Bushrod participated in just individual drills for the second consecutive practice as he eases back from a right calf strain.

Defensive tackle Stephen Paea (hip) had full participation.



Team matriarch Virginia McCaskey watched the workout and later chatted with Bears general manager Phil Emery.