January, 30, 2013
1/30/13
11:00
AM ET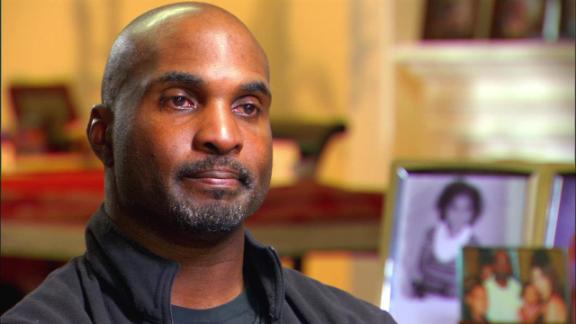 Over the past few years, we've seen countless stories of former NFL players suffering from debilitating pain and depression they attribute to the violence of their careers. So I appreciated the approach ESPN's Kelly Naqi took in this "Outside the Lines" profile of retired running back Leroy Hoard, who played the final four seasons of his 10-year career with the Minnesota Vikings.
The piece focuses more on how Hoard, 45, is living with his ailments. Hoard admits to memory loss and that he spends hours at a time in a dark bathroom, but he recognizes the events over the past decade that have prevented him from joining a growing list of former players who have committed suicide.
Hoard cites his recent marriage, along with his friendships with ex-teammates Robert Smith and Keith Byars for maintaining his quality of life. At the same time, he regularly writes down the names of three contemporaries -- Andre Waters, Dave Duerson and Junior Seau -- who have killed themselves. He doesn't want to forget what happened to them.
Check it out.
May, 15, 2012
5/15/12
3:30
PM ET
Most of us in the upper Midwest are familiar with George Koonce, who played eight seasons as a Green Bay Packers linebacker (1992-99) and has served stints in the athletic departments at Marquette and the University of Wisconsin-Milwaukee. What you might not know is that earlier this month, Koonce submitted a doctoral dissertation to Marquette about the transition of retiring football players.
The topic is quite timely after the recent suicide of longtime NFL linebacker Junior Seau. NFC West blogger Mike Sando obtained a copy of the dissertation and spoke with Koonce
for a post
that was published Tuesday. (Koonce played one season for the NFC West's Seattle Seahawks.)
Among things, Koonce wants all of us to think about the issues ex-players face independent of their physical problems or possible concussion history. Here's a snippet of what Koonce told Sando:
The day Junior Seau committed suicide was also the day I submitted to Marquette University my doctoral dissertation on the difficulties NFL players face in transitioning away from the game. While it's fashionable to blame concussions for Junior's early demise and it's certainly possible brain trauma played a role, the adjustment to life after football came to my mind immediately.

Eight years as a linebacker with the Green Bay Packers and one with the Seattle Seahawks should have set me up for life. Instead, the tunnel vision and unwavering devotion a football career demanded had left me utterly unprepared for anything else.

Football is different from other major sports in that way. Hard work and dedication cannot make you a 7-foot-1 center in the NBA, but it can help a 6-foot-2 linebacker go from 205 to 245 pounds while gaining speed and athleticism. That was the path I followed from undrafted prospect at East Carolina to NFL starting lineups from 1992-2000.

I played nine years in the NFL, one in NFL Europe and didn't have any concussions on record. But I did have suicidal thoughts in my first year away from the game. Not all of us suffered concussions, but all of us are going to go through the transition. And if you're like most players, you've spent most of your life focusing on the next play, the next quarter, the next half, the next game, the next offseason.
I urge you to
read the entire post
over on the NFC West blog.
May, 9, 2012
5/09/12
11:00
AM ET
Tuesday's SportsNation chat
brought up a question many former football players, media members and fans have been asking in the wake of former NFL linebacker Junior Seau's suicide last week:
Pete (Work)
If you have a son would you ever let him play football?
Kevin Seifert (2:10 PM)
That's an entire essay. The short version is I would be torn and I'm not sure what I would do.
John of Chicago
later suggested the topic as a future post. As it turns out, we addressed the same issue
almost exactly a year ago
in response to the suicide of former Chicago Bears safety Dave Duerson. It's one of the most interesting "Have at It" posts we've done, and you guys and gals wrote thoughtfully and passionately about the topic.
Readers and commenters tend to turn over during the course of a year, so if you didn't participate last time, feel free to post your thoughts in the comment section below. I'll decide whether to follow up with a response post if your answers take us into new territory.
I'll remind you of where I landed, which was to echo the thoughts of
Mjoldnir
, who put it better than I ever could have. Here's what he wrote:
"I played football for as long as I could, beginning with pee-wee, and through high school. I wasn't good enough for the college game by a longshot! But I loved everything about being on a football team: practices in the dirt and mud, the camaraderie, even the coach grabbing my facemask and screaming at me when I botched a play. Football pushed me past the point where I might have otherwise given up, and instilled the values of determination, work ethic and teamwork. Especially teamwork.

"I love how everything I did was part of a bigger picture, how a missed block on the backside of a play could wind up blowing the play up. It taught me to sweat the little stuff, to see the big picture, and to always have the backs of the people on my team. That's carried over to my career and even my personal life. These are huge life lessons that I'm not sure I could have learned as effectively from any other sport or endeavor.

"And yet I pray my son never asks me to sign a permission slip to play football, because I don't know if I could tell him no. I want my son to learn those life lessons. Maybe even a shredded knee would be worth it. But I don't want my boy -- the most precious thing in my life -- to risk damaging his brain."
Your turn.
May, 3, 2012
5/03/12
7:30
AM ET
We're Black and Blue All Over:
The Minnesota Vikings' stadium bill
ended Wednesday in a more productive place than it started
, which began with a rare verbal harangue from mild-mannered Gov. Mark Dayton against legislative leaders who have proposed significant last-minute changes in the bill.

After a closed-door meeting, Dayton said he was willing to "look at" a proposal that would pay the state's portion through bonding rather than gambling revenues. The new proposal would put a roof on the stadium, as necessary, but there are still many unanswered questions as the legislative session continues past its scheduled adjournment.
Dayton on the Republicans' new proposal: "They're in the majority -- they control the floor, they control the agenda. They have the majority of the votes. I want to see a stadium that's structurally sound and financially sound, that puts thousands of people to work and keeps the Minnesota Vikings here. If it means continuing to work, and looking at another possibility, we're willing to do that."
As the world turns ...
Continuing around the NFC North:
July, 5, 2010
7/05/10
12:00
PM ET
A weeklong look at current or former players or coaches with Hall of Fame potential in the division.
Chicago Bears:
Brian Urlacher
, middle linebacker
Claim to fame:
Since joining the Bears in 2000, Urlacher has made six Pro Bowl teams and been named an All-Pro four times. He was the NFL's Defensive Rookie of the Year in 2000 and Defensive Player of the Year in 2005.
[+] Enlarge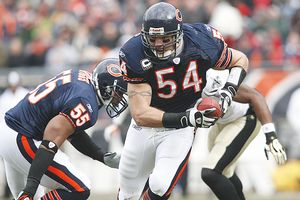 Tom Fluegge/US PresswireExtraordinarily athletic for a linebacker, Brian Urlacher has recorded 17 interceptions and 37.5 sacks in his career.
Case for enshrinement:
Urlacher was the best player on a defense that dominated the league during the middle years of this decade, one that overcame the Bears' offensive woes and led them to the Super Bowl in 2006. As a middle linebacker in the Tampa 2 scheme, Urlacher carried as much responsibility as any defensive player in the game -- calling defensive signals, chasing down ball carriers and covering the deep middle of the field during pass plays.
In that role, Urlacher has been an athletic playmaker unmatched in his prime, notching 17 interceptions and 37.5 sacks, while getting downfield faster than any linebacker in the game.
Case against enshrinement:
Injuries have slowed Urlacher in the past three seasons and he might not have compiled enough Canton-caliber seasons before that point. Detractors also could suggest he benefited disproportionately from the play of defensive tackles
Tommie Harris
and
Tank Johnson
, who kept blockers away from Urlacher more often than not. Hall Of Fame voters haven't been kind to even the best of Bears defenders. Mike Singletary and Dan Hampton are the only Chicago defensive stars from the 1985 Super Bowl team in Canton. Their teammate Richard Dent is now a six-time finalist for Hall of Fame induction but still is waiting for his official invite.
Parting shot:
As we noted last fall
, Urlacher might not stand as the best linebacker of his era.
Ray Lewis
,
Junior Seau
and
Derrick Brooks
might have something to say about that.
Detroit Lions:
Billy Sims, running back
Claim to fame:
He was a dominant runner during the early 1980s. Sims became the Lions' all-time leading rusher even though a knee injury ended his career after 4 1/2 years. (
Barry Sanders
later overtook him.) Sims was a three-time Pro Bowl player, still ranks as the Lions' No. 2 rusher, and has the second-most rushing touchdowns in team history.
Case for enshrinement:
It's obviously a long shot, but it's important to remember how brightly Sims' star shined during his brief career. He rushed for 153 yards in his first NFL game, led the league with 16 touchdowns as a rookie and finished his career with 5,106 yards in 60 career games.
His career ended midway through the 1984 season, at a time when he was averaging a career-high 5.3 yards per rush. There is precedent for acknowledging Hall-worthy careers cut short by injuries. Did you know that Chicago Bears Hall of Fame running back Gale Sayers, forced to retire at age 28, gained fewer career rushing yards (4,956) than Sims in more games (68)?
Case against enshrinement:
Sayers was a special case who was also a dangerous return man. In reality, it's difficult for voters to consider a running back who ranks No. 106 on the NFL's all-time rushing list. But Sims was one of the NFL's top players during the time he spent in the game.
Parting shot:
Sims' impact on the team also should be considered. The Lions were 2-14 the year before he was drafted. In 1980, they improved to 9-7. By 1983, they were division champions.
Green Bay Packers:
Jerry Kramer, guard
[+] Enlarge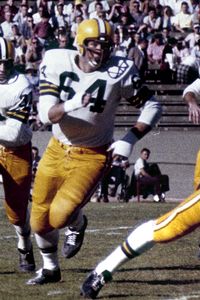 David Boss/US PresswireThe Packers won three NFL Championships and two Super Bowls during Jerry Kramer's career.
Claim to fame:
During an 11-season career from 1958-68, Kramer was a five-time All-Pro. He was named to the NFL's All-Decade Team for the 1960s and was the only guard selected for the NFL's 50th Anniversary team. Every other player on that team has been enshrined in the Hall of Fame.
Case for enshrinement:
As with most successful offensive linemen, most of Kramer's contributions came in a team context.
During his tenure, the Packers rushed for 21,637 yards -- the second-highest total among all NFL teams over that period. Kramer's blocking was one of the reasons fullback Jim Taylor posted five consecutive 1,000-yard seasons. Over that stretch, Taylor rushed for more yards than anyone but Cleveland's Jim Brown. Overall, the Packers made the playoffs eight times in Kramer's career and won three NFL Championships and two Super Bowls.
Case against enshrinement:
Guard isn't usually a highly valued position. In the history of the game, only 11 players who were primarily guards have made the Hall of Fame.
Voters could also be split on the source of the Packers' running success, from Vince Lombardi's coaching to the individual talents of Taylor and running back Paul Hornung.
Parting shot:
Kramer made one of the most famous blocks in history, clearing the way for Bart Starr's quarterback sneak to win the 1967 "Ice Bowl" game.
Minnesota Vikings:
Jim Marshall, defensive end
Claim to fame:
Marshall set a then-NFL record by playing in 282 consecutive games, of which he started 270. He played in two Pro Bowls, four Super Bowls and recovered an NFL-record 29 fumbles.
Case for enshrinement:
If "answering the bell" is one of the main prerequisites for NFL players, then Jim Marshall is one of the greatest of all time. Although some of the stories have been embellished a bit over time, suffice it to say that Marshall battled through enormous pain and legitimate injuries to play for so long and at such a high level.
A punter (
Jeff Feagles
) and a quarterback (
Brett Favre
) have since surpassed his record, but it's doubtful a defensive lineman ever will approach it. It would take 17 seasons of starting 16 games to do it. (Or 15 years if the NFL moves to an 18-game season.)
The longevity mark sometimes overshadows Marshall's skills as a pass-rusher. Although sacks weren't an official statistic then, the Vikings credit him with 127 -- only three fewer than teammate and Hall of Fame tackle Alan Page and 13 more than newly elected tackle
John Randle
.
Case against enshrinement:
Like it or not, one of those 29 fumble recoveries always will haunt Marshall's candidacy. In 1964, he picked up a fumble against San Francisco and ran 66 yards in the wrong direction for what was ruled a safety.
Parting shot:
Another factor that might not be fair but is worth considering: Two members of the Purple People Eaters, Page and Eller, are already in the Hall of Fame. Would voters agree that 75 percent of one defensive line should be enshrined?
September, 18, 2009
9/18/09
11:00
AM ET

Posted by ESPN.com's Kevin Seifert
I appreciated the (mostly)
civil discussion
we had this week in discussing whether Chicago linebacker
Brian Urlacher
has put together the framework of a Hall of Fame career. We've had a period here of heightened emotion, so I'm glad we could all come together and play nice.
| | |
| --- | --- |
| | |
| | Kevin Hoffman/US Presswire |
| | Brian Urlacher needs a few more productive seasons to bolster his case for the Hall of Fame. |
Short of tallying all of your 220-plus responses, my sense was that more people fell into the "maybe" and "no" category than those who answered with a straight "yes."
ShimmitySham
has Urlacher in his "hall of really good."
Tazhawkeye
, who identifies himself as a Bears fan, writes: "Not yet." He continued:
"Did Urlacher change the position? Yes, he was fast and changed the middle linebacker from a pure hitter to an all around defender. Did Urlacher dominate? Yes, for a few seasons. Are there players in his generation who did the same thing and dominate longer? Yes, Ray Lewis. Urlacher will need to make the Pro Bowl one more time and have 2 [more] healthy years in the NFL. Two more years will bring his total to 170 games played. One more Pro Bowl will bring his total to 7. By being able to come back, he will be able to say his career was sidetracked by injuries, but he was good enough to dominate 'till the end. Right now, he is competing with Ray Lewis."
Many of you brought up the Lewis comparison, noting he has played at a higher level for a longer period of time. (In particular: 10 Pro Bowl selections, six All-Pro teams, two NFL Defensive POY awards and one Super Bowl ring.) So if one criteria is dominating an era, wouldn't Lewis overshadow Urlacher? Here's what
kyleuofcummings
wrote: "When you ask a random football fan the most feared presence in the middle in the recent era it is sure to be Ray Lewis,"
Some of you believe Urlacher was well on his way to enshrinement before his play began to slip recently.
Mohktal
wrote: "In his first six years, I'd say he was definitely on his way to Canton. Especially his 2006 year. He was an absolute force that year. He was everywhere on the field, and when he tackled, you could tell the other guy woke up a little more. The past 3 seasons (plus his washout 2009) he hasn't even been the best LB on his team, let alone one of the top in the league."
Of the loyalist arguments, I thought
Andrew Sturtevant
made the most detailed presentation. He pointed to three "shining examples" to define Urlacher's body of work:
The Bears' 2006 game at Arizona.
His performances in 2001 and 2005, when "he led a team to those great regular seasons without the help of a quarterback." Andrew noted the Bears were among the top two defenses in the league those seasons.
The 2006 NFC Championship Game against New Orleans: "I single out that game because after Reggie Bush did his flip in the end zone, the defense did not allow another score the rest of the game. Again Brian Urlacher was the face of that defense."
My take?
We should be careful to avoid speaking of Urlacher's career in the past tense. There's every reason to believe he'll be back in 2010, and there's no reason why he can't string together several more successful years. Whether or not he returns, however, I'm not sure if his run from 2000 to 2006 is going to be enough to get him to Canton.

Brian Urlacher
#54 LB
Chicago Bears
CAREER STATS

TACK
SOLO
SACK
FF
INT

1,058

804

37.5

8

17
You can't evaluate Hall of Fame prospects in a vacuum. You always have to consider qualifications relative to other players in similar positions in his era. So Urlacher will be compared not only to Lewis, but also to
Derrick Brooks
and
Junior Seau
, among others.
Certainly, that group played different positions in different schemes. But when you look at the list of 19 linebackers in the Hall of Fame, you realize only a handful have been enshrined from each generation. From the 1980s, you see Mike Singletary,
Lawrence Taylor
and
Andre Tippett
. From the 1990's, you see
Derrick Thomas
(so far).
Personally, I think Lewis is the lock of this generation. (I'm not touching his past legal situation here.) That leaves Urlacher "competing" with Brooks and Seau. It's not out of the question, but I'd say that dynamic is one of the reasons Urlacher is a borderline Hall of Fame candidate.