April, 23, 2013
4/23/13
2:35
PM ET
Our 2013 #bloggermock took an early twist and left me only partially satisfied as the protector of NFC North interests. Of note: Not a single quarterback was drafted in the first round, something that hasn't happened in the real draft since 1996. We also passed up the running back position in the first round, which that hasn't happened since the common draft began in 1967.
Below are the players I would up picking for the NFC North and my reasoning in each instance.

Johnson
5. Detroit Lions
My pick:
Oklahoma left tackle
Lane Johnson
Final decision:
Between Johnson, Alabama cornerback
Dee Milliner
and BYU defensive end
Ezekiel Ansah
Process and reasoning:
The Lions' true intentions are tough to read at left tackle. When they drafted
Riley Reiff
at No. 23 overall last year, we all assumed he was the heir apparent at the position. Since the retirement of incumbent
Jeff Backus
, however, the Lions have emphasized Reiff's versatility and suggested he could play right guard or right tackle. To me, versatility is irrelevant if you have a true long-term answer at left tackle.
It's possible the Lions are deliberately clouding Reiff's future to hide their draft intentions. In the end, I thought the No. 5 pick was a great place to find a blue-chip left tackle and further strengthen the Lions' line by allowing Reiff to start at right guard or right tackle.
Johnson might be the third-best left tackle in the draft, but
draft analysts
have suggested that's a
matter of experience more than aptitude
. I had a brief pre-draft trade discussion with AFC East blogger James Walker, who wanted to use the
Miami Dolphins
' No. 12 overall pick to move up and draft a left tackle. But there was no way Johnson would be available at No. 12, so I needed much more than what Walker was offering (a second-round pick) to pass up getting him.
I know I've pushed the Lions to draft a cornerback like Milliner for years, but finding a left tackle can be even more difficult. I was tempted by Ansah, but decided to gamble that some decent defensive ends would make it to the top of the second round. In this mock, three of Mel Kiper's top five defensive ends would be available after the first: UCLA's
Datone Jones
, Auburn's
Corey Lemonier
and Florida State's
Tank Carradine
.
Ogletree
20. Chicago Bears
My pick:
Georgia linebacker
Alec Ogletree
Final decision:
There wasn't much debate.
Process and reasoning:
I did not expect Ogletree to be available at No. 20 and knew it would be difficult for the Bears to move up. But once he made it past the
New Orleans Saints
at No. 15, I thought I had a chance. The
New York Giants
have been speculated as a possible landing spot, but the Giants haven't selected a linebacker in the first round since 1984 (Carl Banks).
I'm still not sure Ogletree will be available at No. 20 in the real draft Thursday night, but in this case -- with Notre Dame tight end
Tyler Eifert
already off the board -- I couldn't justify passing him up as a long-term replacement for
Brian Urlacher
.

Williams

Hayden
23 and 25. Minnesota Vikings
My picks:
North Carolina defensive tackle
Sylvester Williams
, Houston cornerback
D.J. Hayden
Final decision:
Between Williams, Hayden, Cal receiver
Keenan Allen
, Notre Dame linebacker
Manti Te'o
Process and reasoning:
I really do think that Vikings general manager Rick Spielman has genuine interest in Te'o and wants to draft him. In looking back on this mock, I just got too greedy and sneaky for my own good.
I had enough ammunition to move up, but for whom? Tennessee receiver
Cordarrelle Patterson
went way too high (No. 8 to the
Buffalo Bills
), and West Virginia's
Tavon Austin
was gone at No. 13. Is Austin worth even an extra second-round pick to the Vikings? I couldn't do it.
Ogletree plays a position of need, but I felt sketchy about giving up extra draft choices for a player with multiple off-field flags in the past year.
So my plan was to grab two really good non-middle linebackers and then cross my fingers that someone, perhaps even Te'o, would be available in the second round, where Spielman could work some trade magic and grab one. It almost worked. Te'o made it to No. 32, where the
Baltimore Ravens
drafted him just after learning that
Rolando McClain
had been arrested once again.
Media analysis is split on whether Te'o is significantly better than the next tier of middle linebackers, and most people think the Vikings are most interested in him. So if the Vikings passed, I thought there was a chance he would tumble. In the end, that's why I passed him over even though I'm not sure Spielman will.
As for receiver, I had my eyes on Tennessee's
Justin Hunter
, but he went one slot ahead at No. 22. So I went with Williams, who could be a long-term replacement for
Kevin Williams
, and Hayden. I had a small chance to trade down, but the best offer I got to move from No. 25 to the top of the second round at No. 35 was an additional fifth-round pick. Not good enough. The cornerback class drops off after the first round, and Washington's
Desmond Trufant
was already off the board. In this scenario, the Vikings would be in position to maneuver in the second round for a receiver. Among those who are left is Clemson's
DeAndre Hopkins
.

Jenkins
26. Green Bay Packers
My pick:
Georgia defensive tackle
John Jenkins
Final decision:
Between Jenkins, Syracuse offensive lineman
Justin Pugh
, Florida State offensive tackle
Menelik Watson
Process and reasoning:
The honest truth of the matter is that I was just guessing here. Congratulations to the Packers. No one ever knows for sure who a team is going to draft, but this year, no one really has anything more than a guess on the Packers. They appear to be interested in improving their defensive line, at least based on their limited activity in free agency, and Jenkins seemed the best of what was still remaining on the board. I don't mind saying he was even more of a guess than usual.
April, 17, 2013
4/17/13
12:00
PM ET
The
Detroit Lions
hosted the top receiver prospect in the 2013 draft, West Virginia's receiver
Tavon Austin
, on
a visit Wednesday
. But barring some draft-day maneuvering -- a trade down by the Lions or a move up from another NFC North team -- it seems unlikely that Austin will wind up in this division.
Which begs the question: How does the rest of the receiver class stack up for our teams?
That was one of the topics ESPN draft analyst Todd McShay discussed during a conference call last week. McShay ran through six other names, most of whom should be available when the
Chicago Bears
,
Minnesota Vikings
and
Green Bay Packers
choose between No. 20 and No. 26 overall.
[+] Enlarge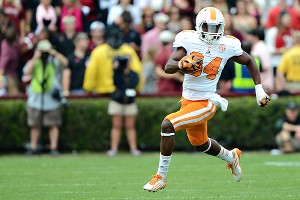 Donald Page/Tennessee Athletics/Collegiate Images/Getty ImagesTennessee receiver Cordarrelle Patterson is expected to be selected in the top 20 next week according to ESPN draft analyst Todd McShay.
I consider this position to have division-wide relevance, given the Lions' clear desire to add an outside receiver opposite
Calvin Johnson
, the Vikings' depth issues following the trade of
Percy Harvin
, the Bears' continued push to fortify their passing game, and the Packers' history of relative routine drafting at the position.
The Lions have hosted three of the six names below on visits, in addition to Austin, while the Vikings had at least two in their building this month. The names are listed in order of McShay's evaluation. Note McShay's upside-down thoughts on the pair of Tennessee receivers.
Cordarrelle Patterson
School:
Tennessee
McShay:
"He scares me coming out of Tennessee, but I see the talent. Everyone I talk to in the league, I think he's gone in the top 20. … Patterson, with the ball in his hands is just freakish, and even though he disappears for 30-40 plays, he'll show up with one or two big plays a game that just kind of blow your mind and leave you wanting more, and I think that's why he's going to be able to go where he's going."
Keenan Allen
School:
Cal
McShay:
"Keenan Allen is not 100 percent [because of a knee injury]. He ran a 4.7 the other day. It's not a perfect situation. But he's a late-first, early-second round prospect and should play like that. He runs on tape, we estimate him at 4.53, 4.55 range. I think he is going to be a really, really good No. 2 in the league. He would be a good fit. He was catching the ball better than ever this year. He knows how to use his body. He's got size and he's thickly built. He's not a burner, but he's quick and he's athletic and he's got enough speed to challenge you and take advantage of mistakes. Keenan Allen to me would be the highest rated wide receiver when Tavon Austin and Patterson are off the board." [After the conference call,
ESPN's Adam Schefter
reported that Allen's drug test at the NFL scouting combine had been "red-flagged," requiring a re-test.]
Justin Hunter
School:
Tennessee

McShay:
"If you're looking for someone to run vertical routes and stretch the field … a poor man's
Randy Moss
, that's what Justin Hunter is. … He's a silky-smooth route runner, and he's the guy quite honestly when they needed a throw, when they needed to pick up a first down, when they needed a play at Tennessee, that's where they went. It wasn't to the other guy, Patterson. He's the one who showed up consistently on tape. I think he's a better football player than Cordarelle Patterson."
[+] Enlarge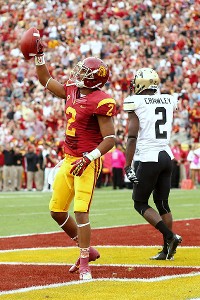 Stephen Dunn/Getty ImagesUSC receiver Robert Woods had 11 touchdown catches last season.
DeAndre Hopkins
School:
Clemson
McShay:
"After that group, you start getting into
Robert Woods
, DeAndre Hopkins, and
Quinton Patton
. They're all kind of in that same range -- 6-1, 200, 210, 212 pounds -- and they're all in mid-4.5's in terms of speed. Hopkins has the best hands of the three."
Robert Woods
School:
USC
McShay:
"I think you have to look at the whole picture and what has gone on throughout his career and the ups and downs. It might amount to nothing … The thing so often that's difficult to predict is, in addition, what are guys going to do when they have all this free time on their hands. … He could end up in Atlanta with a guy like
Roddy White
who will be [on him] all day … and he'll be fine. Or he could go to Detroit, where Calvin Johnson is the greatest guy in the world but he's not going to get on you for making mistakes. He's not that kind of leader. If [Woods] is not going to be around guys that are going to make him accountable, maybe he's not the player he would be if he goes to an Atlanta and plays with Roddy White. That's the tricky part. That's why there is some more risk with him, because he's not necessarily the greatest self-starter."
Quinton Patton
School:
Louisiana Tech
McShay:
"He doesn't like going over the middle, but he's very athletic, he has great hands and ball skills 90 percent of the time, but he'll have some focus drops. He's a wild-card to me. If he plays to his potential, he could be the third- or fourth-best receiver of this group in the NFL."
Note:
The Lions hosted Patterson, Hunter and Woods,
according to the team's web site
. The Vikings, according to
1500ESPN.com's Tom Pelissero
, hosted at least Allen and Hopkins.
March, 8, 2013
3/08/13
8:40
AM ET
We're Black and Blue All Over:
It appears we are getting close to a resolution on one of the biggest offseason questions in the NFC North: Brian Urlacher's status with the Chicago Bears.

Multiple reports
suggest Urlacher's agents submitted a contract proposal Thursday morning and are awaiting a response. That fact alone adds more grist to our
working theory since the NFL scouting combine
. The Bears haven't shut the door on Urlacher's return and seem to have interest in bringing him back in 2013 under the right scenario.
The Bears' response to the Urlacher contract offer will be telling. They could bid him farewell in a passive-aggressive way by countering with a number low enough that they know Urlacher will reject it and move to free agency. Or they could negotiate in a way that will bring about an agreement by the time free agency opens early next week.
We'll keep you updated.
Continuing around the NFC North:
February, 28, 2013
2/28/13
1:00
PM ET
This ESPN Insider piece

on the
Minnesota Vikings
' offseason crystallized a plan we've discussed in abstract terms. Former NFL scout Gary Horton figures the Vikings like only two of their returning receivers, and because
Percy Harvin
and
Jarius Wright
are both best-suited to play the slot position, there is probably an offseason need for "two quality edge receivers with some speed," Horton writes.
In that scenario, the Vikings could seek one of those receivers in free agency and another in the draft. To that end, Insider reporter Field Yates recommends pending free agent
Mike Wallace
, and not
Greg Jennings
, as the free agent the Vikings should target.
Yates:
"Wallace possesses rare speed, and though his production tapered off in 2012 compared to his previous two seasons, he remains one of the most dangerous downfield threats in the league. For an offense that is centered around pounding the football with [Adrian] Peterson, adding an explosive edge receiver in Wallace would effectively take the top off of defenses and create further lanes for Peterson to run."
Wallace ran a 4.33 in the 40 during his combine test in 2009 and would be an obvious downfield upgrade over
Michael Jenkins
, who could be released, and
Jerome Simpson
, a pending free agent. The question is whether the Vikings will want to get involved in negotiations that probably will use as a benchmark the five-year, $55 million contract that
Vincent Jackson
received last spring from the
Tampa Bay Buccaneers
.
As for the draft, let me pass along
Mel Kiper's top five receivers

, a list he updated after last week's combine:
Austin has elite speed and playmaking ability, but at 5-foot-9 and 174 pounds, he projects at the same position as Harvin and Wright. Patterson (6-foot-3), Allen (6-3), Hunter (6-4) and Patton (6-2) are built more like edge receivers.
Patterson ran a 4.42 in the 40 at the combine, Hunter a 4.44 and Patton a 4.53. Allen did not run.
February, 25, 2013
2/25/13
11:30
AM ET
At least two of our teams will have wide receivers on their priority list this offseason. The
Minnesota Vikings
need all the help they can get, while the
Chicago Bears
probably would benefit from a receiver with deep downfield speed.
So what did we learn over the weekend about the draft-eligible receivers? The speedsters got majority of attention but, as in every year, they are not necessarily the best receiver prospects.
Texas'
Marquise Goodwin
, for example, ran a blazing 4.27 in the 40-yard dash. But receiving drills "exposed some weaknesses," according to
Steve Muench of Scouts Inc
. Goodwin "isn't a natural route runner," Muench tweeted.
West Virginia's
Tavon Austin
, on the other hand, was as smooth in receiving drills as he was in the 40 (officially a 4.34), and now has a good chance to be a first-round pick. Other likely first-rounders are Tennessee's
Cordarrelle Patterson
and Cal's
Keenan Allen
, according to
ESPN's John Clayton
.
I spent most of the scouting combine focusing on time with NFC North coaches and general managers, leaving the reporting on draft-eligible players to ESPN's vast array of specialists. But many of you are looking to at least be pointed in the direction of that coverage, and that's fair.
On receivers, a good place to start is
Todd McShay's daily blog

. You need an Insider subscription to read all of it, but I can pass along a few tidbits -- including the suggestion that Patterson's teammate at Tennessee --
Justin Hunter
-- is "a better overall receiver at this point."
Other receivers who jumped out to McShay were Texas A&M's
Ryan Swope
, who surprised scouts by running a 4.34 in the 40. USC's
Robert Woods
is now "solidly in the second-round range," according to McShay, and Clemson's
DeAndre Hopkins
might be as well.