September, 12, 2013
9/12/13
6:55
PM ET
GREEN BAY, Wis. -- Whatever angst the
Green Bay Packers
had about their starting tackles should have been eased somewhat after their performance in Sunday's season opener at San Francisco.
Although it wasn't a flawless performance and there were issues in the running game, rookie left tackle
David Bakhtiari
and second-year right tackle
Don Barclay
held up well, especially considering their pedigree.
Bakhtiari was at least partially responsible for both of
Aldon Smith
's sacks, but otherwise was solid in his debut. Meanwhile, Barclay, in just his seventh career start, showed significant improvement over last season.
A study of all 64 opening-day tackles showed that the Packers trotted out one of the most unheralded combinations in the league. Bakhtiari was a fourth-round pick, while Barclay was undrafted.
Only two other teams had both of their Week 1 starting tackles taken in the fourth round of the draft or lower. They were: the
Chicago Bears
(
Jermon Bushrod
, fourth round;
Jordan Mills
, fifth round), and
Tampa Bay Buccaneers
(
Demar Dotson
, undrafted;
Donald Penn
, undrafted).
Based on Week 1 starting lineups, 28 of the 64 starting tackles were first-round picks. Another 13 were drafted in the second round. That accounts for 64.0 percent of the opening-day starting tackles. Only 15 were drafted in the fifth round or later (or were undrafted).
"I know that when you get players that are doing a good job, that's a tribute to them, not where they were picked," Packers offensive line coach James Campen said. "It doesn't matter to me where they were picked as long as they can play."
Bakhtiari was one of only six rookies who started at tackle in Week 1. Four of them --
Eric Fisher
of the
Kansas City Chiefs
,
Luke Joeckel
of the
Jacksonville Jaguars
,
D.J. Fluker
of the
San Diego Chargers
and
Justin Pugh
of the
New York Giants
-- were first-round picks. Of the six, only the Bears' Mills was drafted lower than Bakhtiari.
Of course, the Packers didn't envision a Bakhtiari-Barclay starting tackle combination. Like many teams in the NFL, they used high draft picks on tackles. In 2010, they took
Bryan Bulaga
at No. 23 overall. A year later, they picked
Derek Sherrod
at No. 32. Together, they were supposed to be the starting tackle combination for the foreseeable future. But Sherrod still hasn't recovered from the broken leg he suffered as a rookie and remains on the physically unable to perform list, and Bulaga was lost for the season to a knee injury on Aug. 5.
Tackles are often the key to pass protection, and other than Smith's two sacks, one of which came when Bakhtiari whiffed on a cut block, the Packers kept
Aaron Rodgers
fairly clean against the 49ers. The running game, however, was another story. The Packers had only 63 yards rushing against the 49ers.
"Didn't notice them that much, so that was good," Packers offensive coordinator Tom Clements said of the starting tackles. "They both played well. They got after it, and they were playing against excellent players, and they moved their front four around at times to get different defenders on them, and they reacted well."
April, 25, 2013
4/25/13
12:00
PM ET
In their final mock drafts of the 2013 draft season, ESPN analysts
Mel Kiper

and
Todd McShay

agree on their projected first-round picks for 75 percent of the NFC North. The details:
5. Detroit Lions
Kiper:
BYU defensive end
Ezekiel Ansah
McShay:
Ansah
Seifert comment:
In both cases, Central Michigan left tackle
Eric Fisher
and Oklahoma left tackle
Lane Johnson
are off the board. McShay has Texas A&M's
Luke Joeckel
slipping out of the top 10. Both think the Lions would pass on Alabama cornerback
Dee Milliner
. Ansah seems to be the type of "Dave Kingman" prospect that Lions general manager Martin Mayhew suggested last week he might not consider, but who knows if he was being truthful.
20. Chicago Bears
Kiper:
Notre Dame linebacker
Manti Te'o
McShay:
Te'o
Seifert comment:
Both think the Bears would take Te'o over Georgia's
Alec Ogletree
. There is no doubt that Ogletree's off-field indiscretions recently are a concern, but there is there is widespread agreement that he is better player than Te'o. If the Bears pass on Ogletree, the guess is they'll take another position rather than draft Te'o.
23/25. Minnesota Vikings
Kiper (23):
USC receiver
Robert Woods
McShay (23):
North Carolina defensive tackle
Sylvester Williams
Kiper (25):
Georgia's Ogletree
McShay (25):
Ogletree
Seifert comment:
I didn't pick a receiver for the Vikings
in this week's #bloggermock
, and I wouldn't be surprised at all if they waited until later in the draft to add at that position. Three of their four starting defensive linemen are entering the final year of their contracts. If Ogletree is available at this point, especially with Te'o off the board, the Vikings would have a hard time passing him up.
26. Green Bay Packers
Kiper:
UCLA defensive end
Datone Jones
McShay:
Syracuse offensive lineman
Justin Pugh
Seifert comment:
The general consensus is the Packers will choose a lineman if they stay in this spot, with defense being a higher priority if all things equal. Unless they take a safety, of course. Or trade out.
April, 24, 2013
4/24/13
12:00
PM ET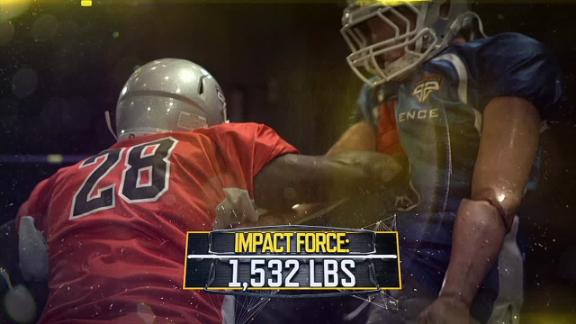 Most of you weren't happy with my selection for the
Green Bay Packers
in
Tuesday's #bloggermock draft.
The truth: Neither was I.
Generally speaking, I'm convinced the Packers would like to upgrade their defensive line this offseason. But when the Packers' No. 26 overall pick arrived in our mock, seven defensive linemen had already been chosen -- four tackles and three ends. Safety sounds like a logical target, but at that point two of them had already been drafted and there is no consensus on the third-best at that position.

Offensive line is also possibility, and two of the targets we've seen in many mock drafts -- Syracuse's
Justin Pugh
and Florida State's
Menelik Watson
-- were available. But would the Packers make an offensive lineman their top choice for the third time in four years? Logical or not, that prospect gave me some pause.
My only opportunity in this exercise to trade down was to take the No. 35 overall pick from the
Philadelphia Eagles
in exchange for an additional fifth-rounder. I didn't see the value there. That left me staring at the possibility of selecting the fifth-best defensive tackle (based on the Packers' 3-4) in the draft. In the end, I chose Georgia defensive tackle
Johnathan Jenkins
, who I figured to be the best defensive lineman remaining.
My biggest mistake was admitting that the choice was a guess rather than the result of deep insight into facts that few people actually know. Perhaps you would prefer posing rather than honesty. Regardless, one position I never really considered was running back, prompting this question to the mailbag from
Jacob of Caledonia, Mich.:
Is there a reason no one is talking about the Packers taking a chance on Montee Ball in the first round? They need a running back and have had no luck later in the draft so why not go for it? He was a proven winner and workhorse at Wisconsin and the fans would love to have him go from Wisconsin to Green Bay. I realize they need a DT as well but it seems like those are a lot easier to come by later in the draft.
As it turns out, the general consensus is that none of the running backs in this draft are certain first-round picks. That includes Alabama's
Eddie Lacy
, whose life story
we posted Tuesday on the blog.
Ball is well known by Packers fans after his college career, but our friends at Scouts Inc.
have placed a third-round value on him.
That's not to say Ball wouldn't be a fit for the Packers. It just shouldn't be necessary to use a first-round pick to get him.
The Sport Science video, meanwhile, gives us a feel for why Jacob and others would love to see Ball with the Packers: His powerful lower body.
Earlier:
Packers general manager Ted Thompson has
drafted more running backs than you think
.
April, 23, 2013
4/23/13
7:50
AM ET
We're Black and Blue All Over:
Here's an interesting development and possibility. The Chicago Bears recently put Syracuse offensive lineman Justin Pugh through a private workout. As
Jeff Dickerson of ESPNChicago.com
points out, Pugh played left tackle in college but projects as an inside player in the NFL -- and possibly a center.

As we've discussed
, the Bears seem headed toward a transition at center in the near future, conceivably as early as 2013 if they draft someone who is ready to start and allows them to move Roberto Garza back to guard. Pugh was a good enough college player to earn the anticipation that he could be drafted in the second round, but his arms measured only 32 inches at the NFL scouting combine and thus wouldn't be projected as a tackle. (
Alas
.)
The Bears have an immediate need at guard, where Pugh could begin his NFL career. Gabe Carimi, Matt Slauson, Edwin Williams and James Brown are among the competitors for the two starting spots.
Continuing around the NFC North:
April, 10, 2013
4/10/13
4:30
PM ET
Tuesday's SportsNation chat
brought a question that I ultimately posed to Scouts Inc.'s Steve Muench in the video accompanying this post. What should the
Detroit Lions
do, asked
Jay of Chicago
, if all four of the most publicly-discussed possibilities for their No. 5 overall pick are off the board?
That list includes left tackles
Luke Joeckel
(Texas A&M) and
Eric Fisher
(Central Michigan), Alabama cornerback
Dee Milliner
and BYU defensive end
Ezekiel Ansah
. My first-blush answer in the chat was Oregon defensive end
Dion Jordan
. In the video, Muench has a different -- and intriguing -- suggestion.
Steve and I discussed another scenario later in the video: Which middle linebacker should the
Chicago Bears
and
Minnesota Vikings
draft, if any, should Georgia's
Alec Ogletree
go before the Bears' No. 20 overall pick? I also pressed Steve on whether the
Green Bay Packers
should draft a running back in the first round.
It's worth comparing that discussion with the
latest mock draft of ESPN analyst Todd McShay

, who found a way to get Fisher to the Lions and Ogletree to the Vikings. (He still has the Bears drafting Notre Dame tight end
Tyler Eifert
. The Packers get Syracuse guard
Justin Pugh
in this version of the mock.)
Note: I'm aware I referred to LSU linebacker "Kevin Minter" as "Alex Minter." Such is the nature of one-take videos.
February, 27, 2013
2/27/13
1:55
PM ET
The ESPN.com/Scouts Inc. team of draft analysts has begun reconciling its draft rankings with combine observations, leading to a number of Insider posts I wanted to bring to your attention.
The first is
Mel Kiper's latest Big Board

, which ranks prospects without regard to where teams are choosing. Georgia linebacker
Jarvis Jones
remains atop the list, but from an NFC North perspective, it's worth noting that Central Michigan's
Eric Fisher
is now Kiper's top offensive tackle -- and his No. 3 overall prospect.
The
Detroit Lions
,
Chicago Bears
and perhaps the
Green Bay Packers
could all be in the market for tackles in the first round of this draft. To that end, I'll pass along Kiper's updated list of the
top five tackles in the draft

. I'll try to slip you a few more positions in the coming days.
Fisher
Texas A&M's Luke Joeckel
Oklahoma's Lane Johnson
Alabama's D.J. Fluker
Stanford's Justin Pugh
For those Lions fans with their hearts set on Alabama cornerback
Dee Milliner
at No. 5, I can tell you that Kiper ranks him as the No. 6 overall prospect.
October, 18, 2012
10/18/12
12:30
PM ET
The
Chicago Bears
' decision
to release
offensive lineman
Chris Williams
earlier this week was so anticlimactic that I hardly addressed it on the blog. Williams, the No. 14 overall pick of the 2008 draft, hadn't started a game since Nov. 13, 2011, and had been a healthy scratch in the Bears' two most recent games. It was a matter of when, not if, Williams departed the organization.
However, the move prompts a fair question as the Bears prepare to face the
Detroit Lions
' active defensive front Monday night at Soldier Field. Should the Bears take another swing at finding a long-term left tackle in the 2013 draft? Or are they on their way to establishing
J'Marcus Webb
in that role?
[+] Enlarge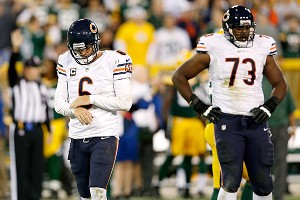 Joe Robbins/Getty ImagesJ'Marcus Webb, right, has only given up one sack since a distastrous Week 2 performance against the Packers.
As we noted
in our Bears bye week update
, Webb has settled down after a disastrous Week 2 performance against the
Green Bay Packers
. Our friends at
Pro Football Focus
have debited him one sack in the three games since then, all Bears victories. But there is a difference between getting by and being a fundamental building block of a team.
Webb's contract doesn't expire until after the 2013 season, so the Bears don't have to make a big decision this winter if they don't want to. But by that time, new general manager Phil Emery will have had a full calendar year to evaluate Webb and decide whether this crucial position needs an upgrade.
To that end, I reached out to Scouts Inc.'s Steve Muench, who spends the fall evaluating college prospects as part of
ESPN.com's year-round draft coverage
. Keep in mind that it's way too early to start posting mock drafts, but the initial thought in the scouting community suggests there might not be an elite
Jake Long
/
Joe Thomas
left tackle prospect in the 2013 draft.
The Bears don't figure to have a top-10 draft pick, anyway. So I want to pass along Steve's assessment of a few prospects who could develop into the kinds of players who might be available to the Bears in the first few rounds of the draft. (How's that for a few qualifiers?)
Again, we really can't know how the Bears will assess Webb's 16-game performance. So just bookmark this post and keep it in mind as the weeks and months pass by. It's never too early to think draft, after all.
Dallas Thomas, Tennessee
Muench:
He's a three-year starter and the top tackle on our board. His balance and initial quickness are above average. He appears to have strong and long arms on film.
Possible placement:
Fringe first round
Luke Joeckel, Texas A&M
Muench:
He doesn't always cover enough ground with kick step but he's quick and balanced enough to recover more times than not. He rarely gets beats inside and he does a nice job of recognizing/picking up pressure.
Possible placement:
Fringe first round
Justin Pugh*, Syracuse
Muench:
He missed the first four games with a shoulder injury and his stock has likely taken a hit because of it. Also on the lighter side right now but we identified him as the best pass-blocker at offensive tackle heading into the season.
Possible placement:
Late second or early third round
Brennan Williams, North Carolina
Muench:
Upside is substantial. His footwork needs to be crisper and can give up the edge at times but he has the initial quickness and length to improve.
Possible placement:
Late second round
Taylor Lewan, Michigan
Muench:
He's probably a better fit on the right side because he's an average athlete. I do think he's underrated though. He's an aggressive run-blocker and he shows good technique/strength in pass protection for the most part.
Possible placement:
Late second round
Oday Aboushi, Virginia
Muench:
I like the way he uses his hands and he rarely loses once locked on. He slides feet well enough to keep defenders in front of him.
Possible placement:
Day 2 pick
*Underclassman