September, 6, 2013
Sep 6
12:00
PM ET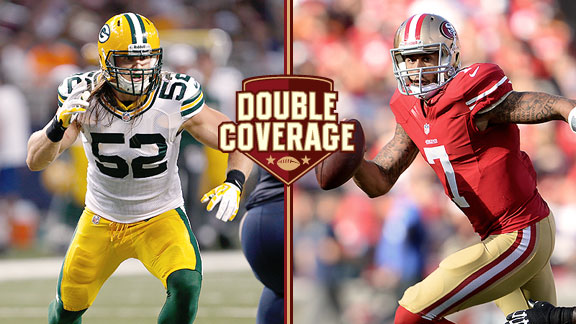 AP PhotoClay Matthews and Green Bay had all offseason to digest what Colin Kaepernick did to them in January.
The final season at venerable Candlestick Park begins in style as the
San Francisco 49ers
host the
Green Bay Packers
on Sunday.
It is a rematch of an NFC divisional playoff game in the same building. The 49ers completely outclassed the Packers on Jan. 12, as first-year starting quarterback
Colin Kaepernick
and crew had their way with a defense that looked slow and lost in a 45-31 San Francisco victory.
Packers team reporter Rob Demovsky and 49ers team reporter Bill Williamson have plenty to discuss. To the questions:
Williamson:
Rob, I think we have to start this off with this simple query: Can the Packers stop the read-option of a Kaepernick-led offense?
Demovsky:
Bill, that's what everyone has wanted to know since Kaepernick rushed for 181 yards against them in the playoff game. The number 579 -- the total yards of offense the 49ers piled up that day -- has been burned into the brains of the Packers' defensive players. Almost every day in practice during training camp, the defense went off to one end of the field by itself and worked against the read-option. But the Packers haven't seen any of it in live action since that playoff game, so at this point, there's no way to know whether they're any better equipped to handle it now.
Williamson:
That's the thing. Green Bay will be coming into this game nervous. The read-option has been on the minds of this coaching staff and its players all offseason, yet the Packers don't know for sure if they can handle it any better than they did the last time they saw Kaepernick. Kaepernick and his coach, the always-confident Jim Harbaugh, believe in their system and their personnel. They are going to challenge the Packers right away. I fully expect Kaepernick to come out gunning to make a statement -- a full-tilt San Francisco offense. If Kaepernick has early success, it could open the offensive floodgates. Now, if the Green Bay defense holds Kaepernick early, the Packers will get a confidence boost and should hang around all day.
Rob, just how confident do you think the Packers will be if they get a ton of read-option right away?
Demovsky:
Clay Matthews
said this week that the Packers know they have to take their shots at the quarterback when he tries to get outside the pocket, and if they do, perhaps they can get Kaepernick to sit in the pocket more, which ultimately is their goal. They want to make him a pocket passer if at all possible. That's their best chance for success.
There are other issues to this game, of course. Bill, considering the fact that the Packers will start a rookie,
David Bakhtiari
, at left tackle and a former undrafted free agent,
Don Barclay
, at right tackle, how big of an advantage does a pass-rusher like
Aldon Smith
have against Green Bay?
Williamson:
Other than Kaepernick and
Aaron Rodgers
, Smith might be the most important player on the field Sunday. He can change the game by himself, as his 33.5 sacks in two NFL seasons attests. Bakhtiari and Barclay have an incredible challenge ahead of them. It is also bad news for Green Bay that 49ers defensive tackle
Justin Smith
is healed from a triceps surgery. Aldon Smith had all 19.5 of his sacks in the regular season with Justin Smith playing with him, and none in 2012 without him. Having the Smith & Smith show together could mean a long day for Rodgers.
Demovsky:
But won't the 49ers have to respect the Packers' running game a little bit more with the addition of rookie
Eddie Lacy
? He looks like their first legitimate running back since Ryan Grant in 2009. If the Packers can establish Lacy on first down, they might be able to keep themselves out of obvious passing situations, and then Aldon Smith wouldn't be able to tee off and jet-rush up the field on every second and third down.
Williamson:
That is certainly the Packers' hope. It is clear that getting their ground game back on track was a focal point of the offseason. This is a passer's league, but getting yardage on the ground and keeping Kaepernick off the field will surely help Green Bay's cause as much the relief that it would give Rodgers. But here's the rub -- San Francisco is a monster against the run. The 49ers allowed just 3.7 yards per rush last season, third-best in the NFL. The Packers will be hard-pressed to break their streak of 43 regular-season games without a 100-yard rusher.
Demovsky:
Bill, we've spent a lot of time talking about how the Packers are going to defend Kaepernick & Co., but don't forget that January's playoff game was tied 24-24 midway through the third quarter, and the Packers' offense was having a decent day -- Rodgers throwing for 257 yards, two touchdowns and an interception. Can the 49ers secondary hold up against Rodgers and the likes of
Randall Cobb
,
James Jones
and
Jordy Nelson
?
Williamson:
A fine point. Look, the Packers are legitimate. They will not be embarrassed in this game. Rodgers is the best player on the planet. He and his receivers must be accounted for. If the 49ers are vulnerable on defense, it might be in the secondary, where they have the oldest defensive backs in the league. Can older players like
Carlos Rogers
and
Nnamdi Asomugha
(who may be slowed by a collarbone injury) keep the Green Bay passing game honest? If Green Bay is going to win this game, it's going to be because Rodgers is unstoppable. That's possible.
Rob, as we have discussed the major talking points of this anticipated matchup, an intriguing side story has developed. The Packers have brought in a pair of former 49ers backup quarterbacks in
Seneca Wallace
and
Scott Tolzien
. Do you think they can help Green Bay pull out a victory from the meeting room?
Demovsky:
I doubt Wallace can. He wasn't even with the 49ers for a full week. But you'd better believe they've grilled Tolzien about the 49ers. In fact, I wouldn't be surprised if that's the biggest reason they brought him in, and if they end up cutting him from the practice squad in a week or two. Now, Tolzien probably won't know much about the 49ers' game plan for this week, but considering he was with them for both meetings against the Packers last season, he likely has a good working knowledge of how Harbaugh wants to go after Green Bay.
Williamson:
I'm with you. These moves add some strategy elements, but this is going to be a big-boy game pitting two of the NFL's finest teams against one another. Once the game starts, this thing is going to all about
Patrick Willis
,
Vernon Davis
, Kaepernick, Rodgers and Matthews.
January, 26, 2013
Jan 26
3:00
PM ET
This week,
Denver Broncos
quarterback
Peyton Manning
offered a direct and impassioned plea to those surrounding him in a Hawaii ballroom. According to
Jeff Darlington of the NFL Network
, Manning asked players to give better effort in Sunday's Pro Bowl to preserve the long history of the game.
[+] Enlarge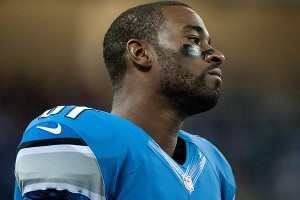 Tim Fuller/USA TODAY SportsDetroit's Calvin Johnson joins a long list of stars who will not participate in the Pro Bowl this year.
Of course, the audience Manning spoke to included only one of the five other quarterbacks originally elected to play. Both of the NFC's starting receivers,
Calvin Johnson
and
Brandon Marshall
, were missing after opting out of the game. All five of the NFC's original linebackers were missing, as well. One player who
was
in attendance,
Green Bay Packers
center
Jeff Saturday
, had such a poor season that he was benched with two games remaining in the regular season.
The Pro Bowl as currently constituted is beyond repair, even if Manning's plea leads to a short-term dose of intensity. The selection process is flawed, to say the least, and there will never be a long-term motivation to play hard as long as the risks far outweigh the rewards.
There are plenty of ways to bring together the NFL's best players for a week of postseason honors and entertainment. Attempting to stage a typically violent game, with players selected by highly unscientific measures, isn't one of them.
Instead of a game, why not gather players for a tropical week of (safe) skill and physical challenges that benefit the charity? How about mirroring a reality show to appeal to a broad audience? I would watch
Aaron Rodgers
and
Tom Brady
compete, "Top Chef" style. And I wouldn't mind finding out whether
Justin Smith
or
Ray Lewis
would eat, say, more cockroaches for charity.
While they're at it, why not make the rosters of players more legitimate by tweaking the selection process? Including the kind of analytics that all NFL teams now use to evaluate players would seem a logical shift. The NFL might think it is empowering fans, players and coaches by giving them the full vote each year, but the results annually disappoint and anger those same groups in equal proportions.
There is no reason to preserve something that has run its course. The Pro Bowl is worthwhile as an event, but the centerpiece shouldn't be -- and doesn't need to be -- a game.
January, 11, 2013
Jan 11
1:30
PM ET
»
NFC Final Word
:
Packers-49ers
|
Seahawks-Falcons
»
AFC
:
Ravens-Broncos
|
Texans-Pats
Five nuggets of knowledge about Saturday's Green Bay Packers-San Francisco 49ers divisional playoff game:
Tight matchup:
In talking and writing about this game over the past week, it became clear that there truly is no favorite. The Packers and 49ers have the same number of advantages and disadvantages, which makes for what I think should be the most anticipated matchup of the divisional weekend. The 49ers are
2.5-point favorites
at home, which basically means Las Vegas would consider this a pick 'em game on a neutral field.
ESPN's panel of 14 experts
is split -- seven picked the Packers and seven chose the 49ers to win. My
NFC West colleague Mike Sando
, who is 36-17 in picking his division's games this season, predicts a 28-24 win for the 49ers. Me? I don't make picks. Lucky
meeeeeeeee!
[+] Enlarge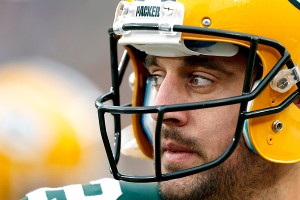 Wesley Hitt/Getty ImagesAaron Rodgers has three consecutive road playoff wins -- just one shy of tying an NFL record.
Rodgers on the road:
We've noted
that Packers quarterback
Aaron Rodgers
has three playoff victories on the road in his career, a relatively modest number that nevertheless is two away from the NFL record. And it's worth noting that Rodgers was exceptional on the road during the regular season, even by his standards. He threw 22 touchdown passes and three interceptions in those eight games -- the second-best touchdown-interception differential (+19) in road games during the Super Bowl era. Only
Tom Brady
(+25 in 2007) has been better. This week, we also noted that Rodgers'
low interception rate over his career
gives him a head start for consistent playoff success.
Smith factor:
Rodgers and the Packers should get an early gauge on how close 49ers defensive lineman
Justin Smith
is to full strength. Smith was a key part of a defense that
physically overwhelmed the Packers in Week 1
, but he missed the final two and a half games of the regular season because of a triceps injury -- and the 49ers defense took a notable dive in his absence. Over that stretch, the 49ers' sack rate dropped by about half and linebacker
Aldon Smith
didn't have a single sack. The 49ers forced a turnover about once every 57 plays without Justin Smith as opposed to once every 41 plays with him, and opponents averaged 5.1 yards per play after managing 4.5 yards per play with him on the field.
Defending Kaepernick:
The 49ers'
bold midseason move
to promote
Colin Kaepernick
to their starting quarterback meets a critical judgment point this weekend. Kaepernick brings a more explosive mixture of running the read-option and throwing downfield, but his ability to handle the pressure of the postseason has not been tested. Although it was an admittedly small sample size, the Packers gave up an average of 10 yards on the six read-option plays they faced last Saturday against the
Minnesota Vikings
. On the other hand, you have to assume the Packers -- now at full strength with linebacker
Clay Matthews
and defensive back
Charles Woodson
on the field -- will send heavy pressure at Kaepernick. The Packers' 40-percent blitz rate during the regular season was the fourth-highest in the NFL. Kaepernick completed 57 percent of his passes against the blitz this season, ranking No. 20 in the NFL. His Total Quarterback Rating (QBR) was 59.6 against the blitz and 86.5 against four or fewer rushers.
Kicking strategy:
The teams have taken different approaches with inconsistent veteran kickers this season. The Packers never considered replacing
Mason Crosby
, who has emerged from an extended slump to convert five consecutive attempts over his past three games. The 49ers'
David Akers
, meanwhile, struggled for much of the season and has missed four of his past 10 attempts. He will kick in this game only after fending off a challenge from veteran
Billy Cundiff
, whom the 49ers signed for an extended competition during their playoff bye week.
(Statistics courtesy ESPN Stats & Information unless otherwise noted.)
January, 9, 2013
Jan 9
9:07
PM ET
As we get closer to Saturday night's divisional playoff game at Candlestick Park, the biggest injury question might be whether or not
Green Bay Packers
receiver
Jordy Nelson
will play.


Nelson missed his second consecutive practice Wednesday because of what coach Mike McCarthy
called an "ongoing" ankle injury.
McCarthy said he hopes Nelson will get on the field Thursday for the Packers' final practice of the week. Nelson played sparingly (19 snaps, according to
Pro Football Focus
) in last weekend's wild-card victory over the
Minnesota Vikings
, and the Packers have kept the exact nature of his injury quiet.
Let's take a look at the rest of the injury reports for both teams:
Packers:
Receivers
Randall Cobb
(flu) and
Jarrett Boykin
(ankle) joined Nelson on the sideline. Cobb is expected to be ready for Saturday night's game, however. Safety
Jerron McMillian
missed Wednesday's practice for personal reasons. All other players had at least limited participation, and tight end
Jermichael Finley
(hamstring) went full.
49ers:
All players had at least limited participation, including defensive lineman
Justin Smith
(elbow/triceps). Barring a setback, Smith is expected to play Saturday night.
January, 9, 2013
Jan 9
12:00
PM ET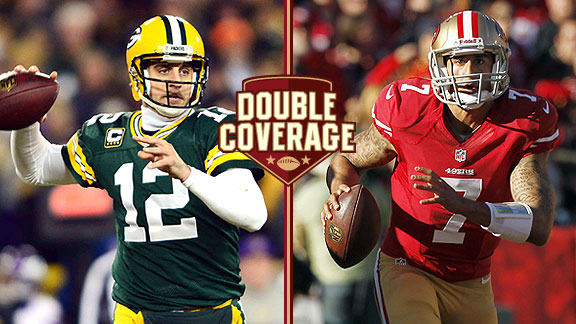 USA TODAY SportsThe play of Green Bay's Aaron Rodgers, left, and San Francisco's Colin Kaepernick will go a long way in deciding the outcome of Saturday's divisional playoff matchup.
The 2012 season began at Lambeau Field for ESPN.com's NFC West and NFC North bloggers. The
San Francisco 49ers
had a Week 1 date against the
Green Bay Packers
, which meant that Mike Sando and Kevin Seifert would be working side by side in a game that figured to be a (early) playoff preview.
Except -- oh, that's right -- Sando got caught up in
Russell Wilson
-mania, bailed on the trip to Green Bay and left Seifert to chronicle the 49ers'
wire-to-wire victory
. So it's only fair to let Seifert have the first word in this discussion of Saturday night's rematch in the divisional playoffs at Candlestick Park.
Seifert:
Yeah, Mike, I remember turning to you during the game to express surprise at how much better the 49ers seemed that day -- and there was only an empty seat next to me. I know you were busy tracking your guy Wilson, but I can tell you firsthand that the 49ers physically manhandled the Packers that day. They walked into Lambeau, took a 10-0 lead early in the second quarter and never looked back. Both teams have changed since then, but there was a clear physical advantage there. I remember seeing
Frank Gore
bulldozing into the second level and popping outside, an issue the Packers would face later in the season against
Adrian Peterson
as well. (Gore gained 72 of his 112 yards outside the tackles.) So I'll ask you: Are the 49ers still as physical of a team as they were in Week 1?
[+] Enlarge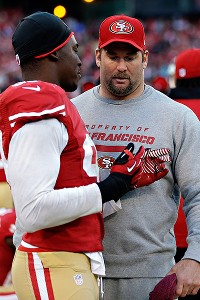 AP Photo/Marcio Jose SanchezAldon Smith, left, and the 49ers' defense weren't as productive with Justin Smith out of uniform.
Sando:
That's just how we roll in the NFC West, Kevin. It has become the new Black and Blue division. The 49ers are still a physical team. Their offense is pretty much unchanged from that standpoint. I expect a rested Gore to run the ball effectively. If the 49ers are smart, they'll involve
Colin Kaepernick
in the running game, adding another dimension. The big question for San Francisco is whether the defense can be as physical with
Justin Smith
playing through a triceps injury. Smith will have had 27 days between games by the time he suits up for this one. If he is at full strength, the 49ers will be just as physical now as then. If not, the entire defensive front is compromised. San Francisco doesn't have great depth along the line.
Seifert:
We'll dive deeper into that Smith issue in a bit, but let's pick up with the 49ers' read-option capabilities with Kaepernick. I realize it's a small sample size, but the
Minnesota Vikings
had some success Saturday night using Peterson and
Joe Webb
in a similar type of option arrangement. They ran the read-option six times and gained 65 yards on it. Gore isn't as dominant of a runner as Peterson, but I would say Kaepernick is a more reliable scrambler than Webb. Regardless, the 49ers could have some success with it Saturday night. It's a lot to keep track of. But even typing the name "Joe Webb" reminds me what can happen when a quarterback makes his first NFL playoff start. Kaepernick has to be a bit of a question mark in this game, doesn't he?
Sando:
Kaepernick is a different kind of question mark. The conventional and advanced stats say he has been as good as or better than
Alex Smith
. Kaepernick ranks third in Total QBR (76.8) behind
Peyton Manning
and
Tom Brady
.
Matt Ryan
is fourth, and
Aaron Rodgers
is fifth. That doesn't happen by accident. But the identity of the offense is changing, and the process has been a little unsettling for a team that had a pretty strong identity for more than a year. The offense can be much more explosive with Kaepernick. He has had a couple of 50-yard runs in fourth quarters and his arm strength has opened up the field, but Gore hasn't been as comfortable running from the pistol formation. It throws off his timing.
Vernon Davis
has disappeared from the passing game.
Kendall Hunter
,
Mario Manningham
and
Kyle Williams
have landed on injured reserve.
Randy Moss
' playing time is up. There has been a lot of change packed into a short window, and there's a sense almost anything could happen, good or bad.
Seifert:
Well, that certainly settles things. Anyway, I was in the Packers' locker room Saturday night after they beat the Vikings, and the team seemed to have every expectation that the 49ers would try to run the ball down its throats, especially with an inexperienced quarterback making his first playoff start. The Packers know Gore steamrolled them in Week 1, but they feel as though they've had a lot of practice against Peterson since then. Even though Peterson had 409 yards against them in two regular-season games, the Packers did a nice job bottling him up in the playoffs. (Most of Peterson's 99 yards in that game came after the Packers had a three-score lead.) But we've now spent, oh, about 800 words discussing Gore and Kaepernick in this matchup and have barely mentioned the two most important words in this game: "Aaron" and "Rodgers." With all due respect to the Smiths, Justin and Aldon, Rodgers will be the best player on the field Saturday night. You can have your Colin Kaepernick.
[+] Enlarge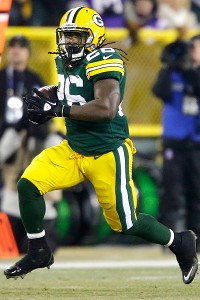 AP Photo/Jeffrey PhelpsDespite his size, DuJuan Harris was effective as a rusher for Green Bay.
Sando:
That's an interesting take on Kaepernick. I think he's better than that. He went into Gillette Stadium, threw four touchdown passes and had the 49ers up 31-3 on Tom Brady. Kaepernick and Rodgers both have 5-2 starting records since Kaepernick entered the lineup. Kaepernick is averaging more yards per drop back in part because he has taken half as many sacks (since Week 11, when both have been starting). Kaepernick has a higher Total QBR over that span. He has 10 touchdown passes and three picks. Rodgers has 14 touchdowns and three picks. Rodgers is completing 67.6 percent of his passes, while Kaepernick is at 62.5 percent. I'm giving the QB edge to the Packers in this game, but I'm not sure it's as lopsided as conventional wisdom would suggest. Is Rodgers playing lights out, or was Greg Cosell -- the NFL Films analyst -- right when he said Rodgers is "leaving an awful lot of plays on the field" through tentative play from the pocket?
Seifert:
There is no doubt Kaepernick has been productive and efficient. We in the NFC North were his first victims -- the Week 11 romp over the
Chicago Bears
. But as you're fond of saying, Mike, usually we can find a statistical split to tell whatever story we want to tell. On Rodgers-Kaepernick, I'll just throw out a few things. First, Rodgers enters this matchup having thrown 11 touchdowns without an interception over his past four games. Kaepernick has seven touchdown passes and three interceptions in his past four. Rodgers is 5-2 as a postseason starter and has the highest passer rating (105.4) in NFL playoff history. If my math is right, Kaepernick is winless as a playoff starter. Finally, on Cosell's analysis, I will say that other media observers have made similar suggestions about Rodgers' tentativeness. Ron Jaworski is one. I'm not smart enough to know how many plays Rodgers has left on the field, but I do know I would rather him pass up a few, and take a few extra sacks, than follow a more reckless approach that might hit a few more big plays but also almost certainly lead to more mistakes. Rodgers makes enough big plays; he led the NFL in touchdown passes per attempt (7.1 percent) this season. But he also has the single-best quality for a quarterback in the playoffs: He rarely throws interceptions. Rodgers' career interception ratio is 1.73, the best in NFL history by a long measure. Of all the statistical indicators, interceptions might be the one most directly correlated to postseason success and failure.
Sando:
That brings us back to the beginning. Justin Smith and that 49ers defense must affect Rodgers. I'm not sure they'll be able to do that well enough.
Aldon Smith
had 19.5 sacks this season, but none after Justin Smith played his final regular-season snap against New England in Week 15. When it comes right down to it, I'm less sure what to expect from the 49ers on either side of the ball. Their special teams also have gone from a major strength to a consistent liability -- at kicker, in the return game and in coverage. The more I think about this game, the more I think Kaepernick has to be Rodgers' equal, or close to it. That's a lot to ask, but the 49ers made the quarterback change with this type of game in mind. When I think about the Packers' allowing three touchdown passes to the Vikings'
Christian Ponder
in a meaningful Week 17 matchup, I'm inclined to take the 49ers at home. You won't see me at the betting window putting a wager on it, though.
Seifert
: The best thing the Packers have going for them in this game is that they have built a more balanced offense around Rodgers in the second half of the season. If you think back to Week 1, they were such a pass-happy offense that they ran more than half of their plays against the 49ers -- 31 of 61 -- without a single running back on the field. Now they're in a position where they've run for at least 100 yards as a team in six of their past nine games. I think this is a great and fun matchup. Heading west to win a playoff game at Candlestick is tough -- just ask the
New Orleans Saints
last year -- but it's not impossible to envision a Packers victory. Hopefully Mike joins me this time.
December, 26, 2012
12/26/12
7:45
PM ET
»
NFC Pro Bowl
:
East
|
West
|
North
|
South
»
AFC Pro Bowl
:
East
|
West
|
North
|
South
Perfect sense:
Minnesota Vikings
tailback
Adrian Peterson
has rushed for 1,898 yards this season -- 508 more than the next-closest running back. His fullback,
Jerome Felton
, has been responsible for a stunning dichotomy -- the Vikings average 7.7 yards per carry out of the two-back set and 3.6 in the one-back -- that made his inclusion a no-brainer. Quarterback
Aaron Rodgers
(NFL-high 106.2 passer rating) and linebacker
Clay Matthews
(12 sacks in 11 games) are the
Green Bay Packers
' two most indispensable players. Receivers
Calvin Johnson
(
Detroit Lions
) and
Brandon Marshall
(
Chicago Bears
) rank 1-2 in the NFL in both receptions and yards. Bears cornerbacks
Tim Jennings
(NFL-high eight interceptions) and
Charles Tillman
(10 forced fumbles) have been the league's best duo all season. They deserved to be the first cornerback teammates named Pro Bowl starters in 24 years. Finally, it was a pleasant surprise to see Vikings rookie place-kicker
Blair Walsh
on the roster. Walsh set an NFL record for long-distance kicking (9-of-9 from at least 50 yards) and is fourth in the league with a touchback percentage of 62.0, but rookies are often overlooked.
Made it on rep:
With all due respect to one of the classiest men in the game, Packers center
Jeff Saturday
did not have a Pro Bowl season. His inclusion is Exhibit A on how broken the Pro Bowl process is. Saturday is a six-time Pro Bowl player, but he played so poorly this season that the Packers benched him last week. Saturday might not have been one of the top 25 centers in the NFL this season, let alone one of the top three in the NFC. Vikings defensive end
Jared Allen
and Bears defensive end
Julius Peppers
are perennial Pro Bowl players who were destined to make this roster no matter what sack totals they produced. Allen had two last Sunday to bring his total to 11, and Peppers has 4.5 over his past two games to reach 11.5. Those totals gave late legitimacy to what had been relatively quiet seasons for both veterans.
Got robbed:
Vikings center
John Sullivan
might have been the best center in the NFC this season and deserved to be sent ahead of Saturday. Sullivan has been the catalyst for a line that opened up record-breaking holes for Peterson this season. It was surprising to see Bears linebacker
Lance Briggs
left off the roster for the first time in seven years. He has two touchdown returns and has been a sideline-to-sideline playmaker. The Lions'
Ndamukong Suh
had seven sacks this season, second-most among all NFL defensive tackles, but was passed over for the Bears'
Henry Melton
, the
San Francisco 49ers
'
Justin Smith
and the
Tampa Bay Buccaneers
'
Gerald McCoy
. Suh has had a nice rebound season in 2012, and you could make arguments for Melton, Smith and McCoy to be voted ahead of him. But you always wonder how reputation factors into voting. Finally, Packers receiver
James Jones
ranks second in the NFL with 13 touchdowns, but unfortunately the rest of his numbers (58 catches for 772 yards) don't merit Pro Bowl recognition in a conference with Johnson, Marshall,
Julio Jones
and
Victor Cruz
.
Click here for the complete Pro Bowl roster.
September, 13, 2012
9/13/12
10:00
AM ET
We're Black and Blue All Over:
ON THE WAY TO GREEN BAY, Wis. -- So I spent a few hours in the NFC North blogmobile Wednesday night, and by the time I got out, one Wisconsin news outlet was advocating the Green Bay Packers trade receiver Greg Jennings during the season and another was suggesting they could make him their franchise player this fall. And, at best, Jennings has a 50-50 shot of even getting on the field Thursday night when the Packers take on the Chicago Bears, according to
ESPN's Adam Schefter
.

As you know, Jennings' contract is set to expire after this season and he will be eligible for free agency in March unless the Packers make him their franchise player, as
Pete Dougherty of the Green Bay Press-Gazette
writes they might -- and then use it as a tool to trade him. The Packers are relatively tight against the salary cap and have a number of other players in line for new deals,
as we've discussed
, a list that includes quarterback Aaron Rodgers, linebacker Clay Matthews and nose tackle B.J. Raji.
Bob McGinn of the Milwaukee Journal Sentinel
, meanwhile, believes the Packers could get more value for Jennings during the season and should entertain offers despite the impact it could have on their 2012 season.
In the end, it's understandable why the Packers would make Jennings the odd man out if it comes to that. Receiver is one of their deeper positions, and he has suddenly run into a durability issue that at times gives reason for second thought. Mostly, though, this issue is important because already -- in Week 2 of this season -- Jennings' future is casting an unfortunate but unavoidable cloud over the team.
Continuing around the NFC North:
September, 7, 2012
9/07/12
1:30
PM ET
»
NFC Final Word
:
East
|
West
|
North
|
South
»
AFC
:
East
|
West
|
North
|
South
Five nuggets of knowledge about Week 1:
History-making:
The
Green Bay Packers
have a nine-game winning streak against the
San Francisco 49ers
, who haven't defeated the Packers in the regular season since Nov. 4, 1990. (They did knock the Packers out of the 1998 playoffs.) Both starting quarterbacks for this game,
Aaron Rodgers
and
Alex Smith
, were 6 years old at the time.
Eleven of ESPN's 14 experts
picked the Packers to win Sunday, but overall it's one of the
best Week 1 matchups in recent memory
. The teams combined for 28 victories last season. According to the Elias Sports Bureau, there has been only one opening game in NFL history where the opponents have combined for more. (1999,
Minnesota Vikings
at
Atlanta Falcons
.)
[+] Enlarge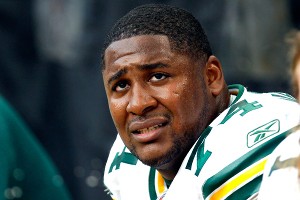 AP Photo/Charles Rex ArbogastLeft tackle Marshall Newhouse and the Packers' offensive line will face a fearsome 49ers' rush.
Important matchup:
There has been
plenty of discussion
about the return of 49ers receiver
Randy Moss
, both to the NFL and Lambeau Field. (People forget he already has been back once since his infamous 2004 mooning, a three-catch performance for the Vikings in 2010.) The Packers' pass defense
remains unsettled
from a personnel standpoint, but to me the bigger matchup will be the Packers' offensive line against the 49ers' powerful defensive front. Can the Packers maintain the line of scrimmage against beastly defensive end
Justin Smith
and speedy pass-rusher
Aldon Smith
? The best way to stop an elite offense, as the 49ers proved in their playoff victory against the
New Orleans Saints
, is to dominate the line of scrimmage and collapse the pocket. The Packers' defense might have improved, but is it ready to carry the team to victory if the Packers' offense gets overwhelmed at the line of scrimmage? Not sure about that.
Lions' advantage:
The
St. Louis Rams
enter the season on a seven-game losing streak, have lost 33 of their past 40 road games and
don't appear equipped to capitalize
on the
Detroit Lions
' injury-riddled secondary. (Safety
Louis Delmas
and cornerback
Chris Houston
aren't expected to play.) All 14 ESPN experts have picked the Lions to win at Ford Field, and this should be an easy Lions victory. One development I'll be watching: How will the improvement of receiver
Titus Young
, and the presumed emergence of new slot receiver
Ryan Broyles
, affect the Lions' attack? We saw only glimpses of both players in the preseason. Let's see what they can put on tape Sunday for future opponents to fret about.
Testing Urlacher:
The
Chicago Bears
' revamped offensive scheme will get
an early test
from the
Indianapolis Colts
' bookend pass-rushers,
Dwight Freeney
and
Robert Mathis
. But if I'm the Colts, I'm doing a little testing of my own. Despite middle linebacker
Brian Urlacher
's insistence that his surgically repaired knee
is sound
, there is every reason for rookie quarterback
Andrew Luck
to test him repeatedly in the deep middle portion of the field. The Colts are heavy underdogs in this game, and aren't likely to win if they play it safe. It's quite possible Urlacher will do his thing and keep the middle mostly clean of big gains. But it would be criminal for the Colts not to at least find out.
Immediate urgency:
Almost all of the national attention on the Vikings-Jaguars game has centered on the extent to which tailback
Adrian Peterson
will play after a 260-day recovery from two torn knee ligaments. But from the bigger picture, this game -- and next week's affair at Indianapolis -- represents a referendum on whether the Vikings can be written off as a rebuilding team. If they have any designs on competing in 2012, based on how their schedule shapes up, the Vikings need to claim victory in both of these highly winnable games. Owner Zygi Wilf
told players this week
that Sunday is the most important season opener in his eight-year tenure. Suffice it to say, however, the Vikings haven't engendered much national confidence. Six of ESPN's 14 experts have picked the Jaguars to win in the Metrodome.
February, 1, 2012
2/01/12
11:13
AM ET
We spent probably too much time over the second half of the season debating the NFL's MVP award, which
Green Bay Packers
quarterback
Aaron Rodgers
is expected to win during a televised ceremony Saturday night. But what about arguably the NFL's second-most prestigious annual award? Will
Minnesota Vikings
defensive end
Jared Allen
win NFL Defensive Player of the Year?
We here in the NFC North are no strangers to the DPOY. Packers cornerback
Charles Woodson
won in 2009
, beating down East Coast support for
New York Jets
cornerback
Darrelle Revis
, and Packers linebacker
Clay Matthews
finished
a close second last season
to
Pittsburgh Steelers
safety
Troy Polamalu
.
Allen led the NFL with 22 sacks this season, one shy of breaking
Michael Strahan
's single-season record. He said late in the season that the Vikings' poor season would probably eliminate him from DPOY consideration, but I'm not sure if that will be the case.
This season, at least, I wouldn't say there is an obvious or runaway winner for the award. We discussed maybe a half-dozen credible names Wednesday morning over on Twitter. Below are four of them, for which I've identified some pros and cons.
Dallas Cowboys defensive end DeMarcus Ware
Pros:
Wasn't far behind Allen in the sack department with 19.5, a number that would catch anyone's attention.
Cons:
Could be viewed as a one-dimensional pass-rusher. Forced two fumbles and defended two passes as an outside linebacker.
Baltimore Ravens linebacker Terrell Suggs
Pros:
Career-high 14 sacks and seven forced fumbles. Took over leadership role of a dominant defense when middle linebacker
Ray Lewis
was injured.
Cons:
Perception, fair or otherwise, that Suggs is a secondary player to Lewis and safety
Ed Reed
on the Ravens' defense.
San Francisco defensive lineman Justin Smith
Pros:
Tremendous production for a 3-4 defensive end with 7.5 sacks, and his intensity set a tone for one of the NFL's best defenses.
Cons:
Smith might not be the best defensive player on his own team. Linebacker
Patrick Willis
is one of the NFL's top overall players, but he missed three games and was limited in others by injury
New York Giants defensive end Jason Pierre-Paul
Pros:
Recorded 16.5 sacks, anchoring one of the NFL's most disruptive defensive lines.
Cons:
Is only in his second season, and critics could point out the Giants' defensive line is too talented for offensive lines to double-team Pierre-Paul often.