March, 22, 2011
3/22/11
1:00
PM ET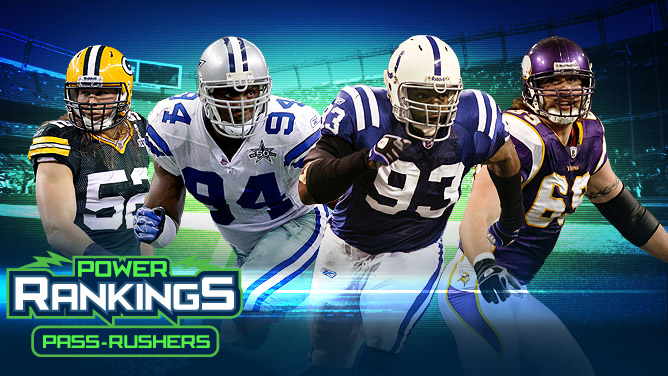 ESPN.com IllustrationDeMarcus Ware (94) was the clear choice for the top spot when our writers ranked the best pass-rushers in the game.
ESPN.com's NFL writers rank the top 10 pass-rushers in the league today. Next week: Top 10 tight ends.
ESPN.com's panel of power rankers had no trouble identifying the best pass-rusher in football. The rest of our Top 10 list? It was easily the most difficult to compile so far in what will be a 10-week project.
Dallas Cowboys
linebacker
DeMarcus Ware
received seven of eight first-place votes. AFC South blogger Paul Kuharsky ranked him No. 2, putting
Indianapolis Colts
defensive end
Dwight Freeney
at the top of his ballot. Overall, a total of 17 players received votes, and the crowd was dense enough to exclude established veterans such as
Houston Texans
defensive end
Mario Williams
,
New York Giants
defensive end
Justin Tuck
,
Baltimore Ravens
linebacker
Terrell Suggs
and Colts defensive end
Robert Mathis
.
The category was tough, explained NFC West blogger Mike Sando, because "sack numbers tend to fluctuate from year to year and it's tougher to know which pass-rushers are truly the best. I think the proliferation of 3-4 defenses also made this a tougher call. We weren't evaluating defensive ends exclusively. We were also looking at 3-4 outside linebackers. That deepened the pool while forcing us to compare players at more than one position."
Ware, for one, wasn't a difficult choice -- as long as sacks are the primary statistical representation of pass rushing. Ware led the NFL in sacks last season with 15.5, and he has also had more combined sacks over the past two, three and five seasons combined than any other NFL player. At 28, he would seem to have several ultra-productive seasons remaining in his career.
Beyond Ware, however, the debate was fierce. The
Green Bay Packers
'
Clay Matthews
received the second-most votes (61), but there wasn't much separating him from Freeney (58) or
Minnesota Vikings
defensive end
Jared Allen
(52).
[+] Enlarge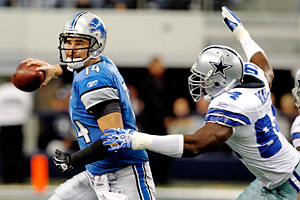 Tom Pennington/Getty ImagesDeMarcus Ware had 15.5 sacks last season and has 80 sacks in six seasons in the NFL.
Kuharsky's familiarity with Freeney gave him a unique perspective.
"I've had coaches and scouts I trust tell me, repeatedly, that Freeney is the best pure pass-rusher in the league," Kuharsky said. "They say he's the guy they'd want if they could have anyone and the most difficult guy to stop because of the way he plots out his game. That's stuck with me and was a big factor for me as I put together my ballot."
From an NFC North perspective, I think it's interesting that Ware is the only NFL player who has recorded more sacks than Allen over the past five seasons. Allen's total of 11.0 last season was his low-water mark over the last four seasons, however, and the explicit instructions for voters were to base judgments on what we can expect for the 2011 season.
Given a choice between Allen, Matthews or Freeney in building a Super Bowl team for 2011, whom would you choose? With all due respect for Freeney (and Kuharsky, such that he deserves it) Matthews, 24, seems the right answer to me.
Matthews, Allen and
Chicago Bears
defensive end
Julius Peppers
gave the NFC North a league-high three members of this exclusive group. Peppers' all-around contributions last season earned him a spot on The Associated Press' All-Pro team, but his total of eight sacks left him ranked eighth on our list.
Illustrating the difficulty of this exercise, two voters left Peppers off their ballots entirely and a third -- AFC North blogger James Walker -- ranked him No. 10. The
Atlanta Falcons
'
John Abraham
, The Associated Press' other first-team All-Pro defensive end, ranked a composite No. 7.
NFC South blogger Pat Yasinskas, who covers Abraham and until 2010 covered Peppers as well, ranked Peppers No. 5 and said: "I know the sack numbers can rise and fall, but he has the ability to completely take over a game at any time." Meanwhile, a younger Abraham would have ranked higher.
"He had 11 sacks last year but 5.5 the year before," Yasinskas said. "At 32, you have to at least question whether he would sustain 2010 numbers in 2011."
Finally, if you're outraged about the absence of Williams, Tuck, Suggs, Mathis, the
Philadelphia Eagles
'
Trent Cole
or even the
Denver Broncos
'
Elvis Dumervil
, you probably need to focus your ire at the inclusion of
Miami Dolphins
defensive end
Cameron Wake
. In his second NFL season, Wake exploded for 14 sacks.
Does one elite season merit inclusion on this list? Opinions varied widely among our voters. Wake was left off three ballots and voted No. 10 on three others. AFC East blogger Tim Graham, who saw more of Wake last season than any other voter, placed him No. 4.
"If we're ranking the best overall defensive ends or outside linebackers, then maybe Cameron Wake doesn't make my list," Graham said. "He's not a run-stuffer and is lacking when it comes to pass coverage. But we're rating pure pass-rushers, and that's the one thing Wake does on an elite level. He's a freakishly gifted athlete who creates havoc in the backfield.
"I also don't view Wake as a one-year wonder because he had a strong season in 2009 despite playing behind
Joey Porter
and
Jason Taylor
in most situations and under a different defensive coordinator. He should continue to thrive under Mike Nolan's guidance. I view Wake as a legitimate star who was overlooked on a mediocre team."
Your thoughts? I'm expecting them.
December, 27, 2010
12/27/10
11:20
AM ET
After the Green Bay Packers' 45-17 victory against the New York Giants, here are three issues that merit further examination:
Kevin SeifertFollowing their win against the New York Giants, the Packers take their turn in the examination room.

In discussing the explosion of the Packers' passing game Sunday, I didn't spend enough time noting how well the Packers protected quarterback Aaron Rodgers against the team that entered the game leading the NFL in sacks. Rodgers was sacked twice and hit on three other occasions in the course of 41 dropbacks. By most accounts, left tackle Chad Clifton controlled Giants defensive end Osi Umenyiora, and the Packers smartly rotated help to right tackle Bryan Bulaga, limiting pass rusher Justin Tuck to one sack. Tuck got decent penetration on a second-and-goal play in the third quarter, but on that occasion, Rodgers calmly stepped up in the pocket and found tight end Donald Lee for a key touchdown. "My initial reaction is that our guys did a nice job," offensive coordinator Joe Philbin said. By the way, Rodgers became only the second Packers quarterback to throw for at least 400 yards and four touchdowns in the same game. The other was Don Horn, according to the Elias Sports Bureau. It was also the first time since 1953 that the Giants had allowed an opponent to do it.
I'll let Packers receiver Greg Jennings explain what is so fun and interesting about the rise of backup tailback John Kuhn in the Packers' offense: "The thing about John Kuhn is that when he [enters] the game, the fans know he's getting the ball. The defense knows he's getting the ball. And he never disappoints them." Indeed, Kuhn has been a nearly unstoppable conversion machine of late. Sunday, he touched the ball eight times. Six of them resulted in first downs and three went for touchdowns. In his past two games, according to ESPN Stats & Information, Kuhn has 11 first downs on 17 touches. He also made a smart move after an 8-yard scoring run in the second quarter, encouraging the Packers' extra-point team to hurry onto the field because he thought his knee might have hit the ground before he crossed the plane. The Packers obliged, and the Giants missed an opportunity to challenge.
Yes, you saw it right: Rodgers made an exaggerated "safe" sign after sliding at the end of a 15-yard run in the first quarter. His failure to do so two weeks ago, of course, played a role in his second concussion of the season. "I got a lot of texts the last two weeks from friends and family," Rodgers said. "Slide was the main subject there." Afterwards, Rodgers pointed at Dr. John Gray, one of the Packers' team physicians. Rodgers: "I basically was teasing Dr. Gray all week -- really the last couple of weeks -- because he's been talking about being smart outside of the pocket. So I slid and did the safe signal and pointed over at Dr. Gray that I was thinking about what he had told me."
And here is one issue I still don't get:
Even after 16 weeks of the season, I'm not sure whether I trust Jordy Nelson or James Jones as the Packers' No. 3 receiver. Both have made huge plays this season, including Nelson's 80-yard touchdown reception to open Sunday's scoring. But both have also made huge mistakes that could ultimately make the difference in a playoff victory or loss. Sunday, Nelson fumbled while trying to extend for a first down, his third lost fumble of the season. And Jones dropped what would have been a long touchdown pass. They are both dynamic playmakers in their own right, but it would be nice to see them tighten down as the playoffs approach.
December, 26, 2010
12/26/10
11:15
PM ET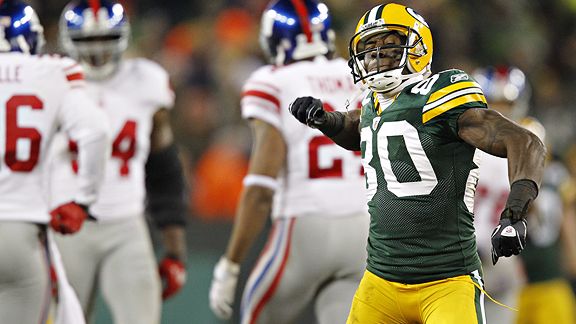 AP Photo/Jeffrey PhelpsDonald Driver's 33-yard first down helped key a second-half drive that gave the Packers an insurmountable lead.
GREEN BAY, Wis. -- Lambeau Field was growing tense midway through the third quarter Sunday. The
Green Bay Packers
had taken leads of 14-0 and 24-14 over the
New York Giants
, but they still hadn't put the game away. The Giants were hanging around and trailed by only seven points when the Packers took possession at their 30-yard line.
A loss would have struck a huge blow to the Packers' playoff hopes. At this moment of truth, it was both relieving and instructive to see what the Packers did next.
Play No. 1:
Receiver
Donald Driver
makes a diving 33-yard catch over the middle.
Play No. 2:
Quarterback
Aaron Rodgers
spots receiver
Greg Jennings
in single coverage, changes the play at the line of scrimmage and completes a 36-yard pass down the right sideline to the Giants' 1-yard line.
Play No. 3:
Tailback
Brandon Jackson
is stopped for no gain. (In the Packers' playbook, that call is referred to as "keeping them honest.")
Play No. 4:
Rodgers steps up in the pocket, dodging the rush of Giants defensive end
Justin Tuck
, and fires a 1-yard touchdown pass to tight end
Donald Lee
.
The score put the Packers ahead by two touchdowns, and they never looked back in a
45-17 victory
that put them
in control of their playoff future
for at least another week.
I could write for days about how well the Packers' defense has played this season and still not tell the entire story. But when the pundit class of NFL observers chose the Packers as its consensus preseason favorite in this division, it wasn't because of Dom Capers' schemes or
Clay Matthews
' pass rush. No, the Packers' path to elite status was conceived -- both internally and externally -- to be generated from their downfield passing game.
Rodgers' arm and accuracy, along with his array of proven targets, gave the Packers something that few teams have and all champions need: the ability to strike at any moment. It hasn't always been evident this season, but Sunday the Packers rode it to the doorstep of the playoffs.
"It's something we do very well," Rodgers said, "[and] it's something we work on a lot."
Rodgers produced one of the best games of his career, returning fresh and energetic after a concussion sidelined him for one start. He threw for a career-high 404 yards, tied his previous high with four touchdown passes and produced the second-highest passer rating of his career (139.9).
There is nothing more impressive than an NFL team imposing its strength on a team that knows full well what's coming. The Packers haven't been much of a running team all year. Somehow, they managed to find favorable matchups and even work their play-action game to precision. They did this against a Giants team that should have been exclusively concerned with the Packers' receivers.
But it started on their second possession, when Giants safety
Deon Grant
bit on a play-action fake and gave
Jordy Nelson
the room he needed for an 80-yard scoring play. Although their three tailbacks combined for only 83 yards on 33 carries, the Packers still completed 11 of 12 play-action passes for 241 yards and three touchdowns, according to ESPN Stats & Information.
[+] Enlarge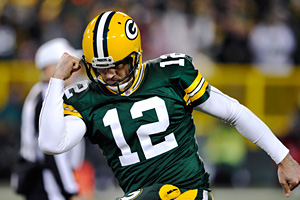 AP Photo/Jim PrischingAaron Rodgers had four touchdowns and completed 25 of 37 passes for 404 yards.
"We were in such a rhythm throwing the football on time," Rodgers said. "We just had a number of good calls. It was just a matter of rolling through them."
Big passes or not, I'm guessing that a few of you were starting to get nervous after the Giants pulled to 24-17. What once appeared to be an early blowout was threatening to tighten into the kind of close game the Packers have struggled in this season. (In case you haven't heard, they are 2-6 in
games decided by four or fewer points
this season.)
Interestingly enough, the Packers had reviewed that very point as a group at halftime.
"We've been in some tight ballgames," offensive coordinator Joe Philbin said. "It's been well-documented. [We said,] 'We've got to finish better in these last 30 minutes. We've got to push each other to another level.' [Players] kind of said it as much as I said it. They were adamant about it."
And after a little delay, that's how the Packers put themselves in position to clinch a wild-card playoff berth next weekend: Deep pass. Deep pass. A throwaway run. Pass into the end zone for a touchdown.
"[The sequence] was huge," Jennings said. "They had scored previously on their drive, and the play [Driver] was able to make kept us going. ... We were able to move the ball and put points on the board with that possession. That definitely catapulted us to a victory today."
(I'm all about the catapult. Whenever a sports figure references it, I think of an entire team suspended in a huge medieval device, being tossed through the air and over a victory ribbon. But I digress ...)
The Packers will need no less of an effort next Sunday against the
Chicago Bears
, the NFC North champions who are likely to be fighting for a first-round playoff bye in this Week 17 showdown.
Rodgers joked that he was rooting for the
Philadelphia Eagles
to lose one of their next two games -- against the
Minnesota Vikings
or
Dallas Cowboys
-- to give the Bears that position before next Sunday's 4:15 kickoff.
"Maybe [they would] rest some of those defensive studs they have," Rodgers said, smiling.
As an NFC North community, let's root against that scenario.
Let's find out whether the Packers found their elite mojo in Week 16, or if they simply produced a precision game against an opponent still reeling from a devastating loss the week before.
Let's see if the Packers can position themselves to make some noise in the NFC playoffs, or if they are destined for an offseason of "what-ifs."
Let's see if they can impose their strength on the NFC's presumptive No. 2 seed, or if this up will be followed by another down.
"This has been an up-and-down year," Rodgers said. "A lot of things have happened, both positively and negatively, that we might not have expected. But we go into the last game of the season with a chance to make the playoffs, and that's all we can ask for."
A week from Sunday, we'll find out if it was enough for the Packers.