NFC North:

Kam Chancellor
January, 14, 2015
Jan 14
9:45
PM ET
GREEN BAY, Wis. -- It's not
Eddie Lacy
versus
Marshawn Lynch
in Sunday's NFC Championship Game, and the
Green Bay Packers
running back is thankful for that.
"He's a great back -- powerful, strong," Lacy said Wednesday of his counterpart with the
Seattle Seahawks
. "But that's not my concern. I don't have to tackle him."
Lacy has plenty to worry about with the Seahawks' defense, which held him to just 34 yards on 12 carries in their 36-16 rout of the Packers in the season opener at CenturyLink Field. Lacy's night ended early in the fourth quarter after a collision with safety
Kam Chancellor
.
Actually, two collisions.
Chancellor drilled him
at the end of a screen pass
and then again at
the end of a run on the next play
.
The Packers said Lacy left the game because of a concussion. He said it wasn't that severe.
"I remember it wasn't a concussion; it was, 'Got my bell rung,'" Lacy said. "The difference is when I get a concussion, I didn't remember what happened at all. In this one, I knew exactly what happened."
And what he discovered was that Chancellor hits hard.
"Definitely one of the hardest hitters I've ever ran into," Lacy said.
The Seahawks didn't have nearly the problems with Lacy that the Packers did with Lynch, who ProFootballFocus.com credited with breaking nine tackles in the game. Lynch rushed for 110 yards on 20 carries and scored two touchdowns.
The back story on Lynch and the Packers is that they almost traded for him in 2010, when the
Buffalo Bills
were shopping him. But they did the deal with the Seahawks, who gave up a fourth-round pick and a conditional pick that ended up being a fifth-rounder. The Packers offered a fourth-round pick because they were in need of a running back after Ryan Grant was lost for the season to a broken ankle.
"I thought it was a possibility, for sure," said Packers quarterback
Aaron Rodgers
, who played with Lynch at the University of California for one season (2004). "He was on the market for what didn't seem like a whole lot getting out of Buffalo. I think they ended up taking that offer based on where the pick would lie in the draft because of the records. So it'd be interesting to see any of the what-ifs if he had come here."
Had they landed Lynch, perhaps they would not have drafted Lacy in 2013.
In Lacy, the Packers found the bruising back they sought in Lynch. Over the past two seasons, Lynch leads the NFL in yards after contact (1,281), while Lacy ranks second (1,111), according to ESPN Stats & Information.
"Those guys are similar in the sense that you have to have multiple defenders trying to get those guys down," Packers linebacker
Julius Peppers
said.
Said Packers coach
Mike McCarthy
: "I don't know if there's a whole lot of people that want to tackle Eddie. He's playing at an extremely high level. I think he's playing the best football of his two-year career. ... He's breaking tackles, but we're going against an excellent tackling defense, so this will be a big challenge."
May, 1, 2014
5/01/14
10:40
AM ET
MINNEAPOLIS -- Jerry Gray spent the 2010 season as the defensive backs coach for a
Seattle Seahawks
team that made the playoffs with a dubious honor, becoming the first team in NFL history to make the playoffs with a losing record after winning the NFC West at 7-9.
One of Gray's tasks that season was to develop the two safeties the Seahawks had taken in that year's draft --
Earl Thomas
, whom the team drafted in the first round, and
Kam Chancellor
, the Seahawks' fifth-round pick. Four years later, the Seahawks are the world champions, thanks in no small part to Thomas and Chancellor, who might form the best safety duo in the NFL.
[+] Enlarge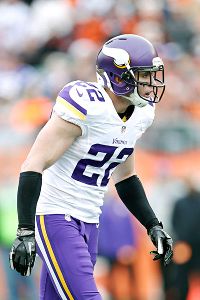 AP Photo/Joe RobbinsThe Vikings are counting on Harrison Smith to be an integral part of their new defense.
And Gray is now in Minnesota, working with a player who could put his name in the same sentence as the Seahawks' duo by the end of this season.
"I think you'll see him as one of the top safeties in the league," Gray said. "Him and Kam Chancellor and Earl Thomas, they were all drafted around the same time, and now they're going to be in there about the same time. That's a sentence you want to be in, if you're Harrison."
If a turf toe injury slowed
Harrison Smith
's progress toward becoming one of the game's best safeties last season, his role in the Vikings' new defense could accelerate it this year. The Vikings have big plans for Smith in Mike Zimmer's new scheme, which should give the 25-year-old a more active role than he had in the Vikings' old Cover-2 defense.
"We're going to get him more involved," Gray said. "He'll be blitzing some. He'll be covering some. He'll be in the middle of the field. The thing that we're trying to do right now is, figure out what he's best at, and then put him in that position. Can he be one of the better safeties in the league, doing what we're teaching him here?"
As many Vikings players are doing during the team's voluntary minicamp this week, Smith is trying to digest a new scheme as quickly as he can. That process has been helped, Smith said, by doing film work with a focus on correcting small technique issues, which Zimmer has been drilling in the Vikings' first practices as a team.
"On film sometimes you can see my toe coming up, which means I'm on my heel," Smith said. "So that just means I need to put more weight on my toes. Small things like that that will give you a fraction of a second out of your break and maybe get an interception instead of a [pass defended] or make a play I wouldn't have made."
Smith has the speed and instincts to cover receivers, which could be a bigger part of his role than it ever was in a Cover-2 defense. If he's able to play man coverage on an inside receiver, the Vikings can spend more time in their base defense and keep an extra linebacker on the field for run situations, instead of shifting to their nickel package and giving up some size in the middle of the field.
"Now, people say, 'What am I going to do? I can't run it, because they've got their big guys in. I can't throw it, because their safety can cover my No. 2,'" Gray said. "That's really what Seattle does a lot. They keep their base out there, Earl Thomas goes down to cover No. 2, and then they put Kam in the middle. You don't want to run against Kam, you can't throw it against Earl, and now you make the best of both worlds. Hopefully we can get our guys to understand that concept."
The Vikings still need to see how well Smith can handle a broader role, but he's already shown flashes of becoming a star in his first two years in the league, returning two of his three interceptions for touchdowns as a rookie and picking off a pair of passes in just eight games last season.
Now, if a new scheme turns him loose, Smith could find himself on a short list of the league's elite.
"He's not afraid to go up in run support. He understands what leverage is. He understands all those things," Gray said. "With the second day [of minicamp], he's trying to figure out, 'Where do I fit in? What do I do here?' When you get past responsibility, and let talent take over, I think he'll be one of the best."
December, 8, 2012
12/08/12
12:00
PM ET
Close readers know I haven't posted responses to
your mailbag questions and comments
in a long while. The truth is that I accessed your questions and comments this week for the first time in months. More than ever, the mailbag portal has devolved into a cesspool of rants, accusations of perceived bias and venting that don't appear to be seeking actual responses.
You're welcome to continue as such, but for the most part please know we've moved on to interacting
via Twitter,
SportsNation chats and occasionally
Facebook
and
Instagram
. I'll continue to check in on the mailbag periodically, but responses won't be timely.
With that said, I peeked in this week to gauge reaction to a post I figured wouldn't go over well with many people.
Our NFC playoff standings*
, based on an imaginary reversal of the
Green Bay Packers
' Week 3 loss to the
Seattle Seahawks
, felt to many of you like sour grapes.
Some of you noted the Seahawks arguably lost Super Bowl XL because of poor officiating. Others wondered why I didn't mention a questionable third-down pass interference call against Seahawks safety
Kam Chancellor
that set up the Packers' only touchdown of the game. Some asked why I haven't sided with those who argue that Seahawks receiver
Golden Tate
did in fact
gain possession on the controversial touchdown
. And a few challenged why the Seahawks were seeded eighth in the revised playoff standings, behind the
Dallas Cowboys
despite a Week 2 victory over that team.
In short, my feeling was that this was a singular and unique moment compared to all other officiating gaffes in NFL history. It was a game-deciding call on the final play by imposters who were asked to cover for the NFL's miscalculated labor stance.
The Chancellor call was poor, but the Seahawks had time to overcome it. As for Tate,
I have written
that there are conflicting rules and case studies about simultaneous possession. You can find arguments to support possession for either Tate or Packers safety
M.D. Jennings
if your mind is truly open to it. (And even the NFL admitted Tate
should have been called for offensive pass interference
on the play.)
Finally, the Seahawks are seeded eighth in the standings* because in cases of a multi-team tie for a wild-card spot, the head-to-head tiebreaker only applies "if one club has defeated each of the others or if one club has lost to each of the others,"
according to the NFL's tiebreaker rules
. That is not the case, so conference record breaks the tie.
I will continue to post the NFC playoff standings* to track the impact of the replacement official fiasco. Hopefully, it will have none. But at the moment, three teams' playoff standings are affected.
With that said, I want to leave you with one of the more thoughtful notes I saw in the mailbag.
Marc of Portland
made a request that I thought was worth posting:
"We all have to demand that every game is played as fairly as possible, and that no team or a fan of that team is ever cheated by bad refs, no matter how they ended up on the field. I think they deserve to be paid what they're worth, just like the players. And just like the players who make mistakes, they deserve fines when they have a negative affect on the game.

"Maybe it's time to start a coalition among the fans to demand fair games. A coalition to record bad calls and rank the officials for ourselves. A coalition to say out with the bad ones and up with the good ones. A coalition to stick up for each other no matter what team you cheer for. And a coalition to demand that the owners never try to bite the hand that feeds them again."
I'm not sure about fines for mistakes, and I think mistakes will always occur until robots take over the job. Otherwise, though, I agree that a goal of fair officiating should transcend team allegiances. Hopefully we can all rally around that.
April, 13, 2010
4/13/10
6:57
AM ET
Earlier this month,
we discussed
Green Bay's options behind starting running back Ryan Grant and noted an endorsement of backup Brandon Jackson from coach Mike McCarthy. Still, it appears the Packers are at least doing their due diligence on a wider array of possibilities.

According to
Tom Silverstein of the Milwaukee Journal Sentinel
, the Packers have inquired about free-agent running back Brian Westbrook. There hasn't been much market interest in Westbrook, who missed eight games in Philadelphia last season because of repeated concussions, but he could fill a third-down role for the Packers if he is healthy.
We all know the Packers don't often sign veteran free agents, and so we should proceed cautiously on this possibility. But as the offseason continues, Westbrook's price gets lower and lower. If the Packers can bring him in on a mostly risk-free basis, they might give it some serious thought.
Continuing around the NFC North with the draft less than 10 days away: