NFC North:

Kareem Jackson
September, 24, 2012
9/24/12
3:55
PM ET
After the Chicago Bears' 23-6 victory over the St. Louis Rams, here are three issues that merit further examination:
ESPN.com

To this point, the Bears' 41-point explosion in Week 1 against the Indianapolis Colts is looking like the exception rather than the rule. The Bears obviously have a talented group of skill players, and Michael Bush is the best No. 2 running back in the Matt Forte era. But there is clearly a level of cohesion missing through three weeks. The Rams have made good defensive showings now against the Bears and Detroit Lions, and they are no pushovers. But quarterback Jay Cutler connected on fewer than half of his first 12 throws, a turn of events that made clear the Bears would have to grind this game out.

For as much scrutiny as the Bears' offense has faced in the past few weeks, their defense is continuing to play classic Rod Marinelli football. Sunday, the Bears sent four or fewer pass-rushers on 86 percent of quarterback Sam Bradford's drop backs. Still, they sacked him five times and intercepted him twice in those situations. In their two victories this season, the Bears have held opposing quarterbacks to 50 percent completions, no touchdowns and four interceptions via their standard pass rush. We've discussed many times how valuable an effective four-man rush is. The Bears can devote maximum personnel to coverage, among many other advantages. Overall, the Bears lead the NFL at the moment with 14 sacks.

Cornerback Tim Jennings continues to be the Bears' best defensive player through three games. A seeming afterthought in the offseason, Jennings already has hit his career high of four interceptions and has broken up a total of nine passes. According to Pro Football Focus, opposing quarterbacks have a 19.7 passer rating on throws he is responsible for. That's tied for fourth best in the NFL behind Darrelle Revis, Antonio Cromartie and Kareem Jackson. That's how spot on Jennings has been in coverage this season.
And here is one issue I still don't get:
Brian Urlacher broke up a couple of passes Sunday but they have been among a relatively small group of "flash plays." In three games, he has been credited with 14 tackles and has neither a sack, a forced fumble nor a fumble recovery. The Bears' defense has played at an elite level all season and Urlacher is its leader. So does that mean Urlacher has answered all questions about his status after a summer full of drama? Here's what Urlacher said to the Fox postgame show in Chicago: "I think I'll get better and better every week. My legs will get underneath me and I'll get in better shape. [The knee] is good. If it wasn't good, I wouldn't be playing. So I feel good about it." It's fair to say that Urlacher hasn't been the player he was in his prime, but to this point the Bears haven't needed him to be.
April, 21, 2010
4/21/10
8:20
PM ET
To the extent that the
Minnesota Vikings
were targeting a cornerback with its No. 30 overall pick, I doubt anything has changed based on Wednesday's
quick signing
of free agent
Lito Sheppard
. Here's where I'm coming from:
Sheppard, 29, signed a one-year, $2 million contract. Those terms paint the perfect picture of a short-term commitment to fill a specific hole. We outlined that opening earlier Wednesday: Starter Cedric Griffin is rehabilitating a torn anterior cruciate ligament. He might not be ready for the start of the season, and Benny Sapp is the only player with experience behind him. But without question, Griffin is a long-term fixture in the Vikings' lineup.
A first-round cornerback might contribute right away, but his horizon would extend far beyond Sheppard's likely career arc. In other words, if a cornerback you value is available at your spot in the draft, you're not going to pass because you just signed a veteran free agent to a one-year contract.
A rookie drafted this year would more likely be targeted as Antoine Winfield's eventual replacement. Winfield turns 33 in June.
Sheppard has played for coach Brad Childress and defensive coordinator Leslie Frazier in Philadelphia. If you have the opportunity to bring in a veteran cornerback who is familiar with your defense and as well-respected around the league as Sheppard is, you do it without consideration to the draft. I'm pretty sure no NFL team has had too much depth at cornerback.
Now, watch the Vikings pass on Kareem Jackson, Kyle Wilson and Devin McCourty -- three of the draft's top cornerbacks -- and pick a tight end at No. 30. That would show me.
April, 9, 2010
4/09/10
12:05
PM ET
Much of our debate on Green Bay's pre-draft needs has centered on offensive tackle and outside linebacker. But some of you suggested an alternate focus during
last week's discussion
: cornerback.
A cornerback with sophisticated coverage skills is one of the four most-difficult targets in any draft, a list that (in my opinion) also includes pass-protecting left tackles, pass-rushing defensive ends and competent quarterbacks. That's one of the reasons you saw the Packers issue a high tender to restricted free agent
Tramon Williams
, who has made 20 NFL starts.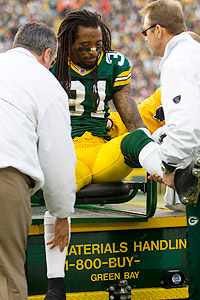 Jeff Hanisch/US PresswirePackers cornerback Al Harris, who injured his knee last season, might not be ready when the 2010 season begins.
Another big reason is something we haven't discussed much in this space: The uncertain future of longtime starter
Al Harris
, who at 35 is rehabilitating a left knee injury that was more serious than we originally thought.
Harris has been chronicling his recovery over at the
National Football Post
, but coach Mike McCarthy spoke with realism last month when discussing Harris' timetable for returning to the field. McCarthy called it a "real serious injury" and indicated that team doctor Patrick McKenzie performed two separate procedures on him to regain full range of motion.
"We'll just continue to watch that and see how he responds," McCarthy said, adding that it's "probably fair" to compare Harris' timetable to the one right tackle
Mark Tauscher
followed last year. Tauscher wasn't ready to start practicing until October.
If Harris isn't ready to start the season, Williams would start opposite
Charles Woodson
. In that scenario, the Packers would be counting on several other players to recover from injuries, including
Will Blackmon
and
Pat Lee
, to provide depth.
A first-round cornerback might not be a dramatic need, but it wouldn't be a luxury either. For what it's worth, here are Mel Kiper's
top five available cornerbacks
:
1. Florida's Joe Haden
2. Alabama's Kareem Jackson
3. Rutgers' Devin McCourty
4. Boise State's Kyle Wilson
5. Florida State's Patrick Robinson