September, 19, 2010
9/19/10
7:50
PM ET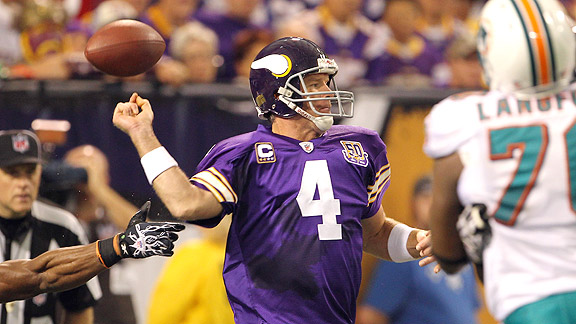 Jamie Squire/Getty ImagesBrett Favre had three interceptions and a fumble in the Vikings' loss to the Miami Dolphins.
MINNEAPOLIS -- The next few days will provide a fascinating illustration of how the
Minnesota Vikings
view their 0-2 start. After another punchless outing from their offense, will the Vikings
push the panic button
and give up a premium draft pick to rent
San Diego Chargers
receiver
Vincent Jackson
for 12 games? Or will they determine that their problems are too widespread for one Pro Bowl receiver to fix, and instead go back to work with the talented roster they already possess?
I don't know if the Vikings will agree with me, but I'm siding with the latter strategy. To be clear, I don't think there's any doubt they miss
Sidney Rice
, their injured Pro Bowl receiver. In Sunday's
14-10
loss to the
Miami Dolphins
, two of quarterback
Brett Favre
's three interceptions came on difficult passes that Rice often converted last season. Like Rice, Jackson is a big receiver with strong ball skills.
But could Jackson or Rice have made a third-quarter block on Dolphins linebacker
Cameron Wake
, who blew past tight end
Visanthe Shiancoe
and right tackle
Phil Loadholt
to sack Favre? (Dolphins linebacker
Koa Misi
recovered the ensuing fumble for what turned out to be the game-winning touchdown.)
Could Jackson or Rice have helped tailback
Adrian Peterson
into the end zone on a fourth-down play with 2 minutes, 21 seconds remaining? (Peterson, who had already rushed for 145 yards by then, was stopped cold by Dolphins linebacker
Karlos Dansby
.)
Would Vikings coach Brad Childress have been any more inclined to kick a 43-yard field goal at the end of his team's first possession instead of pushing for a tough 4th-and-2 conversion at the Dolphins' 26-yard line? (Childress said he was "just trying to be aggressive" and "send a message to our team" by making that call. Favre's pass was batted down by Dolphins defensive lineman
Randy Starks
.)
Jackson would make the Vikings a better team. But is he good enough to make a season-changing difference? That's the question the Vikings must answer before a Wednesday deadline that would push his current four-game suspension up to six games.
I doubt anyone in the Vikings locker room would oppose Jackson's arrival, but when you listened to players who have been around for a long time, you realized there is no magic elixir. Defensive tackle
Kevin Williams
, for one, hinted the Vikings might have taken too much for granted when they started the season.
[+] Enlarge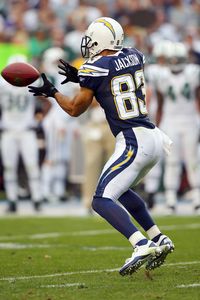 AP Photo/Paul SpinelliVincent Jackson would have to learn a new offense and get in shape quickly.
"You've got to play the game," Williams said Sunday. "You can't just show up, no matter how many guys you have returning, who's at quarterback, who's on the defensive line, who's at running back. It don't fricking matter. You've got to play the game. When we realize that, we'll be a lot better. We can't just show up and think we're going to win games."
I don't think Williams was questioning the Vikings' effort so much as their mindset. Childress agreed that the "urgency will definitely pick up" now that the Vikings are 0-2. As
we noted earlier
, only 13 percent of the teams that have started 0-2 over the past 20 years have made the playoffs. Is Jackson good enough to help them overcome an obstacle that 87 percent of teams over that span have not?
Frankly, I don't know about that. But I will say this: The Vikings played Sunday as if they thought Jackson (or Rice) was on the field.
Favre committed four turnovers, the fumble and three interceptions. One of the interceptions came on a pass behind
Percy Harvin
at the goal line in the second quarter, but the other two came on passes toward
Bernard Berrian
where Favre, as Childress said, "threw the ball up in an effort to have … guys make some plays."
At his best, Berrian is a speed merchant and a good open-field runner. His 6-foot-1 frame isn't ideal for hauling in jump balls or winning a physical battle against cornerbacks, but that's precisely what Favre was asking him to do twice in the second half.
The first came with 3:01 remaining in the third quarter. On second down from the Dolphins' 13-yard line, Favre fired what he hoped would be a back-shoulder pass to Berrian, who was running 1-on-1 down the left sideline with cornerback
Jason Allen
. At the goal line, Allen turned around and was in perfect position to make the interception.
Rice or Jackson might have found a way to maneuver for the ball, but that is not Berrian's strength. Compounding the play was Favre's near-immediate realization that tight end Shiancoe was wide open on the other side of the field for a touchdown.
Asked if the ball should have been placed differently for Berrian, Favre cryptically said: "Depends on who's coaching you." He added that "I put it where I wanted it" and while he lamented that he missed Shiancoe, Favre didn't take back the decision.
"I've completed a lot of balls to my secondary or third receiver," he said, "when the other guy might have been open. I just play off instincts. … I've got to make decisions, spur-of-the-moment decisions there and try to make accurate throws. I felt like for the most part today I did that."
That's a debatable point, especially when you recall the fourth-quarter interception that Favre threw up for grabs with Berrian running a deep post pattern against double coverage. I could rattle off three or four times when Rice made the catch against a similar look last season, but there never seemed a chance Berrian would come down with it.
"We're running basically the same plays," Harvin said. "It's just sometimes when you have a 6-5 receiver you can just throw it up to him whether he's covered or not, and he can make a play. From that standpoint, we won't be able to fix that or find another receiver to replace him. We just have to come up with different schemes to try and get people open."
I mostly agree with that sentiment. Acquiring Jackson and putting that kind of pressure on him is unrealistic, especially knowing he would have to learn a new offense and get himself into football shape after missing all of training camp. No, if the Vikings are going to emerge from this 0-2 hole, they'll need more than that. Is it asking Favre too much to recalibrate his mentality with the skills of the receivers he does have? Broaching that topic Sunday, Favre said he wouldn't expect to change any more than one would expect Peterson to agree to be more patient at the line of scrimmage.
"You're not going to tell Adrian to do that," Favre said. "You can coach it that way, but Adrian is who he is. He's pretty good at making those split-second decisions."
In their first two games, at least, the Vikings didn't have the offensive horses to support that approach. Would Jackson change that? Wow. That's a lot to ask of anyone.
September, 19, 2010
9/19/10
3:57
PM ET
MINNEAPOLIS -- Let's hit some highlights and lowlights of Miami's
14-10
victory against Minnesota.


What it means:
The Vikings are 0-2 and already two games behind the NFC North-leading
Green Bay Packers
and
Chicago Bears
. This is the tough early hole we wondered if the Vikings might fall in after their offense failed to come together during the preseason. The Vikings accumulated 364 yards Sunday against the Dolphins, but ultimately they have scored only 19 points in two games. Quarterback
Brett Favre
's four turnovers were glaring, especially since one of them – a third-quarter fumble in the end zone – directly led to one of the Dolphins' two touchdowns.
Critical call:
Down by four points, the Vikings made the right call to go for it on fourth-and-goal from the Dolphins' 1-yard line with 2 minutes, 21 seconds remaining. And for what it's worth, I had no problem with them handing the ball to tailback
Adrian Peterson
, who ran like a beast for the entire game and had been plowing through the Dolphins' defense through the entire drive. But on this particular play, Dolphins linebacker
Karlos Dansby
slipped unblocked through the right side of the Vikings' line and was able to wrap up Peterson with help from cornerback
Vontae Davis
. On this play, Dansby simply won his 1-on-1 battle.
Critical call II:
That was one of four fourth-down plays the Vikings went for. The only one that could be debated was the first. Coach Brad Childress elected to go for it on fourth-and-2 from the Dolphins' 26-yard line at the end of the Vikings' first possession. I'm sure he was trying to instill some aggression in his moribund offense, but Favre's pass was batted down at the line. Assuming
Ryan Longwell
had converted the 43-yard field goal, the Vikings would have been playing for a game-winning field goal on their final drives instead of needing a touchdown. Just saying.
Trending:
Favre is more than halfway to his 2010 season total of interceptions. He threw three Sunday, including two on the Dolphins' goal line, to bring his season total to four. If you recall, Favre threw seven interceptions in 16 games last season. The Vikings defense minimized the damage of two interceptions by recovering fumbles on the ensuing play, but regardless, Favre's accuracy is far from mid-season form.
Would-be hero:
Peterson ran hard and finished with 186 all-purpose yards. Had the Vikings pulled it out, he would have been the afternoon's big talker.
What's next:
Vikings host the
Detroit Lions
next Sunday at the Metrodome.
January, 11, 2010
1/11/10
3:04
PM ET
I returned to NFC North headquarters Monday to find the brawl still taking place over Green Bay's final play of the season.
As we
visually noted
Sunday, Arizona cornerback
Michael Adams
caught his right index finger on Packers quarterback Aaron Rodgers' facemask. Had a penalty been called,
Karlos Dansby
's game-winning touchdown would have been nullified.
A picture is worth a thousand words, but it also captures a split-second in time. The potential for penalty is far less obvious when watching the play in live speed.
The NFL issued a rules explanation Monday in response to questions about the play. I got my hands on it this afternoon, and its general tone suggests that no illegal act occurred because Adams -- in the judgment of officials -- did not twist, turn or pull Rodgers' face mask. An inadvertent grab is legal in part because of a 2008 rule revision.
Before 2008? The play probably would have been a penalty. For those of you who want to read the entire explanation, I've included it at the bottom of this post.
You know how I feel about officiating. I think calls even out over time. But they still can make a huge impact in individual games, and that's why they're fair game for discussion in setting like these. We spent at least one post every week hashing through some of the more interesting ones during the regular season.
If I were a Packers fan, I would probably be more upset about the non-call of an apparent helmet-to-helmet hit on Rodgers two plays before it. Rodgers, for his part, told reporters in Green Bay on Monday that he spent most of his time thinking about his overthrow of receiver
Greg Jennings
on the first play of overtime.
"There's always going to be one or two plays in the game where you wonder should there be a call, shouldn't there be a call, but those are out of my control," Rodgers said, according to the
Milwaukee Journal Sentinel
. "The things I worry about are the things I can control. I made some mistakes in the game. Those are the ones I'm thinking about. Not a potential face mask on that.
"The one play I was thinking about laying in bed was the first play of overtime. Unfortunately, just missed Greg on that one that could have ended the game. But [the Cardinals] made a play in overtime, you have to give them credit for that."
OK then. Here is the full explanation from the NFL:
A "facemask" penalty is a judgment call that is not reviewable by replay.
Rule 12, Section 2, Article 5 of the NFL Rule Book (page 81) states that "no player shall twist, turn, or pull the facemask of an opponent in any direction."
The Rule Book describes the penalty as follows:
"Penalty: For twisting, turning or pulling the mask: loss of 15 yards. A personal foul. The player may be disqualified if the action is judged by the official(s) to be of a flagrant nature."
The Rule Book describes an approved ruling as it relates to facemask penalties (page 81).
"A.R. 12.12 - Third-and-10 on A30. Runner A1 runs to the A33, where he is tackled by B1, who incidentally grasps A1's facemask on the tackle, but it is not a twist, turn or pull. Ruling: A's ball, fourth-and-seven, on A33. No foul."
Prior to the 2008 season, a rule change was approved that eliminated the foul for the incidental grasp of the facemask.
The language of the rule as it relates to a facemask penalty through the 2007 season:
"Penalty: Incidental grasping of the mask -- five yards. Not a personal foul (if by the defense there is no automatic first down). Twisting, turning, or pulling the mask -- 15 yards. A personal foul. The player may be disqualified if the action is judged by the official(s) to be of a flagrant nature."
January, 10, 2010
1/10/10
8:07
PM ET
GLENDALE, Ariz. -- Green Bay's season is over, but not before one of the most entertaining wild-card playoff games in recent memory.


Trailing 31-10 early in the third quarter, the Packers roared back to force an old-time shootout at University of Phoenix Stadium. Over the final 26 minutes of regulation, the Packers scored 35 points, ran up 364 offensive yards and had the game tied at 45 with less than two minutes remaining.
But ultimately, the Packers lost for the same reason they fell behind in the first place: a turnover. Arizona linebacker
Karlos Dansby
returned an
Aaron Rodgers
fumble 17 yards for the wining score in overtime.
The Packers committed the fewest turnovers in the NFL this season (16), but they had two in the first five minutes of this game to fall behind 14-0. Needless to say, those turnovers made the difference in this game.
Rodgers threw for a Packers playoff record 422 yards but was sacked five times in addition to a pair of turnovers.
Much more in a few hours.
January, 10, 2010
1/10/10
6:16
PM ET
GLENDALE, Ariz. -- A few halftime thoughts with Green Bay trailing by two touchdowns at University of Phoenix Stadium:


It's rare that you overcome two turnovers in the first five minutes of a road playoff game. That's what the Packers are up against here. Aaron Rodgers' poor decision on his first play, and Karlos Dansby's punch-out after a Donald Driver reception, were the two big plays in Arizona building a 14-0 lead. It bears repeating: The Packers committed 16 turnovers in 16 regular-season games. They had two in the first five minutes of their first playoff game.
Thanks to those turnovers, the Cardinals started their first two drives at the Packers' 40- and 22-yard lines, respectively.
There hasn't been a moment where I've thought Rodgers was in rhythm. It started with his first pass, an across-the-body toss into double coverage just before he stepped out of bounds, and continued throughout the half. He seems to have returned to his early-season tendency to hold the ball too long. I haven't seen many receivers running open in the secondary, but Rodgers needs to be willing to throw the ball away. Arizona has four sacks in the first half.
Some of us wondered if the Packers were up to defending the Cardinals' three-receiver set. That issue seemed to have been minimized by the absence of receiver Anquan Boldin, but the Packers have still been on their heels for the entire first half. Early Doucet has two touchdowns in Boldin's absence; on the second, oft-targeted nickelback Jarrett Bush was in coverage.
As it turns out, the only thing keeping the Packers from having been completely blown off the field was Charles Woodson's forced fumble against Arizona receiver Larry Fitzgerald in the red zone. That became a 10-point play when the Packers eventually converted a field goal. It also got coach Mike McCarthy off the hook for having Mason Crosby attempt a 54-yard field goal. The predictable miss gave the Cardinals possession on the Packers' 45-yard line.
January, 10, 2010
1/10/10
5:02
PM ET
GLENDALE, Ariz. -- We noted earlier this week that Green Bay committed 16 turnovers in its 16 regular-season games, the lowest total in the NFL.
The Packers have now committed two turnovers in the first five minutes of their first game of the postseason. An
Aaron Rodgers
interception and a
Donald Driver
fumble have helped Arizona to a 14-0 lead with 9 minutes, 16 seconds left in the FIRST QUARTER.
Rodgers threw a poor pass into traffic and deserves full blame for the mistake. Driver's fumble was the result of an exceptional strip play by linebacker
Karlos Dansby
.
There is an old adage that suggests it's better to fall behind early because it leaves you more time to catch up. At this point, the Packers are going to need every second they can get. We've hardly settled into our seats and they're almost out of this game already.
December, 7, 2009
12/07/09
1:00
PM ET
After Minnesota's 30-17 loss at Arizona, here are
three (mostly) indisputable facts I feel relatively sure about:

No matter how many years he has played or how well he has played this season, quarterback Brett Favre demonstrated he can still be flummoxed by an innovative defensive scheme. NBC's cameras did an excellent job of documenting how the Cardinals disguised their coverage by clustering near each other at the snap of the ball. That strategy, along with keeping linebacker Karlos Dansby deep downfield at times, led Favre down his old path of throwing wildly into coverage. Were it not for Adrian Wilson's two drops, Favre would have had a four-interception game. Go back and look at the replay of Dansby's interception. Favre was so out of sorts he was looking to his right and he released the ball down the middle.
I'm sure a few fans were aghast when, at one point of the first half, the Vikings had Artis Hicks at left tackle, backup center Jon Cooper at right guard and Ryan Cook at right tackle. That was the necessary shuffle after right tackle Phil Loadholt and left tackle Bryant McKinnie briefly departed with injuries. Both players returned at less than 100 percent and need to make a quick turnaround to be ready for Sunday's matchup against Cincinnati. I, for one, was totally onboard with the Vikings' decision to run the ball on third down with that lineup. No sense putting Favre in danger of a missed communication.
I don't blame NFL owners for planning to rescind the supplementary revenue sharing plan that aids revenue-poor franchises like Minnesota. Imagine you're the McCaskey family. Because you have new-stadium revenues in Chicago, you are required to contribute to a pot that benefits a division rival. Then the Vikings go out and use that collective money -- anywhere from $5 million to $10 million per season -- to help them acquire big-name players like defensive end Jared Allen, Favre and even former Bears receiver Bernard Berrian. Assuming the NFL is successful in abolishing this program, Vikings owner Zygi Wilf will have to further subsidize the franchise if he wants to maintain his current payroll.
And here is
one question I'm still asking:
How much will the Vikings miss linebacker E.J. Henderson? I don't want to be crass or cold-hearted at a time when a fractured femur has cast long-term doubts on Henderson's career. But the team successfully navigated his 12-game absence last season and has the capacity to do the same again in 2009. The Vikings have been looking for ways to get outside linebacker Ben Leber on the field more, and Leber has experience calling defensive signals. One workable solution would be to use hard-hitting rookie Jasper Brinkley on early downs and then move Leber inside in the nickel.