NFC North:

Keith Brooking
October, 15, 2010
10/15/10
4:00
PM ET
»
NFC Final Word
:
East
|
West
|
North
|
South
»
AFC
:
East
|
West
|
North
|
South
Five nuggets of knowledge about Week 6:
The loser of Sunday's Panic Bowl between the Minnesota Vikings and Dallas Cowboys will be 1-4.
Since 1990, five 1-4 teams have gone on to the playoffs -- most recently
Brett Favre
's 2004
Green Bay Packers
. But I don't think anyone in Minnesota wants to see if the Vikings can make it six. Their offense provided a glimpse of how explosive it can be Monday night against the
New York Jets
, and there is some hope that another week of practice together will smooth out the rough edges. Receiver
Randy Moss
has never lost to the Cowboys in seven starts, and to use his word, the Metrodome figures to be "bananas" in his first home game there in six years. As it has all season, the Vikings' chances will rest on whether they can protect Favre long enough to get the ball downfield. Favre's ailing right elbow usually feels a lot better when he's not getting driven into the turf.
[+] Enlarge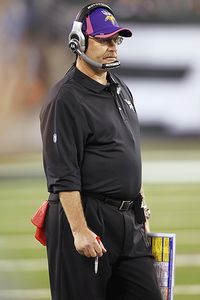 AP Photo/Paul SpinelliCoach Brad Childress was accused of running up the score on the Cowboys in last season's divisional playoff game.
Sunday's game at the Metrodome will carry any number of subplots.
Among them: lingering animosity from the Vikings' 34-3 playoff victory over the Cowboys last January. Cowboys linebacker
Keith Brooking
claimed after the game that the Vikings ran up the score, and Cowboys coach Wade Phillips said this week that continuing to push for points in the fourth quarter was "not something I would have done." Coach Brad Childress countered: "It'd probably be a good idea to cover somebody. Generally on defense, you've got to cover the deep plays." And you can always count on nose tackle
Pat Williams
to get involved in any exchange of hurt feelings. Hang on. This one should be fun.
A wild week of games and injuries left us vastly underplaying the Detroit Lions' status as the highest-scoring team in the NFC.
That's right. Their 126 points and 25.2 points-per-game average stand atop this conference. We all thought the Lions would have some high-scoring games this season, and they've run up their point total even after starting quarterback
Matthew Stafford
suffered a Week 1 shoulder injury. That said, the Lions will have their work cut out for them this week at the
New York Giants
. NFC North fans should be fully educated about the kind of pass rush the Giants can produce after seeing them put 10 sacks on the
Chicago Bears
two weeks ago. And even if he does play, receiver
Calvin Johnson
figures to be limited by a right shoulder injury. If the Lions can win Sunday, snapping a 23-game road losing streak, it will be quite an accomplishment.
There have been general statements of the Bears' fortunate scheduling over the next few weeks.
But I wonder if many NFC North fans know how rare it would be if the
Seattle Seahawks
pull an upset Sunday at Soldier Field. According to
NFC West colleague Mike Sando
, the Seahawks are 9-16 over the past six seasons when they play a road game in the early Sunday time slot -- a disadvantageous 10 a.m. Seattle time. Five of those victories have come against the
St. Louis Rams
, meaning they have lost 15 of 19 games over that span to the rest of the league. And to this early point in the Pete Carroll regime, the Seahawks have been a much different team away from Qwest Field no matter what time kickoff is scheduled for. In two road games this season, both losses, the Seahawks have averaged 8.5 points while allowing an average of 25.5 points per game. Suffice it to say, the Bears have a fortuitous matchup this week.
If the Packers are going to emerge from their injury morass, they're going to need much more production from receiver Greg Jennings.
Packers quarterback
Aaron Rodgers
has targeted him 31 times this season, but so far only 14 have gone for completions. With tight end
Jermichael Finley
(knee) likely out for the season, Jennings is the Packers' top scoring threat. Jennings' frustrations boiled over on the sideline during last Sunday's 16-13 loss to the
Washington Redskins
, but he's going to have to collect himself and re-emerge as Rodgers' go-to threat if the Packers expect their offense to resemble its previous incarnations. That could be a tough task against the
Miami Dolphins
' defense, which has two excellent and physical cornerbacks in
Jason Allen
and
Vontae Davis
.
January, 19, 2010
1/19/10
12:00
PM ET
Vikings defensive end Jared Allen
shares his thoughts

on Keith Brooking's comments, playing with Brett Favre, his outrageous wardrobe and how excited he is to face the Saints on Sunday.
January, 17, 2010
1/17/10
5:36
PM ET
MINNEAPOLIS -- Tempers flared Sunday at the Metrodome after Minnesota's final touchdown of a 34-3 playoff victory over Dallas. Cowboys linebacker
Keith Brooking
sprinted toward the Vikings' sideline, taunting coach Brad Childress and later
calling the late score "classless
."
Vikings nose tackle
Pat Williams
, meanwhile, said Brooking was lucky to escape the Minnesota sideline in one piece.
"We don't care what Keith Brooking says," Williams said. "He was about to get his ass whupped on our sideline over there. It don't matter. Nobody said anything when they blew out the Eagles [the past two weeks]. It's the playoffs. It ain't no regular-season game. If you lose, you go home. We take no pity on them. Do they expect us to? I don't care about no Brooking. He can say whatever he wants to say."
To recap: Ahead 27-3 late in the fourth quarter, Childress left his starters in the game. The Cowboys gave up the ball on downs at their 37-yard line with 5:26 remaining, and the Vikings threw three passes on their ensuing six-play drive. The final one was an 11-yard touchdown pass to tight end
Visanthe Shiancoe
on fourth-and-3 with 1:55 remaining.
Cowboys coach Wade Phillips said the Vikings ran up the score. Said Brooking: "I thought it was classless. I thought it was B.S. Granted, we get paid to stop them, but we had zero timeouts left. I didn't think there was any call for that."
Told of Brooking's comments, Shiancoe laughed and said: "OK, we apologize. I'm sorry. Better?"
The Vikings certainly didn't need that score to win the game, and I stand by
what I wrote
after the game. But do the Cowboys have a right to be upset? Did they run it up the past two weeks on Philadelphia? Don't forget that Childress and Eagles coach Andy Reid remain close friends.
Feel free to weigh in both this post and over at
SportsNation
.
January, 13, 2010
1/13/10
1:00
PM ET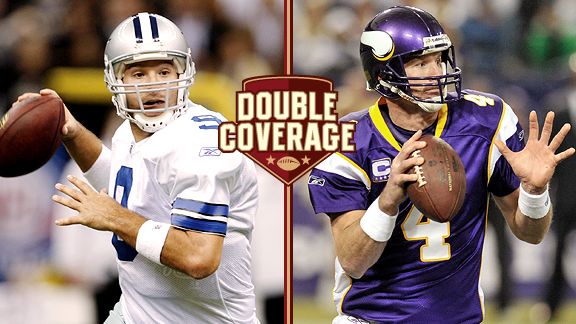 Icon SMIThe Vikings-Cowboys playoff matchup on Sunday will feature high-powered passing attacks led by Tony Romo and Brett Favre.
Here on the ESPN Blog Network, we're bracing ourselves for quite possibly the biggest divisional playoff game in the history of the 2010 postseason. Come Sunday afternoon at the Metrodome, Dallas and Minnesota will reprise a storied postseason rivalry -- sans (hopefully) whiskey bottles, push-offs and Hail Marys. (Well, at least the
push-offs
.)
ESPN.com's Matt Mosley and Kevin Seifert have spent most of the week buried in the film room -- er, basement -- refining the blogging plan for the rest of the week. As now they're ready to start breaking down this most critical game.
Kevin Seifert:
Greetings from the North Pole, Matt. Actually, you're going to get lucky this weekend. We're expecting unseasonably warm temperatures here this weekend, with highs in the 30s. Normally we call that "May" in Minnesota. Usually at this time of year, you can get frostbite on half your hand while walking from the parking lot to the media entrance at the Dome.
Matt Mosley:
I will look for any excuse to visit Minneapolis in mid-January and this game is as good as anything else I might come up with.
Sid Hartman
and I have been waiting on this postseason matchup for years. Jerry Jones tried to capture the "charm" of the Metrodome in his new Cowboys Stadium, but I'm not sure things worked out. And by the way, Drew Pearson told me to pass along his best wishes to Vikings fans.
KS:
OK, Matt. Let's get down to it. Everyone in the world thinks the Cowboys are going to win this game. Even
ESPN's Trent Dilfer
is convinced of it. You've been close to the Cowboys this season. Are they as hot as everyone says they are?
MM:
Kevin, in my eight years of covering the team, I've never been around a more confident bunch of players. I think they're the hottest team in the NFC right now because of something that took place last month in New Orleans. The players got sick and tired of all the talk of their December failures and went out and overwhelmed a Saints team in the Superdome. That game did wonders for the Cowboys' confidence. No quarterback in the playoffs has performed as well as
Tony Romo
over the past six games and he benefits from having a dominant defense. So yes, I think the Cowboys are as hot as everyone at the Mall of America is indicating.
KS:
Actually, Matt, you need to be more specific. We now have
Mall of America Field
here in addition to the
Mall of America
. At Mall of America
Field,
the conversation is revolving around two things: Are the Vikings willing to accept that they are a pass-first offense? And can their tackles,
Bryant McKinnie
and
Phil Loadholt
, keep
DeMarcus Ware
and
Anthony Spencer
at bay long enough for
Brett Favre
to get the ball downfield?
If they come out of the gates aggressively and use their full array of offensive weapons, I think they can put up some serious points against the Cowboys' defense. The Vikings are one of two teams in NFL history to have six players catch at least 40 passes. That's too many receivers for any defense to keep track of if the pass protection is there.
What's your take, Matt? Do you think Ware & Co. can be slowed down?
MM:
I agree with the aforementioned Dilfer that Loadholt and McKinnie are outmatched by the Cowboys' outside linebackers. Since the last time you saw this team, Spencer has become a force. Cowboys defensive coordinator/head coach Wade Phillips even lines them up next to each other at times.
Donovan McNabb
didn't have a chance against the Cowboys' pass rush and you can argue that
Jason Peters
and
Winston Justice
are superior offensive tackles to what the Vikings have to offer. The Cowboys' plan is to make sure Favre has to test those 40-year-old legs. The last time he saw this defense, he completed 5 of 14 passes and was intercepted twice before being knocked out of the game at Texas Stadium. He was of course with a 10-1 Packers team at the time in '07.
Keith Brooking
told me Tuesday that the Eagles and Vikings have similar offenses, but he alluded to the fact that Brad Childress is much more likely to use the running game than his mentor, Andy Reid. Of course, that's a lot easier to do when you have the pride of Palestine, Texas,
Adrian Peterson
, in your backfield. It's been quite a while since a team has put up points on this defense -- and that includes a Chargers team that was held to a season-low in points. I don't think we'll have a shootout on our hands, but Sid might have other ideas.
[+] Enlarge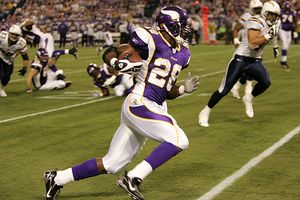 K.C. Alfred/Union-Tribune/Getty ImagesHow will Adrian Peterson figure into the Vikings' game plan against Dallas' tough run defense?
KS:
I'll check with Sid when I see him. In the meantime, Matt, we have two elephants crowding the room for this game: The head coaches. In Minnesota, there is an unspoken fear that Brad Childress will get in the way and try to force his power running game on the Cowboys. Prior to Favre's arrival, and at times this year, that has been Childress' preference. Childress also made a couple of questionable game-management decisions in last year's playoff loss to Philadelphia.
On the other side, however, is Phillips. Do Minnesota fans have anything to fear in this matchup?
MM:
Calling Phillips an elephant is a low blow, Kevin. The man might fill out a pair of Russell coaching shorts, but he deserves better from you. And yes, there's reason for Vikings fans to fear The Wade. No matter what you say about his head-coaching credentials, he's always been an excellent defensive coordinator. He puts players in position to succeed and he does a superb job of exploiting weaknesses. From reading your fine work on a regular basis, I'm aware that Vikings center
John Sullivan
isn't a large man. He'll be facing one of the best nose tackles in the game in
Jay Ratliff
. From time to time, the behemoth-type centers give Ratliff a little trouble. But he's been known to destroy the guys who are close to his size. Everyone's focused on the offensive tackles, but I could see the "Ratt" having a big game in the middle. It all starts with him in this defense.
KS
: Interesting. OK, Matt. This was great but is only a step in our coverage plan for this week. Keep checking back on the NFC East and NFC North blogs through Sunday.
MM:
Just to be honest, my coverage plan for Saturday is a little weak because of travel. But I've thoroughly enjoyed this tremendous show of synergy within the NFL Blog Network. Kevin, I arrive at 8:10 local time on American, so please pass that along to my driver. Peace and courage from the Beast.