NFC North:

Kellen Winslow
May, 22, 2012
5/22/12
7:10
AM ET
We're Black and Blue All Over:
The Detroit Lions had a busy news day Monday. We noted both
the charity
of quarterback Matthew Stafford and
the poor behavior
of receiver Titus Young, but that left out plenty of other tidbits.

Running backs Jahvid Best (concussion) and Mikel Leshoure (Achilles) were both on the field, participating in a limited portion of the Lions' opening organized team activity (OTA) of the offseason. So was rookie receiver Ryan Broyles, who is six months removed from major knee surgery.
Middle linebacker Stephen Tulloch, meanwhile, didn't practice because of knee tendinitis and might not be back on the field until training camp. That's a bit of a disconcerting turn of events for a player so critical to the Lions' 2011 improvement, but keep in mind that Tulloch hasn't missed a game in his six-year career.
Continuing around the NFC North:
May, 21, 2012
5/21/12
11:56
AM ET
If you're listening to our friends over at ESPN 1000, you know that soon-to-be former
Tampa Bay Buccaneers
tight end
Kellen Winslow
said Monday that the
Chicago Bears
at least explored the possibility of trading for him last month. The natural follow-up: Now that Winslow has been told he
won't be with the Bucs this season
, do the Bears still have interest?
ESPNChicago.com colleague Jeff Dickerson told "Waddle & Silvy" that the "odds of him coming to Chicago are pretty slim," considering the Bears' decision to spend a fourth-round draft pick on tight end
Evan Rodriguez
.
Kellen Davis
, whom coach Lovie Smith has high hopes for, remains on the roster, as does backup
Matt Spaeth
.
So does the group of Davis, Spaeth and Rodriguez render Winslow unnecessary for the Bears? I wouldn't call tight end an urgent position of need, but I would say that Winslow is more proven and a better downfield threat than anyone in the Bears' existing group.
Winslow, 28, has caught 218 passes while playing in all 48 games over the past three seasons for the Bucs. He is an extreme talent but one who has now worn out his welcome at two NFL stops.
The Bears have been aggressive in their first offseason under new general manager Phil Emery, and it's not at all surprising to hear they expressed interest in Winslow last month. Now that Winslow has reported the Bucs' plan to part ways, the Bears almost certainly will have the opportunity to acquire him more cheaply and safely as a free agent. Offensive coordinator Mike Tice is a former NFL tight end who still loves what the position means for an offense. The Bears and Winslow might not be an obvious match, but it's one worth considering nonetheless.
October, 24, 2011
10/24/11
2:55
PM ET
After the Chicago Bears' 24-18 victory against the Tampa Bay Buccaneers, here are three issues that merit further examination:
Yes, I know. It's not who starts fast. In the NFL, oftentimes slow and steady wins the race. So it's worth noting that the Bears were three games behind the Green Bay Packers and Detroit Lions after Week 5. Two weeks later, they're within a game of the Lions (5-2) and are putting themselves into the conversation for postseason discussion. As of Monday afternoon, there are five teams with a better record than the Bears. They are one of three teams that are 4-3, which is the same mark the Bears had last season on the way to an 11-5 finish and the NFC North title. The Packers might not give up the top spot in this division, but the Bears are puttering along at a time when the Lions haven't yet answered questions about their 16-game endurance.

Kevin SeifertThe Chicago Bears take their turn in the examination room after beating Tampa Bay.

You'll hear plenty this week about tailback Matt Forte's 145-yard performance. It'll also be noted that Forte already has 672 rushing yards this season (second in the league behind the Minnesota Vikings' Adrian Peterson), and that he has already surpassed 1,000 all-purpose yards for the season. But we also should take a moment to recognize that he has gotten some nice blocking this season. Take another look at his 32-yard touchdown run Sunday. You'll see textbook blocking, relative to their positions, from offensive lineman Chris Spencer, tight end Matt Spaeth, receiver Roy Williams (yes) and fullback Tyler Clutts. You don't average 96 yards per game on your own. For as much criticism as the Bears' offense has taken this season, it's worth nothing that it's doing some things really well.

You wonder if the Bears' safety carousel will continue to turn after their bye week. Major Wright was deactivated for the game, presumably because of a hip injury, even though he had been listed as probable on the injury report. Veteran Chris Harris returned to the starting lineup as a result, but he appeared to get beat for a touchdown by Buccaneers receiver Dezmon Briscoe. Rookie Chris Conte had an interception and two passes defensed Sunday and will probably keep his starting job despite giving up a touchdown to tight end Kellen Winslow. Whether Harris or Wright starts alongside him Nov. 7 against the Philadelphia Eagles is anyone's guess.
And here is one issue I still don't get:
Was Sunday about the law of averages for Williams, or is he growing more comfortable with his situation and gearing up to be a consistent contributor for a team that hopes to be in contention over the final two months of the season? I'm not sure yet. Williams caught his first touchdown of the season among his four catches and totaled a season-high 59 yards. A cynic would say that defenses are so unconcerned about him that they aren't paying much attention and will give him plenty of opportunities to make plays. Time will tell.
September, 19, 2011
9/19/11
3:05
PM ET
After the Minnesota Vikings' 24-20 loss Sunday to the Tampa Bay Buccaneers, here are three issues that merit further examination:
Kevin SeifertFollowing their loss to the Buccaneers, the Vikings take a seat in the examination room.

Many of you thought the Vikings' eight penalties hurt them much more than I suggested in Sunday's column. It's true that the timing of several were terrible. Defensive end Brian Robison's encroachment penalty negated a third-down stop in the third quarter, extending a possession that ended in a Bucs field goal. And the fourth-quarter call against defensive end Jared Allen for roughing the passer tacked 15 yards onto a 19-yard play preceding a Bucs touchdown. But those penalties, and others, didn't have to hurt the Vikings as much as they did. There are any number of things that could have happened to compensate for those mistakes, which are not unlike what many NFL teams make every week. More than anything, the Vikings need a counterpunch. They need to find a way to win despite a few mistakes rather than get knocked off their tracks.

It got lost in the shuffle Sunday, but safety Tyrell Johnson could have sealed the game by catching a gimmee interception three plays before the Bucs' winning score. Johnson stepped in front of quarterback Josh Freeman's ill-advised pass to tight end Kellen Winslow at about the 10-yard line, but the ball slipped from his hands. Safety Husain Abdullah's reaction indicated he had a strong chance to make the interception had Johnson not stepped in front. Regardless, Johnson has to make that play. He's still competing with Jamarca Sanford for a full-time starting job, but I'm not sure we've seen much to suggest Johnson deserves to play more.

Quarterback Donovan McNabb was sacked twice Sunday, on both occasions nullifying a terrific matchup they had set up in the flat. Each time, receiver Percy Harvin was matched against a Buccaneers defensive end in a zone-blitz arrangement. Mason Foster sacked McNabb the first time, and safety Sean Jones bottled him up on the second. You would like to think Harvin would have produced a nice gainer in each case had McNabb gotten the ball off.
And here is one issue I still don't get:
Coach Leslie Frazier's explanation for not using a timeout on the Buccaneers' final possession was admirable but didn't really make sense. Frazier said he considered using one of his three timeouts with about a minute remaining but decided against it. "I really thought we were going to stop them on defense," Frazier said, either through a turnover or by forcing the Bucs to kick a field goal. There's nothing wrong with confidence, but in this case Frazier needed to hedge his bet. You're not sending players a bad message by calling a timeout. You're telling them you will stop at nothing to ensure the team has its best chance to win. Not calling a timeout in that situation ultimately cost the Vikings at least 30 seconds when they regained possession. They didn't have enough time to take one timeout, let alone three. Frazier didn't equip his team as well as he could have for that regrettable but necessary possession.
September, 18, 2011
9/18/11
2:28
PM ET
MINNEAPOLIS -- Some halftime thoughts from the Metrodome press box:
December, 23, 2010
12/23/10
3:00
PM ET
We've had a season of debatable calls and obscure rulings here in the NFC North, and each Week 15 game provided us new material. In order of occurrence:
The
Detroit Lions
were the beneficiaries (for once) of a critical decision midway through the fourth quarter of their eventual 23-20 victory over the
Tampa Bay Buccaneers
. On a third-and-goal from the Lions' 2-yard line, the Bucs appeared to have scored a go-ahead touchdown on
Josh Freeman
's 2-yard pass to tight end
Kellen Winslow
.
But referee Terry McAulay's crew called Winslow for offensive pass interference, nullifying the touchdown and ultimately forcing the Bucs to settle for a game-tying field goal. It was Winslow's second such penalty of the game, a fact that suggests McAulay's crew was either aware of a tendency to push off or had been "encouraged" to look for it by the Lions' bench.
[+] Enlarge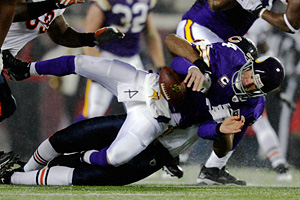 AP Photo/Star Tribune, Brian PetersonHad the whistle not blown when it did, Brett Favre's last play Monday night would have likely resulted in a fumble.
Across the league, offensive pass interference has been called 75 times over 15 weeks. That averages out to five per week, or less than one per game. Winslow is the only player to have more than one in the same game, according to ESPN Stats & Information's penalty database.
The earlier call, in the first quarter, came after a relatively mild push on middle linebacker
DeAndre Levy
. The second was an odd-looking play from the start. Winslow did not appear to be the first read, and when Freeman finally lofted him the ball, Winslow literally boxed out Lions safety
C.C. Brown
, never leaving his feet while making the catch.
Replays showed Winslow put both hands on Brown's chest to achieve a level of separation just before the catch. Although Winslow argued vociferously, I had no beef with McAulay's call.
A few hours later, the
Green Bay Packers
were hoping to take a 10-point lead over the
New England Patriots
at halftime when they allowed an epic 71-yard kickoff return to offensive lineman
Dan Connolly
. Almost immediately, you began filling the mailbag with complaints about a number of purported illegal blocks on the play.
I saw two on the TV replay. One I would consider critical and the second relatively moot.
The first came just as Connolly broke open the return at the Packers' 40-yard line. I immediately noticed Packers fullback
Quinn Johnson
barreling into linebacker
Diyral Briggs
, creating a collision that gave Connolly 30 yards of open field.
When you
watch the replay a few times
, you see Johnson was pushed in the back by Patriots linebacker
Rob Ninkovich
. No interpretation is necessary here: It was a bad no-call for Ed Hochuli's crew.
At the end of the return, Patriots running back
Sammy Morris
shoved place-kicker
Mason Crosby
to the ground from behind. That could have been ruled a penalty as well. But assuming Hochuli ruled it a spot foul, the Patriots still would have assumed possession inside the Packers' 15-yard line.
Finally, there have been questions from many of you about the final play of
Brett Favre
's night -- and possibly his career -- in the
Minnesota Vikings
' 40-14 loss to the
Chicago Bears
.
Bears rookie defensive end
Corey Wootton
blew past Vikings left tackle
Bryant McKinnie
. Wootton grabbed Favre and flipped him to the frozen turf at TCF Bank Stadium. At some point, the ball trickled loose. Should it have been a fumble as well as a sack?
I looked for the two obvious signs on the replay: When did referee Carl Cheffers blow the whistle? And was Favre down when he fumbled?
On the first issue, you can hear a whistle blowing almost simultaneous to the moment when Wootton grabbed Favre. Whether it was early or not, the play was officially over when the ball fell to the ground. Had the whistle blown later, however, it almost certainly would have been ruled a fumble. Favre's left knee landed on Wootton's left knee, meaning he was not down when the ball squirted loose.
(Note: No challenges last week means no change to our
most recent Challenge Tracker
.)
November, 11, 2009
11/11/09
2:30
PM ET
Posted by ESPN.com's Kevin Seifert
Matt of Little Falls, Minn.
, admits he sometimes sees Green Bay games through "green-and-gold tinted glasses." Nevertheless, Matt asks for another look at the illegal contact penalty against linebacker
A.J. Hawk
in the fourth quarter of the Packers' 38-28 loss at Tampa Bay.
As you might recall, the penalty wiped out Hawk's interception with 6:48 remaining in the game, allowing the Buccaneers to continue their march toward a go-ahead touchdown. After watching the replay, there are two issues to consider:
Did the contact occur inside or outside the 5-yard marker?
Should it have been classified as incidental?
On the former question, referee Peter Morelli's crew absolutely got the call correct. The replay clearly shows Hawk grabbing Tampa Bay tight end
Kellen Winslow
at the 44-yard line. According to the official gamebook, the line of scrimmage was the 50.
On the latter, here's how the NFL's rule book defines Hawk's parameters in this situation: "A defender may use his hands or arms only to defend or protect himself against impending contact caused by a receiver. If the receiver attempts to evade the defender, the defender cannot initiate contact that redirects, restricts, or impedes the receiver in any way."
This part is a judgment call. But when I looked at the play, Winslow seemed to gain a step on Hawk. In response, Hawk reached out and grabbed Winslow, in essence to redirect him. Technically, that's an illegal play.
The contact wasn't particularly blatant or physical. But on both counts, I can't argue with the call.
Meanwhile,
there were plenty of Bears players and coaches who were upset about the offensive pass interference call on tight end
Greg Olsen
in the second quarter of their 41-21 loss to Arizona. The penalty wiped out Olsen's 16-yard reception to the Cardinals' 14-yard line and stalled what had been a promising drive.
The replay shows Olsen releasing off the left side of the line of scrimmage, which was the 30. He collides with Cardinals safety
Adrian Wilson
at the 24-yard line and both players push each other. Olsen then cuts the route off toward the sideline and is wide open when he catches Jay Cutler's pass.
Referee Ed Hochuli's crew was quick to make the call, and the NFL rule book is pretty clear. One definition of pass interference -- offensive or defensive -- is "initiating contact with an opponent by shoving or pushing off, thus creating a separation in an attempt to catch a pass."
So who initiated contact on this play? Technically, it looks like Olsen. He ran a pattern directly toward Wilson, who seemed to be sitting in a zone. As with many calls, you could argue whether the contact was violent enough to give Olsen an illegal advantage to get open. But as with the Hawk call, I can't argue with Hochuli's decision. Olsen would have been better served to make his break before or during the contact rather than after.
Now, on to our Challenge Tracker, which went unchanged this week:
NFC North Challenge Tracker
Team
Coach
Challenge
Overturned
Success rate

Chicago

Lovie Smith

7

2

28.6

Detroit

Jim Schwartz

2

0

0.0

Green Bay

Mike McCarthy

4

1

25.0

Minnesota

Brad Childress

5

2

40.0

Source: NFL
June, 23, 2009
6/23/09
4:00
PM ET
Posted by ESPN.com's Kevin Seifert
| | |
| --- | --- |
| | |
| | AP Photo/Jim Prisching |
| | Packers quarterback Aaron Rodgers looks relaxed in minicamp. |
GREEN BAY, Wis. -- He's almost an afterthought considering the amount of attention Green Bay's defensive transition has attracted. But the Packers won't go any further than quarterback
Aaron Rodgers
can take them, and for the most part this week I've found Rodgers to be sharp, relaxed and confident as he prepares for his second full season as the Packers' quarterback.
Tuesday morning, Rodgers missed one deep connection to an open Donald Driver. But otherwise his throws have been crisp and accurate. More important, he has taken on more of a leadership role after navigating last season's transition.
Tuesday, that meant keeping an intense pace despite soupy conditions of high humidity and temperatures that are approaching 90 degrees. To me, that mindset is much more important than whether he hits Driver for a 70-yard touchdown while throwing against air.
"I was trying to be aware of that," Rodgers said. "Just continuing to jog between drills and keep my effort and enthusiasm the same. Every person in a position of leadership within their position group needs to be that guy that continues to practice at the same pace and the same tempo, whatever the temperature is."
The Packers will wrap up minicamp Wednesday afternoon, and players will have about five weeks on their own before reporting to training camp July 31. In between, Rodgers said he will participate in a workout group that includes New Orleans quarterback Drew Brees, San Diego tailback LaDainian Tomlinson, Tampa Bay tight end Kellen Winslow and Chicago cornerback Charles Tillman.
The group will convene in San Diego on July 1 for what Rodgers called "pretty intense training."
"It's a full-time job and you've go to keep in good shape," he said. "I want to just shave a couple more pounds off to get to the weight I want to be at the start of training camp."
October, 28, 2008
10/28/08
11:00
AM ET
Posted by ESPN.com's Kevin Seifert
EDEN PRAIRIE, Minn. -- Should NFL players be allowed to criticize their employers and co-workers in a public forum?
(Yes! Yes! Yes! ... If you're a reporter, anyway).
| | |
| --- | --- |
| | |
| | Rich Gabrielson/Icon SMI |
| | Jared Allen says fines for speaking out are "cruel and unusual punishment." |
The NFL has placed a steep price on negatively critiquing the work of officials and even club management this season, and players are starting to notice. Minnesota defensive end Jared Allen provided a voice to their concerns Monday, saying that recent fines of $20,000 and up are "getting out of hand."
Chicago linebacker Brian Urlacher, St. Louis offensive lineman Richie Incognito, Denver cornerback Dre Bly and New York Giants receiver Plaxico Burress have all been fined at least $20,000 for criticizing officials either on the field or in media interviews. (Burress also was docked $25,000 for throwing a ball into the stands). And Cleveland tight end Kellen Winslow agreed to pay a $25,000 fine after expressing concern about the Browns' handling of his recent staph infection.
Allen broached the topic after being asked about a $5,000 fine he received for unnecessary roughness in the Vikings 48-41 loss to Chicago earlier this month. Here's an extended version of what he said:
"There comes a point where we have to be able to play this game. I know it's for our safety and that's [commissioner Roger Goodell's] job. I don't want to be in that position to make those calls either. But football is a violent game. Things are going to happen. Tempers are going to flare. People are going to disagree with the ref's call. They're going to say something. At some point where do you cross the line in taking away our God-given right to express our feelings and our emotions? The last time I checked we live in America and have freedom of speech. But not in the NFL."
Allen revealed he has been discussing the issue for "a few years now" with union officials and called such fines "cruel and unusual punishment." He went on to point out that players are well aware of the rules and consequences before they speak, but in essence argued for more relaxed enforcement.